For the folks who don't want their phones to come in the way of their rigorous workouts, a sporty armband can prove to be pretty handy. Apart from keeping the smartphone perfectly in place, most armbands also offer the convenience to keep things like earphones, keys, credit cards and cash. Thus, you can go full tilt while running or sweating out in the gym. If this proposition sounds appreciable to you, these are the 8 best armbands for iPhone 12 Pro Max lined up just for you.
Best Armbands for iPhone 12 Pro Max in 2020
In this roundup, we have chosen a variety of armbands designed to fit iPhone 12 Pro Max. While some armbands feature a traditional design with multiple pockets and fully adjustable straps, others come with an open profile to have hassle-free access to the touchscreen.
Aside from being a user-friendly companion during workouts, these armbands can also be a reliable asset during travel. Made of soft material, they are skin-friendly and fit both small and large arm sizes.
1. JEMACHE
If you have set your sight on finding a complete armband for your iPhone 12 Pro Max, JEMACHE could be a worthy option. The running armband is made of neoprene material which is stretchable. Notably, it also flexes and bends without warping.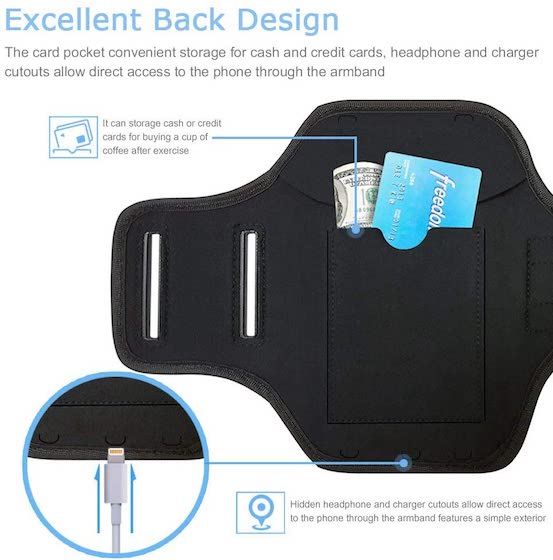 Thanks to the adjustable strap, JEMACHE armband can fit both small and large arm sizes. Besides, the strap also plays a vital in keeping the smartphone steady. That aside, it features power and volume buttons printing, making it convenient to press these buttons with ease.
Moreover, the armband also has a built-in key pocket and a rear pocket for keeping cash and credit cards. Add to that the reflective strip that prevents darkness from hindering your jogging in the dark environments and it seems to have checked off all the boxes to be regarded as one of the best armbands for iPhone 12 Pro Max in the market right now.
Buy from Amazon: $11.99
2. Bone
Sporting an open design, Bone is a stylish armband for iPhone 12 Pro Max. What makes it stand out from the rest is the elastic silicone material that features a smooth finish. Courtesy the elastic bands, it fits most smartphones.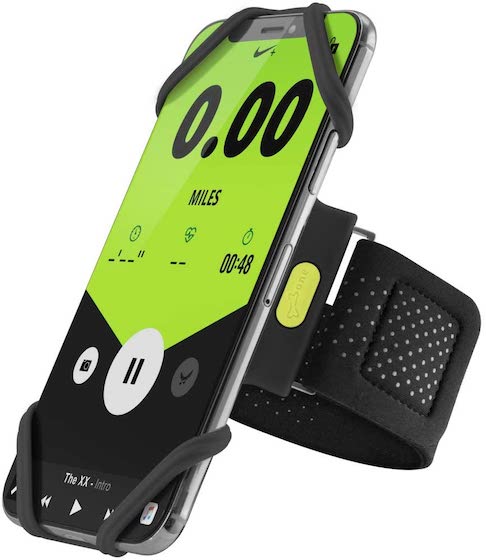 Unlike traditional armbands, it provides hassle-free access to the touchscreen and all the ports as well as buttons of the smartphone. Another feature worth taking note of is the ventilated design that enhances heat dissipation. As a result, the smartphone will remain cool.
Though the $25 price tag might seem a touch expensive, you can't go wrong with it considering the notable features.
Buy from Amazon: $25
3. Tune Belt
Carved out of high-quality neoprene material, Tune Belt is the sort of armband that can easily catch your attention, if you prefer to have a neat design. With the soft cushioning, it provides the much-improved grip to keep the iPhone steady.
Furthermore, the armband is skin-friendly and stretchable. Thus, you can wear the armband for hours without any issue during long exercises or hectic travel. One of my favorite features of this armband is the cold wrap that prevents tangles.
Besides, I have also found the Lightning port access quite appreciable. Overall, it's a top-notch neoprene armband for iPhone 12 Pro Max.
Buy from Amazon: $19.95
4. BUMOVE
If a reasonably good yet comparatively cheap armband is what you are looking for, this offering from BUMOVE could be a better choice. The sports armband is made of soft and flexible neoprene material. Being fully stretchable, it offers full freedom to the arm muscle to flex.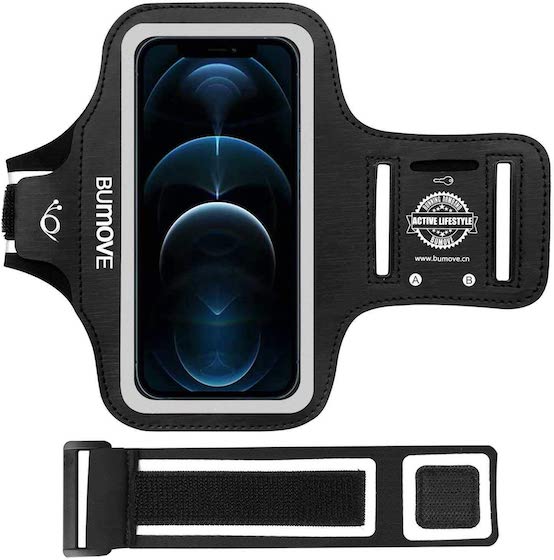 Another notable feature of the armband is the PVC screen protector that shields the 6.7″ OLED display against random impact and scratches. Protection aside, the screen guard also offers high-clarity and true touch sensitivity to let touch gestures to work smoothly.
What's more, BUMOVE also features an extra pocket wherein you can store credit cards, keys, and cash. And with the handy reflective strip at the disposal, it also drives away the darkness to let you run without any problem. Taking everything into account, it's a reliable accessory for your iPhone 12 Pro Max.
Buy from Amazon: $9.99
5. Mpow
Yet another relatively affordable iPhone 12 Pro Max armband that has caught my attention is Mpow. The combination of nylon, neoprene, and TPU material improves durability, while also ensuring that you are able to use your device without any problem.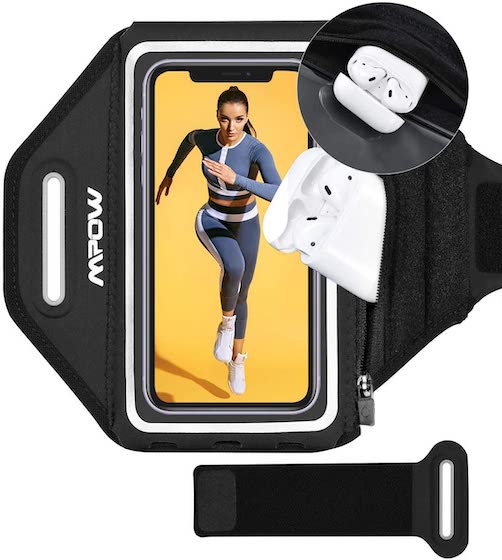 With the fully adjustable strap, the armband can fit even large arm sizes. Notably, it also provides an extender strap so that it can get along nicely with the beefy arm sizes as well.
Plus, the TPU screen guard offers enhanced clarity and also safeguards the touchscreen against scratches. And times when you want to beat the darkness during a spirited walk in the park, the reflective strip comes into play as the well-timed saviour.
Buy from Amazon: $9.99
6. SPORTLINK
In more ways than one, SPORTLINK is a completely different armband from the rest. First and foremost, the running armband features a one-key release design that makes it incredibly straightforward to install and remove the smartphone.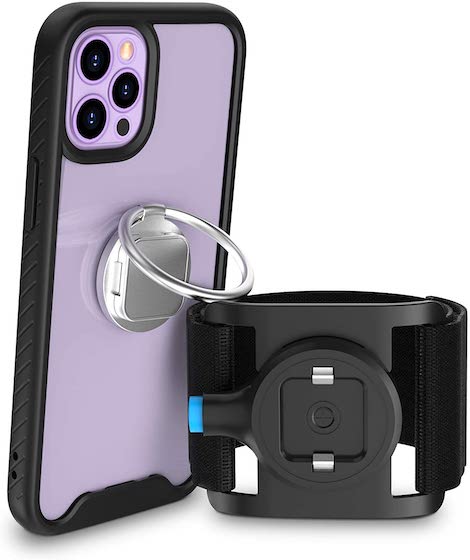 Moreover, it has two velcro straps that provide much-improved stability. So, it doesn't matter whether you have a small arm or got the muscular arm, the armband won't let you complain.
Just like other armbands mentioned in this roundup, it also features a reflective design to let you run comfortably in dark environments. Keeping in mind these features, SPORTLINK deserves to be given a chance, even though it's priced comparatively high at $25.
Buy from Amazon: $24.99
7. Trianium Arktrek Pro
Trianium is well-known for producing one of the best armbands for smartphones and Arktrek Pro has got all the essential features to warrant immediate attention. The soft neoprene material provides convenience, while the adjustable strap makes sure the phablet remains in place.
Due mainly to the multi-slot velcro, the armband is designed to fit even large arm sizes (up to 14″). For an additional layer of defence against scratches, it features a protective screen guard. Aside from offering the required protection, the screen protector also offers true touch sensitivity
What's more, there is also a built-in pocket to let you store keys. As for colors, you can choose this affordable iPhone 12 Pro Max armband in two colors: black and pink.
Buy from Amazon: $9.99
8. Sporteer Velocity V8
Sporteer Velocity V8 is a premium armband featuring a modular design. With the interchangeable straps, you have the option to replace armband straps to fit different arm sizes. Notably, the company offers two running armband straps.
Sporteer Velocity V8 has a protective screen guard that not only offers much-improved clarity but also shields the screen against scuffs. For an additional layer of safeguard, it also wards off sweat and moisture.
Beyond protection, the screen guard is quite responsive allowing touch/tap gestures to work with precision. That's not all, the armband features both internal and external pockets to let you carry things like cash, keys, and credit cards.
At $30, Velcity V8 is quite expensive as compared to other armbands. However, the armband has got the features to prove its worth.
Buy from Amazon: $29.99
Top Running Armbands for iPhone 12 Pro Max Lined Up for You
That's pretty much it! So, these the highly-rated armbands designed to fit iPhone 12 Pro Max, which you can use to keep your device secure while running or during exercise. Being skin-friendly and water-resistant, they are deserving workout companion.
By the way, which one of these sports armbands is going to pair with your iPhone 12 Pro Max? I guess it's the one that has a stylish design. Or, is it the one that looks premium with interchangeable straps? Be sure to let us know your preferred choice in the comments section below.
---
Load More