Ten years ago, audio relayed wirelessly and delivered directly to your eardrums would have raised everyone's ears. But with innovation and the economics of it, Bluetooth headsets have become easily affordable. Today, we take a look at another affordable Bluetooth headset, 1MORE iBFree, offering great sound quality on par with pricier offerings.
The 1MORE iBFree is priced at ₹2,999 which puts it in the center of all the action taking place in the category. It has all the essential features to be considered for a fabulous pair of Bluetooth earphones, including an impressive and well-balanced sound, a superb battery, great ergonomics and comfort, and decent noise-cancellation. So let's dive deeper into the specifics of the headset's richness, and also explore the areas in which it lacks.
1MORE iBFree Bluetooth Earphones Specs
Before we start with the review, here's a quick look at the specifications of the 1MORE iBFree Bluetooth Earphones:
Frequency Response
20Hz - 20kHz
Impedence
32Ω
Bluetooth
Bluetooth 4.2
Battery
60 mAh
10 hours (Talktime)
8 hours (Music)
2 hours (Charging TIme)
Charging Port
microUSB
Price
Rs 2,999
Box Contents
The Bluetooth headset comes neatly stacked inside a compact box with essential accessories. Here's all that is stacked inside the tiny package:
1MORE iBFree Bluetooth Earphones

Micro USB for charging

Extra Silicone ear buds and ear hooks
User manual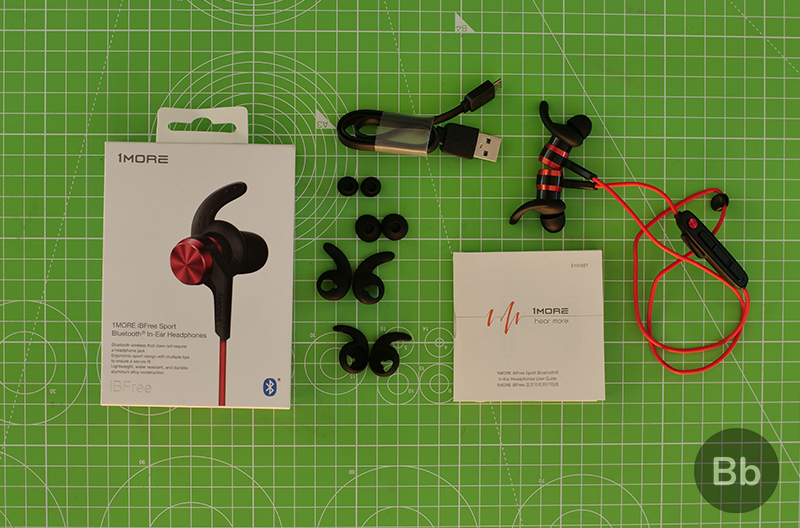 There is no power brick included in the bundle but that's something that even companies like Skullcandy omit on Bluetooth headsets. That said, it is advised to use a low-powered charging brick as high power may damage its battery.
Design and Build
The 1MORE iBFree Bluetooth headset features a pretty basic design with a single wire running between the driver heads, an in-line remote for switching the headset on and off, toggling the volume, and changing tracks without looking at your phone. The remote also carries a Micro USB slot for charging as well houses the battery.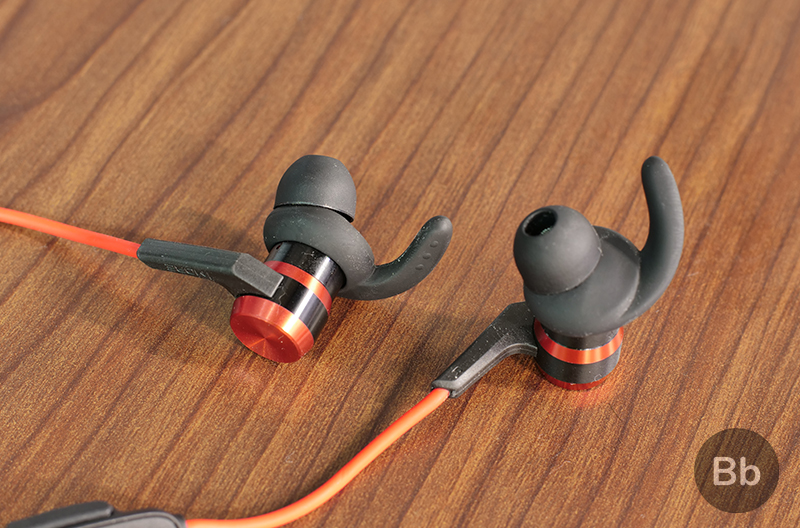 The driver heads are made out of aluminum and have a fairly common yet intriguing design featuring concentric circles. I like the fact that both the earbuds and the stem of the drivers are bent at certain angles which improve the usability and add to the comfort of the headset. There is a dual-color theme running along the cable and in our case, the combination of red and black looks striking.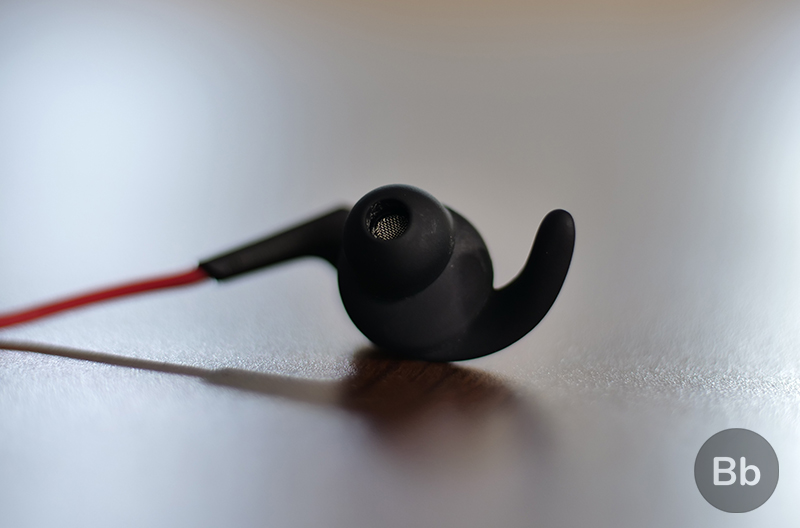 Flexible Ear hooks made out of Silicone make it easy to hold the headset in position. 1MORE also includes two extra pairs of ear hooks beside the earbuds so that you can use the one which suits your ear the most. You also get a clip to adjust the length of the cable as per your convenience.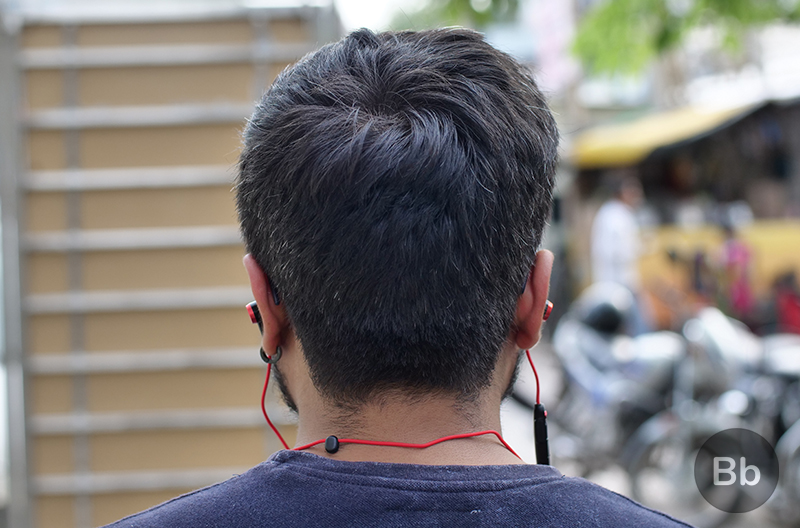 While I have no complains related to the durability of the headset, I wish 1MORE would have used a flat cable because it looks less frizzy compared to the cylindrical cable, but that's a mere aesthetic preference. The weight of the remote takes some time of getting used to but eventually, you tend to not pay much attention to it. In spite of the lightweight cable and the lack of a solid neckband, the headset mostly remains seated around the neck.
The headset is water-resistant and comes with an IPX6 rating which means it is sweat-proof, and should not go lemon in moderate rain. But don't you go swimming while wearing these. The microUSB port is also properly covered to save it from water damage.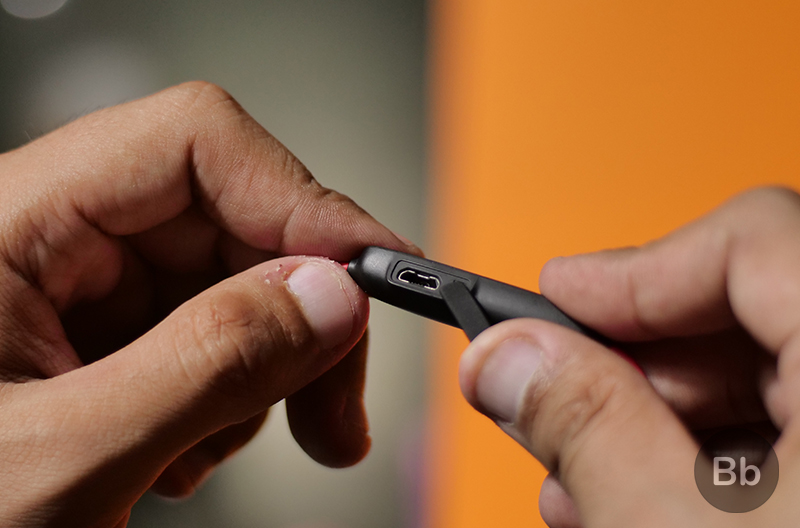 One thing, however, I wish that drivers heads came with magnets as they dangle when not in use and that can sometime be annoying – although only sometimes. The headset is designed to stay put even during rigorous head movements and it remains seated despite severe blows.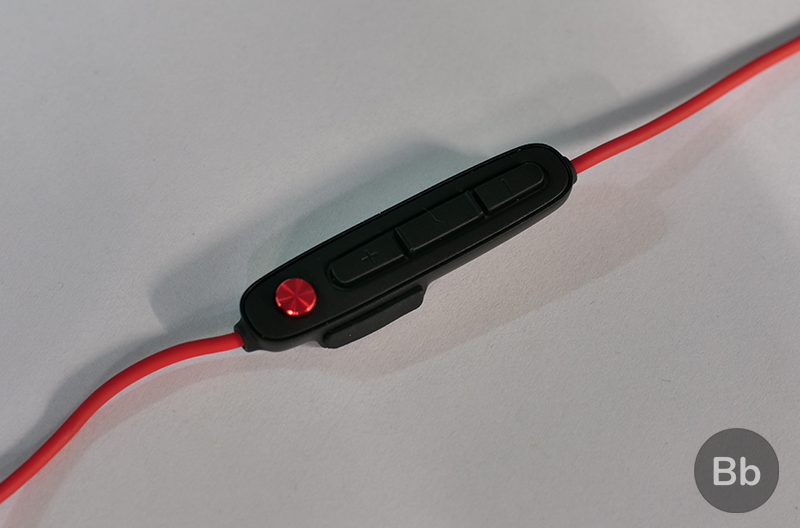 Another aspect that I don't enjoy is the design of the buttons on the remote. The volume up and down buttons surround the play/pause button and I found myself often reaching out for the wrong button while trying to change anything. This is because there is no way to distinguish between the three buttons. The red button is only for switching the headset on and off. 
Sound Quality
The sound output of the 1MORE iBFree is no less than stunning. The output is appropriately loud while most frequencies come out pretty clearly. Overall, the sound is well balanced – although you'd have to bear with some bleeding edges if you have unusual kinks like listening to death black metal.
To start with, the Bluetooth headset has an appreciable amount of bass, but don't expect to be blown away by it. The amount of bass also depends on how tightly are the earbuds tucked inside your ears. This is why I found myself shoving the earplugs inside the ear canals to be able to feel more bass. But that's me just being greedy as the amount of bass the 1MORE iBFree offers upfront is sufficient for an average user.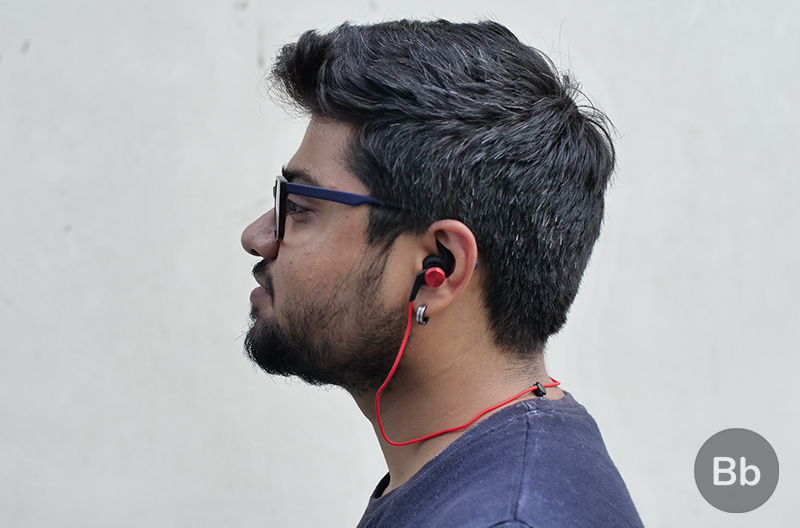 Next up, the mids are pretty solid. You can clearly hear vocals as well as crunchy snare sounds with ease. String and wind instruments, and variety of beats can be easily heard and can be distinguished between. Bliss lies for you in this area if you fancy rock and metal music and heavily distorted guitars.
Treble on this pair of earphones is loud and clear but at times the output gets too shrill, piercing through your ear. Every time something like this happened during the review, I found myself lowering the volume to the point I could relieve my ears of the tormenting sound. However, I must mention that it usually in the case of tracks that either have poor production quality, belong to the pre-70s era, or have no instrument to balance the piercing treble.
The headset gets sufficiently loud, especially if you're in a closed room, which brings me to the only peeve I have with it. While the amount of noise cancellation is decent, it dampens when you're outdoors, especially at noisy places such as markets or metro stations. However, I understand this could also be so as to ensure the safety of those who choose to exercise outdoors.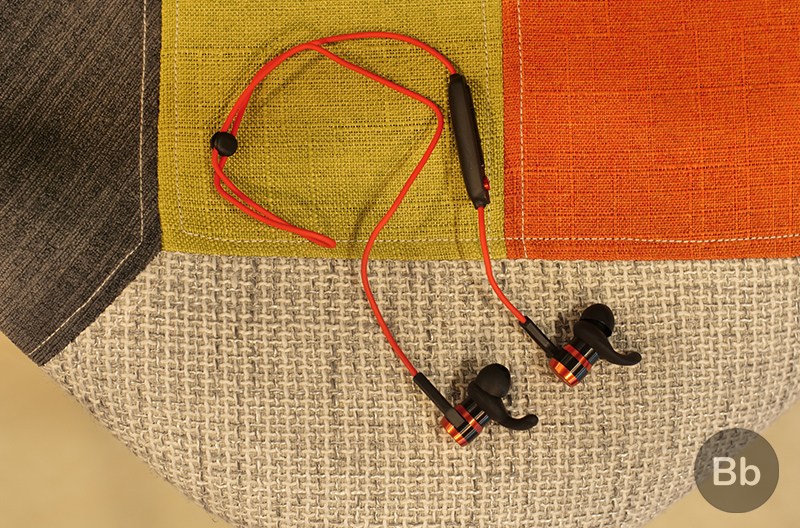 Overall, I found the headset ideal for a wide variety of genres and would earn your appreciation unless you dig deep thumpy bass, or fancy shrill death cries in between music. There's also a gentle sense of surround sound to the overall sound quality. 
Even calling with the 1MORE iBFree is a pleasant affair, only if you can forgive the mic for picking up too much of background noise at times. So when you're in a crowded place, you might have to hold the mic closer to your mouth while there is no such requirement indoors.
Battery Life
The 1MORE iBFree packs in a tiny 60mAh battery which performs impressively well for its size. The company claims it to last 8 hours per charge and I found these claims to be true. I found myself putting headset through a day's worth of labor at work without fidgeting for a charger.
Refilling the battery takes almost two hours and while you can also listen to music while charging the headset, it is isn't advisable. It is ideal to charge the headset every night or before starting the day so that you get uninterrupted playback. Charging stops after the battery is charged to 100%. Even if you cannot achieve that on a consistent basis, charging it up for only 10-15 minutes gives enough for almost two hours of listening to music.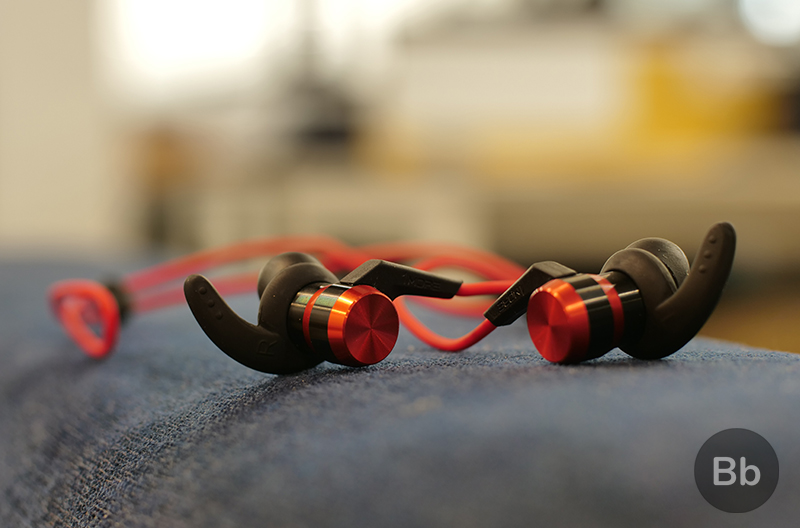 Connectivity
Connectivity is another area that the 1MORE iBFree aces. It runs on Bluetooth 4.1 which means it can connect to two devices at the same time, but if you're planning to do that on a regular basis, you might have to get ready to occasional hiccups. Otherwise, it has pretty solid connectivity and stays connected even farther than 10m.
The headset does pretty well in terms of reconnecting and automatically connects back after you move out of the range and return.
1MORE iBFree Bluetooth Earphones: Pros and Cons
The 1MORE iBFree Bluetooth Earphones are built well and offer amazing sound for the price. However, there are a few offsets that complement this richness and I'm going to list them now.
Pros
Balanced sound

Lightweight

Superb battery
IPX4 rating for water resistance
aptX Support
Cons
No connecting magnets

Unimpressive noise cancellation
SEE ALSO: Mi Neckband Bluetooth Earphones Review: Superb Sound That Doesn't Last Long
1MORE iBFree Bluetooth Earphones: Price-Effective From All Dimensions
With its balanced sound and high clarity, the 1MORE iBFree is among the most reasonably priced pair of Bluetooth Earphones. You also get a reliable battery and IPX4 gives you the confidence to push yourself to perform without worrying about sweat-spoilage. The Silicone ear hooks add to the stability of the earphones when they are placed inside the ear.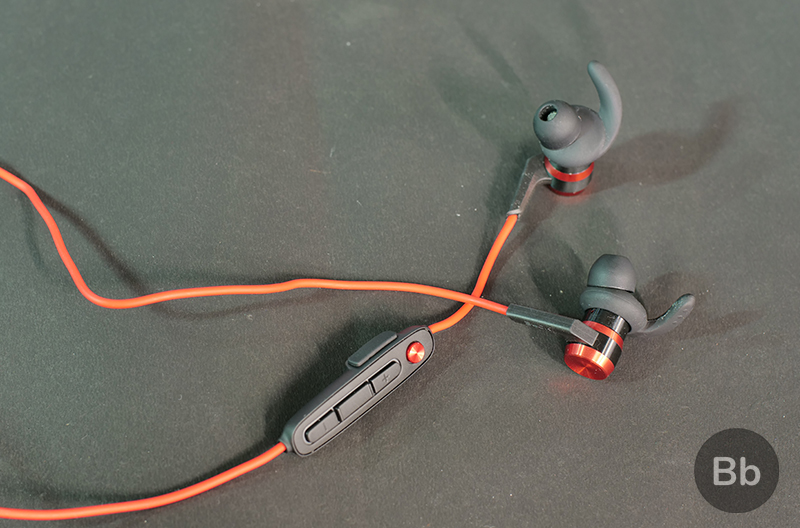 You also get support for aptX codec which enhances the quality of output. These earphone easily meet the criteria for becoming the vendor of your daily musical and auditory appetite. That said, I must also bring your notice back to the lack of pressing bass and if that is something you dig, you might have to raise your budget a bit higher. Another unsettling factor is the simple-ish build and dangling earbuds, but that is something which shouldn't bother a lot of users.
The 1MORE iBFree Bluetooth Earphones are available in India via Amazon and can be yours for ₹2,499. The headset comes in dazzling red, green, blue, and a relative subtler black color, and is crafted with a blend of rubberized plastic and metal. At this price, the other options you may check out are Boat Rockerz 250 (₹1,800), Samsung Level U (₹2,478), JBL E25BT (₹2,889).
Buy the 1MORE iBFree Bluetooth Earphones with aptX on Amazon (₹2,499)
---
Load More