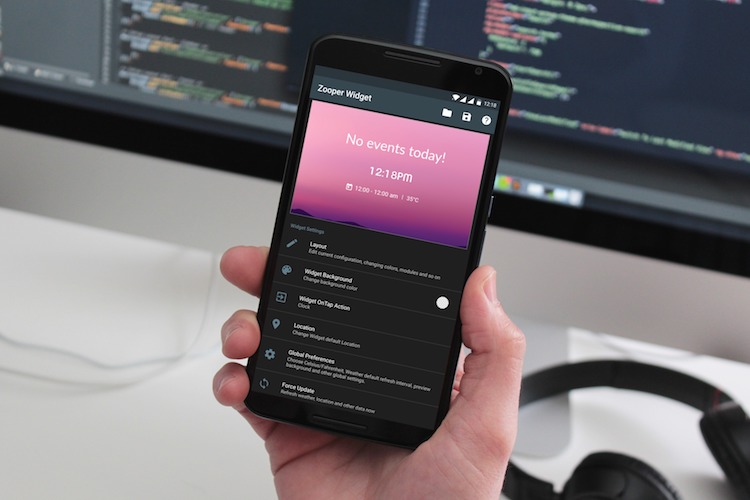 If you are a hardcore Android customization fan, you must know how important Zooper widget was for the Android community. The app allowed you to create beautiful custom widgets for your home screen. Not only the widgets looked beautiful but they were also functional. You must have noticed by now that I am talking about the Zooper Widget in past tense, well that's because, after almost three years of no development and update, the app has finally been removed from the Play Store.
It's a sad day for the Android community, as it was one of the best customization apps available on the Play Store. That said, the death of Zooper widget was a long time coming and its removal didn't surprise me. In fact, Zooper widget's creator Richard Blaney informed users back in 2016 that the app is no longer under development and users should start looking at its alternative. In a post on Google Plus, he wrote,
"Zooper is no longer developed or owned by me (you should have noticed already since there have been no updates since 2 years) so I strongly suggest you all do what I did, which is migrating to KWGT or KLWP"
The post was published back in July 2016, so you can understand why the demise of Zooper Widget was no surprise. However, if you were a longtime Zooper user like me, don't worry, this is not the end of the world as there are many worthy alternatives out there, which in some cases are even better than Zooper as they are actively developed and updated.
Zooper Widget Alternatives
1. KWGT Kustom Widget Maker
Probably the best Zooper widget alternative present on the Play Store is the KWGT Kustom Widget Maker which packs all the features of Zooper widget and then some. The best part about this app is that all the major widget templates like Huk, Ocea, and King which were available for Zooper are also available for KWGT. KWGT also has a sister app called KLWP which helps you create custom wallpapers. A separate wallpaper app means that you get more features for creating your own custom wallpaper than you did with Zooper.
Download: KWGT Kustom Widget Maker
2. Buzz Widget
Another worthy alternative for Zooper widget is the Buzz Widget app. It has a great selection of widget templates which allows you to create beautiful and functional widgets. However, third-party widget templates like Huk and Ocea are not available for the Buzz Widget app. So, if you used third-party templates, you should stick to KWGT.
Download: Buzz Widget
Before we finish this article, there's one more thing I would like to add. If you bought the Pro version of Zooper widget recently, you must be feeling cheated. But, don't worry, Google provides you a way to get your money back. Click on the link to learn how you can get a refund on Google Play Store and follow the instructions to get your money back. Also, do share with us your favorite Zooper stories in the comments section below.
---