Asus ZenFone 5Z has just hit the market and it seems like a great smartphone. The budget flagship packs in a modern design, flagship-level hardware and some great AI features. The smartphone uses glass panels at both the front and the back, which in-turn are held together by an aluminum frame. While the glass back gives the phone a flagship look, it also means that the phone is really fragile and if you are even thinking of buying this phone, you should invest in a case. To make things easier for you, we are bringing you a list of the 10 best Asus Zenfone 5Z cases that you can buy right now:
Best Asus Zenfone 5Z Cases and Covers
1. BEASTIN Hard Back Cover for Zenfone 5Z
I am a fan of matte hardcover backs as not only they protect your device but they also look good while doing it. This matte hardback cover from BEASTIN brings everything that I love about matte hard back cases and more. First of all, the matte black color of the case looks phenomenal. Since its matte, it doesn't attract any fingerprint and keeps looking clean even after using for a long period of time.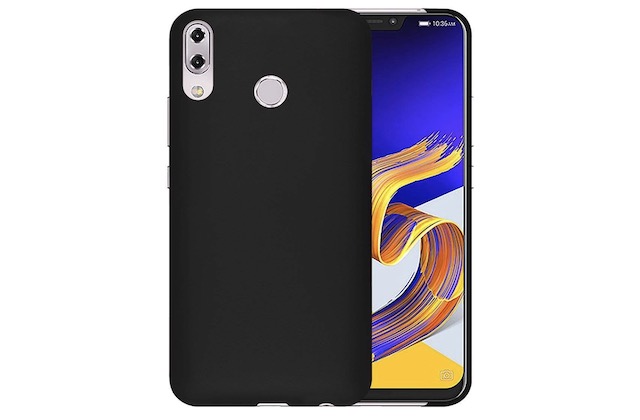 Even if the case gets dirty, you can easily clean it up because of its wash friendly nature. I also love that the case is dustproof and tear resistant. The case uses a high-density polycarbonate material which makes it resistant to scratches and scuffs. It can stand minor drops with an ease and will protect your device in any accidental circumstances. The case also features a raised lip design around the camera module and the front, thereby protecting them from getting scratched when placed on a flat surface. This is one of the best cases that you can buy for your Asus Zenfone 5Z.
Buy From Amazon: ₹215
2. Hupshy Zenfone 5Z Case
If you love designer cases which not only protect your device but also allow you to put a personal flair, you should definitely take a look at the designer cases from Hpushy. The cases look deliciously beautiful and come in tens if not hundreds of different design. The one I am featuring here is my personal favorite and seems like a denim jacket for the Asus Zenfone 5Z. When you get past its design, you will find the case to be a sturdy one which can easily protect your device against scratches, scuffs, and cracks in case of minor falls and drops.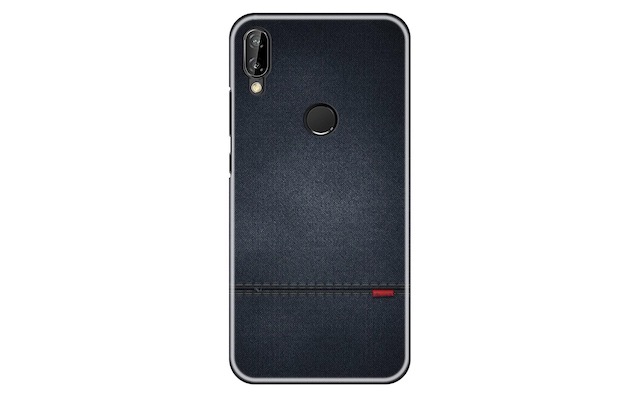 The case is made of matte finish hard polycarbonate material and is very easy to put on and off. The case features precise cutouts for ports and buttons giving you easy access to them. I must tell you, even if the case didn't bring protection I would have bought this one just for its looks, however, it's a good thing that it has both beauty and brawn.
Buy From Amazon: ₹249
3. D-Kandy Leather Flip Wallet Case for ZenFone 5Z
If you want to protect not just back but also the front of the device, you should invest in a wallet flip case and this wallet flip case for Asus Zenfone 5Z from D-Kandy is one of the best that you can get. The case features a luxurious looking hand-stitched leather design with a metal logo at the front. As mentioned, since it's a cover case, not only it covers the phone on your back, but also the front using a flap.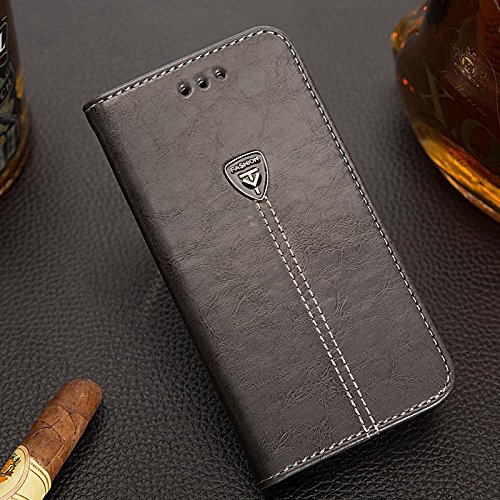 The flap also harbors various pockets which can be used for holding multiple cards including your credit/debit cards, id cards, cash, and more. The card holder side is made of soft material to prevent scratching damages to your phone's display. Not only that, you can also use the case as a stand to place your phone in a landscape mode and enjoy any media hands-free. It's a truly versatile case and you are going to love it. It is a bit costly, however, if you want quality, you will have to spend extra.
Buy From Amazon: ₹799
4. Spazy Case Zenfone 5Z
The Spazy case for Asus Zenfone 5Z brings a brush metal finish which not only looks modern but also improves the grip-ability of the phone. I have always been a fan of brush metal finish since Asus first used them on their laptops, and since this is an Asus phone, I couldn't resist from including this case on the list. The case is made using hard polycarbonate material which is both tough and flexible. The toughness helps in protecting a smartphone against impacts resulting from drops while the flexibility ensures easy application and removal of the case. The case is also very thin and light and doesn't add much bulk to the device. This is certainly something that you will love.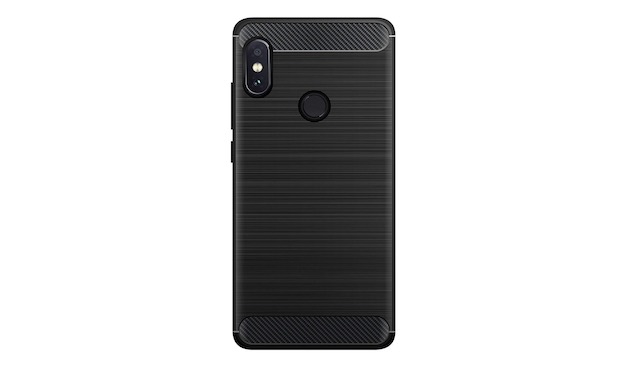 Buy From Amazon: ₹399
5. Lofad Case Back Cover for Zenfone 5Z
If you want to not only protect your device but also showcase its beauty to the world, you should definitely go for a clear case. Many users are fond of clear cases, and this one from Lofad will fall right into their alley. The case is ultra-thin, lightweight and will fit perfectly. The thin and light nature of the case will certainly appease users who hate cases that ads unnecessary bulk to their device. That said, do note that it won't be able to protect against drops and falls and will only be good against scratches and scuffs resulting from day to day wear and tear. That's why I only recommend this case to people who enjoy thin and light clear cases and are not looking for extensive protection.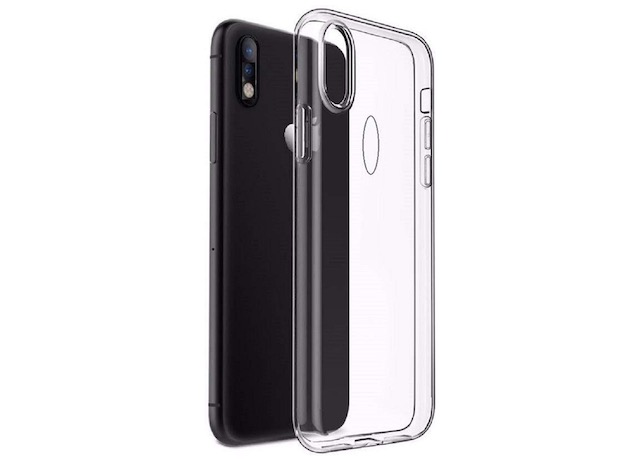 Buy From Amazon: ₹299
6. Knotyy Zenfone 5Z Cover
If you like wood finish cases but cannot justify the huge investment in such a case, this is the case for you. The Knotyy designer printed back case features a wood finish design which looks absolutely beautiful. Do note that the case itself is not made from wood and uses hard polycarbonate material, which is the material of choice by manufacturers looking to provide good protection at a reasonable price. The case features precise cutouts giving users easy access to all the ports and button.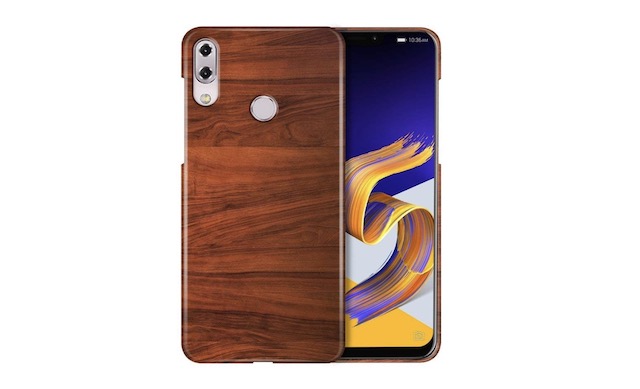 It also features a raised lip design around the camera module preventing it from getting scratched up. Although not as much as the clear case featured above, the Knotyy case is considerably thin and light which means it will not add bulk to your device. Despite its low profile, it will certainly protect your brand new Asus Zenfone 5Z against scratches, scuffs, and some minor drops.
Buy From Amazon: ₹275
7. Casotec Slim Hard Shell Back Case for Zenfone 5Z
The ultra slim hard shell back case for Asus Zenfone 5Z is a thing and light, durable and stylish case from Casotec which brings an amalgamation of minimalism and protection. I love the fact that the case doesn't feature any branding whatsoever. The case is fairly flexible which makes this very easy to put on and off. Despite its flexibility, the case brings enough protection that allows it to easily mitigate disasters resulting from minor falls and drops. While this case is nothing exceptional, it's a good option for anyone who is looking for a little variety.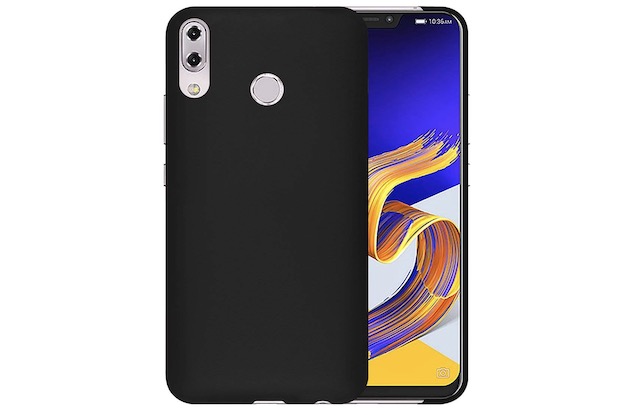 Buy From Amazon: ₹249
8. Js Wallet Case Cover for Zenfone 5Z
If you are looking for a good wallet case however you don't want anything that cost as much as the D-Kandy one, this one from Js is for you. The Js wallet case cover for Asus Zenfone 5Z features the familiar wallet design where both the back and the front of the device is protected. While the outer glistening deluxe leather surface provides your phone with a rich sophisticated look, the inner TPU case provides shock absorption, and safeguards your device from dents and scratches resulting from impact. Just like the D-Kandy wallet case, this one also features a couple of pouches in the front panel allowing users to keep their cards and cash. It can also act as your phone's stand in landscape mode. Basically, it can do everything that D-Kandy wallet case can, just at a cheaper price.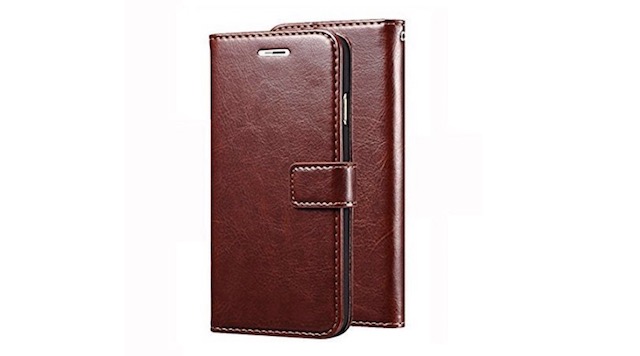 Buy From Amazon: ₹499
9. SPAZY CASE 360 Hard Case for Zenfone 5Z
The Spazy 360-degree hard cases for Asus Zenfone 5Z features a 3-part design which consists of a back panel and a top and bottom bracket. When put the case on the device perfectly, the case brings an all-around protection which can easily handle impacts resulting from drops and falls. I also love the black and red color scheme that this case features. Despite bringing extra protection, the case is one of the cheapest on the list and hence good for anyone who is looking to provide an overall protection to their device without breaking the bank.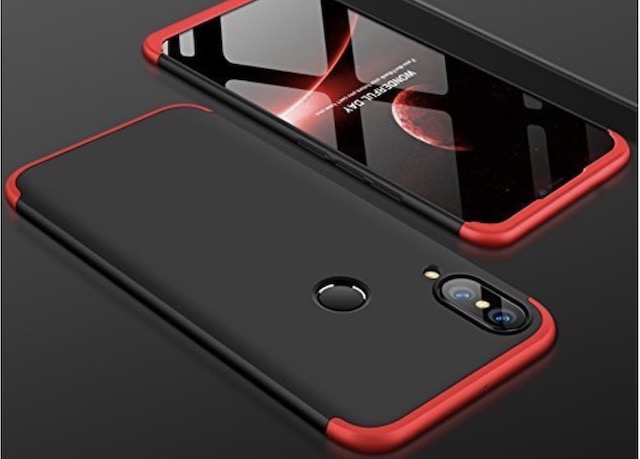 Buy From Amazon: ₹229
10. Acm SVIEW Window Designer Zenfone 5Z Case
The Acm SVIEW Window Designer Case for Asus Zenfone 5Z is great for someone who wants the protection of a cover case without losing the usability of a normal case. The case features a cover case design where the front panel has a smart view window allowing users to easily view notifications without opening the panel. The case also features a swivel mechanism allowing you to easily rotate the case in landscape and portrait mode. This also allows users to use the case in stand mode in both orientations. The only thing that I don't like about this case is that it looks a little bit ugly. Other than that, I am quite happy with its functionalities.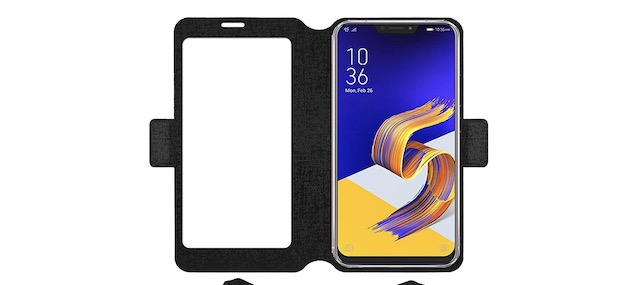 Buy From Amazon: ₹449
SEE ALSO: 10 Best Asus Zenfone 5Z Screen Protectors You Can Buy
Protect Your Zenfone 5Z with These Awesome Cases
That ends our list of the best cases and covers that you can buy for your brand new Asus Zenfone 5Z. Do check the list out and let us know which one is your favorite case from the list. If you already love a case which is not on the list, share its name and link in the comments section below. We love to listen to our reader's opinion and any comment is highly appreciated.