Asus just launched the ZenBook Pro UX580 in India today and the device is definitely worth your attention. Wonder why? Well, the ZenBook Pro packs in a rather innovative trackpad which doubles up as a second display.
The 5.5-inch ScreenPad on the ZenBook Pro UX580 isn't your ordinary trackpad by any means, it's a fully functional display which can be completely customized to add shortcuts, application specific toggles or pretty much anything else, depending on your requirements. Other than that, since the notebook comes with a 'Pro' tag, it's quite obvious that Asus has packed in the top-of-the-line specifications in a pretty compact and sturdy chassis which will surely give competitors a run for their money. So what exactly does the ZenBook Pro offer? Let's jump right into the specifications and find out:
Asus ZenBook Pro UX580 Specifications
| | |
| --- | --- |
| Processor | Up to Intel Core i9-8950HK |
| Memory | 16GB DDR4 @2400MHz |
| Storage | 1TB PCIe SSD |
| Display | 15-.6-inch 4K UHD touchscreen |
| Graphics | Nvidia GeForce GTX 1050 Ti with 4GB GDDR5 VRAM |
| I/O | 2x Type-C USB 3.1 Gen 2, 2x Type-A USB 3.1 Gen 2, 1x HDMI, 1x Combo audio jack, 1x MicroSD card slot |
| Battery | 71Wh 8-cell LiPo |
| Weight | 1.89kg |
Design and Display
Now that we're done with the specifications, let's talk about the design and display of the ZenBook Pro. Design wise, the new ZenBook Pro isn't a whole lot different from older ZenBook Pros and it features the Asus logo on the lid along with a smooth metal finish. The palm rest has a rather premium brushed aluminum finish, but it doesn't carry forward to the base of the device. Which is exactly why the base is a major fingerprint magnet, but I wouldn't really hold that against Asus, as you'd rarely be looking at the bottom of your laptop.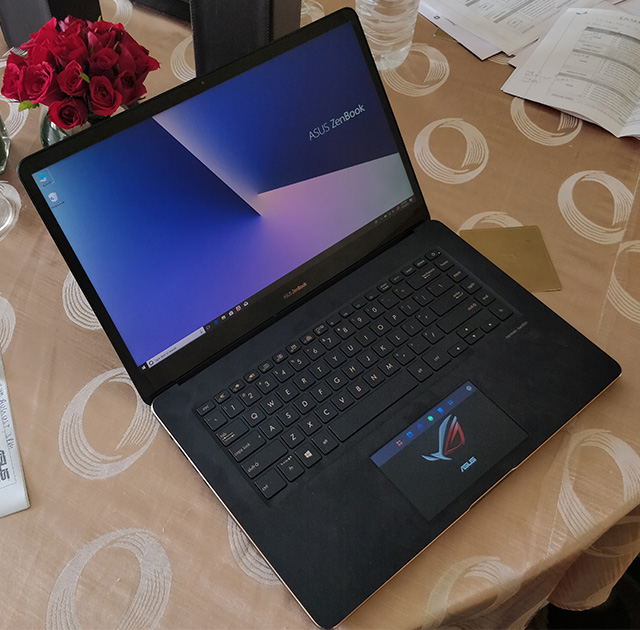 The display, with its thin bezels, is absolutely stunning. Asus claims that its 4K UHD panel on the top end variant of the device has a Delta E value of less than 2 and that it covers 100 percent of the Adobe RGB color space with Pantone certification. While I can't confirm those values without our own testing, in my short time with the device I did find it rather vibrant and surprisingly quite bright. Owing to the thin bezels, the ZenBook Pro has an 83% screen to body ratio and the display has a 178 degree viewing angle, so media consumption on the device will absolutely be great.
ScreenPad
Since the ZenBook Pro is pretty much like any other laptop without its unique trackpad, it won't be fair of us to not give some special attention. The ScreenPad, which is what Asus has decided on calling it, is the USP of the new ZenBook Pro and it's a 5.5-inch FHD display which tracks quite well and feels pretty much like using a smartphone in landscape mode.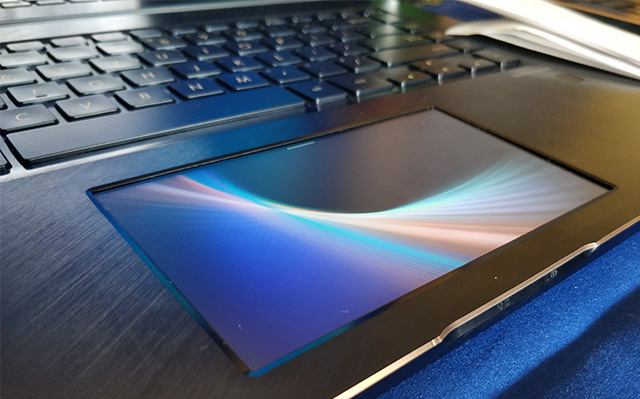 By default, the ScreenPad is used as a second screen that can be utilized to launch apps or quick access to program functions, depending on which program you're running at the moment. Asus has tied up with Microsoft to offer some unique functionality in its Office suite, which will allow users quick access to handy shortcuts as soon as you power up any Office application. Other than that, the ScreenPad can also be used as a calculator, a calendar, or for music controls, which is quite a handy addition.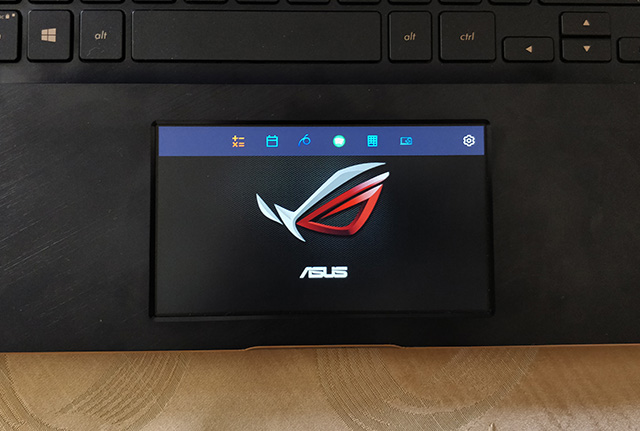 Furthermore, the ScreenPad can be used as an extension to the bigger 15.6-inch display and as soon as you activate this mode you'll be able to drag any application to the ScreenPad and use it via touch controls. Perfect for boring days at work when you want to watch some videos while pretending to be extremely busy. What's really great about the ScreenPad is that Asus will be allowing developers to create applications or extend their current applications' functionality which creates endless possibilities.
Hardware
The ZenBook Pro packs in some formidable hardware which is geared towards professionals who're looking for a powerful system they can take on the go. Buyers will be able to configure their ZenBook Pro with up to a Core i9 processor along with an Nvidia GTX 1050 Ti graphics card. The laptop will come with 16GB of DDR4 memory along with a 1TB PCIe SSD, which will definitely be enough for an average user's needs. However, considering the fact that all this hardware is packed within in a rather slim chassis, I was a bit worried about the device's performance. I was assured that, unlike the recently launched MacBook Pro, the ZenBook Pro will be able to do justice to the Core i9 packed within and won't have any thermal throttling issues.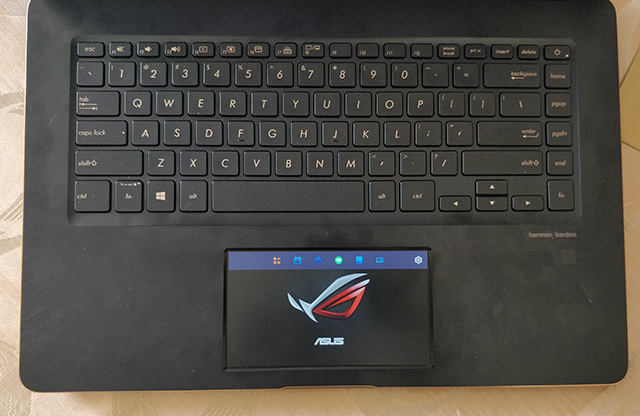 In order to address just that, Asus has included a dual fan, triple pipe cooling system on the notebook which will keep the temperatures under control. We'll definitely put these claims to the test once we get our hands on the review unit. Other than that, the ZenBook Pro has a pretty standard keyboard with a tenkeyless layout, which means that it doesn't have a number pad. That leaves a lot of room for the primary keys, which are spaced out quite well and have a decent travel distance. In terms of I/O ports, the Asus ZenBook Pro has almost everything you'll need on the go, including two USB Type-C Thunderbolt 3 ports which, in my opinion, is a great addition.
Asus ZenBook Pro: Genius or Gimmick?
Without the Screenpad, the new Asus ZenBook Pro is a formidable machine with great hardware specifications and a tried and tested design. However, with the Screenpad, the notebook is in a league of its own and it aims to provide a solution to several of our problems which can be solved with a second screen, even if a bit smaller. Asus has done a great job in demonstrating how the second screen can be used to bump up your productivity and has even floated an SDK for developers to come up with new applications. But is the Screenpad actually as handy as Asus claims it to be or is it just another gimmick? Unfortunately, you'll have to wait for the full review to find out. What do you think about the new Asus ZenBook Pro? Does the Screenpad really change the game? Share your opinion in the comments section below.