Bluetooth speakers are a dime-a-dozen in the market. Setting their products apart from the competition should be a huge challenge, but we see rivals routinely aping designs from each other or going with ODM-designs from China, which means that competing speakers look identical.
Zaap is one such manufacturer and while the Hydra Extreme (Rs 2,999) is not a unique speaker by any means it does have a few extras up its sleeve. For one, it's water resistant and it also is protected against shocks from drops or falls. It's a rugged-looking compact unit, which should ideally be perfect for the outdoors and your travels. Let's see if it fits that bill.
We won't delve too much into box contents, because there's literally nothing in the box besides the speakers and the requisite aux and microUSB cables. It's as basic as it gets. Instead let's look at the design of the speakers.
Zaap Hydra Extreme: Design and Build
The Zaap Hydra Extreme comes with a carabiner attached to a compass. Add that to the rugged exterior with angled cuts of hard plastic and some metal elements, and it looks all set for a day of sailing. Alas, the compass is a fake and just for show. That's a terrible first impression.
The body looks seriously serious. There's not a touch of playful design here, with the ports protected by sober rubber flaps. The exposed screw-work is another touch that definitely makes these speakers look and feel masculine.
I definitely can see many people dig this design, and it certainly matches the promise of being a rugged speaker, even if it looks a little run-of-the-mill for this category.
It's not Extreme by any means, but we can see why that word was used in its name. The 'Hydra' part is presumably for its water-resistant build. Hydra, of course, has nothing to do with 'hydro' which is the water-related prefix Zaap is trying to go for. But it stuck with Hydra, which you may know either as a genus of small, fresh-water organisms, the mythical Greek many-headed serpent or the fictional supervillain organisation from Marvel Comics, named after said serpent. It may seem like a digression, but it really does annoy me when brands use names without a thought. It's the first thing anyone finds out about your product, so it should be bang on the money.
That aside, I don't think I have any complaints about the look of these Bluetooth speakers; they look as promised and definitely make you feel like it's rugged. The defunct compass was a shame, but then again, I don't know anyone who would use a compass to navigate these days.
Zaap Hydra Extreme: Sound Quality
While the look gives you the feeling of the speakers being robust and full, I probably should not have expected much from the small sound chamber in these speakers. Sure it gets loud and has booming bass, but the sound quality is far from stellar. It comes with 12-watt stereo speakers and dual subwoofers for a very bass-forward sound.
For one, the speakers are not great for songs or genres which let the treble shine, as they don't reproduce the highs very well – it tends to get shrilly and shows distortion easily at higher volume levels. Secondly, the mids are muddled by the bass. If you like bass-heavy genres or generally want to feel that boom, you should definitely pick these up because it has a very, very warm sound. A lot of the delicate instrumentation or layering is lost with so much emphasis on the bass.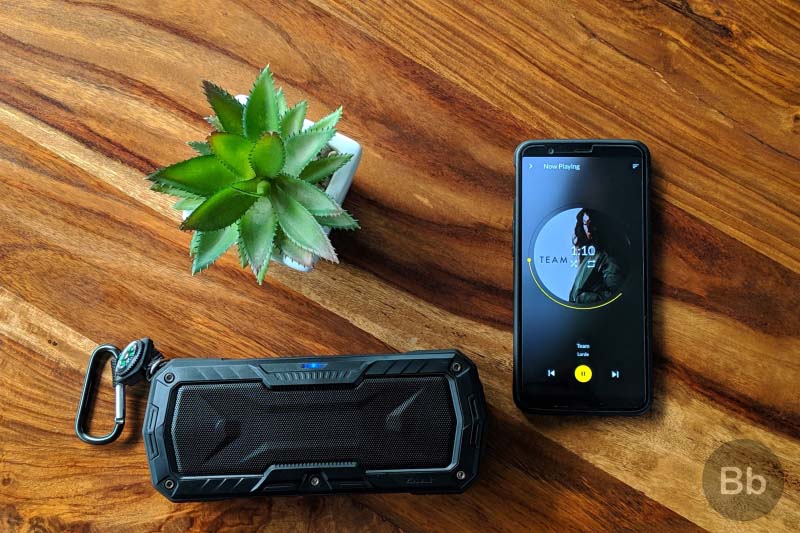 I found a neat trick to making these sound better at home. Just set them at 80-85% volume, and leave them in a glass cabinet or shelf. You could even leave it inside a drawer, with it open slightly. This creates a better acoustic chamber for the speakers and does help in controlling some of that hyper-energetic bass performance.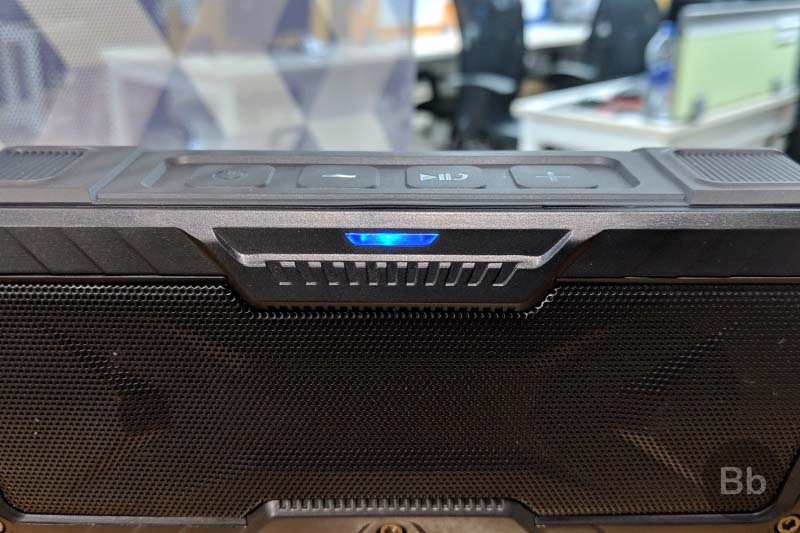 I do wish the speakers had a more well-rounded soundstage and didn't lean so heavily towards lows, which is shame for someone like me who prefers listening to Indie and Alternative Rock genres. It's not that the speakers are bad, but if you have heard the same song many times over various earphones and speakers, you would easily notice the muddled mids and weak highs.
Zaap Hydra Extreme Connectivity
The speakers come with rubberised buttons on top, with a power button, volume controls and play/pause/call answer button. They all work fine. Connecting to the phone was also trouble-free and worked in the first attempt for multiple devices easily. Double-pressing the volume button also changes tracks in compatible apps.
For voice calls, the speakers are more than adequate and the built-in microphone works without a problem. I just don't know about the convenience of answering calls on a large speaker. If it's for you, the good news is you can do it.
Zaap Hydra Extreme Battery Life
The Zaap Hydra Extreme is rated for 8 hours of continuous listening, and I found the claim to be more or less true. In everyday usage, at around 60-70% volume, you are likely to get a full day's usage with intermittent listening and just over 8 hours for continuous listening. You are likely to get less than that if you also take calls on the speaker.
When it comes to charging, the speakers use the older microUSB port and the supplied cable, while not the longest, is quite adequate for charging up the speakers next to your PC. You don't get a power adapter, so you will have to supply that yourself for wall charging.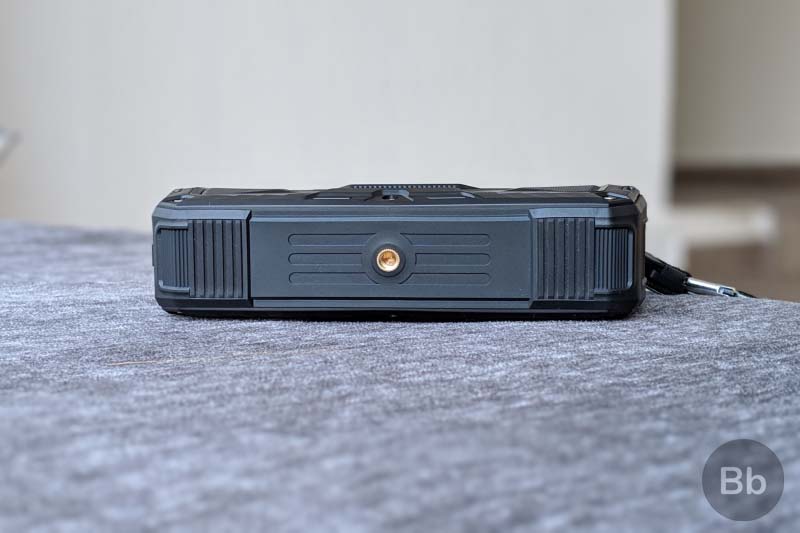 The performance over aux through the 3.5mm jack is similar to Bluetooth. I didn't find any difference in sound quality, but battery life is sure to improve over the aux connection and it's definitely great to have.
You also get a tripod stand screw in the bottom so you can place the speakers at a height when used in a multi-speaker arrangement.
Zaap Hydra Extreme: Up Against Stiff Competition
The competition is not much better though, and that should be some consolation. I compared the Zaap Hydra Extreme to Zook Rocker M2, which also has a super-masculine look and a rugged exterior. I have had the Zook Rocker at home for a while now, and it's used as a companion for my laptop. It does the job and doesn't have great sound, but it's good enough for movie watching and the occasional YouTube party mix. The Zaap Hydra Extreme have a very similar sound signature and I suspect use the same driver manufacturer. In any case, the Zaap speaker's water-resistance is an advantage over the Zook unit.
I also compared the sound quality to a Google Home Mini, which I use at home. And the Home Mini produces richer, fuller sound without overpowering any one frequency. And given that it's same price as the Zaap Hydra Extreme, I would recommend the Home Mini if you only want to use the speaker in a fixed location with no expectation of portability.
Zaap Hydra Extreme: Final Words
The affordable Zaap Hydra Extreme speakers definitely look great, but the skewed soundstage and the bass-forward performance really didn't impress me from a reviewer's point of view. As a casual listener though, the speakers are adequate and match the competition with its loud output and long battery life. If you are looking for water-resistant pair of speakers which don't break the bank, and don't sound any worse than the competition, then the Zaap Hydra Extreme could make sense for you.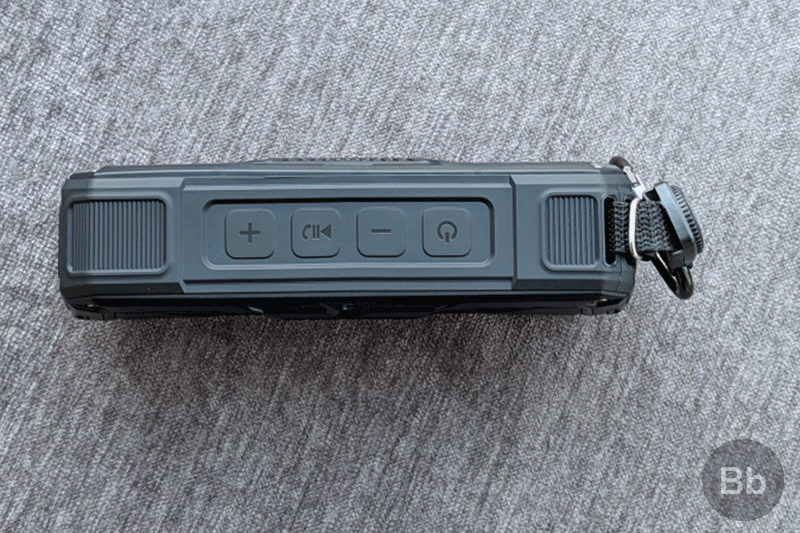 However, as we said in the beginning there are plenty of wireless speakers these days and a casual search on Amazon threw up plenty of rivals for the Zaap Hydra Extreme, which also have water resistance such as the Boat Stone 600 (around Rs 2,500) or Sony's Extra Bass XB10 (around Rs 2,800) splash-proof speakers. We haven't tested either but we can't expect the sound quality to be much worse. So yes, there's plenty of competition and Zaap just doesn't make enough of an impact to earn a clear recommendation.
Check out the Zaap Hydra Extreme on Amazon (Rs 2,999)
---
Load More