Smart lights may not solve many crucial problems in your life, but they do add a ton of convenience as the Indian market is beginning to find out. Smart home devices are one of the hottest selling categories on e-commerce platforms. India is seen as the biggest market for IoT or smart home devices, thanks to the already-existing mega smartphone market.
Xiaomi wants a big piece of this market, and it's slowly bringing its various brands from China to India. We saw this with the success of the Huami Amazfit wearables, and now the formula is being repeated with the Yeelight smart lights and home accessories.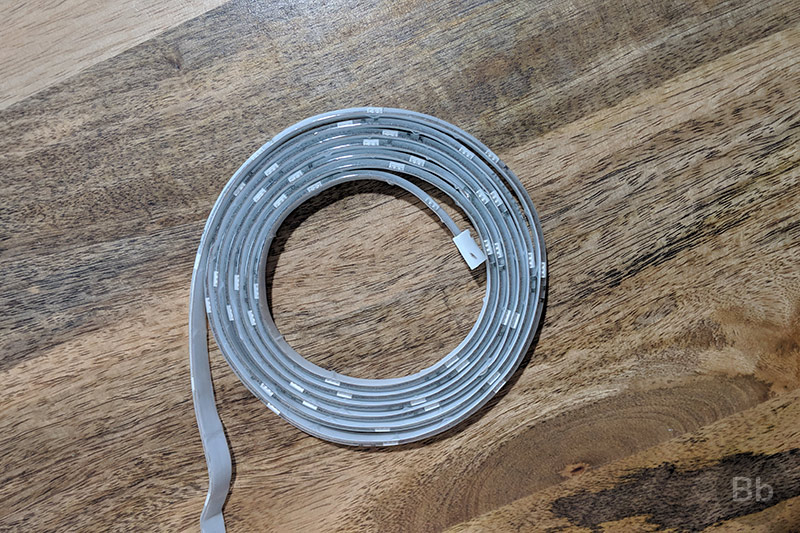 Yeelight has a number of smart lights, but perhaps the most unique of the lot is the Yeelight Aurora Lightstrip Plus. It's a modular light strip that can be extended or truncated based on your needs, and it can easily be attached on a wall, or under furniture for accent lighting and a splash of color.
Yeelight Aurora Lightstrip Plus: Design and Build Quality
Our review unit came in a compact cardboard box with moulded cardboard holding the coiled-up light strip in plus on top. The lighting unit comes with separate cable power cable and is attached to a single-button remote via another cable. The LED Lightstrip Plus has a length of 2 meters, but it's extendible to 10m in all with the adapter that you can purchase separately.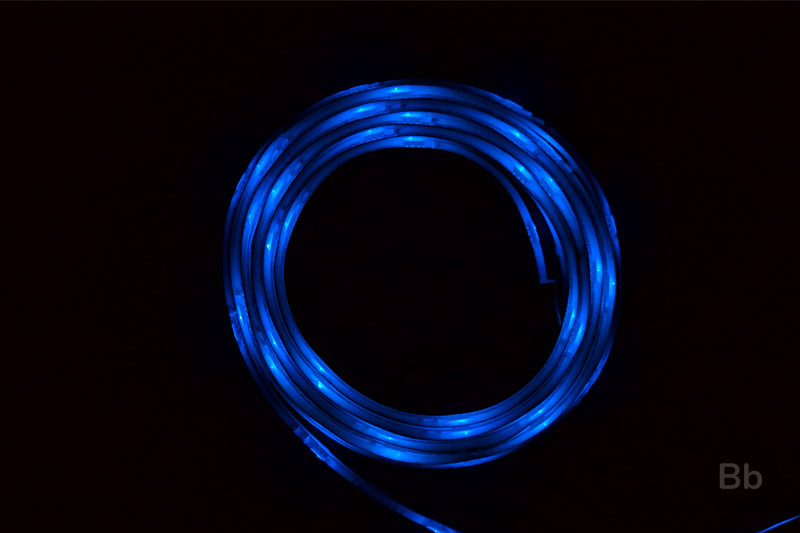 The light strip looks unlike any other string light you might have used in your life. The all-white body has a slight glint to it, and it will definitely stick behind furniture ends or on the wall thanks to the sticker back, which needs to be peeled off before installation on a wall. You can even let the Aurora Lightstrip Plus dangle around furniture or clumped up on a desk for a less formal look and it will look great there too. As the LED lights are covered by a plastic top layer, you don't even have to worry about the lights scalding you when in use.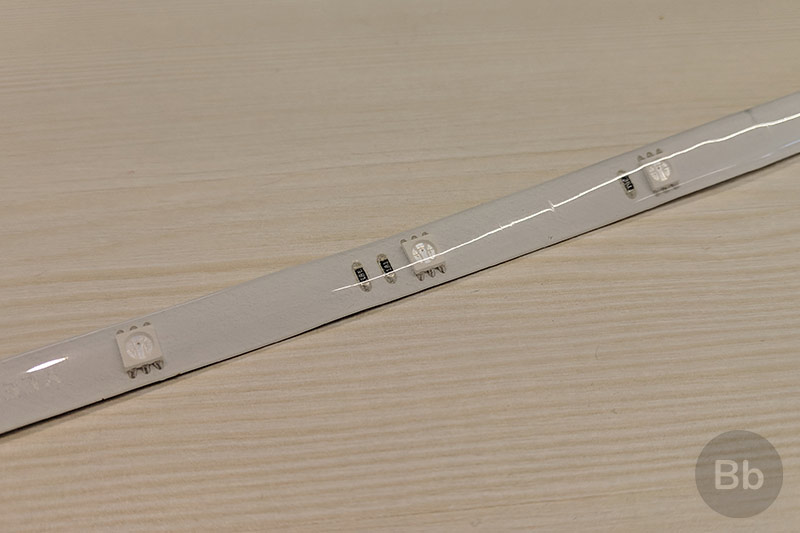 The clear plastic coating also protects the strip from accidental water splashes or, if exposed outdoors, from light rain. I found the light strip's build quality to be excellent and given the modularity – you can cut the light strip at certain indicated spots to reduce its length – it's also very versatile.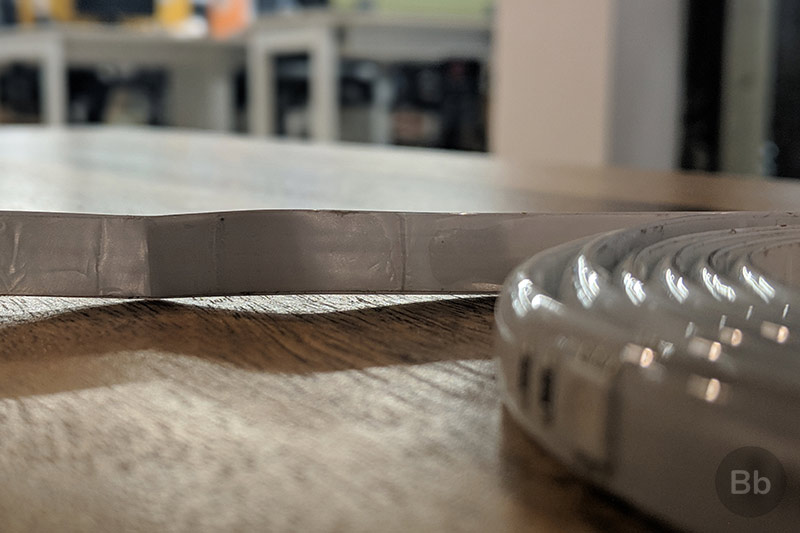 One complaint I have is the number of cables in the entire unit, which means everything gets tangled up very easily. Thankfully, you wouldn't need to move the light too much after sticking it on a wall or a panel.
Yeelight Aurora Lightstrip Plus: Connectivity
Even without a smartphone connected, the light strip glows on when you plug the adapter in to a power outlet. The accompanying control unit can be used to reset the lights or to sync it with a smartphone. The Yeelight Aurora Lightstrip Plus comes with a 2100mAh built-in battery for up to 8 hours of continuous use.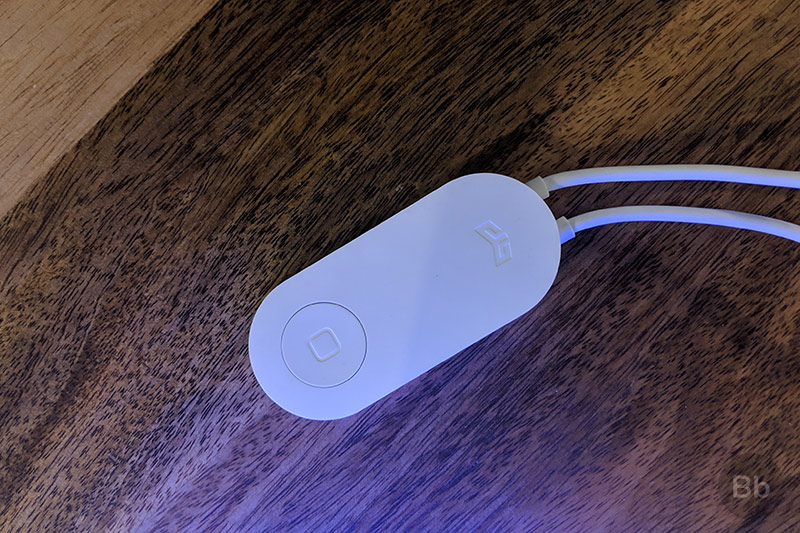 When syncing with a smartphone, you need to download the Yeelight app, where you HAVE to register to a Mi.com account to proceed and link the lights to the app. Once the pairing is done, you will see the Yeelight in the control panel, where you can customize and tweak its colors, flashing intervals and set lighting profiles.We'll get to those features in a bit.
Besides the Yeelight app, you can use Google Assistant or Alexa to control the lights too. For Google Assistant, you have to add a new device and select Yeelight from the list of manufacturers to add the light strip. While we didn't use the Lightstrip Plus with Alexa, the process is similar.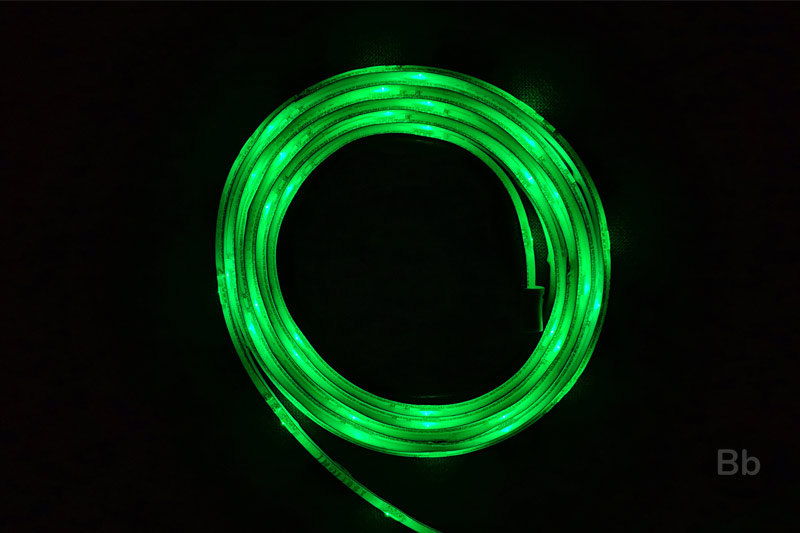 Once you have assigned a room for the Yeelight Aurora Lightstrip Plus, you can turn it on or off using voice commands like any other Google Assistant task. You can also adjust the brightness of the LEDs using Google Assistant, but you cannot tweak the settings such as color cycle or flickering pattern using Google Assistant, which is only possible using the above Yeelight app.
Yeelight Aurora Lightstrip Plus: Illumination and Effects
The quality of the individual LED light units is really good. It gets very bright, so much so that we had to turn it to a lower setting for the photos that you see here.
The Yeelight Aurora Lightstrip Plus can produce more than 16 million colors and using the Yeelight app, you can play around with them to your heart's content. Seriously, you will not be able to hit every color, if you tried.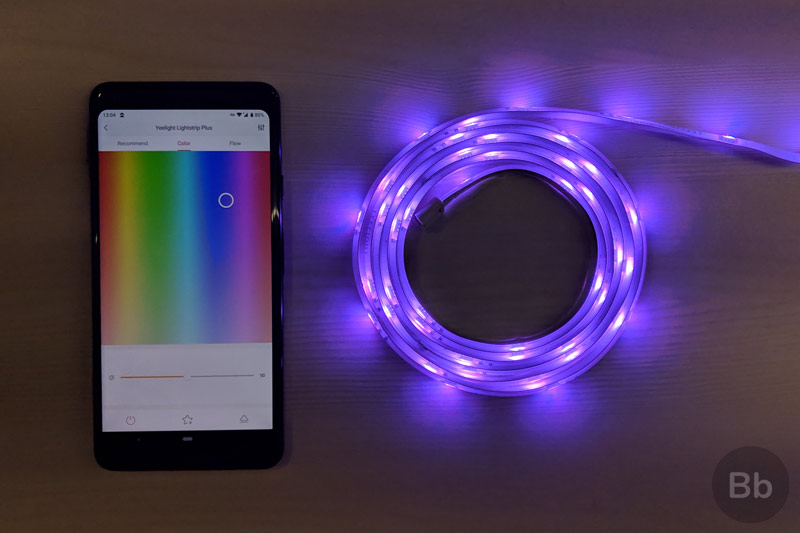 I love how bright these LEDS get at full intensity. Which means you can have them ensconced behind even the thickest of wood panels and the light will still shine through any gaps between the furniture and the wall. We can imagine it looking really great in a gaming room, with the lights matching the rest of your build, or just as an accent for dim mood lighting in the bedroom. The lights have enough brightness to allow you to read a little, and you can turn them off through your phone without getting off the bed to fiddle with switches in the dark.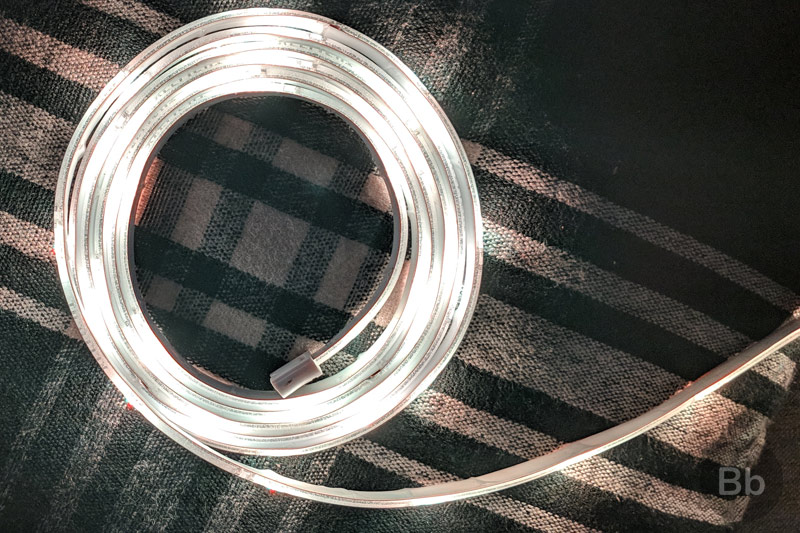 To make choosing the right colors and effects easier, you can pick any of the preset profiles or create your own. The effects included are mood lighting options such as romantic, twilight, candle flicker, birthday party, movie theatre like effects and more. I imagine most people will be too busy to use these settings when playing hosts, and are more likely to leave it on a particular color alone. Nevertheless, these presets can be cool to show off to friends.
You can also set a custom color cycle in the Yeelight app setting how rapidly you want the colors to change and the intensity of the LEDs. This option is great for entertainment venues such as a bar or to reflect a particular theme.
Yeelight Aurora Lightstrip Plus: Worth Buying?
Of course as with most smart 'things', this light strip is not as reasonably priced as one might expect.
Priced at Rs 3,599, the Aurora Lightstrip Plus is certainly not affordable for the product that is. At just 2 metres, the main unit is not that long, and to add dasiy-chain the lights, you need to spend over Rs 1,000 for each extension with 60 more such LEDs. It's a lot to pay to truly decorate your house. So essentially, the Yeelight Aurora Lightstrip Plus has hidden costs, which – we can all agree for once – leave you with foul feeling.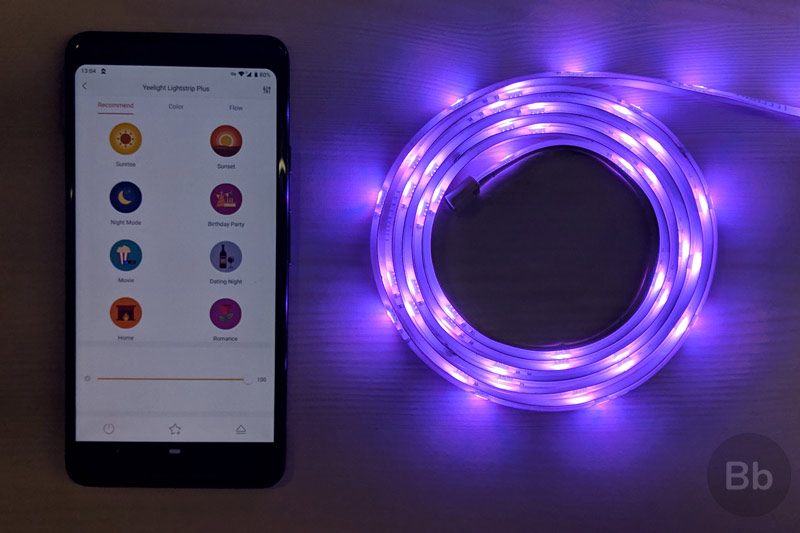 Despite that the Yeelight Lightstrip Plus is cheaper than the Philips alternative, which starts at around Rs 5,000. Crazy, right? Instead of a light strip, you can purchase the Yeelight smart table lamp, which is priced at Rs 3,999. The Philips alternative for a table lamp is priced at Rs 7,500.
Let's face it: most of us don't tweak our light settings as often as some tech companies would like us to. In many cases, we also have a particular look we want to go for in our rooms from an interior design point of view, and our tastes don't change so often that we need to instantly have a different color light in the room.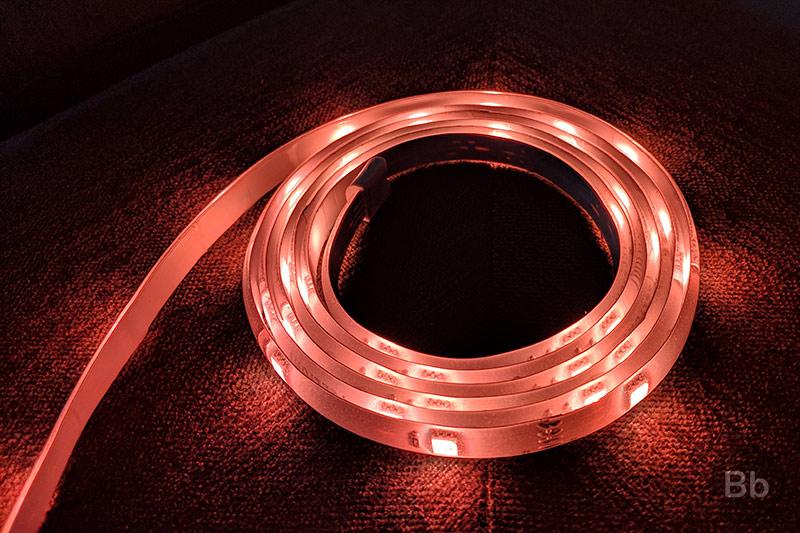 Secondly, the light strip is not ideal for all kinds of spaces, and leaving it coiled up on your desk or having it stuck on the outside of furniture can make it look tacky or messy. I would much prefer a smart lamp for my desk or a smart lamp with an alarm clock for my bedside. And I can definitely find that in the market as well for a similar price.
Buy the Yeelight Aurora Lightstrip Plus (Rs 3,599)
REVIEW OVERVIEW

Design and Build Quality

8.5

SUMMARY

The Yeelight Aurora Lightstrip Plus looks great and is well-built, but the price is not worth paying for some very simple features, and there are hidden costs too. I would much prefer a smart lamp for my desk or a smart lamp with an alarm clock for my bedside. And I can definitely find that in the market as well for a similar price.