As schools reopen after a long summer vacation, it's time for the Back to School season. Wondershare Filmora is getting huge discounts for students during its Back to School campaign. To foster creativity from the beginning of the school year to the end, Filmora is introducing a new Class Pass Effects pack, AI features, and much more. You can elevate your video projects and create stunning presentations to leave a lasting impression in your school. So, read along and learn more about the newest features in Wondershare Filmora.
Level Up with AI Features
Wondershare Filmora is one of the best tools for students and educators since it comes with incredible AI features. You no longer have to isolate the subject from the background manually. With AI Smart Cutout in Filmora, you can quickly remove the background from your videos perfectly. You simply have to select the target subject and using the smart brush, the subject can be isolated easily.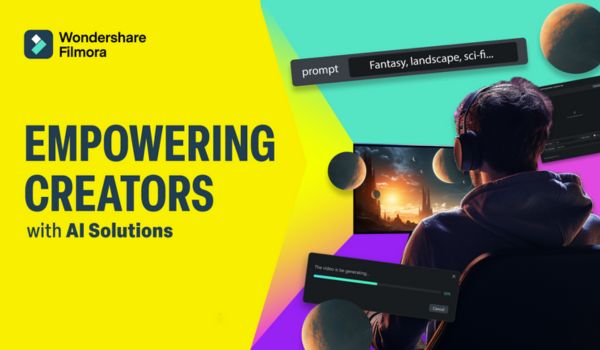 Apart from that, Wondershare Filmora now features AI Audio Stretch that lets you stretch the audio from the timeline. You don't have to copy and paste the audio track multiple times. Using built-in AI technology, the video editor can increase the duration of the audio track. In addition, you have another AI-powered Audio Denoise feature, which can remove noise from audio tracks with a click. Being a student, this will save you enormous time, and you can focus on other creative tasks.
Create Scripts With ChatGPT Plugin
We are witnessing the age of AI, and we know how popular ChatGPT has become for a multitude of tasks, especially for students. And the best part is that Wondershare Filmora has a new ChatGPT plugin that can help you write scripts for YouTube videos, create descriptions, titles, and much more.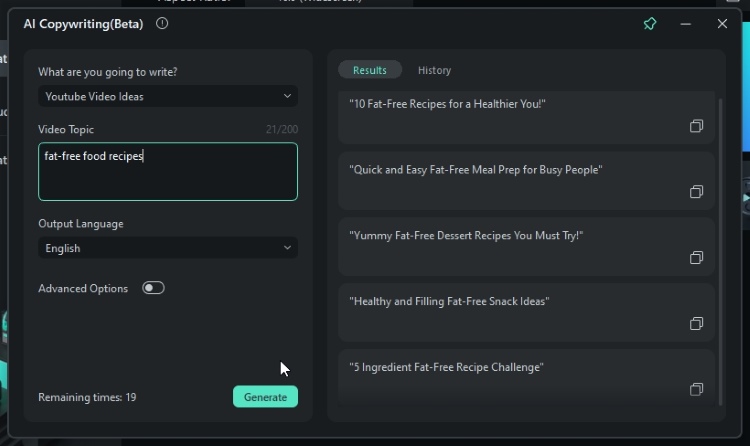 With the built-in AI Copywriting feature, you can add your prompt and it can instantly generate interesting scripts and descriptions for videos for better traction on the web. You don't even have to add your own API key. This is yet another AI-powered feature of Wondershare Filmora that will make students more productive.
Explore Class Pass Effects Pack
To make Wondershare Filmora even more enticing for students, the company has introduced a Class Pass Effects Pack that comes with a total of 27 assets. These cool effects are designed especially for students and they look very engaging and creative. You can use the Class Pass Effects to create appealing videos for seminars, discussions, presentations, and all your class projects. In fact, you can edit each of the elements in the pack to drive your own creativity and make something that stands out.
Channel Your Creativity
Students love to showcase their talents with interactive projects, and Wondershare Filmora is the perfect place to channel your creative energy. It houses Filmora Creative Assets, formerly known as Filmstock library, where you can find thousands of trendy effects, stunning templates, and sound effects. The library has hundreds of cool and fun video effects packs and music files. Not to mention, you can design beautiful titles that match your aesthetics. I love using 3D text animations, which you can use in the titles of videos. Just so you know, there are more than 40 3D text effects for you to explore and use.
Besides that, Filmora also comes with Animated Avatar that can talk, move, and mimic various facial expressions. For presentations in school, this can be of remarkable help to students. You can customize the transition, change the background, and create an avatar via your own virtual self. So to make your presentations truly engaging and creative, Wondershare Filmora is the best video editor you can opt for. Not to forget, Wondershare Filmora can empower students with new creative skills and foster a balance between homework and creative tasks.
Intuitive Video Editor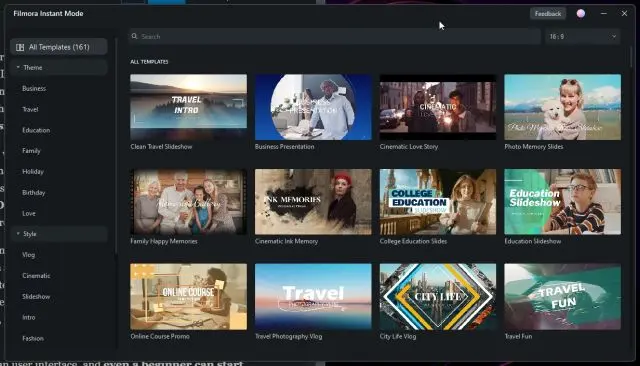 One of the highlight features of Filmora is that it's easy to use and the user interface is highly intuitive for beginners. And that's what makes Wondershare Filmora a perfect video editor for students and fledgling creators. If you are just beginning to try your hands at video editing, Filmora offers an Instant Mode, where you can select a template, add your media files and Filmora will create a stunning video for you. It automatically highlights important portions of the video, adds a soundtrack for auto beat sync, infuses cool video effects, and more. And if you choose to customize the elements, well, you can do so effortlessly.
Become a Content Creator
The young generation is looking for new avenues to generate secondary income by creating thoughtful and engaging content. And the Wondershare Filmora tool can help you realize your dream of becoming a cool content creator. With its time-saving AI features, intuitive UI, Filmstock library, and advanced features like keyframe, adjustment layer, etc., you can create compelling videos and generate passive income by the side.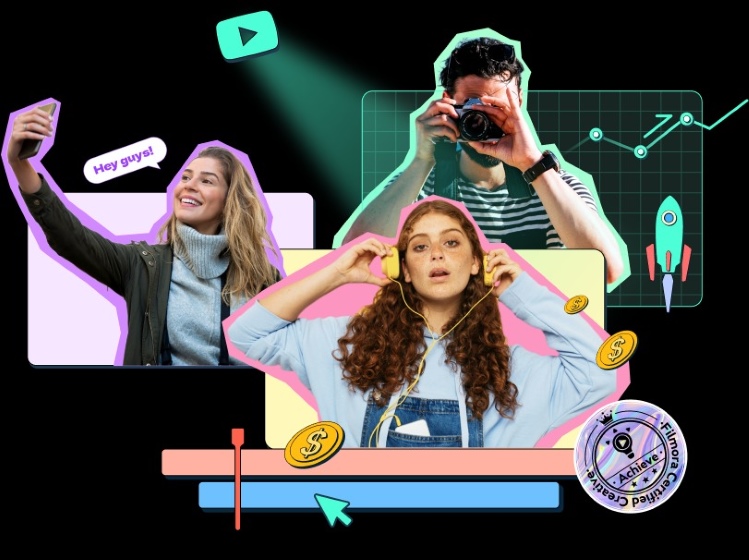 According to an estimate, more than 85% of the young generation wants to become content creators. So why not get an early head start by learning new skills and creating engaging content for your audience? Filmora has all the essential tools to make videos for any platform you want.
To support their creative endeavors, from now until Sept. 30, Filmora is also running its Young Creator campaign, giving the younger generation four opportunities to win $250 to fuel their creativity.
Wondershare Filmora: Pricing and Plans
In the ongoing Back to School campaign, you can get Wondershare Filmora at a heavily discounted price. The company has special plans for students and educators which start from $19 per month with a discount of 50%. There is also an Annual plan, which starts from $40.99 per year, and a Perpetual plan which costs $49.99. With all the plans, you get access to the premium features including unlimited assets, free updates, and no watermark on exported videos.
Check out Wondershare Filmora's Back to School Campaign
---
Load More