Robot vacuum cleaners are becoming increasingly popular around the world for many reasons. Primarily, because they are automatic, so you don't need to mop or vacuum your house, and because they are getting quite affordable as well. So, if you're looking for a feature-packed, powerful vacuum cleaner for your house, you should really consider taking a look at the Viomi V3 Max Robot Vacuum ($499.99; introductory price of $359.99). Let's take a look at some of the most exciting and useful features offered by the Viomi V3 Max.
Viomi V3 Max Robot Vacuum: Features
Cleaning Features
3-in-1 Mopping and Vacuuming
Most vacuum cleaners are just that — vacuum cleaners. They can help pick up dust and small debris off your floor, but nothing else. The Viomi V3 Max, however, comes with a 3-in-1 cleaning system.
This robot vacuum cleaner can vacuum, and mop your house, and do it incredibly effectively. You get three different modes here, including sweep only, sweep and mop, and mop only, and you can choose whichever mode you require.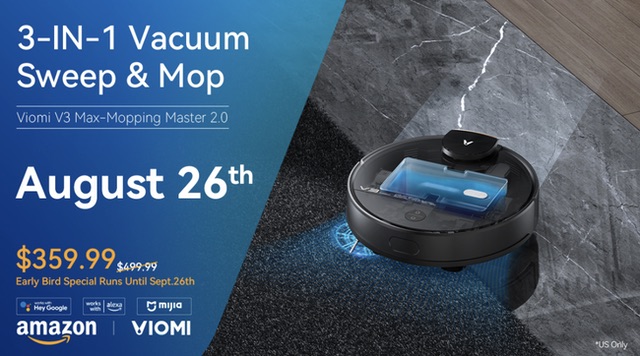 With a combination of these modes, the Viomi V3 Max Robot Vacuum can easily clean your house from dust, dirt, footprints, stains, and pet hair without breaking a sweat.
Further, the Viomi V3 Max uses an exclusive deep cleaning algorithm to mimic the manual mopping methods and achieve 97.5% cleaning coverage. It also comes with improved soft and hard fiber stripped mops to easily handle tough stains.
Though the vacuum will easily clean your house, cleaning out the dust bin of the Viomi V3 Max is also really easy. All you need to do is press a button and the vacuum will automatically flip open the dust bin door to empty out all the dirt it has cleaned from your house.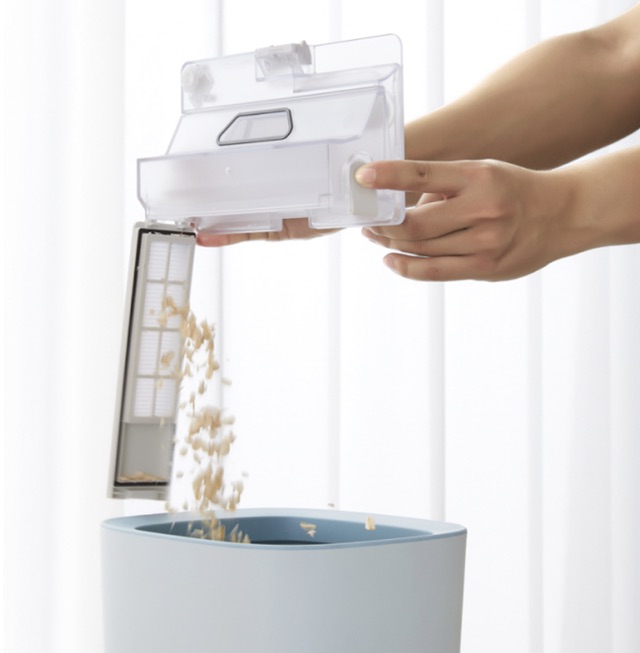 Improved Water Tank with Precise Water Control
In order to facilitate mopping features, the Viomi V3 Max comes with a 2-in-1 dust and water tank, which brings a 200mL water tank and a 400mL dust bin so you can vacuum and mop your house at the same time.
The water pump within the Viomi V3 Max is a new ultra-precise peristaltic pump, the kind you'd see in hospital IV drips, and is tested for over 1500 hours of use.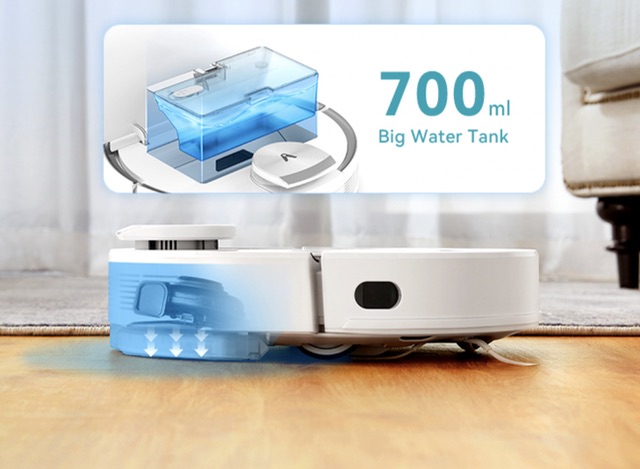 Optionally, you can also get a 700mL water tank for the vacuum cleaner which can easily mop a 700 sqft apartment three times and a large 2600 sqft apartment in one go without needing any refills.
Smart Features
Laser Navigation, Scanning, and Mapping
The Viomi V3 Max comes with a boatload of sensors, including a LiDAR sensor that helps it manage its way through complex environments. The vacuum cleaner uses this sensor to make floor maps of your entire house and saves them for future use.
Apart from the LiDAR sensor, the vacuum also comes with an array of 24 other sensors including infrared to prevent collisions, and drop sensors to help the vacuum avoid falls.
The vacuum is packed with an A35 quad-core processor which, along with the SLAM algorithm, helps the vacuum process sensor information and adjust its path in real time. This way, it completely avoids any collisions while achieving a very precise cleaning.
Customized Cleaning Using Maps
As mentioned above, the Viomi V3 Max creates a map of your house to make it easier to navigate. But that's not all. In fact, the vacuum can create and store floor maps of up to 5 different floors, which is great if you have a large house.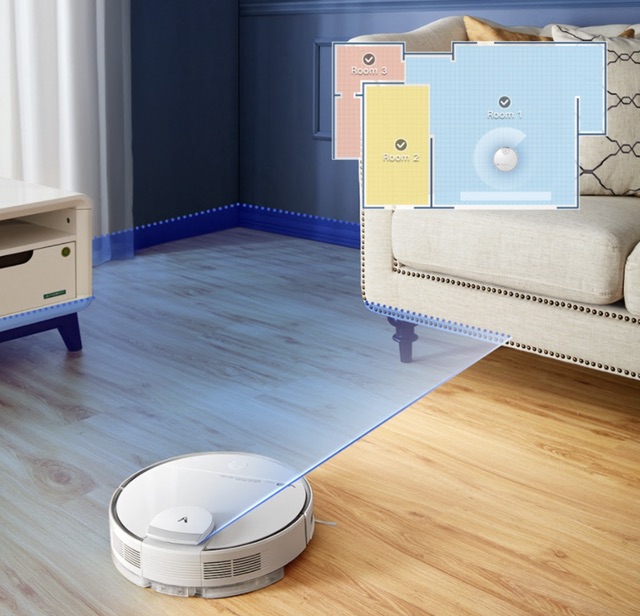 Moreover, you can manually manage the maps as well. This means you can easily divide or merge zones on the map, and control the areas which the vacuum is cleaning. You can also specify the vacuum to clean only one particular area of the house if needed.
General Features
Powerful 2700Pa Suction and Quiet Performance
The Viomi V3 Max Robot Vacuum comes with a powerful vacuum creating 2700Pa of suction power. This means that you don't have to worry about the vacuum's efficiency in cleaning your house. It can easily handle vacuuming both soft and hard floors, and still manages to stay quiet. In fact, Viomi says that the vacuum's volume is no louder than an operating microwave in quiet mode.
Viomi is a Xiaomi ecosystem company, so naturally that means this vacuum cleaner can be fully controlled using the Mi Home app. With the app, you can view and manage maps, create schedules for cleaning your house, create no-go zones, and do a lot more.
You can also use both Google Assistant and Alexa to control the vacuum cleaner by voice, so you don't even need to pick up your phone to start cleaning your house.
When cleaning stubborn surfaces, such as carpets, the Viomi V3 Max comes with an auto-carpet boost mode that increases the suction to 2700Pa to ensure that hair, dust and debris that may be stuck in the carpet fibers are properly cleaned up.
The Viomi V3 Max Robot Vacuum comes with a fairly large 5,200mAh battery. This, Viomi says, is enough for a 300-minute runtime in Quiet Mode, and can clean up to 3000 sqft area in one charge.
Plus, if the vacuum is low on battery while cleaning, it will automatically return to the dock to charge, and then automatically resume cleaning once it is sufficiently charged up.
Check Out the Viomi V3 Max Robot Vacuum For Your Home Cleaning Needs
All things considered, the Viomi V3 Max is a feature rich, and powerful vacuum cleaner that should make your life a lot easier. It can automatically map its path and clean your entire house, and it comes with smart features, as well as support for Google Assistant and Alexa. Plus, cleaning it out is no hassle thanks to the one-button dust bin emptying feature.
The Viomi V3 Max is normally priced at $499.99 but it is available at an introductory price of $359.99 till 26th September so go ahead and get it at the discounted price right away.
Buy the Viomi V3 Max Robot Vacuum ($359.99)
---
Load More