Everyone around the globe is celebrating International Women's Day right now and this gives us the ideal opportunity to surprise the women in our lives with some special gift and make them feel special. Women of today are considered the epitome of power and unrelenting hard work. They're making their presence felt, rising to the occasion, and while you need to regard this every day – but especially on Women's Day.
If you've been looking around the Internet for the perfect gadget to gift her but couldn't settle on something impressive, well, we've got you covered. We have compiled a list of some affordable, useful, as well as fashionable gadgets that would come quite handy for women in India.
5 Cool and Helpful Gadgets For Women
1. Optisafe My Hero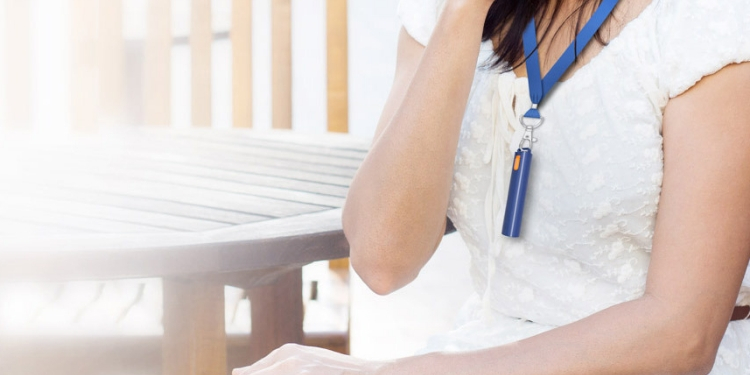 With crimes against women continuing to be a major issue across India, Optiemus, the company carrying forward the BlackBerry brand in the country has now launched an all-in-one safety device for women. It's dubbed Optisafe My Hero and this tiny device uses a pull mechanism to send out distress signals to friends and family (with the current location), sound off an alarm, and start an audio/ video recording on the smartphone. It connects to the Optisafe app via Bluetooth.
Optisafe My Hero looks like a complete device that can help not only women, but also children and site workers in emergency situations.
Buy Optisafe My Hero (Rs 2,999)
2. Ivy Smart Jewelry
If a baton-like device looks like too much work to carry around, you can opt for a more fashionable alternative for the same. Ivy Smart Jewelry is pretty feature-packed and syncs with your smartphone via Bluetooth to safeguard you on the move.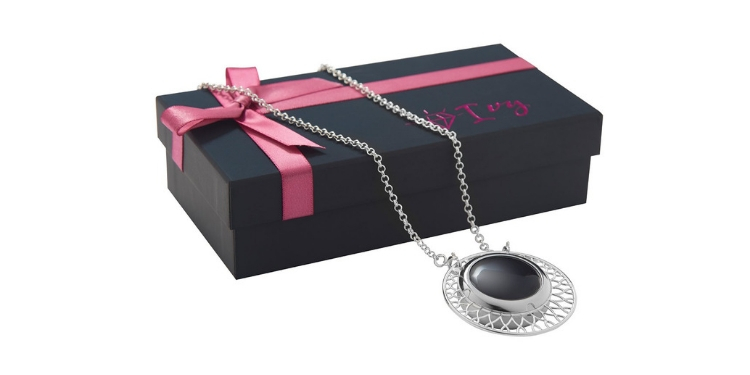 The stone in the locket, or the bracelet accessory, is touch-sensitive and you can tap it twice to sound off a loud alarm, thrice to send out your location to friends and start an audio recording on the smartphone. And finally, tapping the stone 4 times automatically places a call to your guardian.
Buy Ivy Smart Jewelry (Rs 3,417)
3. Zoook Moto69 Torch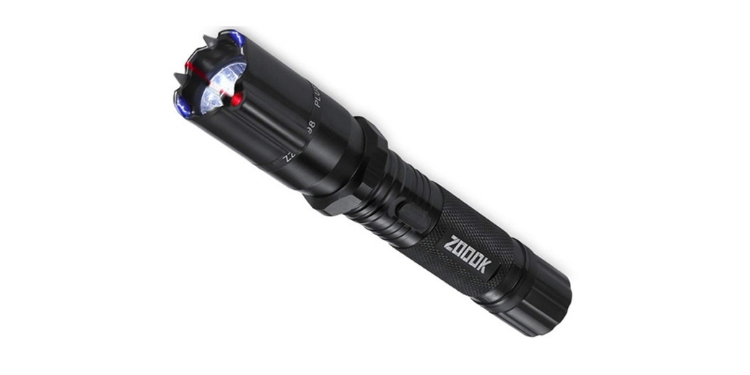 While pepper sprays are a popular weapon of choice for self-defense among women, you could bump up the security with this rechargeable safety torch. The Zoook Moto69 torch may look like an ordinary flashlight, to begin with, but it comes with a hidden tazer functionality (thanks to the prongs on the front) that can be used to shock people in an unsafe situation. This is a must-have.
Buy Zoook Moto69 Torch (Rs 699)
4. Sound Grenade e-Alarm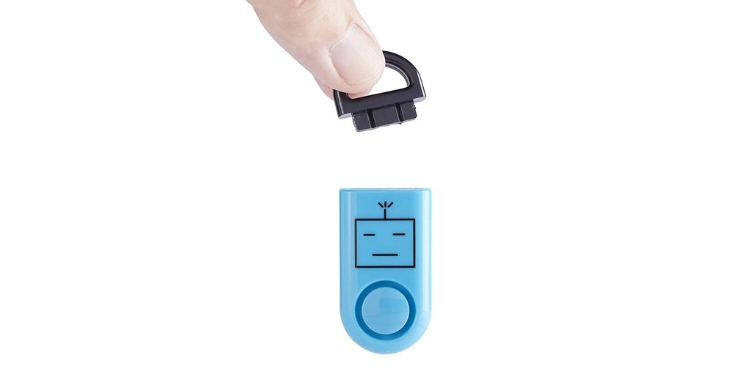 If you want a much-handier and affordable device to fend off people, then Sound Grenade is the absolute best. We've previously tested one of these sound grenades at the Beebom office for testing purpose and it sounds off a loud 120dB siren in a range up to 100 meters. It will attract the attention of everyone around you and can help prevent thefts, rapes, mugging or any other dangerous situations. The best part it weighs only 20 grams and is really tiny.
Buy Sound Grenade (Rs 899)
5. Inito Fertility Monitor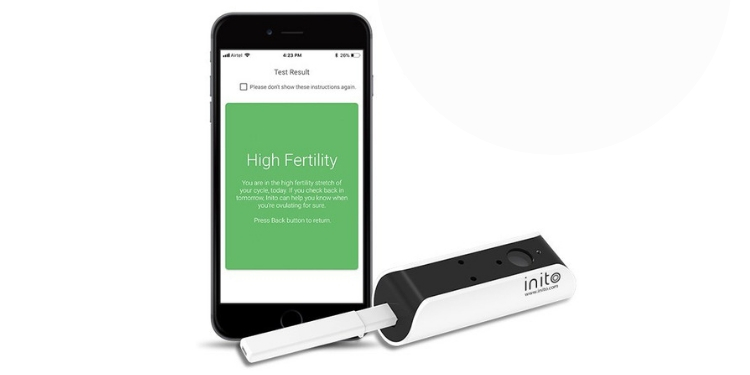 The Inito Fertility Monitor is a nifty little device that you can connect to your smartphone and use it to accurately identify up to 6 fertile days of your cycle. You simply need to use the test strips provided with the device to measure Estrogen and Luteinizing Hormone (LH) levels to increase your chances of conceiving. The analysis showing up in Inito's companion mobile app on iOS and Android.
Buy Inito Fertility Monitor (Rs 2,999)
5 Apps Every Woman Should Check Out
1. My  Safetipin
Safetipin is doing its fair share to make our cities safer for women, giving out a detailed safety score for locations on a map. It enables you to see if an area you're traveling to/ staying at is safe or not and update the score by reporting incidents. You will get alerts when you enter an unsafe location, see alternate routes, and let friends track you when needed.
While Safetipin is a popular personal safety app, you could also check out the Himmat Plus SOS app (Free, Android and iOS) launched by Delhi Police for the safety of women.
2. Maya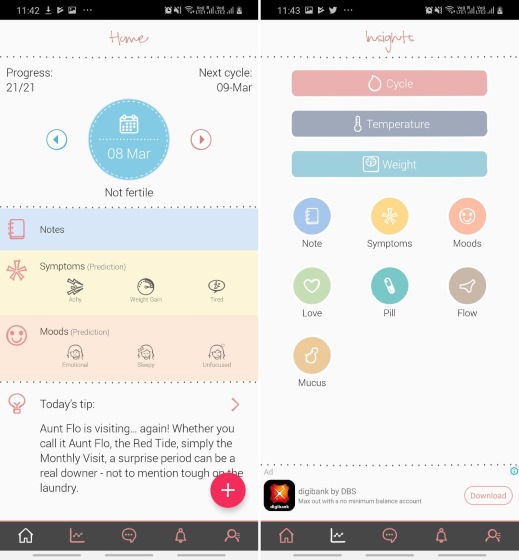 Maya is one of the most popular apps helping women to stay on top of their overall body health. It enables them to keep track of their menstrual cycles, related symptoms, mood swings, and increasing the chances (or avoiding) an untimely pregnancy. You maintain a log of everything and Maya can precisely predict the start of your next cycle, alert you of the same, and also let you consult a community of users and experts.
3. Sheroes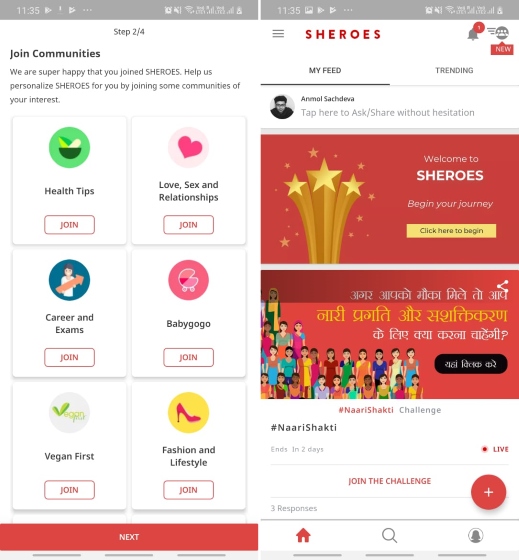 'Celebrating women's day, every day!' – the motto of Sheroes is a profoundly apt way to describe this app. It is a women-only social networking platform that helps like-minded users connect and have a conversation about almost anything – be it a hobby, art, craft, music, writing cooking, embroidery or an experience that you'd like to share among 20 communities.
Sheroes goes one step further by offering women free counseling, guidance, legal aid, and health tips from experts and the community itself.
4. TroveSkin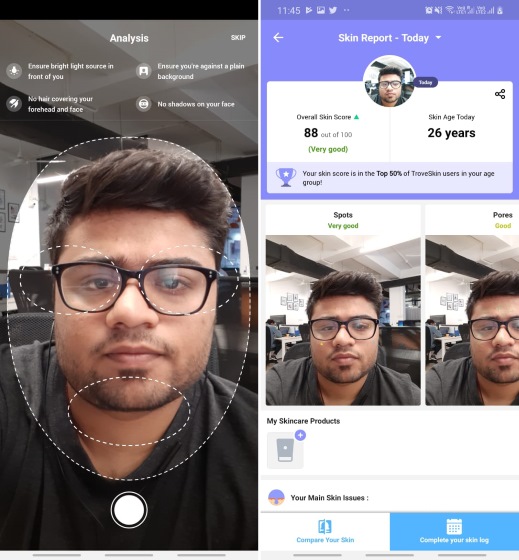 I believe the list won't have been complete without a skincare app in the mix, particularly since it has become important to take care of the same for individuals in India amidst the growing pollution crisis. TroveSkin is one of the most popular apps in its category, which gives you an analysis of all skin issues like spots, pores, texture, and much more by taking a selfie or answering an easy quiz.
TroveSkin will then figure out your exact skin type, offering you a skincare regime and routine, product recommendations, and a whole lot more.
5. Flyrobe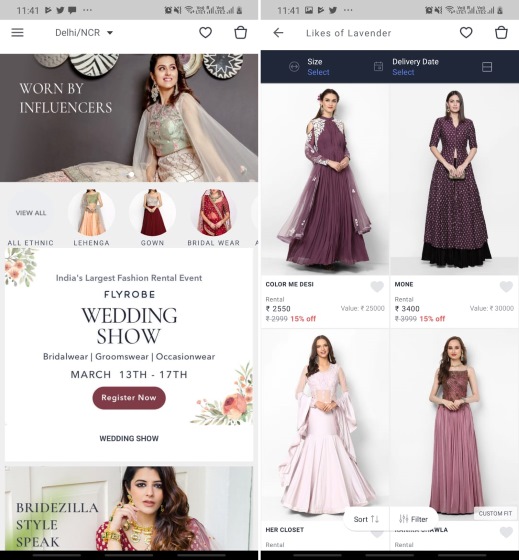 Finally, the Flyrobe app is for everyone and comes in handy especially when you are running low on cash. I say this because Flyrobe lets you rent clothes, be it an Anarkali dress or a trendy party gown, from international brands or designers at the fraction of its retail price. This means you don't have to shell out a hefty sum to look your best at office parties or a friend's wedding.
Celebrate This Women's Day With Awesome Gadgets
There you have it, folks! A handy-dandy list of some of the best technological innovations, be it a quirky yet important device or an app to assist in keeping your health in check, this International Women's Day. This might look pretentious to some but this is an occasion to celebrate the women in our lives, be it your mother, wife, or sister, for all they've achieved and done for you too.
So, share the article with your loved ones if you find the aforementioned apps or gadgets helpful. And lastly, wishing all our female readers a great day!