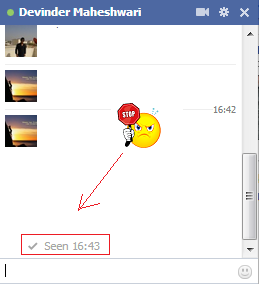 I am not against Facebook chat seen feature but majority of the users surely are. Reason being its intrusion in our very own privacy.
Facebook chat seen feature lets your friends know if you have viewed their chat message or not. Sometimes we see the message but cannot respond instantly due to which the person on the other side may feel offended. To avoid these situations, here's what you can do.
Turn off Facebook Chat Seen Feature by installing Facebook Hide Seen, a handy extension for Chrome.
For the people using any other browser, the best solution is to start using Facebook in Chrome.
Here's the Link, download the extension from here.
Install it.
You're done.
Now, even if you see the messages, your friends won't be notified by 'Seen Feature'. However, you will continue to receive the seen feature whenever your friends see your messages.