While you can plan a getaway to the most beautiful country and make all arrangements to make yourself feel comfortable, there's one thing that you cannot prepare for – conversing in a foreign language for seamless communication. This is where language translator devices come into play to help you shoo away the dread of communicating in a non-native country. I got the opportunity to test two of Timekettle's handy language translation devices – Translator Earbuds WT2 Edge and Fluentalk T1, a portable translator.
Personally, I am fairly new to translation devices and so far I have relied heavily on Google Translate and Google Lens to communicate on my vacation trips. Therefore, getting a chance to try out two translator devices at once was opening a chasm of new opportunities. So, let's first go through the key features and specifications of the Timekettle Fluentalk T1 translator device and WT2 Edge translator earbuds:
Timekettle Fluentalk T1: A Portable Language Translator
Timekettle's Fluentalk T1 is a handheld translator that comes with a 4-inch Quad-HD+ touch screen and a multi-mic array for high-precision language recognition. The USP of this device is that it supports 40 languages and 93 accents. The Fluentalk T1 boasts instant translation within 0.2 seconds and can deliver results with remarkable accuracy of 95%.
This touchscreen language translator comes with four different modes – one-click translation, Listen mode, Chat translation, and Photo translation. But what makes Timekettle Fluentalk T1 a perfect travel companion is support for offline translation in 13 languages.
The Timekettle Fluentalk T1 comes with built-in antennas for strong connection from over 200 wireless network operators around the world. You also get 2 years of free data with the device, which is great for frequent flyers. The offline translation feature is automatically enabled when mobile data is not available in remote locations.
Here are the tech specs of Timekettle Fluentalk T1:
| Specification | Details |
| --- | --- |
| Display | 4.0-inch OneCell (540 x 1080 resolution) |
| Dimensions | 116.8 x 58.6 x 11.2mm |
| Weight | 115g |
| CPU | Quad-core ARM 12nm 2.0GHz |
| Storage | 32GB |
| RAM | 3GB |
| Camera | 8MP |
| Microphone | Multi-microphone Array |
| Charging | USB-C 5V |
| Battery | 1500mAH, 96 hours standby time, 3.5 hours continuous translation time |
| Connectivity | 2G/3G/4G LTE |
| Supported Languages | Arabic / Bulgarian / Cantonese / Catalan / Chinese / Croatian / Czech / Danish / Dutch / English / Finnish / Fillipino / French / German / Greek / Hebrew / Hindi / Hungarian / Icelandic / Indonesian / Italian /Japanese / Korean /Malay / Norwegian / Polish / Portuguese / Romanian / Russian / Slovak / Slovenian / Spanish / Swedish / Tamil / Telugu / Thai / Turkish / Ukrainian / Urdu / Vietnamese |
Timekettle Translator Earbuds WT2 Edge: Bi-directional Translator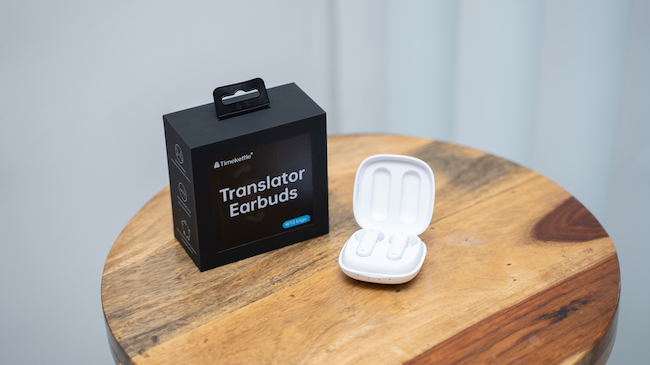 Next comes Timekettle's Translator Earbuds WT2 Edge. With bi-directional simultaneous translation, the earbuds can prove to be highly useful in business meetings in a foreign land. It can pick up 40 languages and 93 accents, translate almost instantly within 0.5-3 seconds, and is powered by Timekettle's proprietary Translation Core technology. It uses six leading translation engines, including DeepL, Google, Microsoft, iFlytek, AmiVoive, and Hoya.
WT2 Edge earbuds can be operated using the Timekettle app available for Android and iOS devices and there are touch-sensitive buttons on the buds. But, you cannot use these earbuds for listening to music or calling purposes. They are purpose-made only for translation.
Like Fluentalk, WT2 Edge also comes with four smart translation modes – Simul mode, Touch mode, Speaker mode, and Listen mode. Each mode is apt for a variety of multi-lingual translation scenarios, and I have explained them below.
If you are planning to visit a remote island with limited internet connectivity, there's an offline translation package (for an additional cost) that supports 8 popular languages from around the world. The earbuds are snug and lightweight. I didn't feel any discomfort while wearing them for around 1.5 hours at work, conversing with my colleague who speaks Tamil. Also, the charging case is portable and will easily fit in your pant pockets.
Let's take a closer look at the complete specifications of the Timekettle Translator Earbuds WT2 Edge:
| Specification | Details |
| --- | --- |
| Dimensions | 3.93 x 3.93 x 1.97 inches(100 x 100 x 51mm) |
| Weight | 189g |
| Battery | 50mAh |
| Stand by Time | 720 hours |
| Continuous Translation Time | 3 hours |
| Charging Time | 1.5 hours |
| Bluetooth | Bluetooth 5.0 |
| Supported Langauges | Arabic / Bulgarian / Cantonese / Catalan / Chinese / Croatian / Czech / Danish / Dutch / English / Finnish / Fillipino / French / German / Greek / Hebrew / Hindi / Hungarian / Icelandic / Indonesian / Italian /Japanese / Korean /Malay / Norwegian / Polish / Portuguese / Romanian / Russian / Slovak / Slovenian / Spanish / Swedish / Tamil / Telugu / Thai / Turkish / Ukrainian / Urdu / Vietnamese |
| Supported Languages in Offline Translation Pack | Chinese ⇆ English, Japanese, Korean, French, Spanish, Russian, German |
While Timekettle Fulentalk T1 is highly useful for frequent travelers and working people who often visit countries for business meetings, Timekettle Translator Earbuds WT2 Egde caters to more casual users who simply want to cross the linguistic barrier in face-to-face conversation. Also, the earbuds could be a great device for those who have just learned a new language and don't want to carry a hand-held translator device every where.
Timekettle Fluentalk T1 & Translator Earbuds WT2 Edge: Features
There are a few ways to get the most out of Timekettle's translator devices while traveling. Different modes can be activated depending on your surroundings and the situations when you want to be aided by a translator.
Intermittent Translation
The Listen mode on Timekettle Fluentalk is what I found to be the most convenient and suitable for most situations. When this one-way translation mode is activated, the device translates everything that is said to you or around you. You don't have to press the record and pause button time and again.
This mode can be of great help while interviewing someone who doesn't speak your native language or during a meeting as the translation is instantaneous, and you can read it on the display in real-time. So, there's no way you can miss out on important bits of information in a meeting.
Similarly, the WT2 Edge earbuds also support a Listen mode that works in the same fashion. Wear the earbuds, turn on the Listen mode, and tap to turn on the microphone in the app. Everything said to you will be translated instantly, and you will hear it in the earbuds. Also, the conversation is saved on-device, so you can revisit it later.
The app also offers various customization options like pause duration, adjusting the intensity of ambient noise, and the volume of individual earbuds.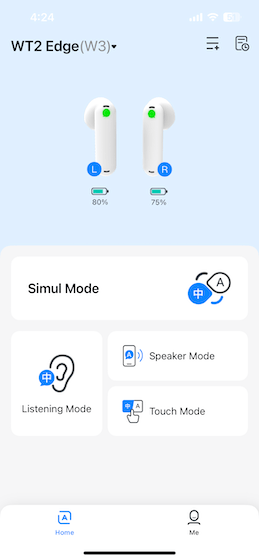 Bi-directional Communication
Say you are in a meeting with an international client and to engage in deeper communication, you need instant to-and-fro conversation. Enter "Chat Translation" mode on Fluentalk T1. The screen is divided into two sections when this mode is enabled, and the device automatically inputs the voice from each side when speakers speak. The dialogue in a conversation is simultaneously translated without any noticeable delay. During our testing, the conversation went smoothly even when high verbiage was used in prolonged sentences.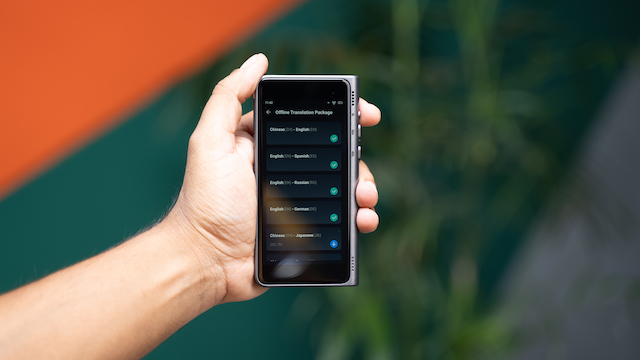 Timekettle WT2 Edge Earbuds make bi-directional communication even more coherent with Simul (simultaneous) mode. You just need to share an earbud with a friend, select the language for the left and right earbuds and tap the microphone button. Translation will be transmitted to earbuds in the selected languages.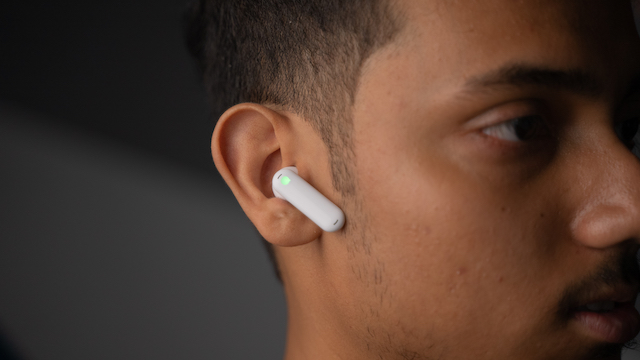 Photo Translation
You can simply click photos of signs, symbols, and text written in a language using Timekettle Fluentalk T1 and translate it into the desired language. Equipped with an efficient OCR offline translation engine, the Fluentalk T1 touch device can immediately translate an image into 28 languages. This is one feature that I used often to translate signs, symbols, menu items, and directions during my testing.
Instant Translation
Sometimes you just want to ask directions from someone on foreign soil or confirm the price for an item. For such situations, you can use one-click translation mode on the Fluentalk T1 by double-pressing the power button. However, instead of this dedicated translator device, you can achieve the same with the WT2 Edge and your phone.
On WT2 Edge, there's a "Speaker mode" that does the job without any hiccups. Wear one earbud, point your phone towards a non-native speaker, say something in your native language, and they will be able to hear in their language and read it as well on the screen.
As you would have perceived by now, both of these Timekettle devices can be used in tandem for an overall great multi-lingual experience during your travel to foreign lands. But, it is to be noted that both devices have different use cases and cater to a wide range of users from casual users to frequent travelers and cross-cultural families.
For frequent travelers, Timekettle Fluentalk T1 is a must-have device. Not only it eases the conversational barrier, but the handy device also packs some useful features like a world clock, currency exchange rates, and voice memos. And Translator Earbuds from the company puts a highly-portable, real-time translation device right in your pocket. Overall, Timekettle's translator earbuds and Fluentalk portable language translator are the devices you would not want to miss on your international trips.
Buy Timekettle Fluentalk T1 on Amazon
Buy Timekettle Translator Earbuds WT2 Edge on Amazon