The recently announced Nobel Peace Prize winners have caught the world by storm. So much so that it became the number one trend in both India as well as Pakistan.
Not only did a 17 year old girl made headlines by becoming the youngest to win the Nobel Peace Prize. The other aspect being that Kailash Satyarthi who won alongside her is an Indian. With tensions simmering at the LOC from both the nations, one just hopes that this can become a message for peace.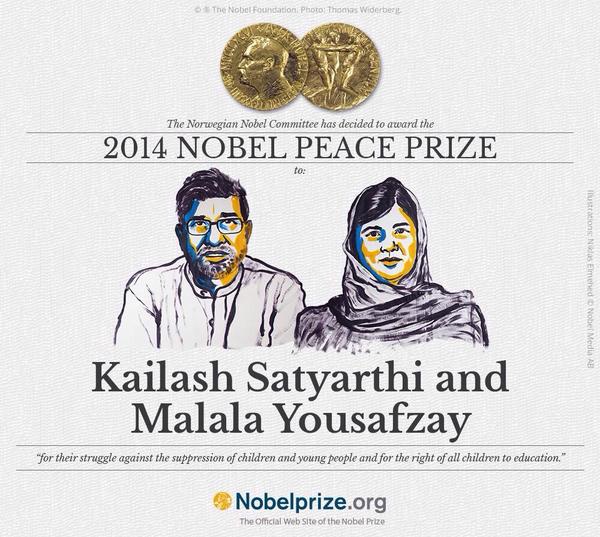 Here are the things you should know about Kailash Sathyarthi: –
Satyarthi is born on 11 January, 1954 in Vidisha, Madhya Pradesh. He is a renowned activist that works in the area of child labour.
Kailash Satyarthi was awarded the Nobel Peace Prize today for his "struggle against the suppression of children and young people and for the right of all children to education"
Sathyarthi became the first Indian born to become the Nobel Peace Prize. Although, Mother Teresa was the first Noble Peace Prize winner but she was born in Albania in 1969.
He created Global March against child labour; a movement that's still prevalent in a lot of countries.
He is also credited with establishing Rugmark in 1994, now known as Good Weave. It is a kind of social certification for child labour free carpets in South Asia.
He gave up his career as an electrical engineer more than 30 years ago to start "Bachpan Bachao Aandolan".
You can connect with him on Twitter. Follow this link.
Things you should know about Malala Yousafzai:-
Malala was shot by Taleban in the head in the year 2012 for her instance to educate girls in Pakistan.
In her autobiography, titled "I am Malala: The Girl Who Stood Up For Education and Was Shot by Taleban" mentions that she remembers nothing about the attack. All she recalls is being asked, "Who is Malala?" and the gun being lifted to her head.
In the early parts of 2009, she began writing a blog, under a pseudonym, for the BBC, detailing her life under oppressive rule. The next year, she appeared in a documentary that sketched out the plans that she has for herself and how she wanted to make sure that the oppression of the Taleban can be negotiated in the valley with regard to the education of girls.
On July 12, 2013 Malala spoke in the UN which coincidently was also her birthday. UN celebrated that day as Malala day. This year though, Malala day was celebrated on July 14, 2014.
Many still in the Pakistan region believe that Malala is nothing but an attention seeker. Some are even extremists to an extent that they believe the whole Taleban-Malala was orchestrated.
You can connect with Malala on Twitter through her organisation's official account, Malala Fund. Here's the link.
Recommended: LOC Firings Given Complete Opposite Information In India-Pakistan Newspapers
A lot of noise is making rounds on the social network that this year's Noble peace prize is just an ice-breaker from the UN towards India-Pakistan relations.
Tell us if you believe the same.