Tesla seems to have nailed the art of presentation when it comes to product launches. Firstly, the company is really good at keeping secrets and then surprising the public at its launch events. Secondly, the presentation itself gives a sense of grandiose without feeling pretentious. Combine that with Elon Musk's unique speech pattern and you got yourself a treat. But nothing Tesla launched to date, comes even close to the unveiling of the new Roadster 2 during its launch of Tesla Semi Trucks.
I was watching the live-stream and as soon as Musk concluded the launch of Semi Trucks and the light dimmed, I knew something was about to happen. But let me tell you, nothing could have prepared me for what was about to happen next. The light stayed dim and the opening guitar riffs of Beastie Boy's "Sabotage" blasted from the loudspeaker. The red beauty flashed inside the camera frame and came to an abrupt halt in front of Elon Musk who stood there smiling.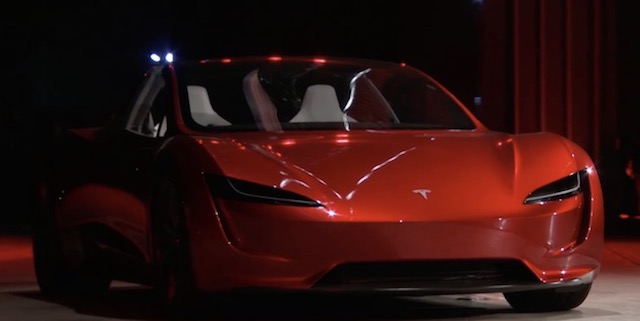 But that was just the primer. The proposed specs of the car are just ludicrous. The Roadster 2 can do 0-60 miles in 1.9 seconds and 0-100 miles in 4.2 seconds. That makes the Roadster 2 the first card to ever break the 2-second barrier. Although Elon Musk didn't tell us the exact top speed, he did mention that it will be north of 250 mph which is just insane. But, that's also not the craziest part.
Before we get to the craziest part of the Roadster 2, let me ask you a simple question, "What is the biggest drawback of an all-electric vehicle?". I know most people will say range. Electric cars have a smaller range than gasoline cars and it takes time to recharge them which makes them a poor option for a longer drives. Well, the Roadster 2 will pack a 200 kWh battery which gives it a range of 620 miles, or over a 1,000 kilometres at highway speeds. That's the stat which has me the most excited about the Roadster 2, plus the fact that it has killer looks.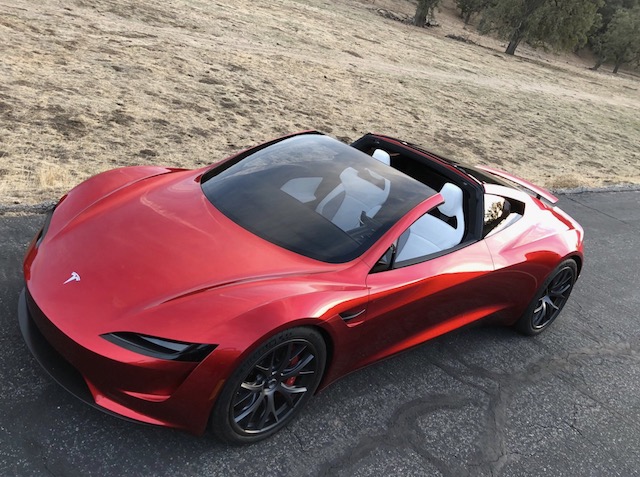 The Roadster 2 will feature 3 electric motors, one in the front and two in rear, giving you an all-wheel drive with torque steering. It will also have space for four people. Now, Musk did mention that it can't fit 4 large people, but it's a sports car, even thinking of sitting 4 people in a sports car feels like an unachievable task, and yet somehow Tesla will do that with the Roadster 2.
That being said, the Roadster 2 will go into production in 2020, so we still have a lot of time in hands and many of the specs might change with time. Also, Tesla will have to fight harder to fight the production delays, a problem which has been plaguing the company since its inception. But worries aside, it just feels good to know that there's a company which is not afraid of disrupting a century-old industry. In fact, Elon Musk summed up the unveiling of Roadster 2 in an epic one-liner,
"The point of doing this is to give a hardcore smackdown to gasoline cars."
If Tesla can keep up with its timeline, it will deliver that smackdown indeed. The Roadster 2 will start at $200,000 with a $45,000 upfront deposit. Although the car will go under production in 2020, you can place your deposits right now. Also, the first 1,000 Roadster 2s will be sold as Founder's series model and you can reserve it right now for $250,000.