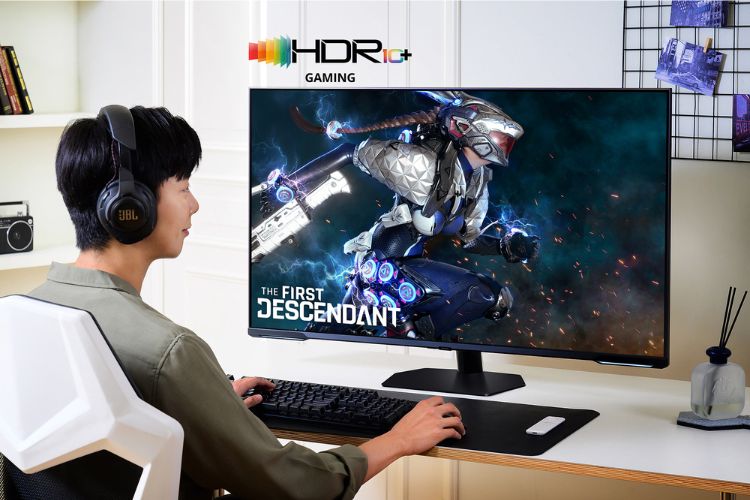 Samsung, ahead of the 2023 edition of Gamescom, has spiked everyone's interest by announcing the world's first HDR10+ gaming title dubbed "The First Descendant." With this, the global leader in the display industry is looking to raise the bar in the gaming world and set a new standard for the same. Continue reading to know more about this.
HDR10+ Gaming Title Announced By Samsung
The First Descendant is developed by Nexon and is a free-to-play first-person shooter game. It will be the first gaming title that will be truly HDR10+ enabled and will comply with HDR10+ gaming standards from the get-go. Samsung claims that The First Descendant will provide gamers with the "most responsive, accurate, and frictionless HDR gaming experiences to date."
To give you some context, the HDR10+ Gaming technology offers deeper colors, contrast, and brightness to deliver a top-of-the-line HDR experience. With this technology, you won't have to physically tinker around with HDR settings to gain the perfect semblance of color, accuracy, and responsiveness. You can gain variable refresh rate support as well as near-instant responses in gameplay facilitated by low latency.
This is also a boon for game developers as they can maintain the quality of HDR gameplay experience across all HDR10+ certified displays. Commenting on the launch, the Executive Vice President of the Visual Display Business at Samsung Electronic, Seokwoo Jason Yong said, "We're thrilled to join forces with NEXON, a true pioneer in video games, to introduce the world's first HDR10+ GAMING title, 'The First Descendant." This is a gaming milestone that goes beyond mere technological advancement; it represents Samsung's continued commitment to enhance the gaming experience as technology evolves."
As of now, this is just an announcement and the actual launch of The First Descendant game will happen at Gamescom 2023 in Cologne, Germany which will begin on August 23, 2023. The first open beta test of the game will go live on September 19 and you can enjoy this first-of-its-kind HDR gaming experience if you own a Samsung Odyssey 7 series and above monitors and Samsung Q70 TV series models and above with 120Hz refresh rate. Additionally, you would also need HDR10+ supported gaming GPUs like Nvidia's RTX 30, Nvidia RTX 20, and GTX 16 series GPUs.
Unfortunately, The First Descendant will not be available in China.
So, what do you think of this latest announcement from Samsung? What are your expectations from the First Descendant game? Are you excited about the future of HDR10+ gaming? Do share your thoughts in the comment section below.
---