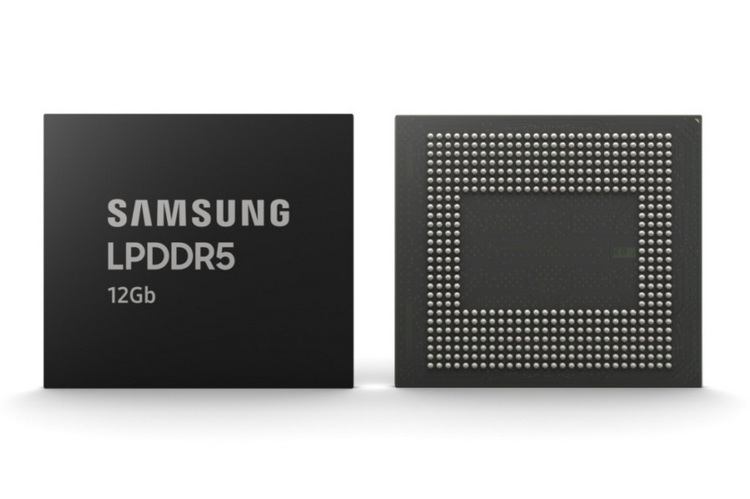 Samsung on Thursday announced that it has begun mass producing the industry's first 12-gigabit (Gb) LPDDR5 mobile DRAM, which has been optimized for enabling 5G and AI features in future smartphones. The company also said that it plans to start mass producing 12-gigabyte (GB) LPDDR5 packages later this month, each combining eight of the 12Gb chips, in line with growing demand for higher smartphone performance and capacity.
In an official press release on Thursday, the company claimed that the 12Gb LPDDR5 supports a data rate of 5,500 megabits per second (Mb/s), which is around 1.3 times faster than the current-generation LPDDR4X mobile memory chips that support up to 4266Mb/s and, is found in today's high-end smartphones. "When made into a 12GB package, the LPDDR5 is able to transfer 44GB of data, or about 12 full-HD (3.7GB-sized) movies, in only a second", said Samsung.
The company further claimed that the new chip uses up to 30 percent less power than its predecessor by integrating a new circuit design that offers stable performance even when operating at blazing speeds. The new DRAM can also enable next-generation flagship smartphones to fully leverage 5G and AI capabilities like ultra-high-definition video recording and machine learning, while greatly extending the battery life, said the company.
Samsung also said that it is is considering transferring its 12Gb LPDDR5 production to its Pyeongtaek (Korea) campus starting next year in order to better manage production capacity. The final decision, however, will depend on demand from global customers, the company said. Interestingly, Samsung is also apparently expecting to develop a 16Gb LPDDR5 next year "to solidify its competitive edge in the global memory market".
---