Since the past few years, smartphone cameras have replaced most point-and-shoot cameras. That's why, manufacturers, these days, are focusing so much on both the front-facing and rear-facing cameras on their devices. As a result, most phones, especially flagships, manage to click some really amazing photos – comparable to the quality of many point-and-shoot cameras. That said, when it comes to humans, most of us are not born photogenic. This may not make us look as good in pictures as we actually are. So, most of us rely on photo-editing apps to compensate for that. Now the next problem that surfaces is that not all of us are great at editing photos, especially because of the photography jargon that we have to come across in such apps. However, if you are using the RetouchMe app, you can not only edit your photos to make yourself look your best but also leave that to professionals. Now, if you aren't already intrigued, let me tell you what all you possibilities can you explore with app.
What RetouchMe Brings
With RetouchMe, you get various editing options for body editing and face retouching. Moreover, you can choose whether you want a standard or a maximum level of retouch.
When it comes to body editing, you can make yourself look slimmer in the images, with an athletic body, by removing the fat folds. On the other hand, you can also make yourself look muscular with longer legs. If you are someone who loves to sport a tan but don't see yourself visiting a beach anytime soon, you can worry a little less. With RetouchMe, you can at least add tan to your images with just a few taps. Furthermore, if you have to get a professional picture of yourself clicked urgently but are not as well-dressed, you can use the app to make your clothes look ironed and your tattoos removed, that is if you have any.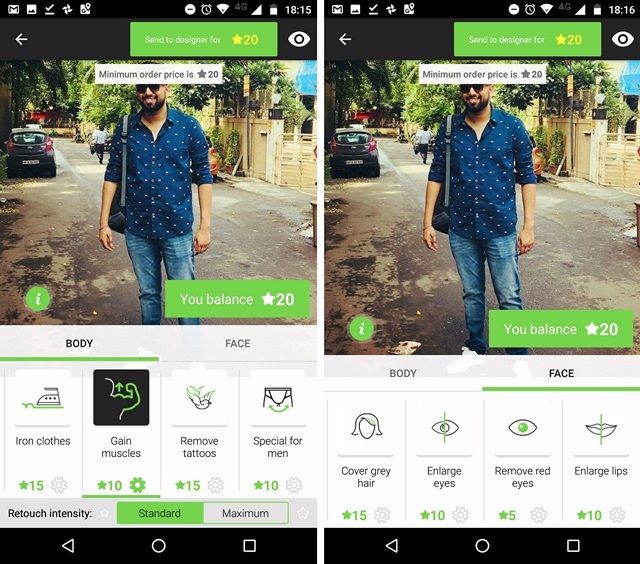 When it comes to face editing, RetouchMe doesn't disappoint. If you are in your teens, you can get your pimples removed in the images easily. On the other hand, if you have wrinkles and gray or thinning hair, the app makes sure those don't appear in your images at least. With all these great features, RetouchMe takes care of the basics too. For starters, if the image you clicked has red eyes or shadows, the app removes them easily.
How Does RetouchMe Work?
Using RetouchMe is very easy. All you have to do is either click an image or select one from your gallery, and then choose what all changes you would like to be made. Once you do that, simply tap on "Send to designer," and your image will then be sent to the professionals. These professionals are Photoshop experts who will edit your picture as per your specified parameters. After this, within about 15 minutes, you will receive your edited image. And, honestly, if it weren't for you, you would never be able to tell if it was an edited image.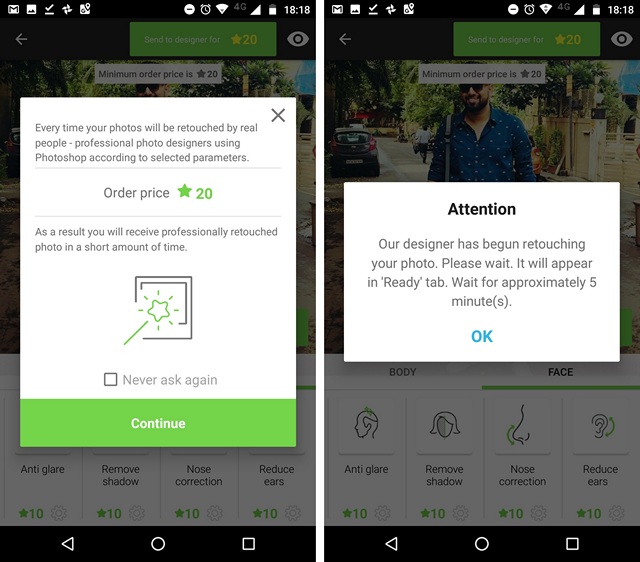 Ease of Use
As I stated earlier, using RetouchMe is fairly easy. In fact, it is one of the easiest photo-editing apps I've ever used. And there is no doubt in that because all the editing is done by Photoshop professionals and not me. I just have to decide what I want changed in the image. If you are someone who is using this app for the first time, you won't be overwhelmed. If you can select an image and decide what changes you want to see – because that's all that you have to do, literally – then you should be good to go. For instance, I tried the "Gain Muscles" option and here is the before and after:
Pricing & Availability
RetouchMe is a free app that is available on both Android and iOS. And, to extend its reach, the developer is also planning to launch its web version very soon. That said, you do have to pay for each image that you want to get edited. The payment is made in the form of credits – ranging from 5 credits to 20 credits, depending on the retouch selected – in the app, which can be bought with in-app purchases. That said, the more credits you buy together, the more discount you get on that purchase. Alternatively, if you are not willing to spends some bucks and can be a bit patient, there is another way to earn these credits – by watching certain video clips. The last important thing to note is that you can only place an order if it is worth at least 20 credits.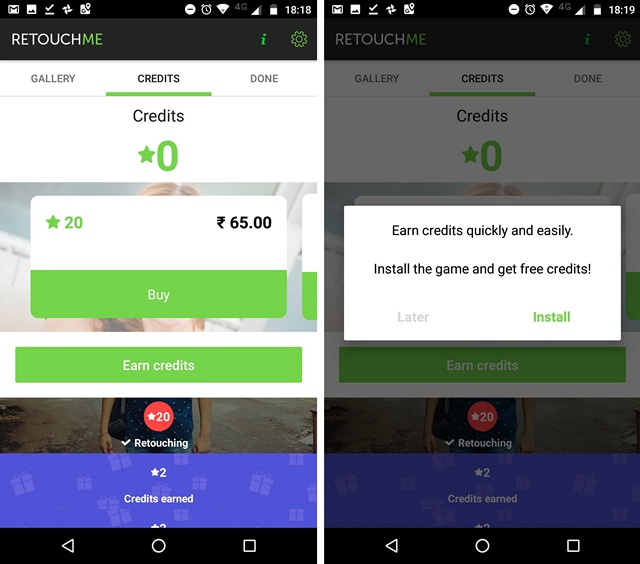 Now that you know everything about RetouchMe, let's take a quick look at its pros and cons.
Pros:
Hassle-free
Easy to use
Photos edited by professionals
Cons:
No cross-platform synchronization
Easily Edit Your Photos with RetouchMe
RetouchMe is a very unique photo-editing app. That's mainly because you would categorize it so, but you still don't do any editing yourself. I have been using this app for quite a while now and wish I had found it earlier. What about you? Have you tried this app yet? Do let me know your thoughts on this in the comments section below.
Install RetouchMe (Free, with in-app purchases)
---
Load More