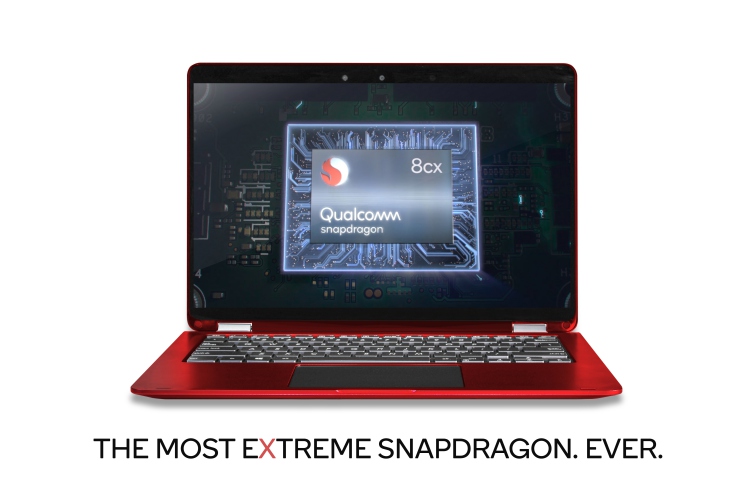 Qualcomm Snapdragon 855 is officially here to power the flagship smartphones next year, however, the chipmaker is making a major stride into the PC market with the launch of its purpose-built 'Snapdragon 8cx' compute platform for always-on Windows 10 laptops and convertibles.
Qualcomm lifted the veil of its most powerful processor on the final day of their ongoing Snapdragon Tech Summit 2018 conference in Hawaii. The company further continues to tout that Snapdragon 8cx is the 'world's first 7nm PC platform' and is the result of the company's Snapdragon on Windows initiative.
Being a 7nm processor, just like the Snapdragon 855 that was unveiled a couple of days ago, you must think that it's the same chipset, that has been optimized to be compatible with Windows 10 for ARM. However, that's not the case here and we now see Qualcomm aggressively gunning for Intel's PC market with a dedicated PC chipset. It has made the most powerful CPU and GPU combo in the company's history.
The newly announced Snapdragon 8cx compute platform is also an octa-core processor, pretty similar to the Snapdragon 855, but it's backed by the company's fastest Kryo 495 CPU to date. There's also the Qualcomm Adreno 680 GPU on board and the chip maker says it's their most powerful graphics chip.
It's been built on 64-bit CPU architecture, has a total of 10MB cache, and supports up to 16GB of RAM and NVMe and UFS3.0 storage. It includes a ton of the chipmaker's latest technologies, including the Hexagon 685 DSP, 4th-gen Qualcomm AI engine, dual 14-bit Spectra 390 ISPs, and a lot more.
The Snapdragon X24 LTE modem from the Snapdragon 855, which enables 5G support, also comes in tow with the Snapdragon 8cx for always-on and connected Windows 10 laptops and 2-in-1 convertibles. Qualcomm promises speeds of up to 2 Gigabits via this modem, along with the promise of a longer battery life.
Speaking of the Snapdragon 8cx compute platform, Alex Katouzian, senior VP and GM of mobile for Qualcomm Technologies in an official press statement said, "With performance and battery life as our design tenets, we're bringing 7nm innovations to the PC space, allowing for smartphone-like capabilities to transform the computing experience"
Further, Snapdragon 8cx is also the company's first chipset to bring Qualcomm's Quick Charge 4+ technology to Windows 10 PCs. There's also the company's Aqstic audio technology integrated into this processor as well, which brings along a host of advanced audio codecs and voice software technologies – enabling multi-voice assistant support.
This uber-powerful Snapdragon 8cx processor also packs in support for second-gen USB Type-C 3.1 and third-generation PCI-E that can help connect up to two 4K monitors. The chipmaker hasn't named any partners right now but assures that they are on board and currently testing the Snapdragon 8cx compute platform.
If you are planning to get an always-on, always-connected Windows 10 PC powered by Qualcomm processors, well, you can only expect them to begin shipping in commercial devices in Q3 2019.
So, are you excited for new Snapdragon on Windows for ARM laptops? Do you think the Snapdragon 8cx can give Intel's chipsets a run for their money? Let us know down in the comments section.
---