A decade before, when CMSs had not found their popularity among web-based professionals, creating site/blog was a herculean task. At that time, creating a functional online shopping website was a nightmare for them, because that process had go through severe coding in PHP, MySQL, HTML and other web programming languages. Now, however, the whole scenario has changed, and it takes only a few minutes or hours (at the maximum) to set up an eCommerce website that can be a good platform to sell your products or services. The one and only reason for this change is very simple that you can find a number of eCommerce-based Content Management Systems for web. Using such CMSs, it is possible for you to redefine the process of developing an eCommerce site.
Today, we would like to introduce such a nice, effective and simple eCommerce management tool – PrestaShop. When we had mentioned top 4 eCommerce platforms around 2 years back, PrestaShop was in fourth position. Now, however, PrestaShop has improved a lot through introduction of superb UI and amazing features, and is giving tough competition to all its counterparts. In this review of PrestaShop, one of famous solutions for eCommerce site creation, we will cover different aspects of this CMS! First, we will have an introduction on PrestaShop.
What is PrestaShop?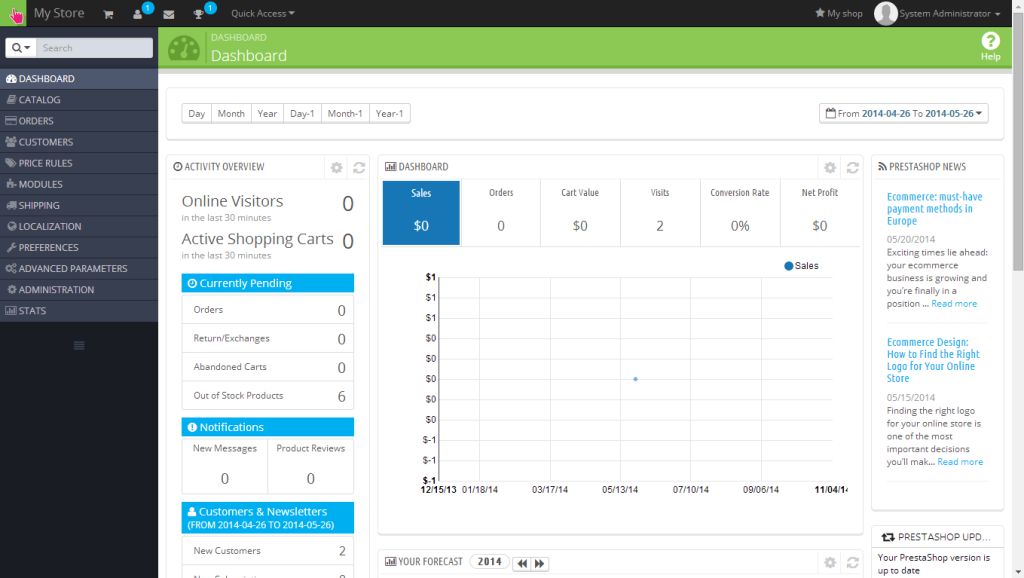 PrestaShop is a completely free ecommerce solution that comes from open source community. By means of this free platform, you will be able to create your eCommerce without coding. According to Wikipedia, PrestaShop now powers 165,000 sites. This CMS, which is based on MySQL, PHP and Smarty template engine, has won award for best open-source business application in 2010 and 2011. Now, we will go through different aspects of PrestaShop. First of all, we will check out installation and first steps of PrestaShop ecommerce management solution.
Installing & Using PrestaShop
Installation of PrestaShop in your web server is an easy task, especially if you have Softaculous installed in server. In addition, there are also some detailed tutorials available in official website of PrestaShop that allows you to install it in a matter of seconds. In seconds or minutes, you will have your PrestaShop-powered eCommerce ready for action! By default, you can see a fully-fledged eCommerce website in the provided directory, and you can access dashboard of the site to configure different aspects of your eCommerce site. Now, it is your turn to optimize the site to meet up with your requirement and convenience, and distinguished features of PrestaShop will help you.
Features We Loved in PrestaShop
1. It is All about Modules
Just as the case of plug-ins for WordPress, PrestaShop is rich in terms of modules that will make your eCommerce bit more easy to use, feature-rich, productive and profitable. You can get PrestaShop modules for every category of the purpose, such as SEO, Payment gateways, analytics, shipping and delivery, search filters, migration, security, content management etc. Obviously, there are thousands of free and paid modules to choose from, and they will make your site perform smarter.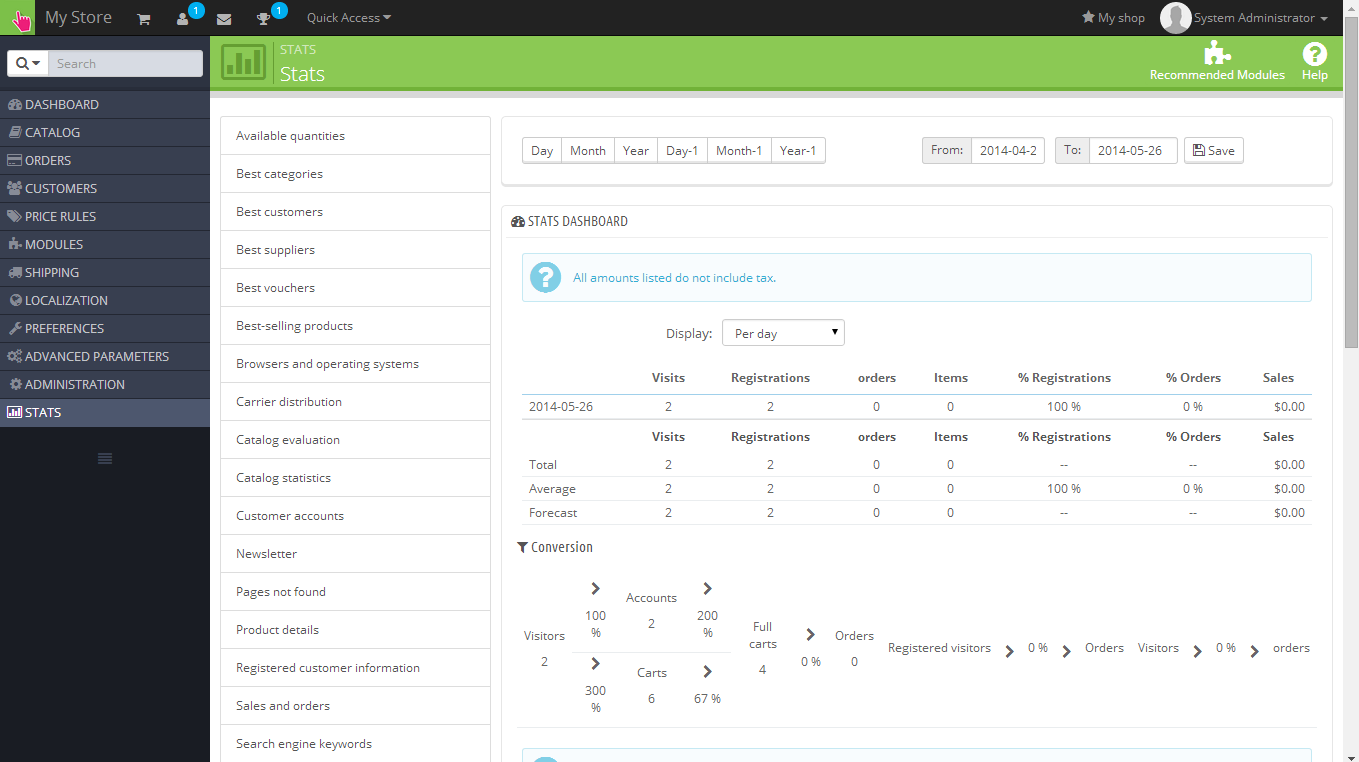 2. In-depth Analytics
When you are running a store, even though it is an online one, it is imperative to keep track of all transactions, such as your sales, earnings, expenditure etc. PrestaShop offers different methods for analytics such as visitor tracking, an option to view profiles of users, get accurate numbers of sales and orders, real-time net profit margin etc. Of course, these options will be damn useful when you are looking forward to improve your eCommerce business.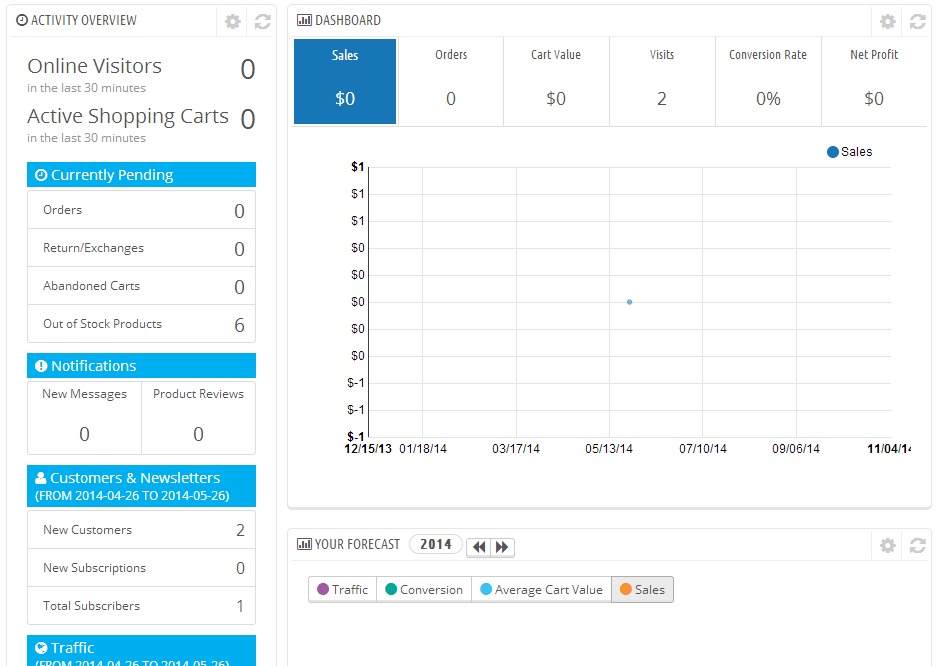 3. Easy Payment Options
Payment options are something important while setting up an ecommerce website, even though it might be a small one. When you are using PrestaShop, you do not have to worry about payment options, because PrestaShop will let your customers pay using credit card, check, wire transfer etc. Also, you have options to install new modules in order to implement new payment methods in your site. In addition, there are features like integration with authorize.net, automatic configuration of taxes etc.
User Interface
According to our experience with PrestaShop, user interface of this eCommerce solution is something incredibly easy to manage. Particularly, we loved the layout and features of dashboard offered by PrestaShop, because dashboard is productive enough to give an overall idea about your eCommerce site, sales, earnings, orders etc at the first glimpse itself. Also, you have an option to access your PrestaShop dashboard from mobile devices such as Smartphones and Tablet PCs, and the experience has no much changes in terms accessibility. In addition, there are also some fantastic PrestaShop themes, we can find from web, and they will be much suitable for your dream eCommerce website. And, as we mentioned earlier, module-based design of this CMS makes it easy for you to extend features.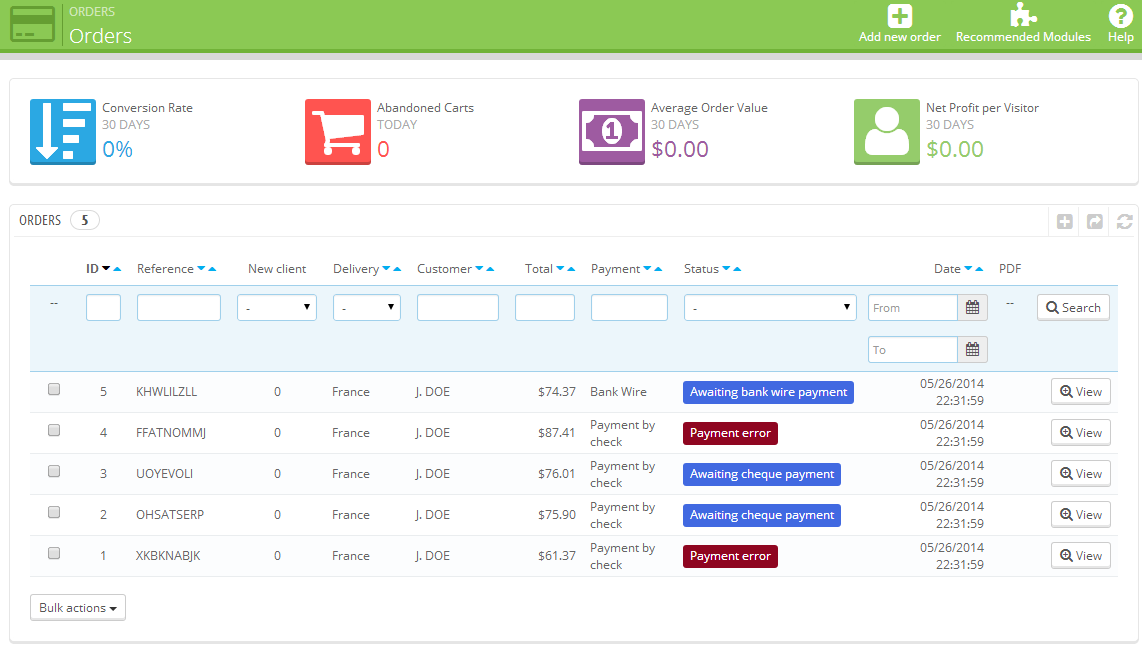 Comparison with Other Platforms
When compared with other eCommerce solutions, free and paid, available in market, PrestaShop is perhaps the best choice you can make currently. Major reason we found to prefer PrestaShop to other platforms, like Magento, Opencart, Bigcommerce, etc, is richness of features and availability of themes and modules. Since they have included all kinds of required options in CMS itself, we do not have to depend upon other tools for purposes like shipping.
The Bottom Line
While recalling our experience with PrestaShop, eCommerce solution, it is clear that PrestaShop is something great for those who want to create a functional eCommerce website in a shorter time-period. With this CMS, however, it's possible to build an effective eCommerce site even if you do not know basics of PHP coding. Well, since it is free, we find PrestaShop as a suitable solution for big and small eCommerce website-building purposes. Have you used it for building any eCommerce site? We are eager to know your opinion about this.
SEE ALSO: 
Inside eCommerce Giant Amazon's Warehouse [Video]