Paytm, which gained a lot of patrons from demonetization in India, is now one of the most widely accepted wallets in India. But a problem faced by users is the extra effort required to transfer money from Paytm wallet to bank accounts. But now, with the latest update, Paytm has introduced two new convenient features that will allow you to accept money directly into your bank account.
Send Refund Directly to Payment Source
Say, you're making a payment online and your transaction gets canceled or interrupted midway. This could be due to several reasons including malfunctioning apps, poor internet connection, or server issues, or simply hardware problems at your end. While handling such a transaction Paytm would send the refund to the wallet, instead of back to the source of payment i.e card or bank account.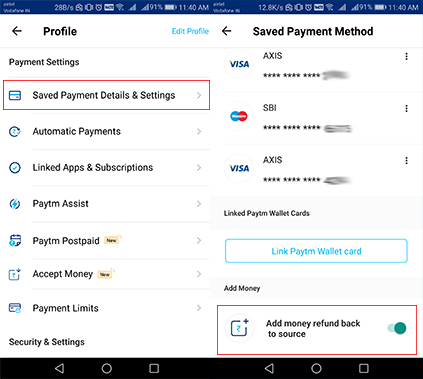 The latest update changes that as it allows users to get refunds back into the same source that they used for payment. For instance, if you make a transaction using a credit card, the money will be sent back to your card. The same applies for net banking. In order to switch the feature on, you can tap on the Profile icon on the top right corner of the Paytm app, scroll down to Payment Settings and tap on "Saved Payment Details & Settings". Next, scroll to the bottom of the page and toggle the option on for adding refund to the source.
Receive Money Directly into Your Bank Account
The update also brings a much-awaited feature. Now, while accepting payments via Paytm, you can receive money directly into your bank account without requiring the sender to enter your account details manually every time. This will save you from the hassle of transferring money from wallet to your preferred bank account every time you receive a payment.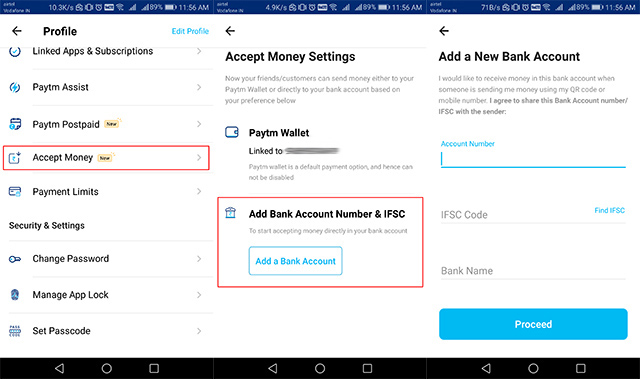 To set the feature up, go to "Accept Money" in the Profile settings and tap on "Add a Bank Account". You'll be prompted to enter your account number, IFSC code, and the name of the bank. For security reasons, you'll have to enter the account number once again and an OTP will be sent to your linked mobile number.
Once the step is complete, you will be able to receive money directly in your bank account when someone pays you using your mobile number, by scanning the QR code to your profile, or using UPI. Although Paytm charges 3% processing fees while sending money to an account, it is unclear at the moment if there is any fee involved while receiving money using this feature. There is no mention in Paytm's FAQ and we'll update you once we receive a response from the company.
KYC Important to Avail Services
In order to benefit from the new features – or use Paytm for transferring money, you must perform KYC by linking Aadhaar or any similar document of identity with your Paytm wallet as per RBI's latest guidelines. Now, you can easily perform KYC from your smartphone and you can learn how to do so by reading our guide.
---