Paytm is one of the largest and the fastest growing internet based services in India. After the demonetisation, its vigorous push towards its adoption by small and medium size businesses has turned it into the next best thing. Now, chances are that most of the shops you visit keep Paytm as a payment option. Not only that, Paytm now offers a myriad of services on its platform including payments, money transfer, shopping, recharge facilities, bill payments, and movie, bus and air tickets among others. Heck, it even sells digital gold on its platform. Basically, Paytm has become a behemoth which does almost anything and everything. However, in its aspirations of growing fast and offering everything, it no longer is the best in class at most of the things that it does. For every service that it offers, there's something out there which does it better, and today we are going to focus on them. So, here are the top 10 Paytm alternatives that you can use today:
Paytm Alternatives
Before we start, I just want to make one thing clear. As of writing this article, there is no other service which even comes close to Paytm, if you just take into account the sheer categories of services that it offers. If you are looking for a one stop solution for everything, you are better off with Paytm, as you don't have any other option. However, as I mentioned earlier, for all the services that Paytm offers, there are apps which are better at them. So, if you are someone who can deal with multiple apps to get the best experience and the best deals, this list is especially for you.
Mobile Recharges, Bill And Merchant Payments
1. Mobikwik
If you are looking for a Paytm alternative for recharges and bill payments, Mobikwik is possibly the closest thing that you will find. Mobikwik can do a lot of stuff that Paytm does. For example, you can keep money in its wallet and use it for bill payments, recharges, and merchant payments. In fact, since its foray into the merchant payments segment, its reach has been increasing steadily. Now, the number of shops who accept Mobikwik as a payment method is rivalling that of Paytm. When it comes to mobile recharges and bill payments, Mobikwik is beating Paytm with its fluid and clean interface and instantaneous transactions.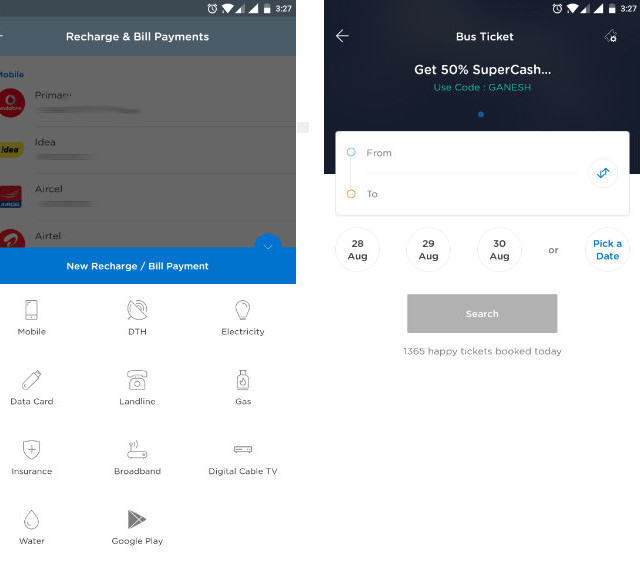 Apart from the above-mentioned services, Mobikwik now also supports bus-ticket booking. However, Paytm still leads this segment as it also provides the users with the ability to book air-tickets along with bus tickets. One thing which I like about Mobikwik is that apart from partnering with physical shops, slowly it has been integrating itself with many online service providers too. For example, services like Swiggy, IRCTC, 1mg, Ebay, and Dominos among others now accept Mobikwik's wallet. I have been a Mobikwik user since the last couple of years and am really loving its new reach. The service has never failed me, and I prefer using it over Paytm, wherever I can.
Platforms: Website (Android, iOS)
2. FreeCharge
FreeCharge is the service which made online mobile recharges and bill payment popular. It did that by providing a simple and smooth process along with various coupons which could be used at its partner stores to get discounts. When I used FreeCharge for the first time, I instantly fell in love with the service, that is, until it was acquired by Snapdeal for a whopping 400 million US dollars. Since then the service has seen a downfall as it strayed away from its initial vision. Initially, FreeCharge was a service where you could get the best deals while paying your bills or carrying out mobile recharges, not anymore. However, one thing that still remains in FreeCharge's favour is its ease of use.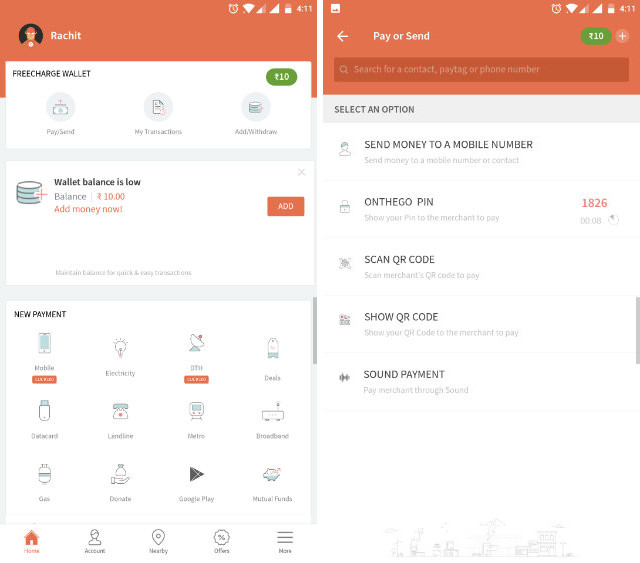 I have done uncountable transactions on FreeCharge (for mobile recharges and bill payments) and not even a single one of them has failed. Every recharge I made was successful and instantaneous. It also keeps the most updated version of the different plans and pricing provided by carriers for every state. If you are searching for your perfect plan (prepaid or postpaid), FreeCharge is the place to look for it. Also, FreeCharge has also started supporting merchant payments and although it's not as widely accepted as Paytm or Mobikwik, the count is slowly but steadily increasing. However, for me, that and other additional features don't even matter, as I am happy using it just for mobile recharges and bill payments.
Platforms: Website (Android, iOS)
Send And Receive Money
1. PhonePe
Although Paytm has evolved to become a payments bank to facilitate the transfer of money between its users, it still lags behind when it comes to adopting the latest mobile payment technology, which is UPI.
UPI or Unified Payment Interface is the initiative of Reserve Bank of India (RBI) and National Payment Corporation of India (NPCI), to bring easy and instantaneous transfer of funds between the users. The best thing about this method of money transfer is that the money is directly moving between the users' (sender and receiver) bank accounts. There is no digital wallet in between. Moreover, the users don't have to input the account details of the receiver, they can transfer the money just by using their mobile number which is linked to their bank accounts.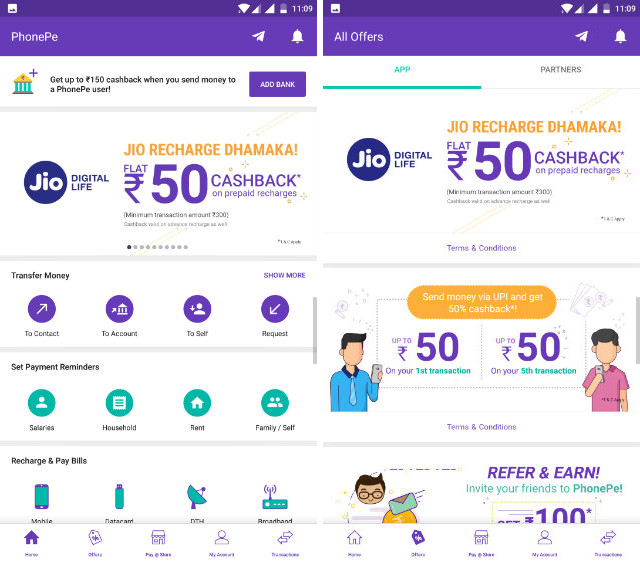 Also, since you are not using an e-wallet, there is no restriction on the total amount of money you can transfer (with Paytm it's INR 1 lakh/month). UPI also supports two-factor authentication which is more secure. So, in nutshell, UPI is better than using e-wallets in almost every regard. Today, if you want to send or receive money, UPI is the best method to do so, and PhonePe is the best app that supports UPI. Although almost all the banks have come out with their own version of UPI app, PhonePe is still the best among all of them. First of all, it supports multiple bank accounts. Secondly, its interface is refined and easy to navigate. Lastly, it also supports mobile recharges and bill payment with lucrative cash back offers. These reasons make PhonePe stand out in the crowd.
While you can use the government's official BHIM app to check your bank balance, send money, PhonePe brings you way more features. So, if transferring money is your main reason behind using Paytm, PhonePe will serve you 100 times better.
Platforms: Website (Android, iOS)
2. Chillr
Chillr is another UPI based service which allows you to send and receive money utilising the Unified Payment Interface. It just works like PhonePe. You can send and receive money directly from your bank accounts without the need of using an e-wallet. Apart from that, it also does all the usual things like mobile recharges and bill payments. The hotel, flight and bus ticket booking services are coming soon. Chillr has included one unique feature which allows friends to split a bill between themselves. If you are someone who always goes out for dining in a group of friends, you will love this feature. Basically, the guy who paid can split the bill inside Chillr and it will send pending payment notification to all the friends. Friends can pay him back by authorizing the transaction with their UPI PIN. It is a small and yet a nifty feature to have.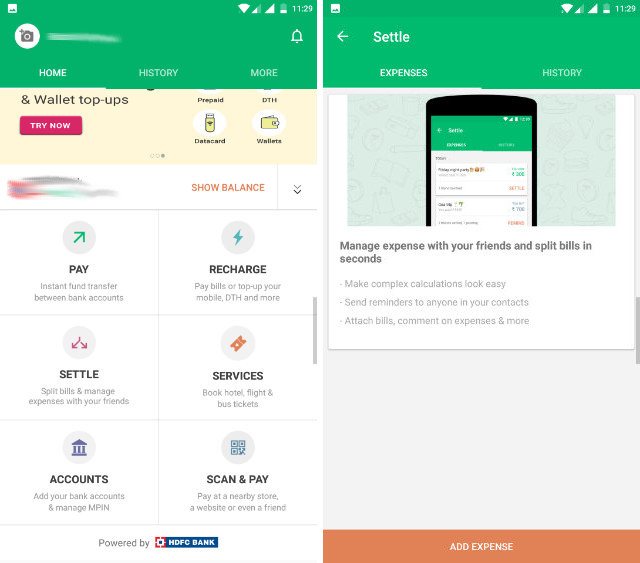 Platforms: Website (Android, iOS)
Mobile Wallets
1. Oxygen Wallet
Oxygen Wallet is simply a normal e-wallet application which works and behaves just like Paytm. However, along with allowing you to send and receive money through its wallet services, it also allows you to directly make bank transfers by either using MMID or account number and IFSC code of the receiving party. One neat thing that I really like about Oxygen wallet is that it allows you to create prepaid VISA Debit cards. It does that by partnering with RBL bank. The prepaid VISA card that you create will behave exactly like a normal VISA debit card for all intents and purposes. Creating a prepaid VISA card comes with two main benefits. Firstly, since you are using a virtual card, your original information is not shared with any merchant site, keeping you safe from any potential attacks. Secondly, since the card is prepaid, even if it is compromised, the only amount you will lose is that you have created the card with.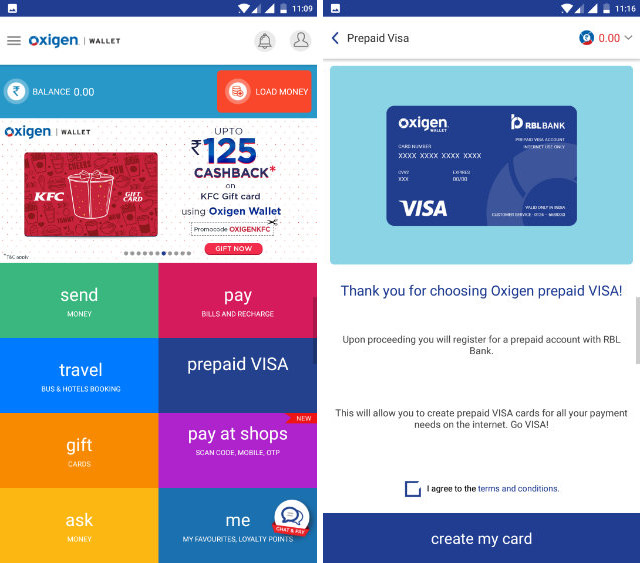 Oxygen is also a payment gateway accepted by almost all online merchants in India. This has allowed Oxygen to tie up with these merchant sites and provide you with extra benefits. The service also lets you create gift cards for numerous merchants including Amazon, Westside, BookMyShow, KFC, and Cleartrip among others. So, next time if you don't know what to gift your loved ones, you can just send a gift card and they can buy anything they want. If you are looking for an e-wallet application, Oxygen is the best one out there. I really love the ability to create virtual VISA Cards and Gift Cards. At the end of the day, I would prefer Oxygen wallet over Paytm all the time.
Platforms: Website (Android, iOS)
2. ItzCash
ItzCash is a simple e-wallet application which has all the basic functions of an e-wallet. You can recharge your wallet and use it to carry out mobile recharges and bill payments. You can receive and send money in your wallet. It supports various types of bill payment services including DTH, gas, water, and electricity among others. If you are looking for a basic wallet application which gets the job done, this one is for you. There are no frills and whistles here. It is a simple e-wallet application which is fast and reliable. Paytm wallet has become a very complex product and if you wanted to go back to its simpler days, ItzCash is your best bet to do that.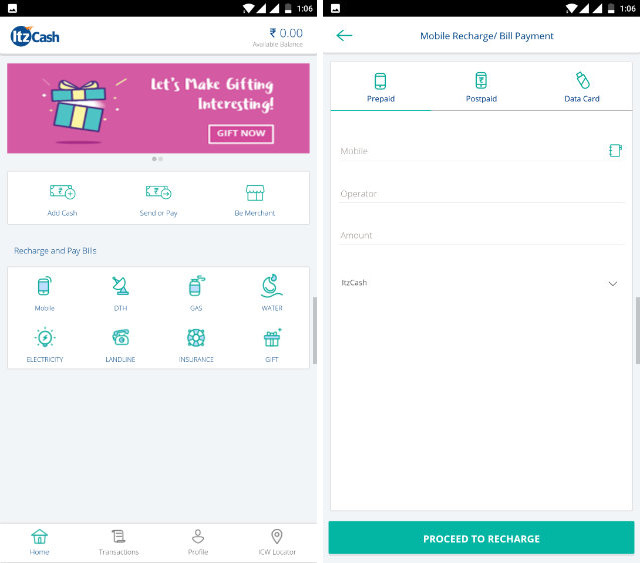 Platforms: Website (Android, iOS)
Online Shopping
1. Amazon
Paytm incorporated an e-commerce platform in the form of Paytm Mall. Since its beginning, the service has evolved quite a lot and now has a vast product selection. However, it's still way behind when compared to the leading e-commerce services like Amazon. Amazon has a lot of advantages over Paytm. Firstly, Amazon's product selection is way more than that of Paytm. Secondly, the services provided by Amazon (whether it be delivery or grievance handling) are a mile ahead of Paytm. All these features are enhanced if you are a prime member. At just INR 500/year, you get free one day and two-day delivery along with access to their Prime video services which has a large collection of movies and TV series for you to enjoy.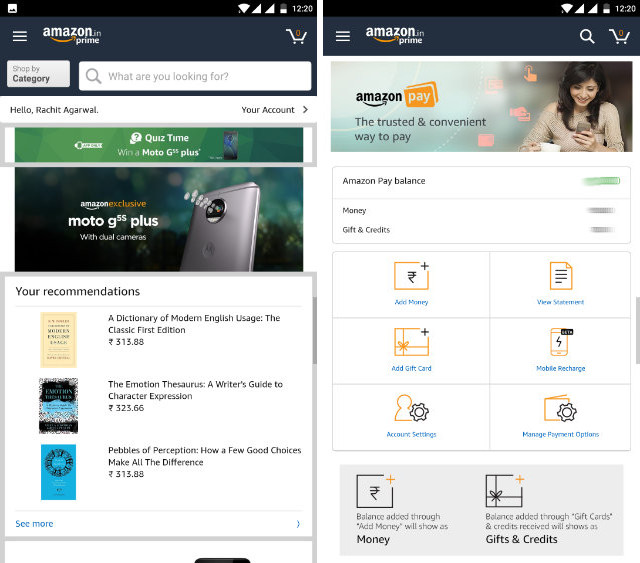 Recently Amazon has also launched its own e-wallet service called the Amazon Pay Balance. Although right now it's in its nascent stage, there's no doubt it will evolve into a great product. Amazon Pay is one of the best payment gateways used across the world. Integrating it with its wallet service in India will be not a great hurdle for Amazon. Even if Amazon has not launched its e-wallet service, it's e-commerce service alone beats the Paytm Mall hands down. Once you factor in the Prime Video service of Amazon, it becomes a deal that you cannot refuse. If you are looking to shop online, Amazon is one of the best Paytm alternatives out there.
Platforms: Website (Android, iOS)
2. Flipkart
Flipkart is India's first e-commerce platform and it's still alive and kicking. While most of the homegrown e-commerce platform has been fighting just to survive, Flipkart has emerged as a winner. Flipkart's product selection and service quality are rivaled only by Amazon. Anything you want to buy, you will get it here. Like Amazon's Prime service, Flipkart has also launched its own F-Assured service which promises quality products with faster delivery. Flipkart is currently the market leader in India, with a 57% market share when it comes to online purchases.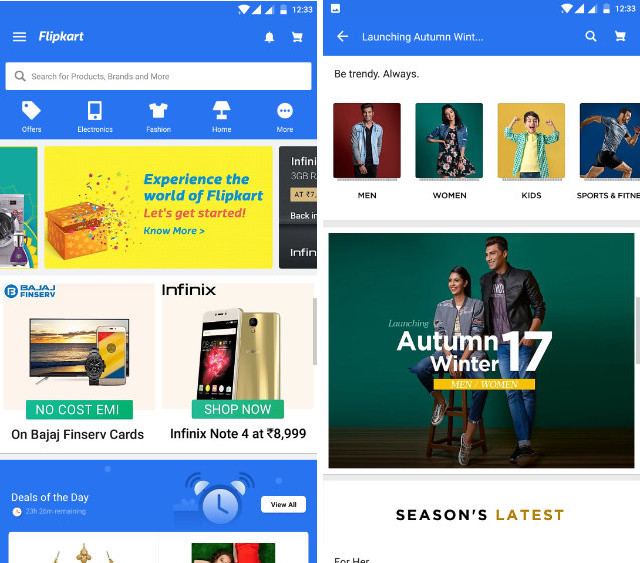 Flipkart also owns Myntra and Jabong, the two biggest fashion e-commerce marketplace in India. When it comes to fashion, Flipkart has the market dominance hands down. As a rule of thumb, I prefer buying electronics on Amazon and clothing and accessories on Myntra, because they are the best places to do that. Paytm has a lot to do if it wants to compete with these behemoths of e-commerce in India.
Platforms: Website (Android, iOS)
Travel
1. MakeMyTrip
As you know, recently Paytm has also included services which allow you to book flights and bus tickets on its platforms. Still, when it comes to travel planning and ticket booking, MakeMyTrip is the king. You can book flights, hotels, and bus tickets among other things. They have tied up with various hotel providers across India to give the best experience to its users. Not only that, now you can even plan a holiday and buy packages which will take care of all your flights and hotel ticketing needs in one go.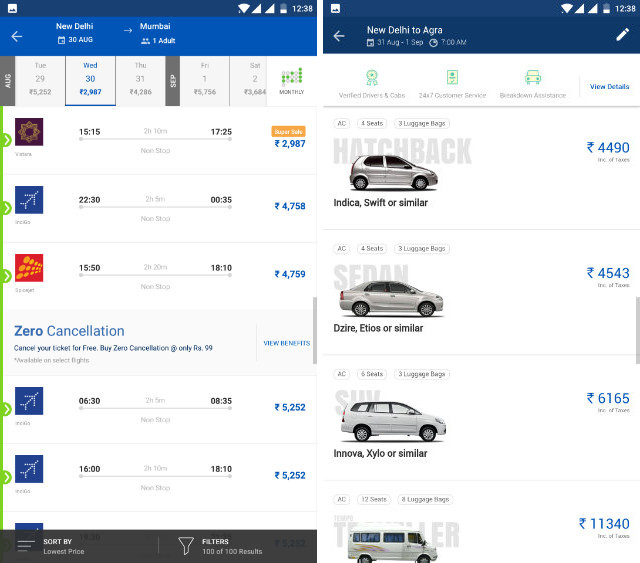 Their latest offering is intercity cabs services. Now, you can book cabs for all your intercity travel needs at really cheap prices. This is a good news for anyone looking for a weekend getaway. Basically, whether you are planning a visit, a holiday, or a weekend getaway, MakeMyTrip can help you do all that. Their pricing is one of the best in the market and their partners are also really good. This is one of the best Paytm alternatives for all your travel needs.
Platforms: Website (Android, iOS)
2. Goibibo
Goibibo was the biggest competitor to MakeMyTrip that is until it was acquired by the later. Still, all the features which made Goibibo stand out are still here as it is still running as a separate entity. The biggest reason behind using Goibibo over MakeMyTrip is its cash-back feature. Just like Paytm, you earn cash-back on every flight and hotel booking. This cash-back lives in your account as GoCash and can be used for any future bookings. The cash-back offers vary from time to time and sometimes you can get unbelievable deals here. Goibibo offers one of the lowest pricing for flights and bus tickets in the market. You should always check this one out before you make a booking.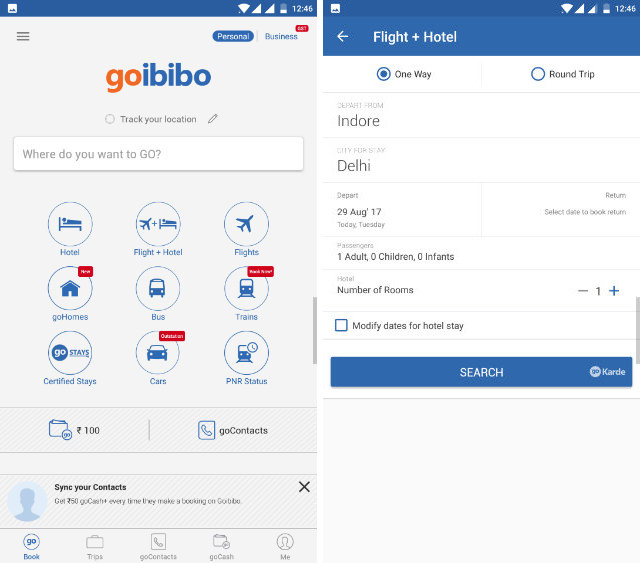 Platforms: Website (Android, iOS)
SEE ALSO: How to Setup UPI Payments in Uber (Guide)
The Best Paytm Alternatives Out There
As I mentioned at the start of this article, if you are looking for a jack of all trades app, Paytm is your only option. However, most of the time, a jack of all trade is not the best at any one of its trades, which is the case with Paytm too. If you don't want to settle for anything below the best in class, you will have to use multiple services which are the best in their own niche. We have covered all the best Paytm alternatives for the different services offered by it. What will you prefer? Do you like a service like Paytm which offers everything, or, do you prefer services which do only one thing, but are best in their respective fields? Let us know your thoughts in the comment section below.
---
Load More