ONLYOFFICE is one of the few Office suites that is open-source and a highly respected name in the document processing industry. The open-source company has now released ONLYOFFICE DocSpace — a dedicated platform to collaborate with documents online. For teams and businesses, it's a great solution that allows you to collaborate with your customers, clients, business partners, users, and contractors. It has a plethora of features, including advanced collaboration, granular permission control, top-notch security, unlimited compatibility, and more. So to learn about ONLYOFFICE DocSpace in detail, read on.
Easy Collaboration in Rooms
As the company reveals, the very intent behind developing ONLYOFFICE DocSpace has been to make collaboration a breeze for teams and companies. It's a hub where users can connect, collaborate, work on documents, and get things done without any hassle. Basically, a platform that connects people and lets them work on documents – be it your customer, partner, or employee in your team – simultaneously. And all of this is based on the simple concept of rooms.
ONLYOFFICE DocSpace has two kinds of rooms — a Collaboration room and a Custom room. The Collaboration room, as the name suggests, is suitable for a team where members can work on multiple documents together in real-time. Basically, the Collaboration room is going to come in handy for co-authoring documents, spreadsheets, presentations, and PDF files.
The best part is that you don't have to give permission for each document to every member. Just share the invite link to the room with your team and everything in that room will be shared without having to individually manage the permission. In real-time co-editing, you can lock paragraphs, track changes, communicate using the chat functionality, and even make audio and video calls.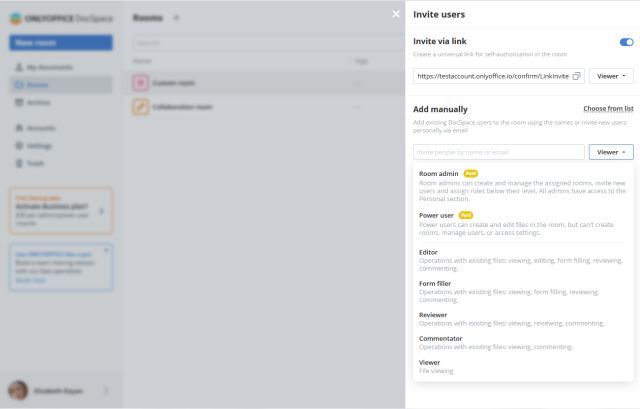 On the other hand, you will find Custom rooms, where you have the flexibility to pre-define permission such as viewer, editor, form filler, reviewer, etc., and apply the settings universally. Again, you don't have to fiddle with documents and folders and manage permissions for each member in the room.
Custom rooms are suitable for businesses where the admin only wants users to view the content or request comments. Moreover, if you are looking for enhanced privacy, ONLYOFFICE is also working on a "Private rooms" feature where you can work on sensitive and confidential documents with strong encryption.
Maximum File Compatibility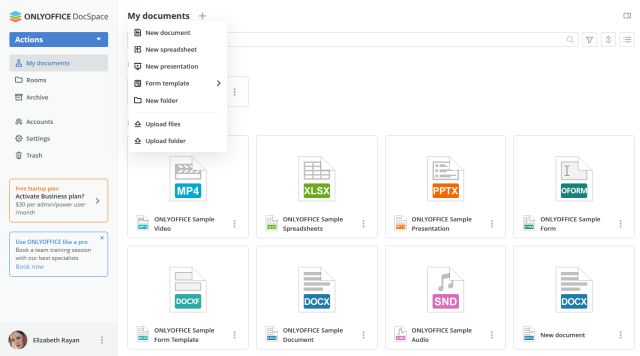 Besides advanced collaboration capabilities, ONLYOFFICE DocSpace allows you to view and edit multiple document file formats in a room. You can view, edit, and collaborate in text and word documents, spreadsheets, presentations, digital forms, PDFs, e-books, and even multimedia files like video and audio.
You can view and edit document formats like DOC, DOCX, ODT, TXT, HTML, XPS, XSV, XLSX, XLS, CSV, ODS, PPT, PPTX, PPSX, ODP, and more. Simply put, ONLYOFFICE does a superb job with both old and new document formats in terms of maintaining compatibility.
High-Grade Security in Place
One of the highlight features of the new ONLYOFFICE DocSpace tool is that it's completely open-source, allowing users to audit its code, and maintain transparency and reliability. Not only that, but it's also GDPR and HIPAA-compliant, meaning all your personal data is securely stored and the highest security standards are enforced for a secure environment. It uses the AES 256-bit encryption method to protect your data on the server.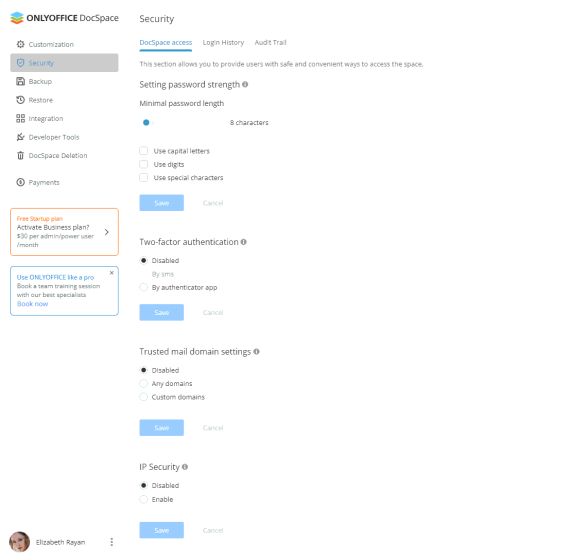 And while the data is in transit, ONLYOFFICE employs HTTPS protocol along with a TLS encryption algorithm to protect your data. Moreover, you have secure access and monitoring support, where you can flexibly define rights and control access to your documents. In addition, activity tracking and audit reporting help you with the traceability of all your documents. Finally, you have support for defining password strength, two-factor authentication, single sign-on, trusted mail domains, IP security, and more.
ONLYOFFICE DocSpace as SaaS
ONLYOFFICE DocSpace arrives as a software-as-a-service (SaaS) product, which means you no longer have to host, maintain, and keep the online editor updated. It is hosted on Amazon Web Services (AWS), so reliability, stability, and uptime are guaranteed. The best part is that you can still connect third-party cloud storage and DMS platforms such as Dropbox, Nextcloud, OneDrive, and Google Drive for data backup.
So as far as data backup is concerned, you are sorted on this front. However, if you want flexibility, ONLYOFFICE is also working on a self-hosted version, which will be available soon.
ONLYOFFICE DocSpace: Plans and Pricing
ONLYOFFICE DocSpace has two plans: Startup and Business. The startup plan is completely free, but it only supports 1 administrator, 2 power users, and can only have up to 12 rooms. Additionally, you get 2GB of free file storage, and there are no limitations on the number of users in each room. Though, bear in mind that it's a limited-time offer.
Moving to the Business plan, it costs $15 per admin or power user. Here, there are no restrictions on the number of administrators in the space, power users, or rooms. You also get 100GB cloud storage per admin or power user. Businesses can also apply their own branding and customization, track user logins, monitor actions, and turn on automatic backup.
You also get technical support from the ONLYOFFICE team if you opt for the Business plan. This subscription plan usually costs $30 per admin/ power user, but again, the company is giving a limited-time offer for $15 per admin/power user, which is certainly enticing.
Check Out ONLYOFFICE DocSpace
---
Load More