Am sure you've at least once been a victim of data corruption due to power failures, or lack of space due to small partitions on your Windows PC. Well, if that's the case, surely you must have heard of Partition Managers, right? These software come with the ability to create, delete, format partition, change drive letter, etc. Some advanced management software also come with the ability to resize/move existing partitions without data loss, copy, hide, set active, convert, defrag, check partition and much more. Now, with a plethora of options to choose from, which one should you go with? Well, fret not, as we bring to you the industry-leading software in this segment – NIUBI Partition Editor. Read on, as we take an in-depth look at one of the best partition managers out there.
First Impressions
NIUBI Partition Editor is one of those software that offers a lot without creating a lot of confusion for its users. The entire process, from purchasing the software to installing it and then finally using it was easy as a pie. Everything is available in a neat and clean interface, and while the features offered by the software are a lot, they are hidden cleverly inside menus, as opposed to throwing everything at your face.
The software runs incredibly well, and the software proves to be super fast and highly reliable, something that we will be discussing later on. All in all, my first impression of NIUBI Partition Editor was really good, and something that makes me want to use it again and again.
Key Features
1-Second Roll-Back Technology
Probably the biggest feature of NIUBI Partition Editor is the integrated 1-second roll-back technology that it comes with. Typically, in case of a power failure or some other mishap, the data of the partition that the software was operating upon stands to get corrupted. Well, such is not the case with NIUBI Partition Editor.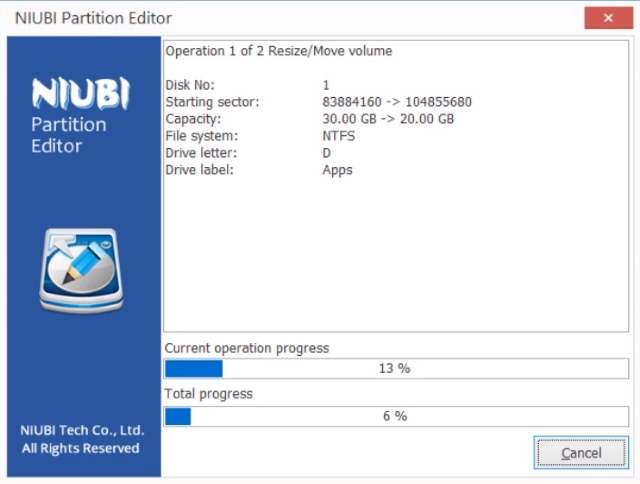 With NIUBI Partition Editor, you get the unique 1-second Roll-Back protection technology, which is able to automatically roll back the computer to the status before resizing in ONE second, in case of any software error or hardware issue such as power failure while resizing volumes. As such, the Operating System and other data are kept intact.
With NIUBI Partition Editor, you get the ability to cancel the operations any time you like. Unline other partition managers where once you confirm the action you lose control over your system, NIUBI Partition Editor retains the control in your hands, allowing you to pause or cancel the operations at any interval of time.
This allows you to correct any mistakes that you might have made while selection and were reminded of it at the last moment. As such, it proves that NIUBI Partition Editor is not only a fast partition manager but also one that is safe and reliable.
Now, you might be wondering that suppose you simply want to extend your system's partitions, the feature for which is directly available in Windows OS. Then why would one require a third party partition manager? Well, unlike other software out there, NIUBI Partition Editor has new tricks up its sleeve in this segment as well.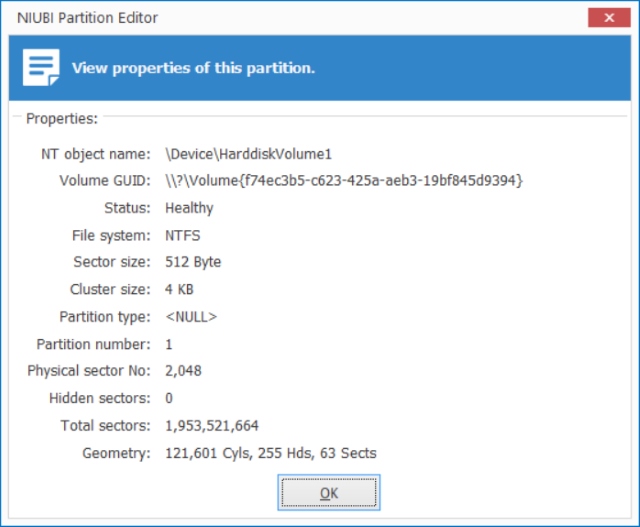 The NIUBI Partition Editor comes with Hot Resize Technology, that allows you to extend NTFS partition in Windows without the need of rebooting. As such, you can continue to carry out your daily operations without any hindrance.
Almost all the above points state how safe and reliable the NIUBI Partition Editor is. But you might be wondering how is all this possible, right? Well, this is all possible thanks to the intelligent virtual mode within the software.
NIUBI Partition Editor makes use of a virtual environment, where all the requested operations are simulated to check for any errors or corruption. Once everything is successful and again authenticated by the user, only then the program continues to apply the changes in real-time on the system.
Unlike other partition managers out there, NIUBI Partition Editor is an all-in-one solution for all your partition needs. NIUBI Partition Editor helps create, delete, format, hide partitions and perform a variety of partitioning operations.
User Experience
Having already discussed the software's features above, the 2 things that one looks forward to a good user experience is the device's functional speed and overall reliability. Truth be told, the experience was more than satisfactory. Thanks to the unique file-moving algorithm, the software can resize partitions 30% – 300% faster than any other tools, which has been strictly tested by the company.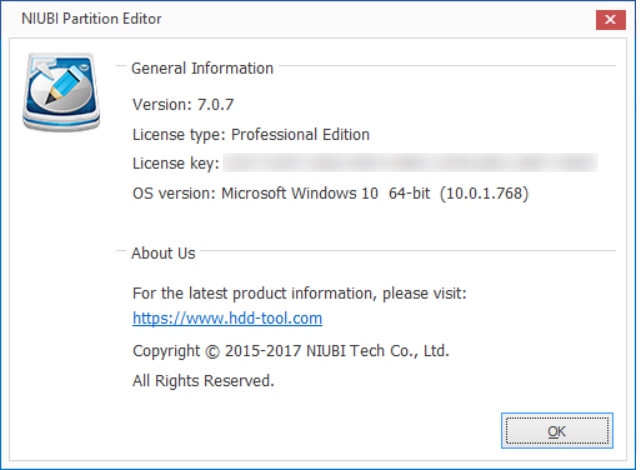 All operations that I tried with the software were done within a matter of seconds and left me amazed with the software's blazing fast speeds. Oh, and in case you're wondering about the overall reliability of the device, let me assure you that NIUBI Partition Editor holds true to its claims. There was no loss of quality, and one definitely gets his/her money's worth with NIUBI Partition Editor.
Pricing and Availability
With a plethora of features mentioned above, a hefty price tag is a must, right? Well, you might have been right other times, but this time you're wrong. The NIUBI Partition Editor Professional Edition is available for merely $39, which acts as a license for not one, but two PCs.

Alternatively, you can also try out the NIUBI Partition Editor Free Edition which offers almost all of the software's core features and is free to use for your home PC.
NIUBI Partition Editor: Worth It?
At this point of time, you're probably wondering whether I would recommend the NIUBI Partition Editor or not. Well, in all honesty, I would absolutely recommend the software to anyone who is looking for a sturdy, stable, cheap, fast, and highly reliable partition manager for their Windows PC.
The NIUBI Partition Editor comes with all the bells and whistles along with the industry standard features that are expected of a partition manager. Its super fast speeds and high-reliability rates make it a compelling choice for anyone who is in the market looking to buy a hell of partition manager without spending a lot of cash from his/her pockets.
Pros:
Unique 1-Second Roll Back Feature
Fast Resizing Ability
Highly Reliable
Cons:
Only available for Windows
Manage Your Windows Partitions Easily Using NIUBI Partition Editor
A partition manager is an essential piece of software that one needs, especially if they're managing a large network of computers. Speed and reliability are the biggest factors that one looks forward to in choosing the right product, and NIUBI Partition Editor offers that and then some. The all-in-one partition manager comes with a plethora of features for a dirt-cheap price tag that makes it an easy recommendation to anyone.
Check out NIUBI Partition Editor here.