Following successful tests in the UK and Mexico over the past six months, Netflix has gone global with a new 'Top 10' feature that allows users to see the top 10 most popular series and top 10 films when they click on the movies and TV shows tabs in the Netflix mobile apps and on the Netflix website. The list, which is in addition to the overall Top-10 lineup, will enable users to see the most popular programs on the platform in their country.
In an official press release announcing the global availability of the new feature, Netflix said that the lists, which are available on the website as well as the Netflix mobile apps on Android and iOS, "will be updated every day and the position of the row will vary depending on how relevant the shows and films are to you". As can be seen from the composite screenshots below, the new Top-10 lists can be found within the 'Movies' and 'TV Shows' tabs. They include both in-house content, as well as licensed third-party programs.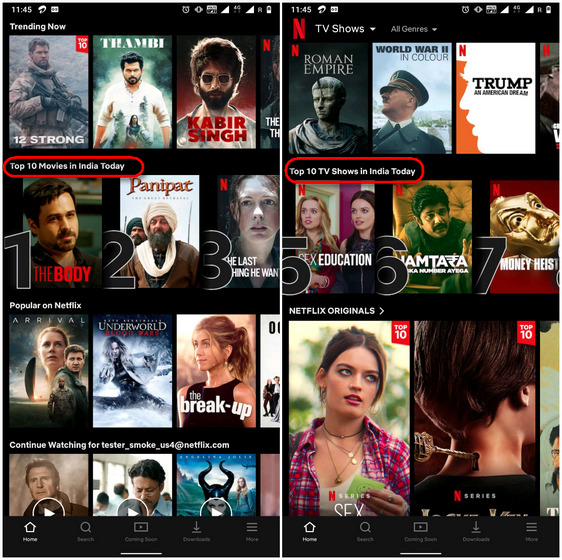 While the rows appeared relatively high-up on my account, you might need to scroll down a bit further to find the lists if the shows are not that relevant to you. According to Netflix, the programs that do make it to the Top-10 list will also come with a 'Top 10' badge wherever they appear on Netflix, as can be seen in the next screenshot.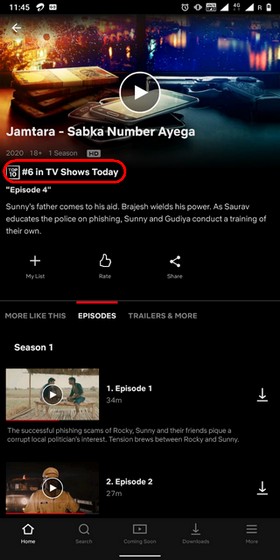 On its official blog post, Netflix said that it expects the feature to help users discover new shows and movies faster. According to the company, "We hope these top 10 lists will help create more of these shared moments, while also helping all of us find something to watch more quickly and easily".