MSI's new line-up of laptops is pretty interesting, in more ways than one. The company has partnered with artists, and is using the Golden Ratio as its basic design principle for its new range of gaming machines. Plus, you get the same combination of good hardware and internals. The Katana GF66 (starts at Rs. 95,000), which is basically an upgrade to the GF Thin series from last year, is one of the few new laptops the company announced, and it's a mid-range gaming laptop that seems to be doing a lot of things very well. I have been using the MSI Katana GF66 as my daily-driver for a couple days, and here are my MSI Katana GF66 first impressions.
Design
Starting off with the design, renowned artist Tsuyoshi Nagano lent his ideas to the overall design of this laptop, which he likens to that of a Katana. That seems to be a good comparison as well, because this is a fairly sleek gaming laptop; especially once you consider the hardware it's packing underneath that considerably slim chassis (but more on that later).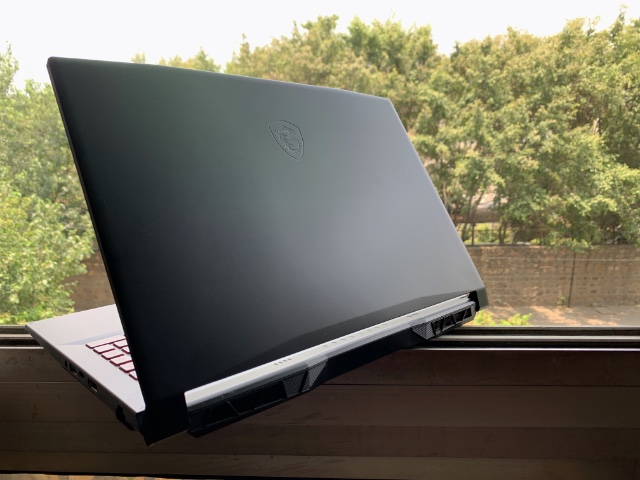 The Katana GF66 comes in both black and white color options. The one we have is the black variant, with the nice matte finish on the lid, and the MSI logo carved into it. Open it up and you're greeted with the narrow-bezel display, and the keyboard. Now the display here is pretty good looking, and the narrow bezels make the experience that much better. The keyboard is nice as well, but as far as the design is concerned, this is a stealthy, sleek, well-rounded laptop. I also appreciate MSI not putting any stickers on the palm-rest here, although that could be just because this is an engineering sample, and not a retail unit.
Anyway, I also noticed that the hinge of this laptop is pretty solid. It's smooth, and seems very well-weighted, making it possible to open the laptop with just a single hand. There's also plenty of space between the hinge and the base of the laptop when you open it up, which should prove helpful for airflow during intense gaming sessions.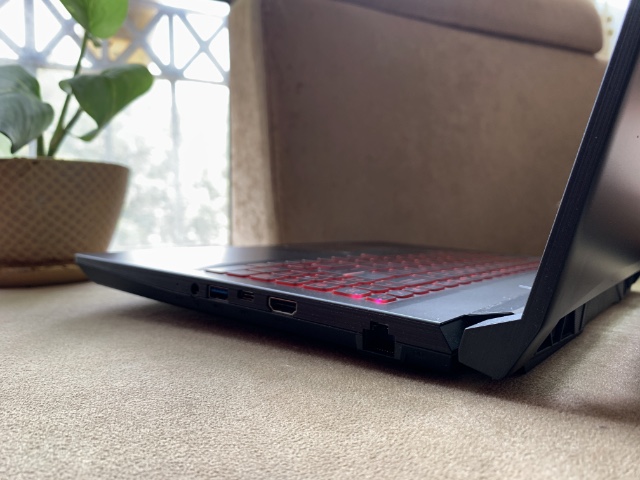 Apart from that, there's not much to talk about here. The MSI Katana GF66 has a nice, understated design, which is no surprise. In my mind, it's pretty much MSI's forte, to make gaming laptops that can double up for office, and the Katana GF66 is no different.
Display
The Katana GF66 comes with a 15.6-inch IPS display. This is a Full HD panel, but before you go about frowning at it, it's got a 144Hz refresh rate. The Full HD panel is not really a problem, but if you're a pixel peeper, you'll be able to clearly discern the pixels on this screen.
Anyway, the display itself is quite good. It offers wide viewing angles, and fairly decent color reproduction. Plus, it has a matte finish, so you won't have any issues with glare on the screen. I appreciate that.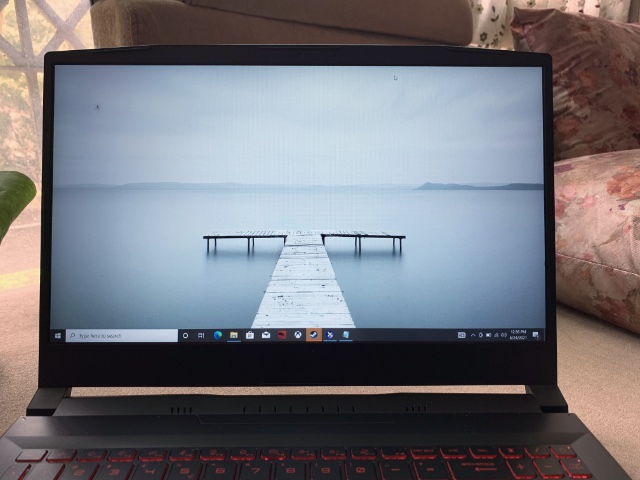 The high refresh rate is my most loved feature of this screen. It just feels so much nicer to play games on this display, and everything else feels remarkably fluid as well. It's great, whether you're playing games, or simply navigating through the various Windows menus and screens.
Performance
Remember when I said this is a fairly sleek laptop, especially considering the hardware it's packing? This is where we talk about that hardware. So the MSI Katana GF66 variant we have comes with an 11th-gen Intel Core i7 11800H processor. It's an octa-core processor, with support for PCIe 4.0 and Turbo Boost Max, allowing the processor to go up to 4.6GHz. That's paired with 16GB DDR4-3200MHz RAM, and a 2TB NVMe PCIe Gen 3 SSD. You also get the Nvidia RTX 3060 GPU, so ray-tracing games are no biggie.
Now, in my use of this laptop so far, which hasn't been extensive by any means, the performance seems really good. Whether it's for gaming or general everyday work, the Katana GF66 seems to handle everything really well.
I tested Assassin's Creed Valhalla on this laptop, and the game runs very well on max graphics, which is great. Just to round things out, I also played other games like Hitman 3, and some eSports titles like CS:GO, and obviously, those work really well too.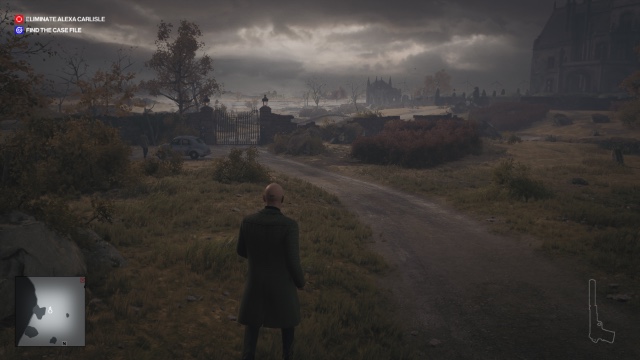 As for media creation, I haven't really tested video editing on this laptop but I'm fairly certain the GF66 can easily handle Premiere Pro exports. Photoshop, on the other hand, is something I did use, and it works flawlessly too.
So yeah, the performance here is pretty good in my testing so far. Obviously, I'll be using this laptop more in the coming days, so if anything changes I'll let you guys know. But in my use so far, the MSI Katana GF66 has been a top-notch performer.
Speakers
The MSI Katana GF66 comes with stereo speakers, and well, they're nothing to write home about. They get decently loud, but it's not enough for watching movies. For games you'll probably use headphones anyway, but if you like playing games without headphones, these speakers could pose a problem. There's also little to no bass here, which is pretty much the case for every mid-range gaming laptop out there, but it's still annoying to watch music videos like this.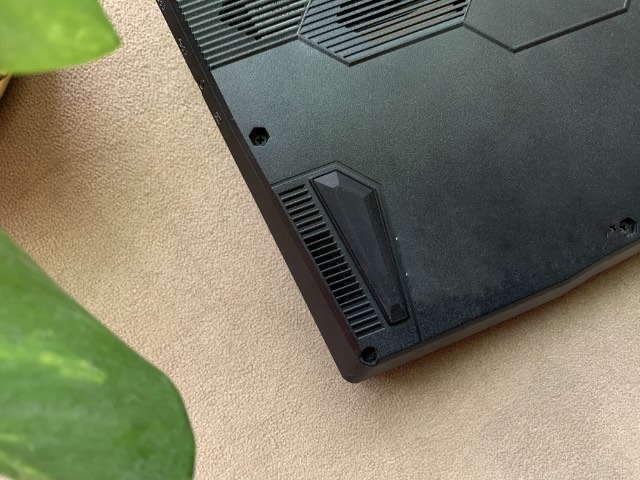 Overall, I'd recommend you get a pair of headphones, and maybe a Bluetooth speaker to go with the laptop.
Keyboard and Trackpad
Moving on, let's take a look at the keyboard and the trackpad here. The MSI Katana GF66 comes with a full-size keyboard, which is great for anyone who needs the numpad on their laptops. The keyboard has a mechanical feel to it, and the key travel seems decent as well. It's a nice keyboard to type on, and has a springy feel to it that makes it feel more tactile than it probably is, but that's good.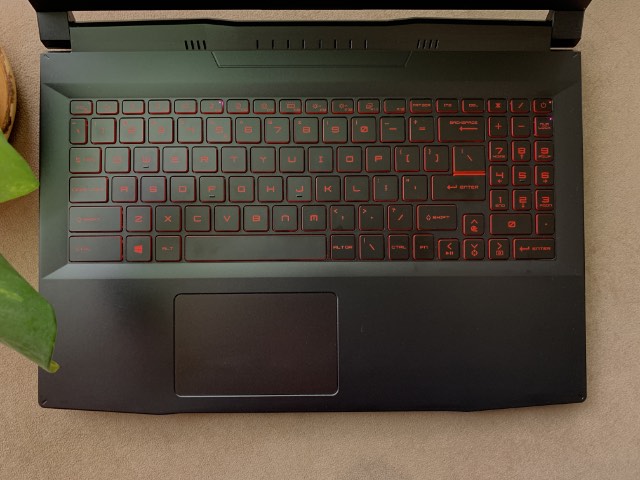 There's a single colored backlight — red, and you can adjust the brightness of the backlight as well.
The touchpad here is a Windows Precision touchpad, which means you get access to all the Windows gestures you may want. Pinch-to-zoom, two finger gestures, three-finger gestures, you name it, it's got it. It is slightly smaller in size for my preference, and it does feel like it has a tad too much friction to it, which can be annoying some times. That said, it's a pretty decent touchpad still, and since you'll most likely use a mouse with your gaming laptop, it probably won't hold you back from enjoying the rest of the experience offered by this machine.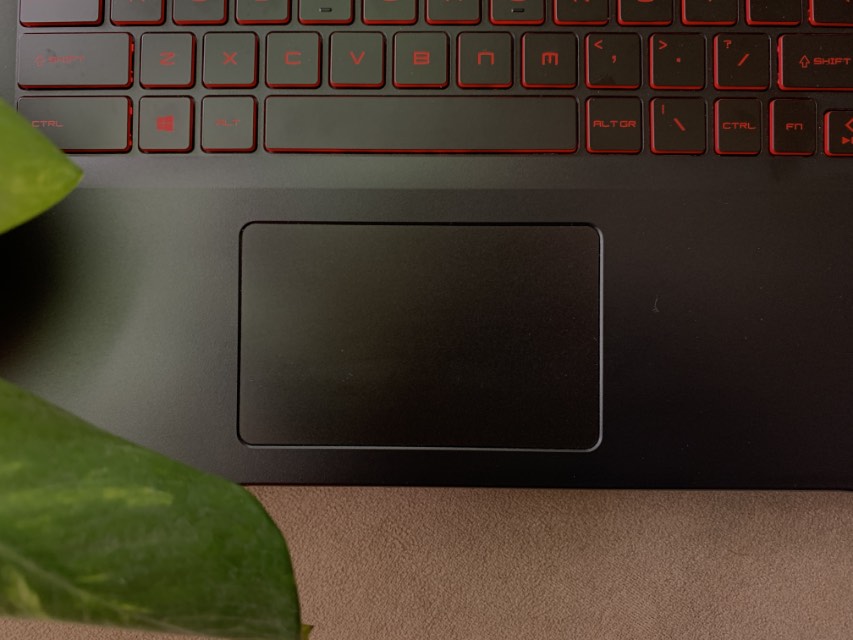 Ports and Connectivity
The port selection on the MSI Katana GF66 is pretty well thought out too. You get two USB 3.2 Type-A ports, one USB 2.0 Type-A port (perfect for your mouse), an HDMI port, as well as an RJ-45 ethernet port and a headphone/mic combo jack. There's no Thunderbolt support here, but you do get the next best thing in the form of the USB 3.2 Type-C port that can be used with all your USB-C accessories.
In terms of wireless connectivity, the MSI Katana GF66 comes with Bluetooth 5.2 as well as WiFi 6.
Battery
The MSI Katana GF66 comes with a 53Whr battery, which isn't the biggest battery on a gaming laptop, and will definitely be stressed under the load this hardware is capable of putting on it. I won't expect amazing battery life from this machine, and I haven't tested it as such either. However, you can bet on around 3-ish hours of battery life here. You also get a 180W power brick, which you will most likely want to keep connected if you're gaming.
MSI Katana GF66: Is It Any Good?
So how is the MSI Katana GF66 as a gaming laptop? Is it worth the starting price of Rs. 95,000 in India? To be honest, it's early days, and I haven't tested this laptop out thoroughly enough to deem it worthy or unworthy. However, in the couple of days that I have used this laptop, it has performed quite well, and it seems to be a solid gaming laptop. What with the 11th-gen processors, RTX 3060 GPU, a chonky 2TB SSD, and more.
So far, I like what I have seen on the MSI Katana GF66.
---
Load More