The global gaming market is not in the best position right now. With Bitcoin miners snatching up graphics cards, gamers regularly find themselves paying a premium to build their perfect PC build. Since the GPU shortage isn't ending any time soon, many gamers are turning to beefy gaming laptops as a replacement. And well, MSI is looking to offer them a complete package with its latest MSI GS66 Stealth 2021 gaming laptop refreshment. It was unveiled with a stunning display, new RTX 30 series graphics, and other features earlier this year. Rivaling Asus' Zephyrus and Strix series, the MSI GS66 Stealth is a sleek yet mean mobile gaming machine. After using the MSI Stealth GS66 for almost a month now, here is what I think about it.
MSI GS66 Stealth Review
I have been using the MSI GS66 Stealth as my daily driver for over a month now. My personal usage leans towards a combination of everyday work, entertainment, and gaming. The config of the MSI GS66 Stealth laptop I have been using includes a QHD screen with the GeForce RTX 3080 GPU. So without further ado, jump in and read about my experience:
MSI GS66 Stealth Spec Sheet
Weight
4.6 lbs (2.1 kgs)
Display
15.6-inch (2560 x 1440) 165Hz QHD IPS Display
CPU
11th-Gen Intel Core i7-11800H
GPU
NVIDIA GeForce RTX 3080 GPU (16GB GDDR6)
Up to 1365MHz Boost Clock
95W Maximum Graphics Power with Dynamic Boost
RAM
16 GB DDR4-3200Mhz
Storage
2TB SSD
Ports and I/O
1x Type-C (USB / DP / Thunderbolt 4) with PD charging
1x Type-C (USB3.2 Gen2 / DP)
3x Type-A USB3.2 Gen2
1x RJ45
1x HDMI (8K @ 60Hz / 4K @ 120Hz)
Battery
99.9 Wh
Weight
4.6 pounds (2.1 kg)
Connectivity
Killer ax Wi-Fi 6E + Bluetooth v5.2
Unboxing Experience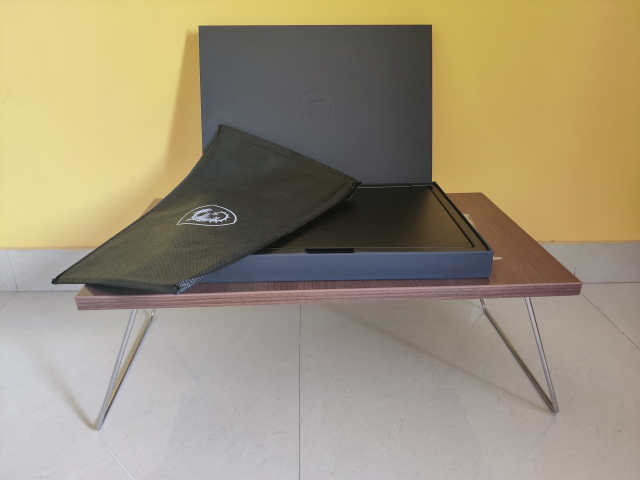 We gamers are a breed that loves a sense of showmanship, and in turn, appreciates attractive packaging. So I am pleased to report that MSI's packaging appealed to me right off the bat. The GS66 Stealth came in a hefty well-packaged box that no doubt protected the laptop against all the dings and knocks. Inside the cardboard box, I first found the laptop's 230W power adaptor, along with a small box, which housed this mean gaming machine.
The slimmer yet a tad heavy inner box was adorned with the MSI logo on top and was absolutely inviting. Opening it, I found the laptop with a nice soft laptop sleeve over it. Below the machine was the usual manual and a hotkey guide. The unboxing experience for the MSI GS66 Stealth felt very inviting and served as a starting hook to reel me into it. I felt like I was being welcomed into an experience, which is what I suspect MSI was hoping to achieve here.
Design and Build
The GS66 Stealth gaming laptop is one of MSI's top-of-the-line products, and it certainly shows. When holding the laptop for the first time, I could feel that it is built-well and has a decent heft to it. The GS66 weighs in at 4.6 lbs (2.1 kgs), which is honestly not bad for a gaming laptop with a large battery and top-end specifications. The MSI GS66's design and build betray the fact the laptop is made for a segment of gamers who want pure performance without standing out in the crowd.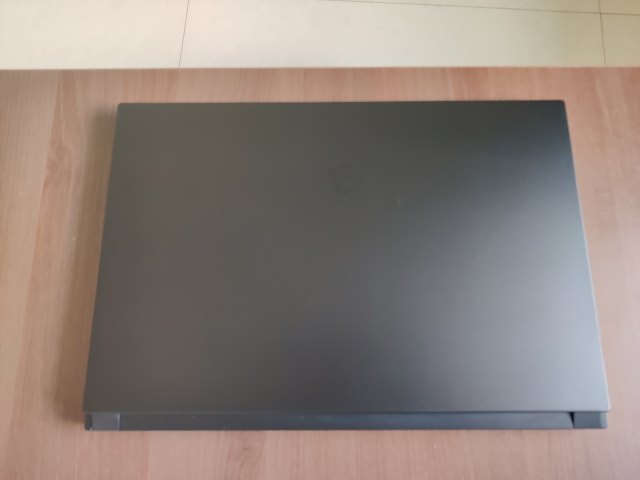 The design of the laptop is based on a modern and sleek architecture that emphasizes a lower profile while giving the gamer a good feel for the real estate that is there. The entire laptop feels like a single chunk of metal, especially when the lid is closed. However, true to its name, the MSI GS66 Stealth's outer design doesn't feature any flashy logos or strips of LED running around the edges. The GS66 is here to be silent and deadly, and that's what it does.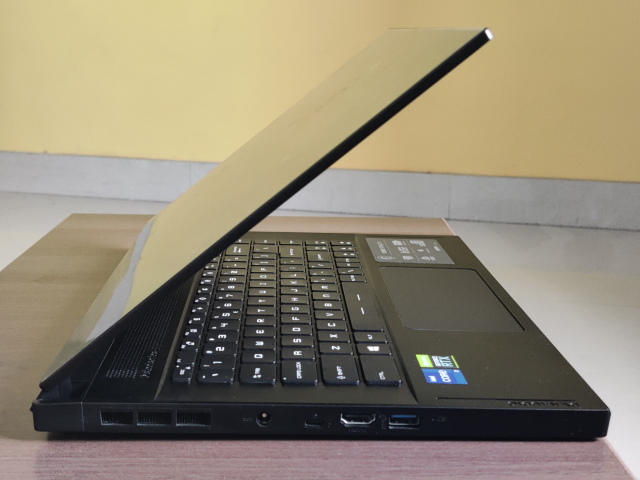 When you lift the lid, the inner portion of the laptop includes a compact keyboard along with a mesh for cooling up-top. While we will talk about the peripherals later, I am a bit disappointed to see that the laptop's webcam doesn't have a privacy shutter, which is becoming more and more common these days. With privacy concerns at an all-time high, the lack of a privacy shutter means I will either need to go out and purchase one or risk myself being recorded.
The build of the laptop itself is robust. I am impressed with the metal casing of the laptop, which does not bend or curve under pressure, unlike some laptops. The quality remains consistent throughout, and the laptop's lid has been reinforced to be more durable. MSI knows well the userbase it's targeting, and the mature design does live up to those expectations.
Display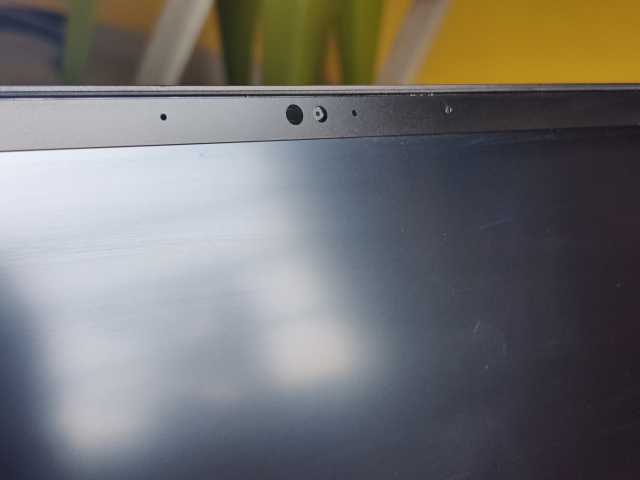 The MSI GS66 Stealth laptop line comes with a range of display options that range from 4K to Full HD. The variant I'm reviewing comes equipped with a 15.6-inch QHD (2560 x 1440) IPS display with a 165Hz refresh rate. My usage of the GS66's screen was a mix of work, entertainment, and intense gaming. For the sake of simplicity, I have documented my experience in sections for each scenario. Have a look at it below:
Display Work Performance
Being in a career that requires one to stare at the screen for long periods, it's almost mandatory for your screen to be sharp and crisp. After using the GS66 Stealth for weeks to type out content and do all my work in general, I am thoroughly impressed by the display quality offered by MSI here.
Not once during my work time did I experience anything less than an amazing screen experience. Setting the resolution at its highest and scaling at 150%, I always had sharp text that was easily discernable and did not strain my eyes. I compared it across my standard 24-inch inch monitor, and at the end of the day, I found myself with stronger eye endurance with the GS66. A factor working for the GS66 is the smaller screen size and hence tightly packed pixels.
If you are a working professional like me, you can safely use this laptop's display for extended periods without worry. Now hang on while I ask my editor to use this as my daily work laptop.
Perfect for Your Entertainment Needs
One of the things besides gaming that I absolutely love is binging Netflix shows, and the display performs perfectly in this scenario as well. The 15.6-inch screen comes with MSI True Color technology and the accompanying software allowed me to calibrate the color settings with ease. However, even without fine-tuning any settings, the experience was amazing.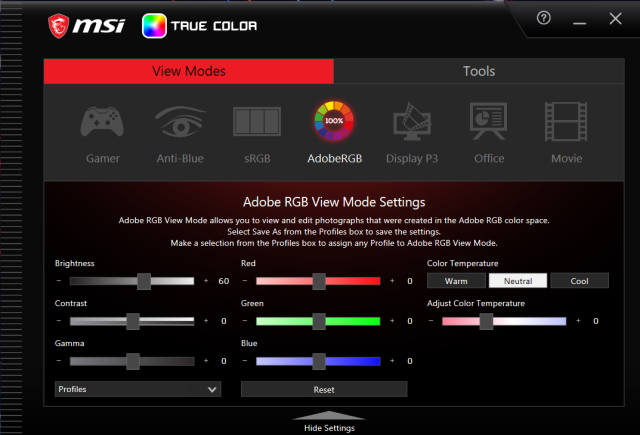 Watching movies, shows and any other media was extremely detailed. I streamed Netflix content in 4K alongside YouTube's 1080 videos for contrast and had a nice experience on either side. The color reproduction is accurate, and with the pre-defined display profiles, I could bring out any finer details and colors present in the movies. Whether it was striking hues present in movies and shows like Polar or Rick and Morty, to darker based shows, the screen adapted itself quite nicely.
The brightness control here is apt because it can go low when needed and equally high in other scenarios, making it usable on a sunny day outdoors. I did find the darker shades suffering at the highest brightness, but I will give it a pass since I never use the screen that bright. My time with the MSI GS66's display while consuming media was more than satisfactory.
Gaming on MSI G66 Stealth's 165Hz Quad-HD Panel
While we will discuss the GS66's gaming performance in detail, this section is a small note on the display. The display held its own very well while I was gaming away on the laptop. Besides the excellent viewing angles and color reproduction, the details were noticeable during my gaming sessions. The high refresh rate coupled with in-game settings worked as advertised, and I was able to get the most out of the 165Hz Quad-HD (2560 x 1440) display.
So if you are a gamer who values display quality over anything, the MSI GS66's display will serve you pretty well.
Performance
The MSI GS66 Stealth gaming laptop comes with an 11th-Gen Intel Core i7-11800H CPU, an 8-core processor that clocks in a turbo frequency of 4.60 GHz. Paired with it is the NVIDIA GeForce RTX 3080 Mobile GPU. Since the graphics card has a slimmer form factor for laptops, its power consumption has been dialed down. While the desktop RTX 3080 GPU has a 360 watts TGP, the laptop GPU is confined to a range of low wattages, starting from 80 watts and going up to 150 watts. This review unit, the MSI GS66 11UH, contains an 80 watt GeForce RTX 3080 GPU along with 16GB of 3200Mhz DDR4 RAM to match. For storage, the laptop is outfitted with a 2TB Samsung SSD in the PCIe Gen 4 slot.
Testing the GS66 laptop's performance was a real treat, especially considering the components inside this laptop. I divided the laptop's performance based on different usage conditions, so let's dive right in!
Day-to-Day Performance
As I mentioned in brief before, my daily workflow requires me to have multiple tabs of a browser open along with a few other software. I tested the Intel Core i7-11800H CPU's performance by going about my business but adding a little more to the mix.
Safe to say, the 11th-Gen Intel i7 CPU performed better than I expected. I had 7 Chrome tabs playing 4K videos on YouTube, along with a simple image editing software and a text editor open in the background. While the fans were quite loud, the CPU held on its own and only used about 42% of its total capacity. The frequency didn't need to go above 4.02 GHz and stayed that way during my extreme usage. This allowed me ample room to open even more tabs and get work done in a jiffy.
It was no doubt made possible by the i7-11800H's 8 cores, each clocked 4300MHz effective Clock and averaged around 450Mhz for each core in Active Clock in HWiNFO. The integrated Intel graphics chip kept itself at 1500Mhz. The 16 gigs of RAM was at 72% percent usage, and a part of me wished I had a 32GB configuration, but even with this, the laptop did not stutter or lag at all.
While my daily workflow does not require me to push any laptop, let alone the MSI GS66 this far, I decided to tack more weight on the CPU to be sure gamers and multi-taskers won't be disappointed with it.
Gaming Performance
The MSI GS66 stealth contains the best of what NVIDIA has to offer right now. The GeForce RTX 3080 has been proven and benchmarked across websites and is loved by gamers the world over. While the PC variant is unfortunately in short stock, I was fortunate to have had this laptop to play around with this powerful GPU.
Now, right off the bat, let me start by saying that it's fruitless to cross-compare desktop and laptop variants. To make the laptop slimmer, it is obvious that MSI has used the Max-Q GPU variant onboard here. While it certainly makes the machine lighter and slimmer, it naturally reduces performance compared to its desktop counterpart. As I mentioned above, this MSI GS66 review unit has a GeForce RTX 3080 that caps out at a TGP of 95Watts with Dynamic Boost.
With that said, I decided to hit the MSI GS66 with some graphically intensive games to test its performance. I started the test by booting up one of the most demanding games, Microsoft Flight Simulator. After detecting the configuration, the game placed the resolution as 2560 x 1440 and all graphics settings at Ultra.
Flying across the beautiful and vibrant city of Naples, the GeForce RTX 3080 laptop GPU hit a utilization of 99% at 92Watts (at 1440p resolution and Ultra graphics) and gave me a core clock frequency of around 1300MHz. The CPU sat quietly at 45% percent usage and had more room. Microsoft Flight Simulator averaged around 40 FPS with all the graphics settings topped out, and the gameplay felt smooth even at 40 FPS. I did resort to using a lower resolution and got more FPS, but I feel more power provided to the GPU could have given it that much-needed boost at my original settings.
I further moved on to Forza Horizon 4 to test out MSI GS66's performance, and it was much more merciful on the system. Running the onboard benchmarks took a few minutes, and all the while, the gameplay felt smooth.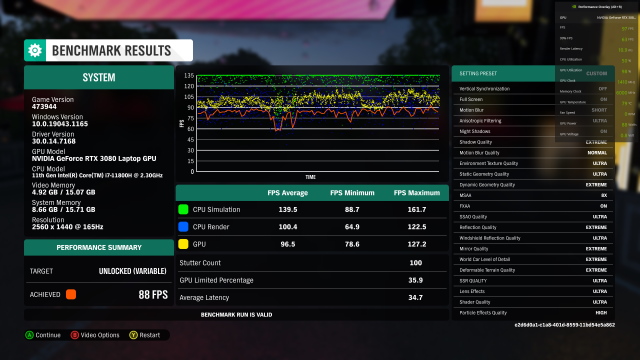 Even though the RTX 3080 was again fully utilized, I got an average of 88 FPS with my resolution set as 2560 x 1440 and the graphics settings set to Ultra. While the CPU usage hit the 50% mark, it's obvious it could have done more if the GPU had more headroom. Enough about the lower TGP variant onboard here, let's take a look at the average FPS of some of the titles I played on this laptop in Ultra graphics and 2560 x 1440 resolution.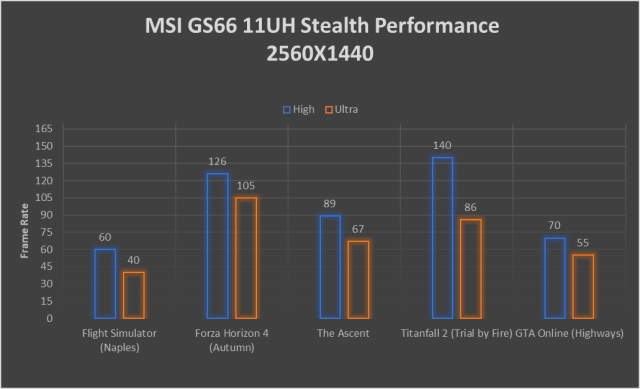 Some other games I tested on this laptop are GTA Online, The Ascent, Titanfall 2, and since I got lucky, the Back 4 Blood beta as well. Save for Back 4 Blood, because the beta build was unoptimized, every other game gave satisfactory performances. Titanfall 2 even hit the 144+ FPS mark on max settings. All this performance is without any additional overclocking through software (mentioned below). All things considered, I had a fabulous time gaming on the MSI GS66 Stealth, thanks to the very capable 11th-Gen CPU and RTX 3080 GPU onboard.
Benchmark Test Results
While real-world experience is the best way to learn about a laptop's true potential, the MSI GS66 Stealth didn't do half bad at benchmark tests. I decided to run 3D Mark's TimeSpy benchmark to get a score rating. After going through a few cycles of the animation, 3D Mark hit me back with a GPU score of 8478 and a CPU score of 6225. Studying the result further, 3DMark informed me that the score is better than 68% percent of all results which puts the GS66 quite high up there.
Cinebench R23's Multi-Core benchmark dished out a score of 7313 after multiple cycles. While the score is lower compared to an AMD alternative like the Ryzen 7 5800H, it will perform multi-tasking applications with ease.
Software: MSI Center
The MSI GS66 comes with a pre-installed MSI Center software to help gamers further enhance their experience, and it deserves a quick mention in this review
Built as a way to centralize everything in MSI systems, the MSI Center proved to be a one-stop solution for all my needs. Want to optimize battery life? You have the option to choose between many different profiles. Overclock something? It has it. Advanced noise cancellation or Smart Image Finder? MSI Center has it all. I had tons of fun going through the various feature sets this handy software contains. So if you do end up purchasing the GS66 Stealth, make sure to make the most out of it using this software.
MSI G66 Stealth Thermals
MSI GS66 has a thermal configuration of 3 fans with 7 copper heat pipes packed in a tight environment. The main heat area of the GS66, in my experience, sits right above the WSAD keys as this is where I felt the temperate crank up while I am gaming or using it for general day-to-day use. The laptop's fans do compensate for that and output all the air hot air through the side vents.
When it comes to actual cooling, the GS66 is a mixed bag. All the cooling systems operated at peak capacity while I gamed away. While the keyboard hotspot I talked about did get hot to the touch, it was amazing that the GPU did not get a degree hotter than 81. And for the times I felt even that was too much, I turned on the provided Cooler Boost Trinity + feature, which ran all the fans on full power immediately. It helped cool down the GPU by about 11 degrees in 2 minutes, which is amazing. However, the fans get crazy loud, so be prepared for that.
Moreover, I was disappointed with the laptop's automated cooling management. While gaming temperature can be excluded, there were times when I couldn't concentrate on work because of the warmer than a normal keyboard deck and the entire laptop in general. I solved that problem by manually cranking up the fans, but I believe that's something the GS66 should have done itself. Other times the fan went into overdrive, even though the laptop wasn't taxed with heavy workloads and ran cool. Perhaps better automatic fan control is needed here.
Keyboard
It can get a bit difficult for companies to give a balanced keyboard that every gamer loves. The MSI GS66 Stealth includes a SteelSeries custom RGB keyboard. The keys are chiclet-style and feel flat on impact. As someone who uses Red Mechanical keyboard switches as his primary, the laptop's keyboard was not so bad.
Playing shooters like R6 Siege on this keyboard was part of good and bad. While I appreciated the short travel time that helped make my movements faster, I did find the flat bottom a tad bit annoying. Since Red switches give me that perfect tactile to smooth response ratio, I wish the GS66's keyboard had a bit more spring in its step. Keep in mind, though, this is strictly subjective. Gamers who love flat impact keys will actually like this keyboard.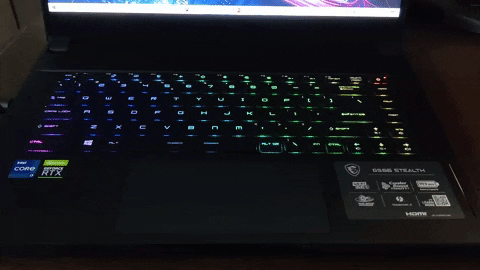 If you are a gamer who loves the RGB trend every company has hopped on, the GS66's keyboard features a lot of color profiles that make it come to life. Found under the SteelSeries GG software, these color schemes are useful if you want to make your laptop stand out or have a backlit keyboard in general. I am more of a solid red color kind of guy, and that's what I outfitted the review unit with. You can, however, also use more RGB features like have audio and keyboard sync, display GIFs on keyboards, and more.
When it comes to typing, the keyboard gets a lot of love from me. Currently typing this review from the keyboard, the key travel time has proven helpful in increasing my word rate. The flat keys that annoyed me in gaming prove beneficial in this area, and I actually kind of feel like I'm typing on a MacBook Pro. If you are in the business of dishing out words on the daily, you will definitely take a liking to this tactile keyboard.
Trackpad
I'm personally not a huge trackpad user. Whenever given a chance, I connect my G305 to the PC/laptop and get to it. However, from my experience with MSI GS66's trackpad, it's pretty good. The trackpad itself is considerably wide and covers around 50% of the entire base in totality. Besides having a lot of space, you get your standard left and right buttons. I appreciate the fact that the buttons offer audible tactile feedback, which pairs nicely with the keyboard. While the clicks haven't been divided by an indicator, it's easy to distinguish.
Since the trackpad supports Windows Precision drivers, you get all the gestures you could ask for. Hence, my daily use with the GS66's trackpad was made more simple by easing pinch zooming, scrolling, and other easy gestures. As for gaming, I doubt many of you out there play a shooter with your trackpad, but if you do, it went as well as you would expect it to.
Speakers and Audio Quality
While I don't use a laptop expecting its speakers to be anything more than decent, the MSI GS66's dual-speaker setup did manage to punch above my expectations. The dual speakers are placed on the edges on either side of the trackpad. They are easily distinguishable by the Dynaudio logo, the company MSI collaborated with for the tuning of its speaker setup.
When it comes to raw audio power, the speakers did get fairly loud during my test. I listened to my favorite playlist of songs, ranging from standard pop songs to EDM/ bass-heavy stuff. In either case, the speakers did quite well, and I could even hear all the instruments in the famous track 'Do I Wanna Know?' by Arctic Monkeys. The bass itself was decent and I could definitely feel it when my hands were on the laptop. You can go on to consume media or play single-player games without headphones, but I recommend against getting into competitive gaming or playing for a large gathering with this speaker setup.
I/O Ports and Connectivity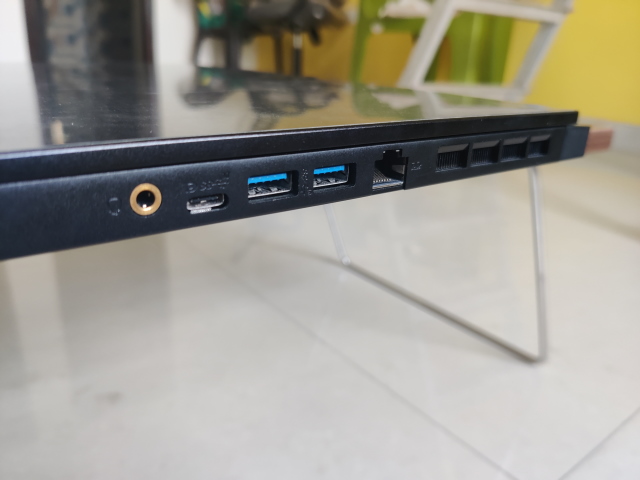 The MSI GS66 Stealth provides an ample amount of I/O ports for gamers to plug their peripherals. The laptop gives you two USB Type-C ports, one of which is a Thunderbolt 4 port with fast data transfer and Power Delivery charging support.
You also get 3 USB 3.2 Type-A ports, an RJ45 connector for that speedy LAN connection, and a Mic-in/ Headphone-out Combo Jack. I was also pleased by the HDMI input port that supports up to 8K @ 60Hz and 4K @ 120Hz. While you obviously won't be able to game that high, you can hook up your monitor to enjoy even greater resolutions while editing or streaming videos. Connectivity-wise, the MSI GS66 is amped up with a Killer ax Wi-Fi 6E and Bluetooth v5.2 for hyper-fast transfer speeds.
While I personally would have loved an additional Type-A port and an SD card slot, I believe the existing connectivity options can be used effectively by gamers and creators alike.
Battery and Charging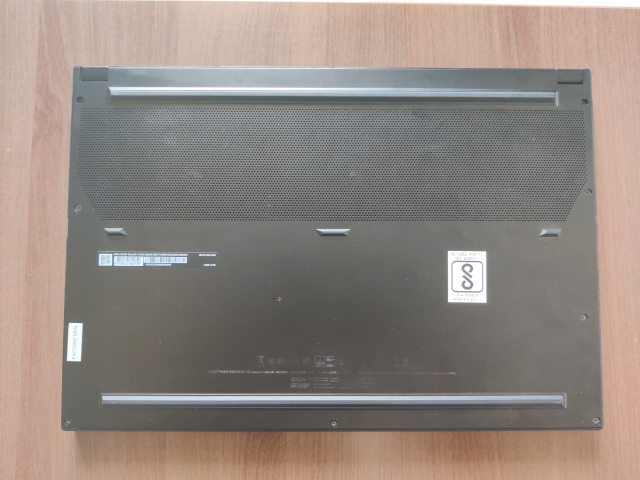 The MSI GS66 Stealth comes with a 99.99WHr battery, which all things considered, isn't all that bad. However, this section is where a software bug got in the way. My initial battery test drained the laptop's battery from 100% to 0% in a little over 3 hours. All this while I was performing my standard tasks like routine typing with a few Chrome tabs open and some music in the background.
A bit surprised at this, I investigated and found a bug some MSI GS66 stealth users have faced in the past. It makes the laptop use the primary GPU, in my case, the GeForce RTX 3080, for all its visual tasks. This resulted in unnecessary power wastage and battery drain.
Post fixing this bug, the laptop churned out around 5-6 hours of battery life with the same usage as above, and I found that much more reliable. I did not measure the battery life while gaming since my conscience could not handle such a sin. You must always game with that laptop plugged in to give the necessary power to your CPU and GPU to handle those heavy workloads.
MSI GS66 Stealth: Pros and Cons
PROS:
Strong chassis and robust construction
Amazing Display with a high refresh rate
Capable CPU and GPU combination
MSI Game Center is a treat
Loud speakers, refined audio quality
CONS:
No privacy shutter on webcam
RTX 3080 held back by low TGP
Average auto heat management
Fans can get too loud
Battery draining bug that should have been fixed by now
MSI GS66 Stealth (2021): A Rather Pricey Affair
The MSI GS66 gaming laptop packs a solid combination of components. However, as you would have already guessed, it also comes with a hefty price tag of over Rs. 2,00,000. While the RTX 3080 laptop GPU underperforms because of being held back on the TGP front, the MSI GS66 Stealth (starting at Rs. 1,97,500 for the RTX 3070 model) compensates for that with a slim and lightweight build and other amazing features. Gamers looking for a high-end low laptop could definitely check out the MSI GS66 Stealth (2021). Just be aware that there are things like total performance that you need to sacrifice for portability.
If you are willing to tack on more weight to your laptop without compromising on performance, we suggest you check the MSI GE66 Raider (starts at Rs. 1,99,990) gaming laptop with a higher TGP RTX GPU and an SD card reader. However, if you put the nitpicking aspects aside, the MSI GS66 serves as an excellent if not the best gaming laptop out there. It will definitely last laptop gamers and working professionals for years to come, and I'm probably going to recommend it to casual gamers-cum-professionals.
REVIEW OVERVIEW

Connectivity and I/O Ports

9

SUMMARY

MSI GS66 Stealth offers a solid combination of premium and low-profile design, coupled with an amazing 165Hz QHD display, the latest 11th-Gen Intel Core GPU, and Nvidia RTX GPU, to offer you the best performance in a slim and lightweight build. Overall, it is a gaming laptop that I can easily recommend to creative professionals, but if you have got money in the bank, I suggest you look for a laptop with a more powerful RTX GPU. It's the one thing that holds back this beast from unleashing its true potential.