Trying to catch up with Google Assistant and Alexa, Microsoft recently announced the Cortana Devices SDK allowing audio companies to power their devices with Cortana. Building on to that, the company has today released Speech Devices software development kit (SDK) at the Build 2018 conference, to enhance the speech-controlled use cases, especially in public places.
The Speech Devices SDK will concentrate on speech recognition in the real world, coupled with personalized interactions meant for brands and businesses. The Speech Devices SDK is a pre-tuned library paired with specific hardware, that together help the virtual assistant recognise voices even when there's ambient sounds such as street noise or vehicular traffic.
It will be useful for instances like ordering food in a drive-thru restaurant or interacting with Cortana devices on the road, in buildings such as government offices or in malls and stores. While far-field microphones can come in handy for quieter environments, the SDK brings Cortana into the real world, giving it wider appeal among business and communities.
"The SDK allows you to build your own ambient devices with a customized wake word—so the cue that initiates a user interaction is unique to your brand. It uses multi-channel audio to provide more accurate speech recognition via noise suppression, echo cancellation, far-field voice, and beamforming."
Microsoft is confident about building Cortana into other apps and announced that the smart assistant will be rolled out to most of its services, most importantly Office 365, including Outlook and Teams. At the same time, the company is bullish on making Cortana more social. CEO Satya Nadella said that Microsoft is now working bringing more skills to Cortana, including the ability to talk to other AIs and virtual assistants.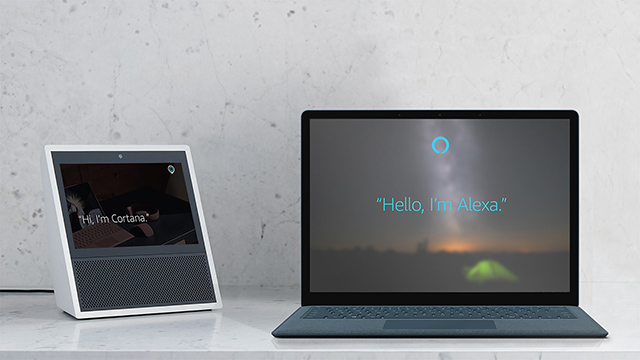 In line with this Microsoft also announced that Alexa and Cortana will finally be able to talk to each other. Basically, Cortana will allows you to access Alexa if you want to integrate shopping lists jotted down by both assistants or use any of Alexa's skills. The same is true for accessing Cortana via Alexa.
For now, both the assistants can join the conversation irrespective of which one talked to last. You can ask Alexa to send mails for you – obviously by taking help from Cortana. The companies are still working on bringing the two AI closer and we are yet to hear about a positive deadline from either of the companies.