Microsoft's urge to keep users from using Google Chrome is known to all. It even made it difficult for users to choose a default browser in Windows 11. As part of its endeavor to persuade users into using Edge, Microsoft has now started showing new prompts to users, which somewhat take a dig at Google Chrome.
Microsoft Wants You to Stick to Edge
A report by Neowin suggests that Windows 10 and Windows 11 users are seeing prompts urging users to try out Edge when they are in the middle of downloading Google Chrome. The prompts have different messages, each of them trying to convince users into ditching Chrome and sticking to Microsoft Edge.
The messages include "Microsoft Edge runs on the same technology as Chrome, with the added trust of Microsoft," "That browser is so 2008! Do you know what's new? Microsoft Edge," or "I hate saving money, said no one ever. Microsoft Edge is the best browser for online shopping."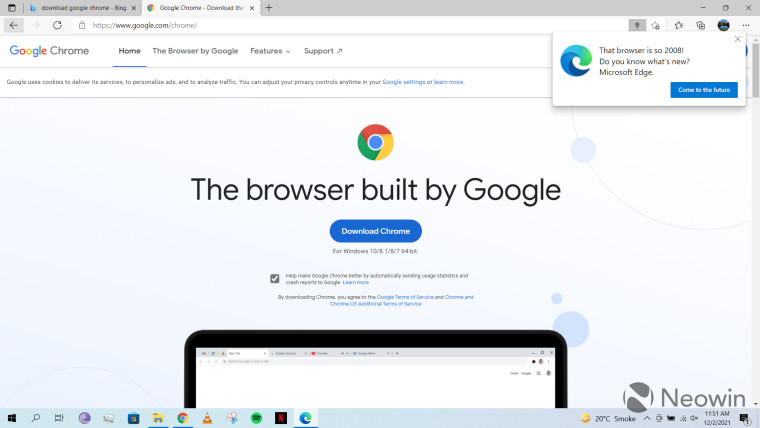 These pop-up messages are from the Microsoft Edge browser and aren't like the usual prompts that have been seen in the past. For those who don't know, Google is often seeing showing people with messages to switch to Chrome if they access the Google apps via another browser. But, these messages only appear when Gmail or Google Search is accessed.
This comes after Microsoft is expected to make choosing a default browser easier for users. As part of Windows 11 Insider Build 22509, a new "Set Default button" has been spotted, which will eventually let people choose a default browser with a click instead of following a previously tedious process. If this happens soon, maybe the new prompts are another attempt to convince people into using Edge.
Have you also seen these prompts? Were you convinced to use Edge? Let us know everything in the comments below.
---