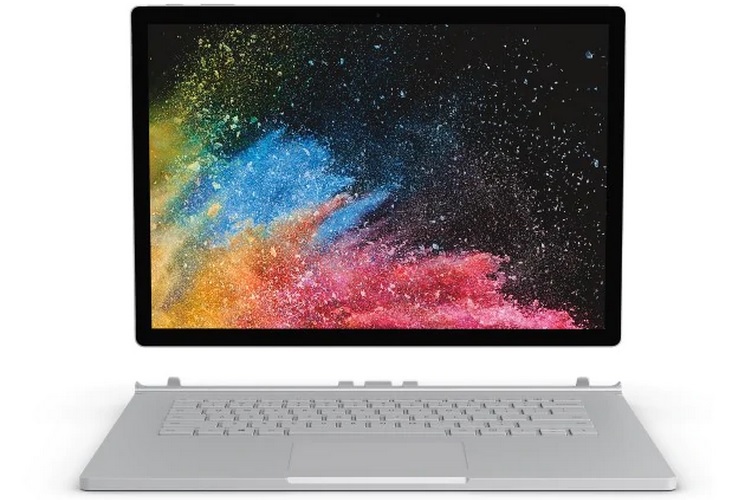 Microsoft has today launched the Surface Book 2 in India and it is now available from Amazon, Flipkart as well as Reliance Stores, Croma and authorized retail partners across the country. Microsoft has brought both the 13-inch and 15-inch variants, with a total of 7 SKUs with different CPU, RAM, GPU and storage configurations.
The larger Surface Book 2 model features 15-inch PixelSense display with a 3240 x 2160 resolution, while the smaller variant comes equipped with a 13.5-inch display with a 3000×2000 resolution, both of which have a contrast ratio of 1600:1 and 3:2 aspect ratio.
Under the hood, both the devices are powered by the 8th gen Intel Core i7-8650U processor with 4.2GHz Max Turbo speed, however, Microsoft has also launched a model which comes equipped with a 7th-Gen Intel Core i5-7300U processor.
In the graphics department, the i5-powered variant comes with an integrated Intel HD 620 GPU, while the Core i7-powered versions offer a choice between a discrete NVIDIA GeForce GTX 1050 GPU with 2GB VRAM and an NVIDIA GeForce GTX 1060 GPU with 6GB of graphics memory.
Microsoft Surface Book 2 specs:
Category
Surface Book 2
(13.5-inch)
Surface Book 2
(15-inch)
Size
12.3 x 9.14 x 0.51-0.90 inches (232.1 x 312.3 x 13.0 to 22.8 mm)
13.5 x 9.87 x 0.568-0.90 inches (343 x 251 x 15-23 mm)
Weight
3.38 lbs (1.53 kg)
4.2 lbs (1.9 kg)
Processor
7th-gen Core i5 and 8th-gen Core i7
8th-gen Core i7
Display
13.5 inch (3000*2000 pixels)
15 inch (3240*2160 pixels)
RAM
8GM and 16GB (LP DDR3)
8GM and 16GB (LP DDR3)
Native Graphics
Intel HD Graphics 620
Intel HD Graphics 620
Discrete Graphics
NVIDIA GTX 1050 (2GB)
NVIDIA GTX 1060 (6GB)
Storage
256GB, 512GB, or 1TB
256GB, 512GB, or 1TB
Battery
Up to 17 hours of video playback
5 Hours in just tablet mode
Up to 17 hours of video playback
5 Hours in just tablet mode
Connectivity
Wi-Fi: IEEE 802.11 a/b/g/n/ac compatible
Bluetooth Wireless 4.1 technology
Wi-Fi: IEEE 802.11 a/b/g/n/ac compatible
Bluetooth Wireless 4.1 technology"
Ports
Two full-size USB 3.0, Full-size SD card reader
Two Surface Connect ports (one in tablet, one in base)
Headset jack (3.5mm), USB-C (Power and Data)
Two full-size USB 3.0, Full-size SD card reader
Two Surface Connect ports (one in tablet, one in base)
Headset jack (3.5mm), USB-C (Power and Data)
Sensors
Ambient light sensor, Accelerometer
Gyroscope, Magnetometer
Ambient light sensor, Accelerometer
Gyroscope, Magnetometer
Cameras
5.0MP 1080p video @30 FPS (front)
8.0MP 1080p video at 30 FPS with auto-focus (rear)
5.0MP 1080p video @30 FPS (front)
8.0MP 1080p video at 30 FPS with auto-focus (rear)
Price
Starts at Rs 137,999
Starts at Rs 222,499
There is an option to configure the laptop with up to 16GB of RAM and 1TB of SSD storage. Following is the pricing structure of the Surface Book 2 for both the 13-inch and 15-inch models in India:
13.5″ Intel Core i5, 256GB SSD, 8GB RAM, Intel HD Graphics 620: Rs. 137,999 
13.5″ Intel Core i7, 256GB SSD, 8GB RAM, NVIDIA GeForce GTX 1050: Rs. 155,999 
13.5″ Intel Core i7, 512GB SSD, 16GB RAM, NVIDIA GeForce GTX 1050: Rs. 222,999 
13.5″ Intel Core i7, 1TB SSD, 16GB RAM, NVIDIA GeForce GTX 1050: Rs. 257,999
15 Intel Core i7, 256GB SSD, 16GB RAM, NVIDIA GeForce GTX 1060: Rs. 222,499
15 Intel Core i7, 512GB SSD, 16GB RAM, NVIDIA GeForce GTX 1060: Rs. 258,999
15 Intel Core i7, 1TB SSD, 16GB RAM, NVIDIA GeForce GTX 1060: Rs. 295,999
---