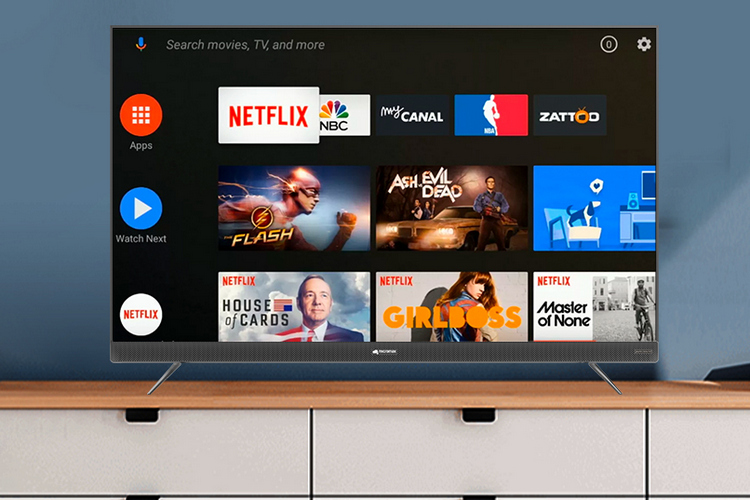 Indigenous consumer electronics company, Micromax, has launched a new series of Google-certified Android TV models in India. The range starts at Rs. 13,999 for the base 32-inch model and will be available for purchase through Flipkart from Thursday, July 11. Alongside the 32-inch model, the company also launched 40-inch and 43-inch models with a 16:9 aspect ratio.
The TVs are powered by MediaTek processors and, come with up to 2.5GB of RAM and 16GB of ROM. The premium models also feature 4K screens with HDR 10 support. They are equipped with 4 separate speakers, long-excursion base, bright treble and a 9-band equalizer. The Dolby and DTS-certified sound systems in the TVs will also enhance the overall experience, claimed the company.
Connectivity options in Micromax's Android TV devices include Wi-Fi, Bluetooth, 3x HDMI, 2x USB ports and built-in Chromecast. Software support includes voice-enabled search with Google Assistant, enabling users to control the content, videos, news and other aspects with voice commands. Being Google-certified, the TVs will have access to the Play Store and its entire eco-system of apps, games, movies and music.
"The Google Certified Android TV is meant for those who want a larger than life entertainment experience by being packed with multiple compelling features and the fully automatic washing machine aims to make everyday solutions simpler and hassle-free", Rohan Agarwal, Director, Micromax Informatics, said in a statement. "We look forward to the response from our consumers and are committed to grow this category further by consolidating our leadership position in the segment in India", he added.
With the Android TV market heating up in India, it will be interesting to see if Micromax will be able to compete against the likes of Xiaomi in the days ahead.
---