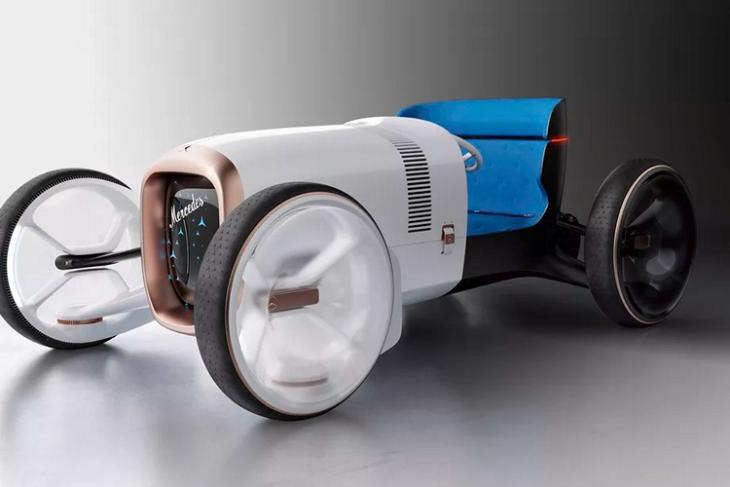 Mercedes-Benz has shown off a concept car, a reminiscence of its historic almost 120-year old "Simplex" last week at the 2019 Frankfurt Motor Show. In case you're not aware, Simplex is a series of luxury cars the brand produced from 1902 to 1909.
"Only a brand that is as strong as Mercedes-Benz is capable of the physical symbiosis of history and future. The "Vision Mercedes Simplex" symbolises the transformation of the brand-specific luxury of Mercedes-Benz", says Chief Design Officer Gorden Wagener.
The company has not made many changes in the design language of this new concept car to stay as close as possible to the original design of the Simplex. The new Simplex is still a two-seater with freestanding wheels offering an alternative driving experience.
However, the vehicle is now electric and the radiator has got a fresh coat of paint in rose gold. Also, there is a Black Panel or 3D Display that the company claims to show animations that provide information regarding the status of the vehicle.
The concept also misses out on a windscreen just like the old models. The company claims it as a move that "reinforces the uncompromisingly sporty character and allows a seamless transition from the front-end flap to the instrument panel."
Speaking of the interiors, Mercedes does not misses out on the premium luxury feel by opting for sophisticated materials. For instance, take a look at the clock placed in the instrument panel. Doesn't that look gorgeous and premium?
The chances for this concept to hit production with this design is highly unlikely since it doesn't meet the safety features necessary for getting approved to be sold to the public. However, minor changes in the design could make this an exclusive limited edition of the Simplex for the people that are really interested to buy one of these. So, what do you think of this concept car? Tell us in the comments.