Have you ever wanted a portable and minimalistic PC which is capable of playing a lot of games? Meet Lyra — a handheld gaming console running on Rasberry Pi CM3L developed by Creoqode, which functions both as a gaming console and a personal computer.
Lyra comes with a 5-inch TFT LCD display with a 800×480 resolution. Under the hood, it packs a Broadcom BCM2837B0, Cortex-A53 (ARMv8) 64-bit processor. There will be 1GB of LPDDR2 SDRAM coupled with 16GB microSD card which is further expandable up to 512GB. As far as ports are concerned, there is a microUSB 2.0 port, HDMI port, and a 3.5mm audio jack. Powering all of this up is a 3,000 mAh LiPo battery.
There are two versions of Lyra – RTG and DIY. If you're patient enough to assemble all the parts of the console yourself, you can do so by opting for the DIY(Do it Yourself) version that comes with all the necessary items along with the instructions and tutorials to set it up. The company claims that it will hardly take 15 minutes to assemble Lyra. On the other hand, if you're planning to gift Lyra to someone or you just want to jump right into the gaming experience, you may choose the RTG (Ready-To-Go) version.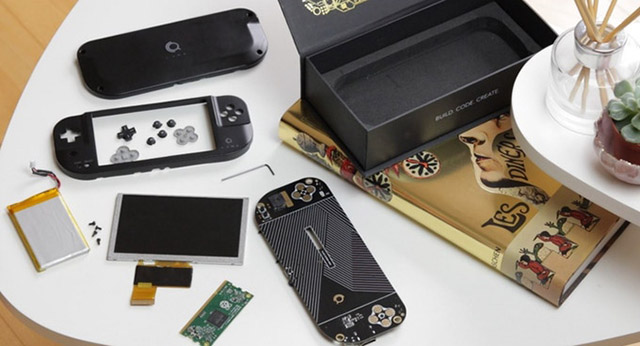 If you're into multiplayer gaming, or if you just wanna play on a bigger screen, you can always connect Lyra to a TV via HDMI. Plus, you can add additional controllers can to Lyra via the microUSB port.
As I mentioned earlier, Lyra can also be your PC. It provides all the essential functionalities like surfing the internet, sending and receiving emails, watching movies, etc. Simply connect a keyboard and mouse to Lyra and you have your very own portable PC up and running.
Currently, the project has raised $23,295 on Kickstarter and the company is aiming to ship the product internationally by December 2019. You can get your own Lyra at £149 which roughly translates to Rs.11,500 or $167. The amount might increase based on your location.
Keep in mind though, that Kickstarter projects do come with the risk of a product not making it to market, so if you decide to get in on the project by backing it on Kickstarter, just be aware that there are risks involved and take a decision accordingly.
Anyway, to provide assistance, Creoqode has set up a help desk comprising of 3 programmers and 2 electrical engineers who will be able to answer and rectify the queries users may face after getting their hands on Lyra.
Check out Lyra on Kickstarter
---