Recently, robot vacuum cleaners are getting traction among household users for their easy functioning and flawless cleaning. Another factor is that vacuum cleaners are now quite affordable and offer an effortless all-in-one cleaning experience at a considerably low price. So if you are looking for a robot vacuum cleaner that is powerful, quiet, and comes with all the smart features, I would suggest taking a look at the Lefant F1 Robot Vacuum Cleaner. It also doubles as a mopper and can absorb pet hair, dust, crumbs, and all kinds of debris. So without any delay, let's take a look at the Lefant F1 Robot Vacuum Cleaner, which is available at a whopping 60% discounted price as compared to its usual $300 price tag.
Lefant F1 Robot Vacuum Cleaner Features
Small and Thin Design
If you are looking to buy a vacuum cleaner, the size and dimension matter the most. You would want the vacuum cleaner to easily reach under the sofa, your bed, in between tables, and in other narrow areas. In this regard, the Lefant F1 Robot Vacuum cleaner excels as the diameter is just 11 inches and the height is 2.7 inches.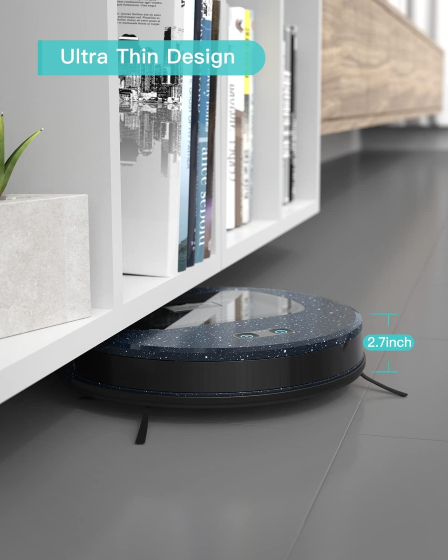 It means the vacuum cleaner can suck crumbs, pet hair, and other debris effectively and without any manual intervention. What I like more about the Lefant F1 Robot Vacuum cleaner is its smaller footprint. You wouldn't even notice that the cleaner is at work, and you will find a pristine home within hours.
Tornado Power Suction
Another standout feature of the Lefant F1 Robot Vacuum cleaner is the tornado-like suction power. It comes with a powerful motor under the hood for quick and effortless cleaning. Unlike other robot vacuum cleaners in this price range, the Lefant F1 brings suction power of up to 4000pa, which is rare to find in such a small body. You would find many vacuum cleaners having a larger body with just 2000-3000pa of suction power, but Lefant F1 manages to pack a smart and robust motor at almost half the price.
And thanks to the powerful suction, it can absorb pet hair, dust, dirt, and crumbs from all corners, be it on the floor or the carpet. You can be sure of one thing that you will not need human supervision to complete the sweeping and cleaning work with Lefant F1. Not to mention, despite packing a heavy-duty suction motor, it's almost noise-free, which is an added bonus.
Smart Anti-collision Technology
Apart from the small body and powerful suction, the Lefant F1 features the upgraded Freemove 3.0 technology to smartly detect obstacles In its way. Both the software and hardware have been developed in a way to ensure that it does not collide with any piece of furniture or a wall. The Lefant F1 has built-in infrared sensors that can automatically sense obstacles in advance and pull back without getting stuck.
The Lefant F1 also comes with drop-sensing technology to ensure that it does not fall off the downstairs or ledge around your home. This way, not only the vacuum cleaner protects nearby furniture or walls from scratches but can also shield itself from any damage.
Smart Features: Google Assistant & Alexa Support
While you have a powerful suction motor and tried-and-tested Freemove 3.0 technology, the Lefant F1 also comes with smart features to make your life easy and user-friendly.
This robot vacuum cleaner is compatible with Google Assistant and Alexa. With just a voice command, you can ask the vacuum cleaner to start cleaning and mopping the floor. There is also a dedicated Lefant app to control other aspects of the vacuum cleaner. For instance, with the Lefant app, you can assign a vacuuming zone and ask the vacuum cleaner to leave restricted areas. It uses the magnetic strip to detect specific areas for vacuuming.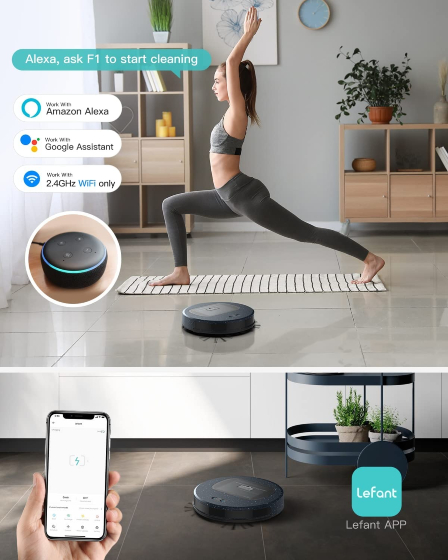 Apart from that, the Lefant F1 vacuum cleaner itself returns to the charging station when the battery is low and gets docked for a full recharge. This way, you will have complete peace of mind and don't have to worry about charging the vacuum cleaner manually.
Another great thing about this vacuum cleaner is that it does not wipe an already cleaned area until the battery goes low, which is a major pain point with other robot vacuum cleaners. Instead, it intelligently detects the clean area and moves to other parts of the house. Not to mention, you also have different cleaning modes such as Auto, Spot, Edge, and ZigZag.
Brushless Design
You must have heard complaints from users that hair regularly gets entangled in their vacuum cleaners, and it gets pretty tough to untangle them. Well, not with the Lefant F1. One of the key design improvements on the Lefant F1 is that it uses the brushless suction port with a small caliber to successfully clean areas without getting entangled with hair. The two special side brushes further improve the coverage area and keep hairs and other obstacles at bay. In effect, you get a flawless sweeping experience without any worry.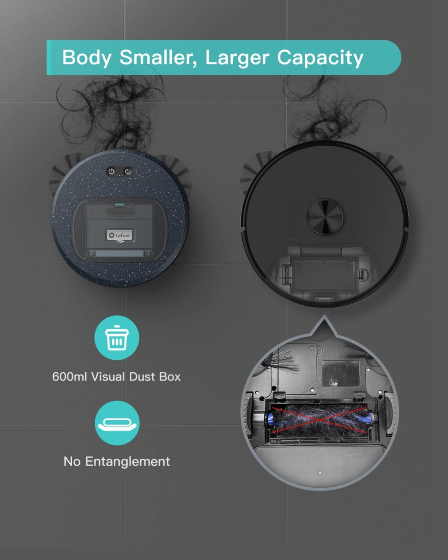 2-in-1 Vacuuming & Mopping
In case you have not noticed yet, the Lefant F1 is not just a robot vacuum cleaner but also brings mopping functionality. Yeah, it is amazing at this price. The Lefant F1 comes with two wipes and ten disposable wet wipes that you can attach to the bottom of the vacuum cleaner. It can slide under the bed, sofa and perform a thorough cleaning, besides sweeping.
Keep in mind that the Lefant F1 does not come with a water tank, so you will have to use a wet wipe. Nevertheless, at this price point, you get a 2-in-1 powerful robotic vacuum cleaner and mopping functionality. It's already more than you can ask for.
Larger Dust Box
Unlike other vacuum cleaners, the Lefant F1 packs a larger 600ml dust box despite the smaller body. The dust bin is also visible from the outside, so you can easily see how much garbage is filled or if the dust box is overburdened with too much debris. You can then proceed to empty the dust box after a quick look. These small-yet-significant design improvements make the Lefant F1 a purchase-worthy vacuum cleaner.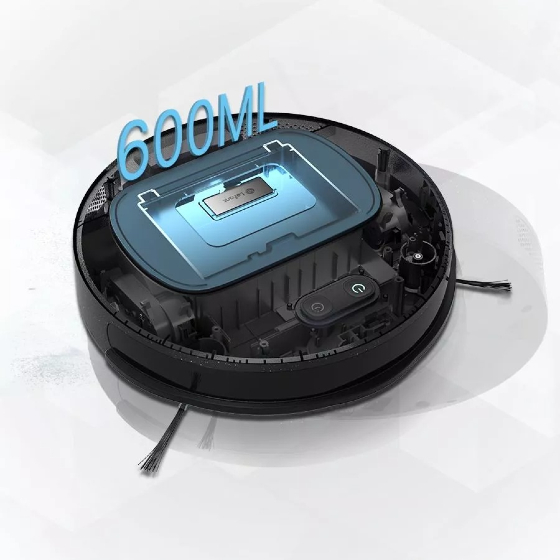 Long Life Battery
Since the Lefant F1 comes with a powerful suction that can go up to 4000pa, you might be worried about the battery life. But rest assured, as the built-in 3,600mAh battery is capable of driving the vacuum cleaner for up to 200 minutes or equivalent to 200 square meters. On top of that, it comes with a high-capacity Li-ion battery in place of the traditional Lithium battery for prolonged usage. And the battery has been thoroughly tested and can be recharged 2000 times without any issues.
Pick the Lefant F1 Robot Vacuum Cleaner For Carefree Wiping and Cleaning
Considering all the features and the price point, I have no hesitation recommending the Lefant F1 Robot vacuum cleaner. It comes with a powerful suction motor, performs quietly, has advanced infrared sensors for intelligently detecting obstacles, and a host of smart features, while doubling as a mopper, and more. So if you wish to buy the Lefant F1 Robot Vacuum Cleaner, you can grab it from the link below at an attractive discounted price, as mentioned above.
Currently, the company is running a month-long deal and the price has been slashed to $178.99 instead of the regular $299.99 price. You simply need to use our coupon code "07USLHF1" to avail the discount while checking out on Amazon using the link below. So are you planning to buy this smart robot vacuum cleaner for your home? Let us know in the comments below.
Buy the Lefant F1 Robot Vacuum Cleaner from Amazon ($178.99, $299.99)