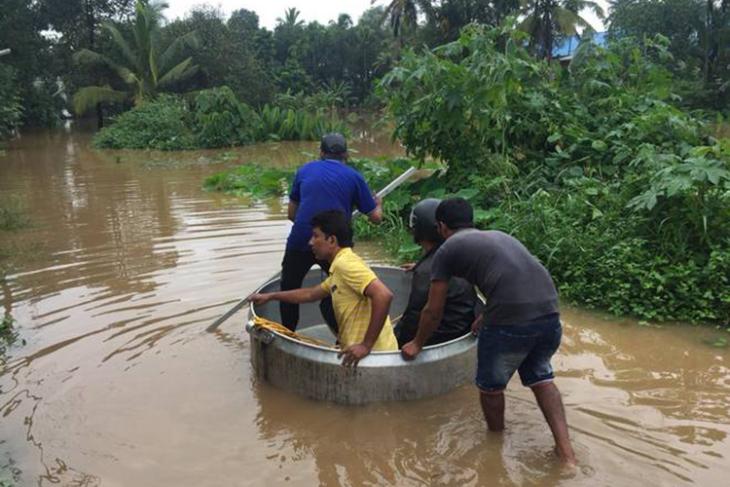 As the situation of floods in Kerala worsens, many individuals and organizations have come forward to extend relief in their own congenial and harmonious ways. To help the people of Kerala stand strong against one of the most devastating floods in Indian history, service sector companies are also contributing their bit.
Millions of Kerala residents are stranded due to the heavy 2088 mm rainfall since June, an increase of 30 percent over the expected rainfall. Besides the tenacious efforts of the security and armed forces, companies including Amazon India and Paytm are accepting donations for the relief activities in order to help the ones stranded and displaced from their homes.
You can contribute to the relief and rehabilitation by choosing any of the following options:
Paytm
Paytm has option to donate within the app that has been highlighted clearly. Just open the Paytm app and in case you don't see the option in the eight options on the front page, tap of "View All". Here, you'll find an option saying "Kerala Floods" which will allow you to donate to the CM's relief fund.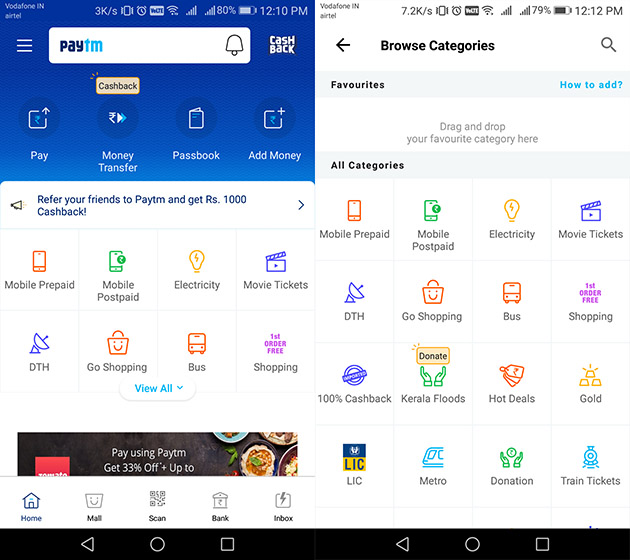 You can also choose to donate to any of the other non-profit institutions by tapping on the "Donate To" option. Next, you can enter your name or of the person on whose behalf you're donating and then simply hit proceed. The payment will be processed like any other transaction and you'll receive a confirmation once it is processed.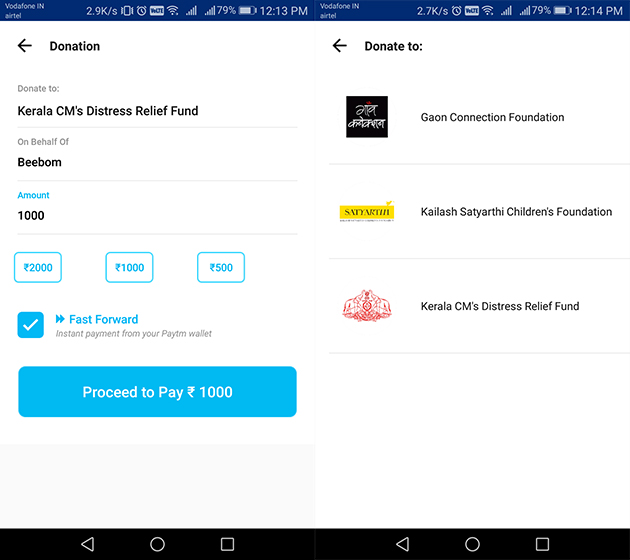 You can also donate to the CM's relief fund directly by visiting this link.
Amazon
On the Amazon app, you will be able to see the option when you scroll down. Tap on the listing and you'll be directed to a page showing the list of NGOs working with Amazon India, collecting relief funds for those affected in Kerala.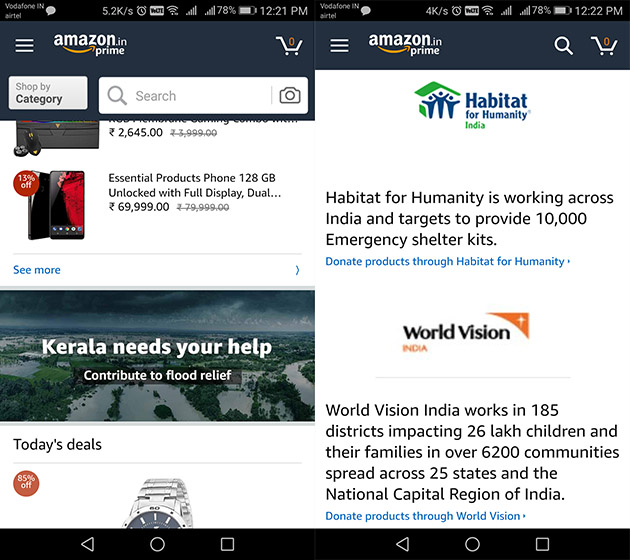 Based on their areas of expertise, these NGOs have created wish lists. You can contribute according to your budget, add items to your cart and choose the respective NGO's address in the delivery address option. This proceeds as a normal transaction on Amazon and you can pay as usual.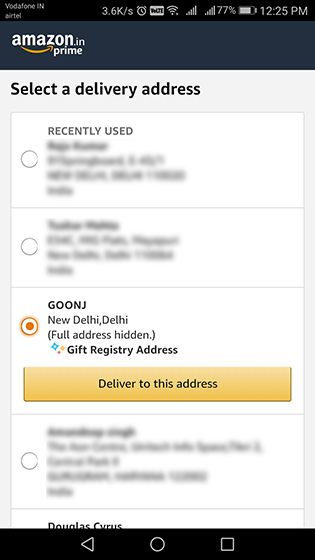 While the option is available on the mobile app and mobile site, you can click on this link to donate via the desktop website.
Google
Google has taken a slightly different approach and is helping users find missing persons in Kerala using a dedicated Person Finder tool. The tool is easy to use and can help you either track a missing person, or you can stop panic from spreading by providing information about someone who is safe with you, and might be separated from their family.
Our thoughts are with those in Kerala. Help track missing people with #personfinder: https://t.co/8EECLFpCqv #KeralaFloods pic.twitter.com/mo9VM3Uph4

— Google India (@GoogleIndia) August 16, 2018
Tap on either of the options and enter the name of the person. If you're looking for someone, you will be shown a list of persons with the name and (hopefully) a picture to help you identify them clearly. You can subscribe to updates about this person and will be notified when someone posts about them. You can also create a new record if you do not find any missing individual and enter relevant information including their name, gender, age, address, and phone number.
If, however, you have information about someone, you can choose the second option and provide information about someone you may have found, and do not forget to add a picture to help families identify the missing person.
Jio, Airtel, and BSNL Launch Free Services
Leading telcos including Bharti Airtel, Jio, and BSNL have promised complimentary calling, SMS, and data services in the flood-washed regions of Kerala. Jio is offering free and unlimited voice and data for all of its users for a period of seven days.
Meanwhile, Airtel has extended the date for the bill payments and is offering free 1GB data and Rs. 30 worth of calling credit to all its prepaid users. The company will also be installing temporary mobile communication towers to beat the disruption of connectivity and will allow people to charge their phones and make calls from its stores in major towns and cities of Kerala.
@MuzafarAbrarBSNL will offer free on net & off-net (20 Mins/day) SMS & data to our customers residing in flood-affected areas for next 7 days from today.

— BSNL_Kerala (@BSNL_KL) August 17, 2018
BSNL, another popular telco in the region, will also be giving free data and calling to its customers. BSNL users can enjoy unlimited calling to other BSNL users while connections to other operators is limited to 20 minutes per day after which the services will be chargeable.
Mobile Connectivity
Despite the generosity of these telcos, the ground reality remains that mobile connectivity has been hunkered down due to heavy downpour. As a result, electricity and mobile services are disrupted. So, if you're in Kerala, please help us learn about the status of the network by adding your views in the post below.
Which network is working properly in Kerala right now? #KeralaFloods #KeralaFloodRelief #KeralaSOS #KeralaFlood #PrayForKerala

— Beebom (@beebomco) August 17, 2018