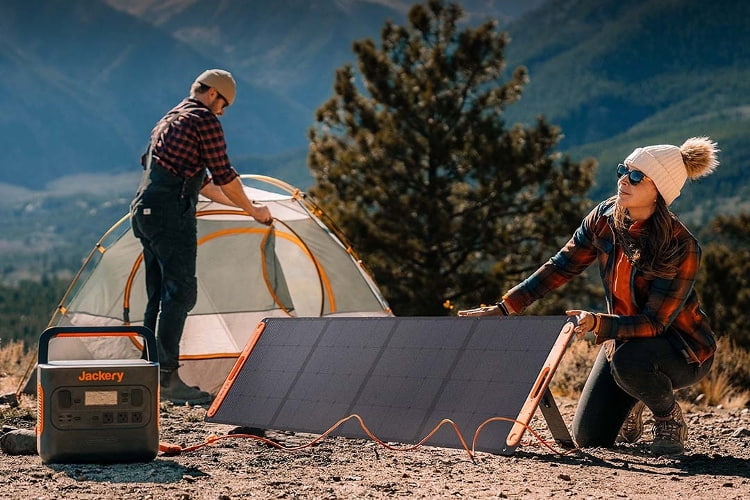 One of the leaders in the green energy solution industry, Jackery, has added three new products to its "Pro" lineup at the start of 2023. The company announced Solar Generator 1500 Pro and Explorer 1500 Pro power station, along with Solar Generator 3000 Pro. The new Solar Generator 1500 Pro and Explorer 1500 power station are incredible portable devices that can make you realize the potential of clean energy and off-the-grid living. To learn more about both products, read on. Also, find information on the "Warming Up Winter with Jackery Solar" campaign, which offers you discounts of up to 30% on new and old power stations and solar panels. That said, let's dive right in!
Jackery Solar Generator 1500 Pro and Explorer 1500 Pro Power Station
The Jackery Explorer 1500 Pro power station has a lightweight profile and a compact design. It weighs only 37.48 lbs (17 kg) and can be easily carried around wherever you go. It comes with a total capacity of 1,512Wh and can output 1,800W of power and 3,600W of surge power.
Apart from that, the Jackery Solar Generator 1500 Pro bundles the Explorer 1500 Pro and a 200W SolarSaga panel. If you wish to reduce solar charging time, you can pair two 200W solar panels with this power station. For more details, go through the specifications below.
Jackery Explorer 1500 Pro: Specifications
Dimensions, Weight: 15.1 x 10.5 x 12.1 in, 37.48 lbs (17 kg)
Battery Capacity: 1,512Wh
Power Output: 1,800W (3600W Peak Power)
Charge cycles: 1,000 cycles to 80%+ capacity
Output Ports: 2x USB-C, 2x USB-A, 3x AC outlets, 12V car port
Charging methods: AC Adapter, Car Adapter, Solar Panel
SolarSaga 200W Panel: Specifications
Solar Panel Peak Power: 200W
Power Voltage: 18V
Operating Temperature: -10 – 65℃ (14 – 149°F)
Solar Charge time: 9.5 hours (1x 200W Bundled), 5 hours (2x 200W), 2 hours (6x 200W)
Jackery Solar Generator 1500 Pro Features
Fast Solar Charging
Despite the huge 1,512Wh capacity, the Jackery Solar Generator 1500 Pro can fully charge the battery in 2 hours with six 200W solar panels. If you use two 200W solar panels, it takes nearly 5 hours to charge the power station. The solar charging time almost doubles to 9.5 hours with just one solar panel. Other portable solar generators with one solar panel take around 14 hours to fully refill the battery, so 9.5 hours is pretty great. As for wall charging, it can replenish the battery in merely 2 hours.
Besides that, Jackery Solar Generator 1500 Pro features solar cells which are developed on IBC technology (Interdigitated Back Contact) to maximize light absorption. Thanks to the tech, it increases the conversion efficiency by 25% and that's the reason it outperforms other solar generators in the same price bracket. That means Jackery's solar generator functions even on cloudy days and when the temperature is abnormally high. And with water and dustproof solar panels, you are good to go for any outdoor adventure.
Charge Almost Anything
With 1,800W of power output, you can charge almost anything with the Solar Generator 1500 Pro and Explorer 1500 Pro. Be it your phone, microwave oven, coffee maker, hand drill, mini fridge, or any other motor-driven appliance. And the best part is that the power station does not make any harsh noise. It's super quiet and only emits a maximum sound of 46dB, which is equivalent to a refrigerator's operating sound.
Ultra-Durable Protection
From the point of sturdiness too, the power station is durable and has passed many rigorous tests. It's shockproof and certified with Level 9 UL/ UN. In addition, the power station has a protective shell, which makes it fireproof, and has received UL 94V-0 standard certification. Not to mention, Jackery's intelligent Battery Management System (BMS) ensures that the battery is protected against all scenarios.
It has built-in protection against short circuits, over-current, over-voltage, over-discharge, and more. Not to forget, the power station packs two high-precision chips and 8 temperature sensors to deliver an unrivaled cooling system. Overall, Jackery's Explorer 1500 Pro is the ultimate portable power station, and it comes with all the bells and whistles to make your clean energy experience fulfilling.
Pricing and Availability
You can pre-order the Jackery Solar Generator 1500 Pro and Explorer 1500 Pro from January 16 on Jackery's official website. The Explorer 1500 Pro is going for $1,699 and the Solar Generator 1500 Pro with one 200W SolarSaga panel will cost you $2,099. However, along with the release of its new products, the company is launching a "Warming Up Winter with Jackery Solar" campaign to offer up to 30% discount on its power station and solar generator lineup.
Starting from January 16, you will be able to avail discounts on new as well as old Jackery products. While the new Explorer 1500 Pro and Solar Generator 1500 Pro are available at 15% off, you can get the previous-gen Solar Generator 1500 at $1,399 (30% off), Solar Generator 1000 at $1,188 (15% off), Solar Generator 1000 Pro at $1,357 (15% off) and Solar Generator 2000 Pro at $2,378 (15% off).
So make sure to pre-order Jackery's Solar Generator 1500 Pro to get the most out of the discounts and stay prepared for power cuts in this extremely cold weather. Click on the links below to pre-order the products from Jackery's official website.
Pre-order Jackery Explorer 1500 Pro ($1,444)
Pre-order Jackery Solar Generator 1500 Pro ($1,784)
---