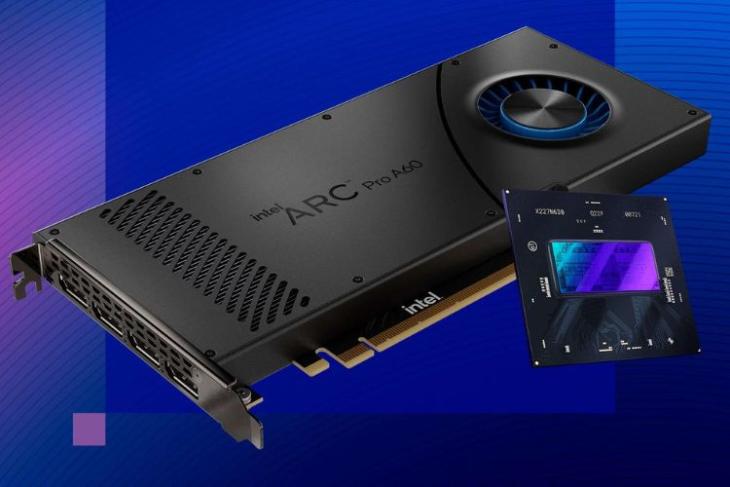 Intel forayed into the high-performance gaming GPUs with Intel Arc in 2021 to compete with the likes of Nvidia and AMD. Following this, the first ARC GPU was launched in 2022. Now, Intel has announced its next generation of Arc GPUs, with the A60 and A60M. The Arc Pro A60 is Intel's high-performance desktop GPU, while the Arc Pro A60M is its high-performance mobile GPU. Continue reading below to know more.
Intel ARC Pro A Series GPUs Announced
Both the Intel Arc Pro A60 and A60M GPUs offer 16 PCIe Gen 4.0 lanes, with 12GB of GDDR6 RAM, and 384GB per second memory bandwidth.
Both the GPUs pack 16 Ray Tracing units, with 256 AI X Matrix Extensions (XMX) engines. The new Arc Pro A60 GPU offers elevated AI inferencing and media processing tasks, with support for system-aided design and modeling (CAD/CAM). It also features full media encode and decode support (including AV1), with up to 128GB of VRAM and support for up to 4 HDR displays with Dolby Vision support.
Intel has promised quarterly driver updates for the A60 and A60M GPUs to deliver performance optimizations. The Arc Pro A60 is also optimized to better support media apps like Blender. In order to create high-quality visuals at scale, the A60 GPU will enable developers to run rendering and ray tracing libraries in the Intel oneAPI Rendering Toolkit.
The Intel Arc Pro A60 GPU is compatible with Intel's NUC 13 small form factor (SFF) PCs with 13th Gen Intel processors, at 125W. It also supports Intel's Deep Link Hyper Compute, Deep Link Hyper Encode, and Deep Link Stream Assist.
In terms of availability, the Arc Pro A60 GPU will be available via authorized Intel distributors within the coming weeks. The Arc Pro A60M GPU will be available via OEM partners in the coming months. Arc Pro desktops will be backed by three years of warranty. Intel has not commented on the pricing yet.