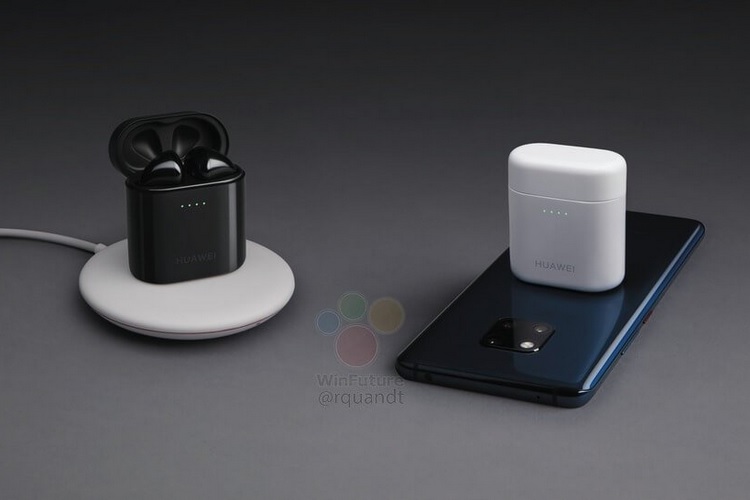 Huawei is all set to launch a successor to its FreeBuds wireless earbuds, the FreeBuds 2 Pro, alongside the upcoming Mate 20 on October 16. From the leaked images, it appears that the FreeBuds 2 Pro will be just another AirPods knockoff, down to its design as well as the charging case, but Huawei's offering will come with certain noteworthy features that certainly grab your attention
According to a report from WinFuture, the FreeBuds will come with a speech recognition feature, Hi-Res wireless audio playback and can be charged wirelessly by placing the charging case on top of the Huawei Mate 20's rear panel, which is definitely noteworthy.
Yep, this is the Mate 20 Pro in a marketing shot for the new Huawei Freebuds 2 Pro. It isn't as big as we all thought – under 150mm length. Oh, also, Huaweis new wireless charger is in this pic too. More here: https://t.co/XGKV1n1f6o pic.twitter.com/8mf9jW21C0

— Roland Quandt (@rquandt) September 19, 2018
The FreeBuds 2 Pro will support the Qi-wireless charging standard and will reportedly have battery life of around 3 hours on continuous music playback, while the charging case's inbuilt battery has enough juice to charge the FreeBuds for over 20 hours of usage.
The FreeBuds 2 Pro can be charged by placing them in the charging case and connecting it via a USB Type-C port to a power supply outlet. As per the leaked marketing material, it would take around 2 hours to charge the FreeBuds 2 Pro by this method.
On the other hand, if you want to wirelessly charge the Huawei earbuds by just placing the charging case on top of the Mate 20, it would take around 3 hours to fully juice up the FreeBuds 2 Pro's battery.
The FreeBuds 2 Pro employ bone conduction audio technology and Huawei says utilizes an AI algorithm to detect voices. Moreover, Huawei's wireless earbuds also come with a noise reduction technology to cancel out external audio disturbances and will reportedly be priced around 150-160 euros at launch next month.
---