Most of us use our Android devices to listen to music on-the-go. While some prefer to have an offline collection of music, some prefer streaming music, and there are some that love to play music on YouTube. If you are someone who has a music playlist on YouTube, you'd know that you cannot stream the music in the background with the screen off, unless you have the YouTube Red subscription, which is limited to a few countries. But what if I told you there was a way to listen to YouTube videos with your screen being off? So, without further ado, here is how you can play YouTube videos with screen off:
Play YouTube Videos With Screen Off Using Third Party Apps
If you're one of those users that regularly use YouTube to stream music, but are tired of having your screen on all the time, then this app is for you. Thanks to XDA Developer cygery, we now have an app called Screen Backlight Off. With the help of this app, you can turn off your screen whilst easily listening to the music of your choice. Read on, as we tell you how to listen to YouTube videos with screen off on Android:
Note: The following method requires root access.
To start things up, you need to allow your device to install third party apps. To do so, simply go to your Android Settings and head over to the "Security" option. Once there, make sure the option of "Unknown Sources" is checked.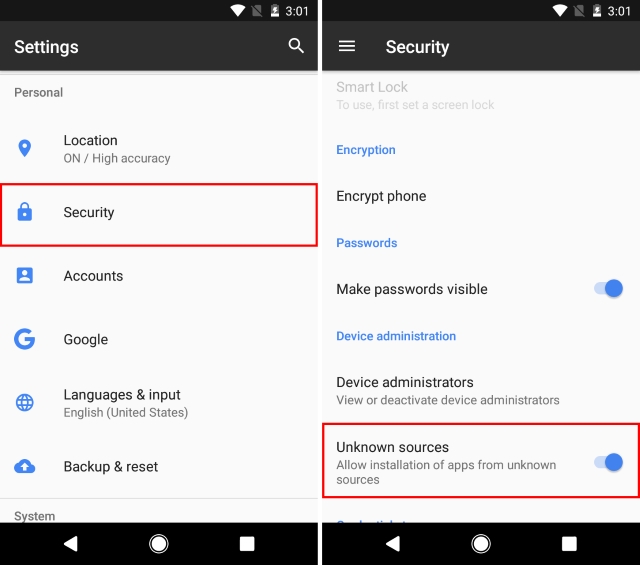 Next up, you need to install the Screen Backlight OFF app via its APK file which can be found here. Download the file to your device and install it like any normal APK.
The next step is to open the app and grant it root access. Additionally, if you're using it on a device which has Android version 6.0+, you would also be required to grant it overlay permissions.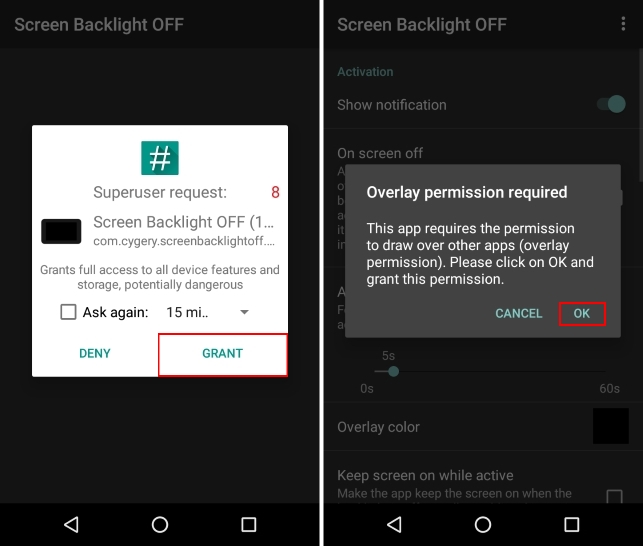 That's it. Your app is now installed. You should now be getting a notification in your notification panel, which looks like the one below. This persistent notification works as a toggle to turn your screen off whenever you require it. You can configure the app to suit according to your style as well, such as change the Activation Delay, etc.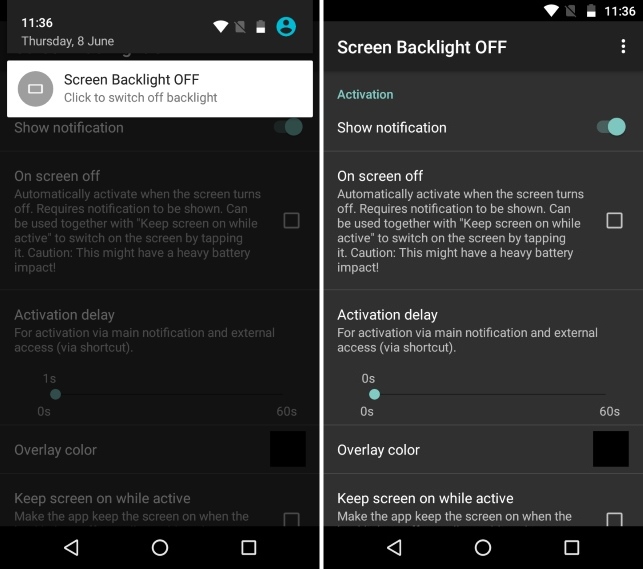 How to Use Screen Backlight Off
Open the YouTube app and play any music video that you wish to listen to. Swipe down from the notification panel to reveal the Screen Backlight OFF toggle and simply tap on the toggle.
That's it. It'll take a moment till the screen completes shuts off the back light. Momentarily, you will get to see the entire screen off but the navigation bar still showing, as shown in the image below. Don't worry, it's completely normal behavior. Just wait for another second or two and the display will be completely off. You can use the same procedure to listen to the audios from the locally stored videos on your device and any other media player as well. Furthermore, it will also work on any video streaming website like YouTube. To wake up the screen, simply tap on the screen.
Alternatives For Non-Root Users
While the aforementioned app works great, it does require root access, which you might not have. Alternatively, you can use Blackr (free, with any in-app purchases), a simple app that allows you to simulate a lock screen over your current screen. This acts as a secondary screen lock for your device and is, in fact, an overlay. Although it is convenient for non-root users, considering the fact that it adds an overlay on the screen, the battery usage is further increased. On the other hand, the Screen Backlight OFF, with the help of root access, aims to turn off the screen backlight itself, in turn, providing a great experience while saving some juice as well.
SEE ALSO: How to Play YouTube Videos in Background
Play YouTube Videos While Screen Off on Android With These Methods
Screen Backlight OFF is a tiny yet nifty tool to listen to the audio of YouTube videos without extracting or converting the video. It allows you to listen to YouTube videos while having the screen off, which does indeed help in saving a lot of battery while enjoying the audio. So, if you are someone who has a music playlist on YouTube and you want to play YouTube videos with screen off, the aforementioned methods should serve you well. So, try them out and let us know your thoughts in the comments section below.