Ever since Tencent released the mobile version of PUBG everyone has been glued onto their mobile screen, getting one chicken dinner after another. While PUBG on PC is notorious for its poor optimizations, the mobile version of the game is rather well optimized and runs fairly smoothly on almost all modern devices. However, if you're rocking an older device or perhaps something that's a little underpowered, you might have faced occasional stuttering and frame drops while playing PUBG Mobile. While a few frame drops here and there aren't much of a big deal in casual games, in competitive games like PUBG even the occasional frame drop could result in death.
But we've got some good news for you. You can now successfully improve PUBG performance on low-end devices by editing the config files (in case you don't have a rooted device) or by installing the GFX Tool app (rooted devices only).
Note: In order to test the performance improvements I used a Redmi Y1, for the first method which requires a non-rooted device, and the Moto G5S Plus, for the second method which requires a rooted device.
Improve PUBG Mobile Performance by Editing Config Files (non-rooted devices)
Requirements:
Guide:
1. Once you've downloaded and installed a root file explorer of your choice, you'll need to locate the PUBG Mobile UserCustom.ini file. The UserCustom.ini file can be found under:
Android/data/com.tencent.ig/files/UE4Game/ShadowTrackerExtra/ShadowTrackerExtra/Saved/Config/Android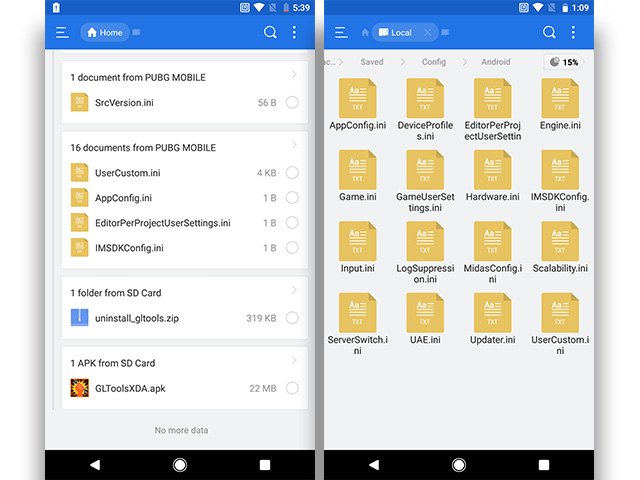 2. You'll then need to open the file in order to edit values and in order to do so, you might need to change its extension to .txt and open with a notepad app. In case you're using the ES File Explorer, you'll get an option to open it with the in-built ES Note Editor.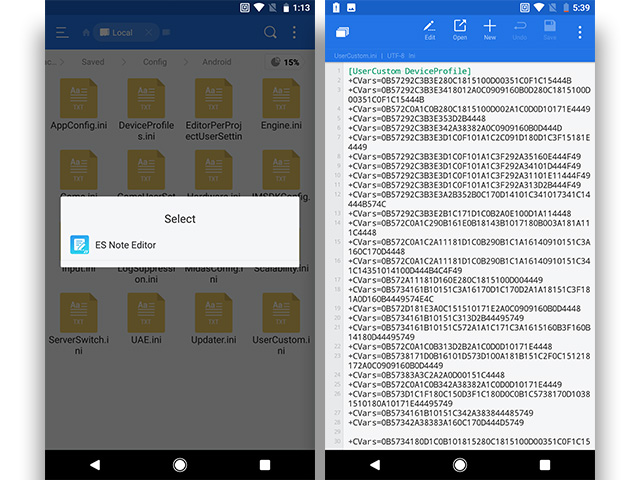 3. You'll now be greeted with a bunch of number and letters that absolutely make no sense. This is where the PUBG Config Converter comes into play. You'll need to copy the values written after +CVars=, paste them within the top bar in the converter and tap on decode.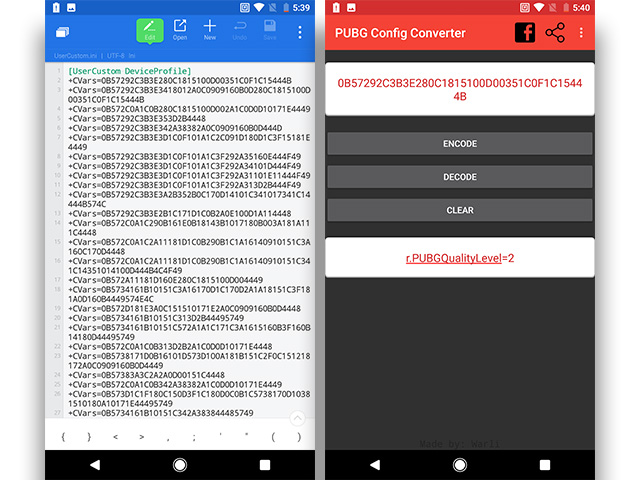 4. The converter will instantly decode the entry and you'll be able to edit the values. Make sure you only edit the values which have an impact on the game's performance, including quality, shadow, bloom, depth of field, refraction, etc.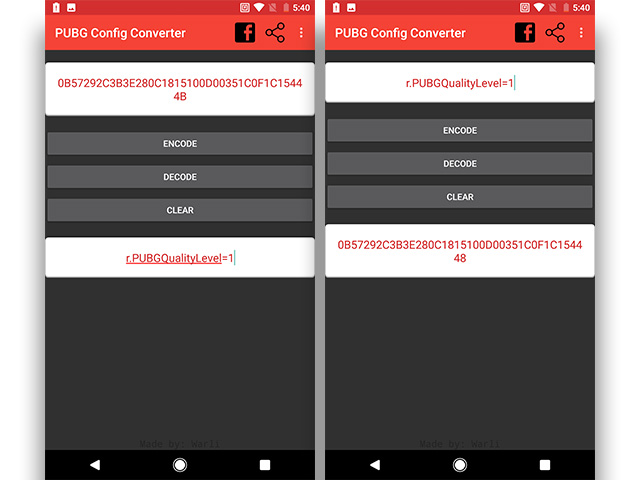 5. Once you've edited the values, you'll have to copy the new setting and encode it once again and paste it exactly where you copied it from. I know it sounds like too much work but trust me, it's worth the effort.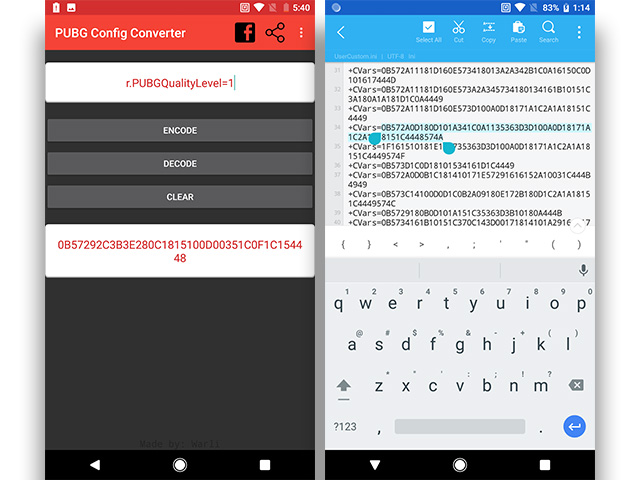 You'll have to repeat the process several times in order to change all the settings to the bare minimum and get the best performance out of a low-end device. Here are a few settings that you should change, along with the associated values:
| Values You Can Change | | |
| --- | --- | --- |
| +CVars=r.PUBGQualityLevel=1 | +CVars=r.Shadow.MaxCSMResolution=4 | +CVars=foliage.MinLOD=0 |
| +CVars=r.UserQualitySetting=0 | +CVars=r.Shadow.CSM.MaxMobileCascades=0 | +CVars=r.DetailMode=0 |
| +CVars=r.PUBGLDR=0 | +CVars=r.BloomQuality=0 | +CVars=r.MaxAnisotropy=1 |
| +CVars=r.ShadowQuality=0 | +CVars=r.DepthOfFieldQuality=0 | +CVars=r.Streaming.PoolSize=200 |
| +CVars=r.MobileContentScaleFactor=0.75 | +CVars=r.LightShaftQuality=0 | +CVars=r.EmitterSpawnRateScale=0.5 |
| +CVars=r.MobileHDR=1 | +CVars=r.RefractionQuality=0 | +CVars=r.ParticleLODBias=2 |
| +CVars=r.UserHDRSetting=0 | +CVars=r.StaticMeshLODDistanceScale=0.8 | +CVars=r.MobileNumDynamicPointLights=0 |
| +CVars=r.MaterialQualityLevel=0 | +CVars=foliage.LODDistanceScale=0.6 | |
Now all that's left is for you to fire up the game and dive in to get your chicken dinner!
Improve PUBG Mobile Performance Using the GFX Tool App (rooted devices only)
Requirements:
A rooted Android device
GFX Tool App (download)
Guide:
The second method, which is exclusively for rooted devices, is fairly simple and straightforward. It makes use of an app called GFX Tool, which you can download on your device from the link given above. Once you've downloaded the app, you'll need to follow the steps given below to improve PUBG performance on your device:
1. Unlike the previous method for non-rooted devices, the GFX Tool app is rather handy and provides a simple interface with which you can adjust the PUBG graphics settings.
2. Configure the GFX Tool according to the image given below and tap on the 'Accept' button. The button will then switch to 'Run Game', tapping on which will take you right into the game!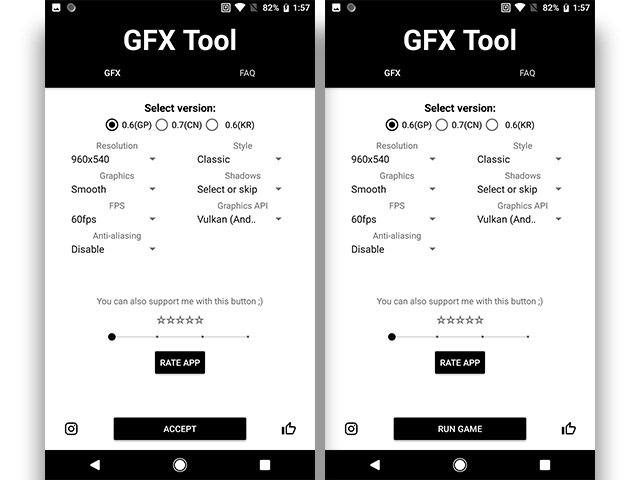 In case you don't like the aforementioned settings, you can play around with the individual settings and find what suits you best. To help you get started, here's a quick rundown of what each option changes:
Version: This setting is fairly straightforward. You just have to choose the version of PUBG Mobile that you're currently running. Nothing much to it.
Resolution: This setting will allow you to scale down the game's resolution, which will greatly improve performance. However, you'll have to take into account the size of your screen before selecting a very low resolution, as it may make the game completely unplayable.
Graphics: While PUBG Mobile allows you to choose from a number of different graphical settings, it doesn't allow you to change all settings. This option allows you to enable super low graphics, which aren't currently available by default. And in case you feel like pushing the limits, it'll also allow you to get super high fidelity graphics, at the cost of FPS, of course.
FPS: Another self-explanatory setting which will allow you to choose the maximum FPS for the game. Always remember, more FPS = more fluidity.
Anti-aliasing: This setting will allow you to improve the overall graphics of the game, by removing jagged edges from the textures. However, in case you do enable anti-aliasing, remember that it'll take a significant toll on the performance.
Style: The style setting will allow you to choose from different saturation levels and colors in game. This setting is purely cosmetic and won't have a positive or negative impact on the performance.
Shadows: With this setting you'll be able to enable or disable the shadows in game. While disabling shadows will definitely improve overall performance, you might face problems spotting sneaky campers in game. You be the judge.
Graphics API: Choose from one of the three available graphics APIs, namely OpenGL 2.0, Open GL3.1, and Vulkan. In case you have a device running Android 7.0 or higher, then the Vulkan Graphics API is the one to go for. However, in case you have an older device, you'd have to go with one of the other two. Go ahead and test both of the APIs and see what works best on your device.
SEE ALSO 20 Cool PUBG Mobile Tips and Tricks to Get that Chicken Dinner
Time to Get That Chicken Dinner!
Choose either one of the methods mentioned above and we're sure that PUBG will run a whole lot smoother. In my testing, I was able to significantly improve the performance on both my Redmi Y1 and Moto G5S Plus, with a significant decrease in stuttering and frame drops even after multiple games. In case you don't see any difference in performance, try rebooting your device and launching the game once again to get the settings to work. Make sure you let us know if the aforementioned methods work out for you or if you're facing any problems in the comments section below.
---
Load More