While Google has assured users that its machines do not read their Gmail messages, a recent report has accused the company of allowing third-party app developers access to your private emails in Gmail.
The report asserts that third-party app developers (who you've granted permission) can see every small detail of your account including the recipient's e-mail id, timestamp, the entire body of the e-mails and more.
Google hasn't done anything about it just yet but states that a vetting process is in place and only trusted apps or companies can add the Gmail module in their app. It means that Gmail won't get better permission settings right away, so the only precautionary measure you can take right now is to review and revoke access to third-party apps you no longer use.
Steps To Revoke Access For Third-Party Apps
The process to see the apps that have access to your Gmail account is quite simple. Just follow the steps below to review third-party apps and revoke access to the ones you no longer use:
1. Navigate to your Google Account settings page on a desktop browser and select the "Apps with account access" option under the 'Sign-in and Security' section.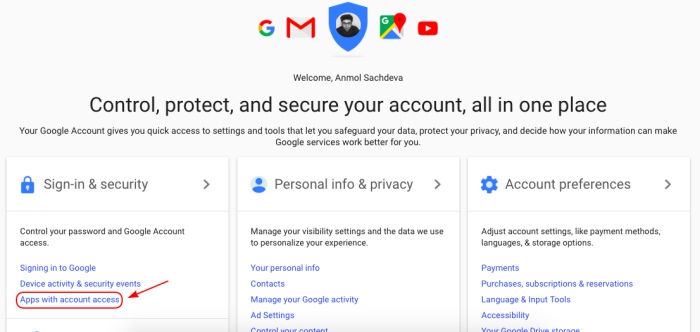 2. You will now notice a card with the 'Apps with access to your account' header, where you need to click the 'Manage Apps' link.

3. You now need to search for apps that have access to your Gmail account. So, press 'Ctrl+F' on Windows or 'Cmd+F' on Mac and search for "has access to Gmail" to view the third-party apps with access to your email account.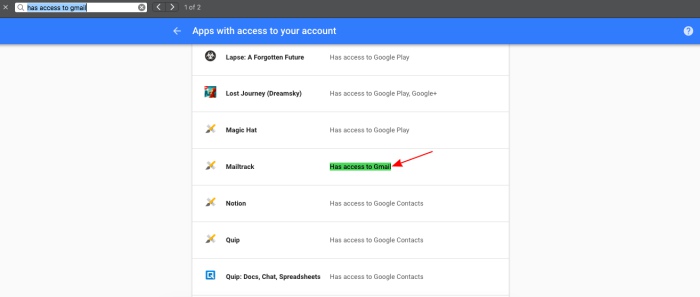 4. Click on the app you no longer use and tap on the blue 'Remove Access' button to revoke its access to your Gmail account. And voila, you've protected your account from unwanted snooping from third-party plugins or apps.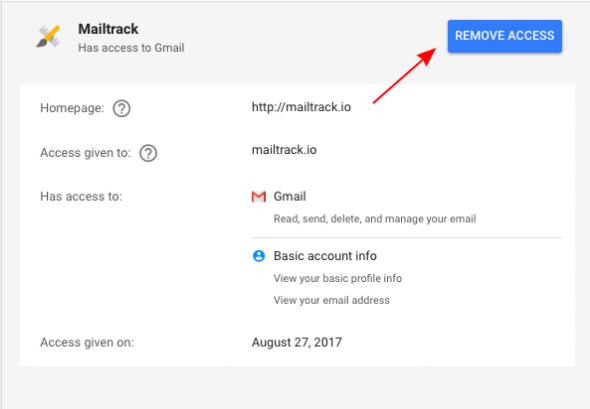 Revoke Access to Third-party Apps on Android
If you're looking to check and revoke access for third-party apps on your Android device, then you will need to go to "Settings -> Google -> Google Account" to see your account settings. You'll then need to navigate to the 'Security' tab, scroll down and tap the 'Manage third-party access' button to view the apps and revoke access to your Gmail account for them.
It's prudent to follow this process every couple of months to see if you have mistakenly allowed any third-party apps access to your Google account, be it Gmail, Google Play, your contacts or any other service. You will need to log in once again to get that app back up and running using the same account.
While these steps will help protect your account until Google chooses to revamp its access permission settings, you should be alert to the threat posed by malicious apps. Only allow those apps which have reputed developers and a good rating as that's the first indicator of whether you will end up in trouble or not.
---