Online music streaming websites are still all the rage among the audience and a cause of hatred and angst among music labels and recording studios. Copyrighted digital media and online streaming do not go well, and Grooveshark has become another victim of lawsuits filed against hosting copyrighted content online.
What is Grooveshark?
Grooveshark was a web-based music streaming application that would let users to upload their tunes, organize them into playlists and let other people discover, listen or download music. Grooveshark entered the scene after iTunes went mainstream and just like Napster, Grooveshark too has now been shut down.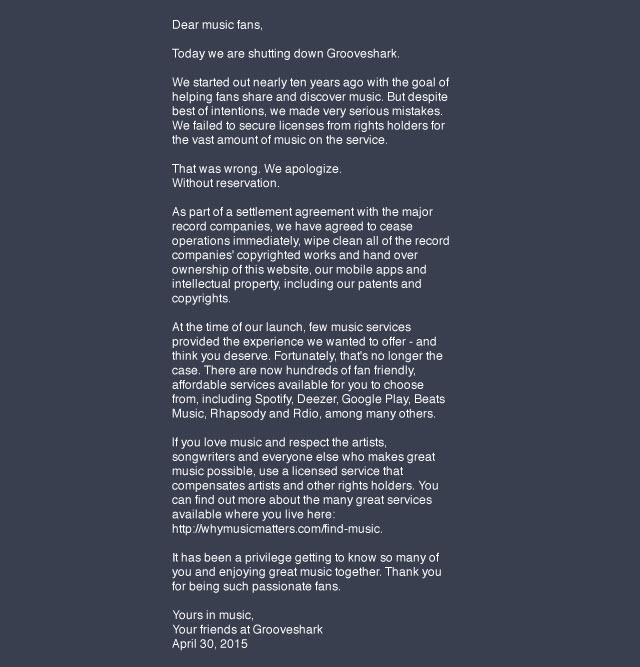 The concept was pretty straightforward and it is basically people sharing media with others, just as you would imagine about YouTube or SoundCloud. Problems began to arise when major record labels found issues with a lot of illegally hosted content on the music streaming website.
What led to its demise?
Grooveshark's model was not pretty adamant on its users uploading copyrighted music to their website. Most of the audio files found on Grooveshark were not found to be copyrighted and major record labels decided it was time to take this service down. Early during its operations, concerns about piracy caused Apple and Facebook to deny access to their app stores for this service. Grooveshark also failed to promptly follow Digital Millennium Copyright Act (DMCA), which YouTube does implement adamantly. Content taken down from Grooveshark used to quickly reappear within hours and it started gaining notoriety for its acts of piracy.
A recent lawsuit filed by the trio of Music industry giants – EMI Music Publishing, Sony Music Entertainment, and Warner Music Group; on the grounds of copyright violations led to Grooveshark to finally come to a closure. Grooveshark has announced that they are no longer in operation and an agreement has been settled between all the parties involved.
Looking ahead to Grooveshark Alternatives
It would definitely be a hard time finding better Grooveshark alternatives for users who have been a long-time patriots of this service. Just for the record, finding an exact or better alternative to Grooveshark will be uncalled for given the foreseeable legal issues associated with such a service.
So, here we will be taking a look at few of the potential replacement for Grooveshark and off we go.
1. Soundcloud
Soundcloud is one of the best online music streaming services, with artists ranging from John Mayer to Katy Perry using the network to upload their tunes. Soundcloud offers a ton of features for even their free users to create and upload tunes, stream songs, create favorite playlists and a lot of other social activity tools. Although free users are limited to 180 minutes count for audio track uploading, premium users are offered unlimited services.
Soundcloud receives huge traffic from its worldwide loyal fans and discovering new artists and streaming music with friends is pretty easy with this tool. Definitely makes up for the lack of Grooveshark, in a legal way.
Key Features: Stats page, Embeddable widgets, Timed comments on tracks, Free unlimited streaming.
Supported Platforms: Web-based, iOS and Android.
Pricing: Free for regular usage, PRO plans for $6/month and PRO UNLIMITED for $15/month.
2. Last.fm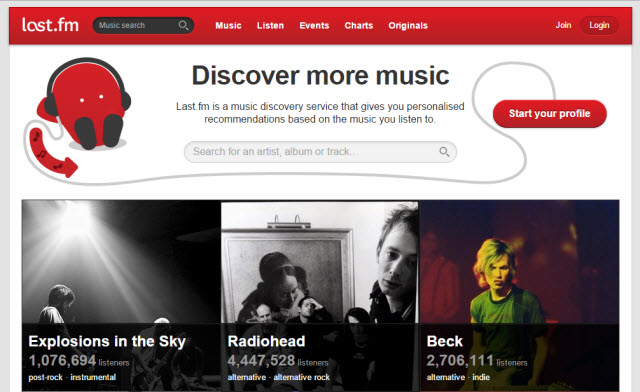 Last.fm is another great online music streaming service which one could consider an alternative to Grooveshark. Last.fm allows users to upload their own music to the service, create playlists, share with friends and track artists and events nearby. A feature called 'Scrobbling' is also provided that tracks logging.
Top charts, social media sharing, music recommendations are among the other key features that makes Last.fm is one of the best choices for music streaming on the web or on your mobile device. Filtering of stations and removal of ads demands a premium subscription package.
Key Features: User accounts, Track logging (Scrobbling), Recommendations, Groups and Events.
Supported Platforms: Web-based, Windows, Mac, Android and iOS.
Pricing: Free for regular users, $3/month for subscription.
3. Deezer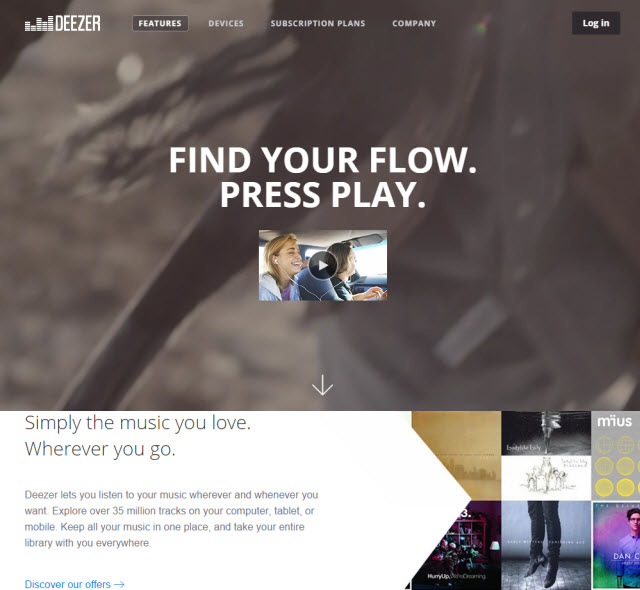 Deezer is widely touted as the heir to Grooveshark, given its features strikingly resembling the former's services. With over 35 million tracks in tow and 6 million paid subscribers, Deezer is quickly becoming one of the best music streaming service on the web. Creating playlists, importing MP3, customizations, recommendations and hand-picked music is what Deezer is all about. Deezer requires a premium subscription for access to the best parts of this service.
Only available in selected cities across the world, Deezer is quickly growing out to bring top labels and recording artists together.
Key Features: Create playlists, import MP3, Follow favourite artists, Syncing and offline listening, Recommendations, Accompanying Lyrics, etc.
Supported Platforms: Web-based, Android, iPhone, Windows Phone.
Pricing: Free, $14.99/month for the Elite plan.
4. Spotify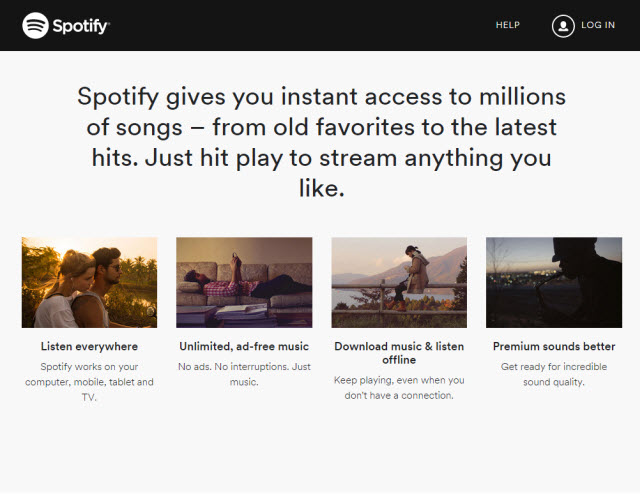 Spotify is one of the widely preferred music streaming service which offers curated playlist creations, radio stations, favorite artists, recommendations and much more. Spotify also offers support for tens of third-party services and this makes the integration smoother. Share your discoveries with friends and listen to music together. Spotify offers ad-based and limited features for free users, while $9.99/month premium package can get you most of the network.
Spotify also offers offline mode for listening to your favorite tracks on your local device. Spotify isn't yet available in India.
Key Features: Instant music, Playlists, Listen in Offline mode, Play local files, Share new discoveries, Third-party integrations.
Supported Platforms: Windows, Mac, Android, iOS, Windows Phone, Symbian and Blackberry.
Pricing: Free and Premium ($9.99 per month) plans.
5. Pandora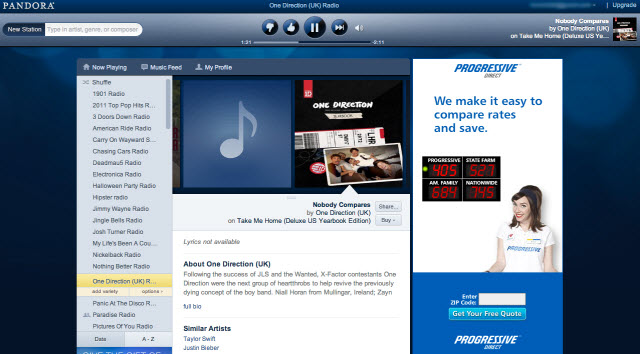 Pandora is a fairly new online music streaming app for mobile devices. Pandora offers organizing of tracks based on their genre, artist or occasion. You can create your own playlists by browsing through the available tracks on the network. Apart from regular playlists, Spotify also features recommendations for Daily top R&B songs, Daily top Country songs and so forth.
Registered users can personalize their own stations and let others discover their favorite music too. The only drawback to this service is that it offers support only in Australia, New Zealand and U.S., due to copyright and piracy issues.
Key Features: Thumb history, Alarm clock, Sleep timer, Personalization of stations, etc.
Supported Platforms: Android, iOS.
Pricing: Free and $4.99/month premium Pandora One plan.
6. Rdio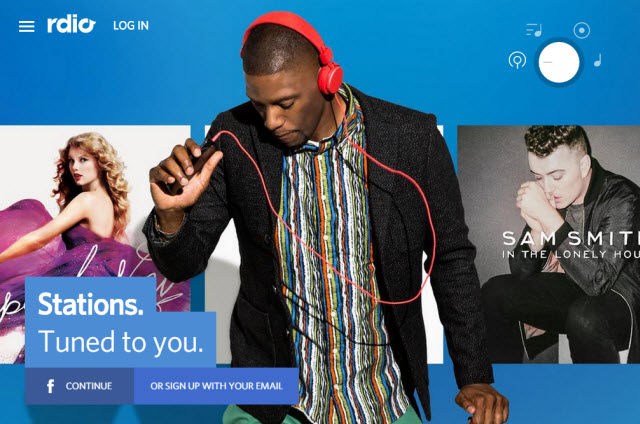 Rdio is another great music streaming service that offers Free and paid options. You can tune in to your personal radio station or choose the one that would suit your mood. Rdio allows users to make and share playlists, Stream or download songs and entire albums and get recommendations based on personal music choice.
Rdio also supports offline music consumption and allows syncing with a Roku or Chromecast. Premium plans allow removal of ads and enhanced quality of audio streams.
Key Features: Artist pages, smart sharing, Playlists, favorites, CarPlay and Google Chromecast support, etc.
Supported Platforms: Windows, Android, iOS and Windows Phone.
Pricing: Free, Rdio Select ($3.99/month) and Rdio Unlimited ($9.99/month).
7. 8tracks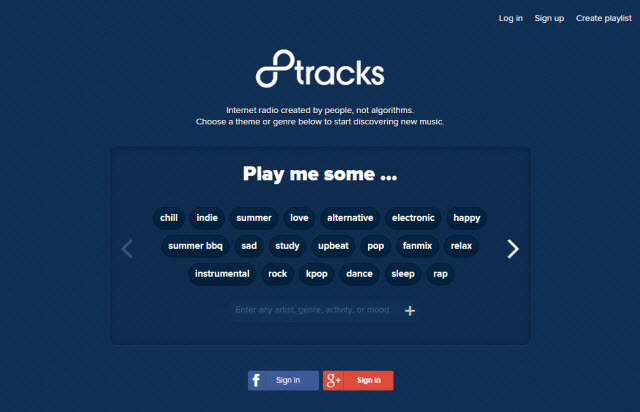 8tracks is entirely a playlist-oriented music streaming service. The concept of 8tracks is that it allows its users to create playlists with no more than 8 tracks in it. These individual mixtapes could be personalized with titles, cover art, tags and keywords to make it easy for others to discover your favourite music. 8tracks also let users to access their YouTube or Soundcloud link, depending on the licensing of the said track.
The free version of 8tracks limits users from skipping more than 2 tracks from a playlist and also does not permit listening to a playlist for more than two times before 8 hours have gone by. No possible legal issues in the near future makes 8tracks one of the wisest choice among music enthusiasts.
Key Features: Online mixtapes of 8 tracks each, Share mixtapes, Stream playlists, Music discovery by genre, mood and occasion.
Supported Platforms: Android, iOS, Blackberry, Xbox, Windows 8, Mac OS X, Mobile web UI, etc.
Pricing: Free and 8tracks plus ($25/6 months).
8. Streamus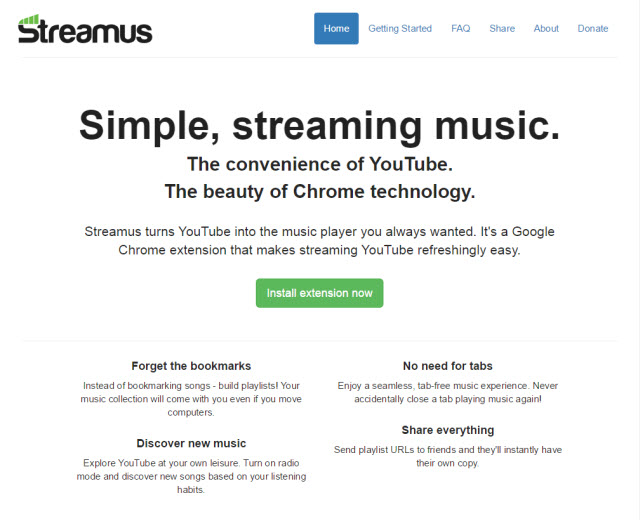 Streamus is basically a Google Chrome extension that turns YouTube into a music streaming service right from your browser. This tool has been received positively by the community at Reddit. You can make YouTube songs and playlists into a music streaming network using this Chrome extension. You can get rid of bookmarking your favourite songs on your browser and instead use this extension to build a playlist and sync across devices.
Radio mode allows discovery of fresh tunes that you would appreciate based on your music tastes. Share URL of playlists with your friends using this browser extension.
Key Features: Playlists, Tab-free music, discover new tunes, Share tracks with friends.
Supported Platforms: Google Chrome Extension.
Pricing: Free
Visit Website
9. Vibe Cloud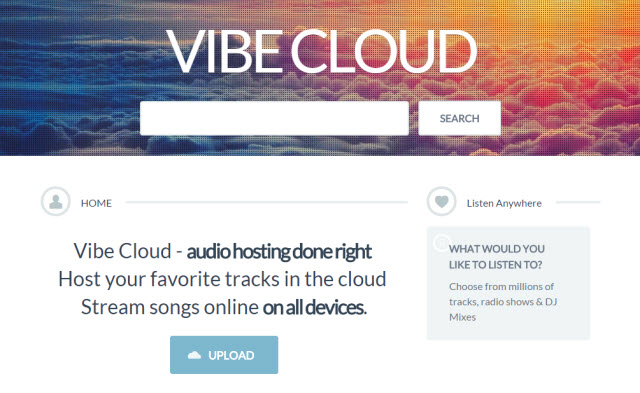 Vibe Cloud offers services somewhat similar to Grooveshark. Apart from creation of Collections/Playlists, Vibe Cloud offers extensive search, upload and download functionality just like Grooveshark. It too doesn't imply DMCA laws and a possible legal dispute in the future could be problematic for users on this network.
The network features a strong database of music and an HTML5 player to listen to your tracks on a mobile or web browser. Individual songs and playlists could be downloaded from this service.
Key Features: HTML5 based online player, Millions of songs, Download songs to local device.
Supported Platforms: Web-based player
Pricing: Free
10. Audiosplitter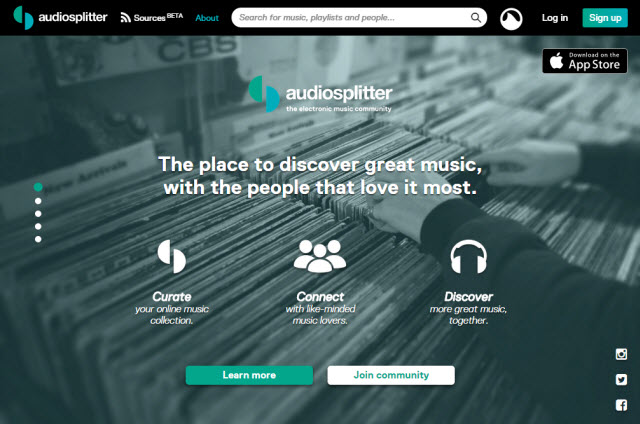 Audiosplitter is another web-based and iOS app for music streaming. Simply put, Audiosplitter is a clone of Grooveshark, albeit all the legal fuss. Groovebackup integration was also supported to get your backup of Grooveshark music back live on this network. The music community at Audiosplitter helps you curate amazing music and to discover great music together.
You can curate your favorite tunes from YouTube, Soundcloud, Twitter, Spotify and 'Split' them to save to your Audiosplitter playlist/collection. Their ever-growing community will make this network one of the best choice for a Grooveshark alternative.
Key Features: Curate music content from YouTube and Soundcloud, social connect, discover music, etc.
Supported Platforms: Web-based, iOS.
Pricing: Free
Visit Website
SEE ALSO: 10 Best Tinder Alternatives for Dating
So what do you think about the shutdown of Grooveshark and these possible alternatives to it? Share your thoughts and comments below.
---
Load More