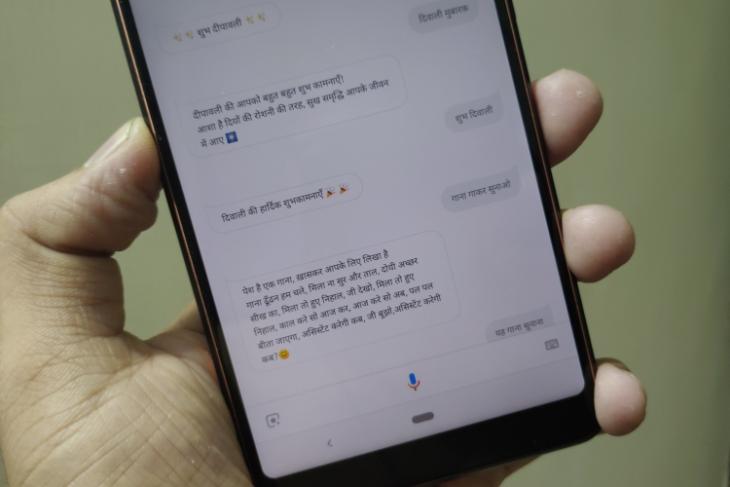 Hindi support for Google Assistant has been around for some time now but its arrival on Google Home smart speakers last week made me switch to my mother tongue to test out whether it is any good. Instead, things turned out to be pretty hilarious!
I started out with some basic commands to find out about the weather for the day, traffic on the way back home, and listen to some Hindi tunes. Every now and then, things took a funny turn – you'll see why soon – and then everyone at the Beebom office was intrigued enough to ask Google Assistant some tricky questions in the hope that it would bring its A-game. And Assistant did not disappoint!
Google Assistant was largely able to understand our commands in Hindi with no problems, and its responses had us cracking up.
Editor's Note: It's hard to translate the humour from Hindi, so we have not attempted to rewrite them in English. If you are looking for a specific translation, let us know in the comments and we'll write back to you.
Knows How to Crack a Joke
Just like in English, Google Assistant also knows to crack jokes in Hindi. All you need to do is ask and be ready to either be completely trolled or feel disappointed with its poor jokes. To its credit, these jokes are perfect for the Indian context, so at least they aren't just translations of English jokes. We expect Google to add more jokes as usage increases.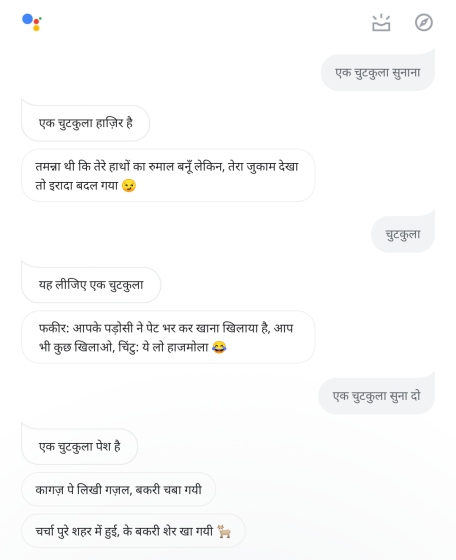 Google Assistant in Hindi is a Foodie
You may have asked Google Assistant what it can help you out with, but have you tried asking what it can't do? Well, we did. "Tum kya nahi kar sakti ho?" or "What can't you do?" and here's the answer: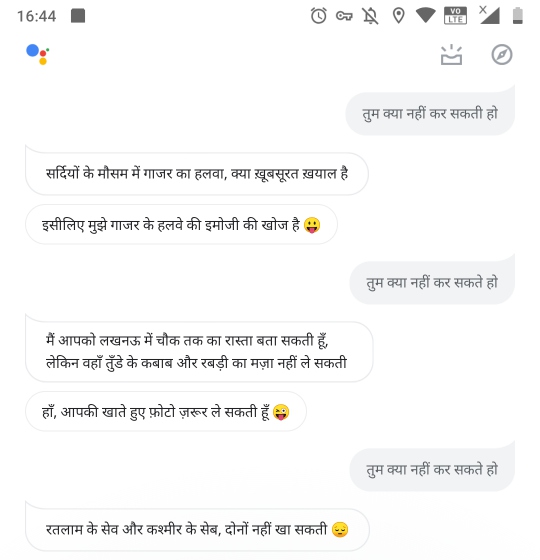 Google Assistant is quite witty here and actually responds in a unique way. But for those who know Hindi, it's clear that Assistant is  a foodie. Nearly every response to this question was about some kind of food. Weird!
Wholesome Siri Response
We obviously asked the Hindi Assistant what it thought about Siri. It's a convoluted response but still quite warm. Responses such as this make it clear that Google wanted to capture the witticisms of Indian and Assistant just nails the colloquial tone.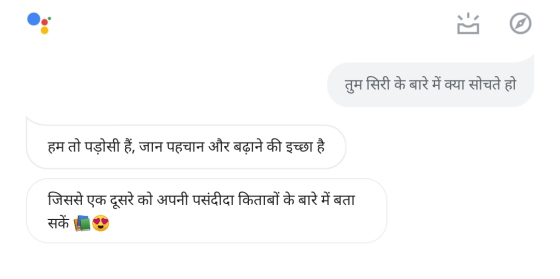 But The Android Bias Shows
After Siri, we thought it would be a great idea to learn what Google Assistant thinks of Apple and the iPhone and well, the answer may surprise you and make you chuckle at the same time. We first asked what it thought of Apple and it's a fan – like most of us.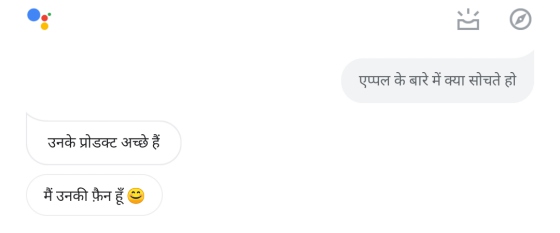 As for iPhones, you know Google Assistant is obviously a fan of Android and it's biased (or pakshpat) towards the world's most popular OS.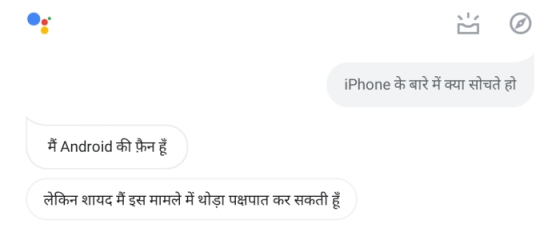 Dances When Asked
When we got sick of the usual questions, someone told Google Assistant 'Naach ke dikhao' or show us a dance. And no one was ready for Google Assistant's reply. Here's what the Assistant said out loud:

Now, we leave it up to you to judge whether that's dancing or singing, but the robotic tone was amusing none the less – as if Google Assistant just tired of our constant barrage. No other question elicited a similar response.
A+ Singing Skills
That hilarity was followed by questions to test Google Assistant's singing talent and it didn't disappoint us there as well. We also got a chance to listen to Google Assistant's own creations and it was cringe-worthy yet funny.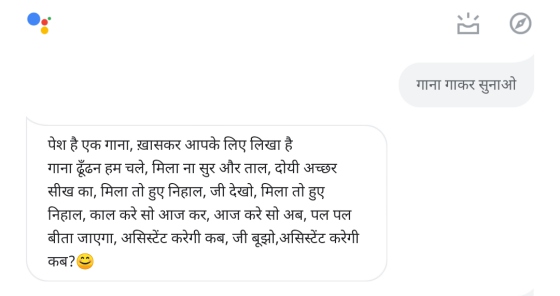 So, as you can obviously see, Google Assistant returns some hilarious responses when asked about a variety of stuff in Hindi and I promise you, it's surely going to be a great time questioning the Assistant with a bunch of friends. So, did you manage to get such hilarious responses from Google Assistant? Are you or anyone you know using Google Assistant in Hindi? Let us know below.