Fortnite is becoming bigger seemingly with every passing day, and the trend is not limited to just PC and consoles. Fortnite: Battle Royale, the mobile version of what is now the world's most popular Battle Royale game ahead of PUBG, is also scaling the charts just as fast, with a new report from market research and analytics firm, Sensor Tower, suggesting that it has earned over $15 million from in-app purchases in its first month.
According to the report, the game has already been downloaded over 11 million times worldwide and is now ranked No. 1 on the App Store in more than 20 regions around the world. Epic launched the game as an invite-only beta in early March before making it available universally earlier this week. The free-to-play game is currently available on the App Store for everybody with an eligible iPhone or iPad running iOS 11 or later.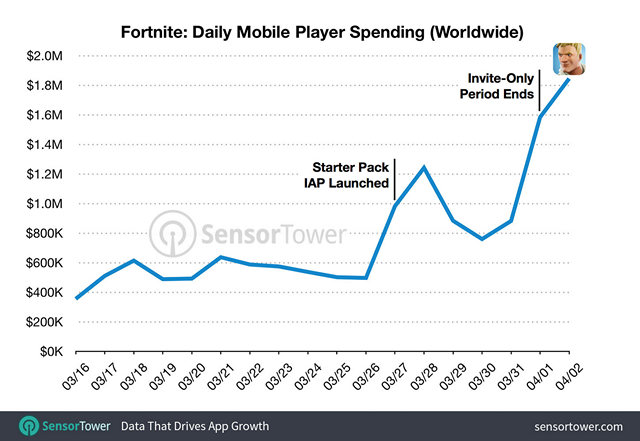 Interestingly, Sensor Tower also notes that Fortnite's daily revenues on iOS tripled on the very first day it became available freely. Players apparently spent $1.8 million on that day alone, whereas the game was generating an average of $620,000 per day on mobile previously. In the US, Fortnite earned $6.4 million over the past week, which is far greater than other popular titles, like perennial favorites Candy Crush Saga, Clash of Clans and Pokemon GO.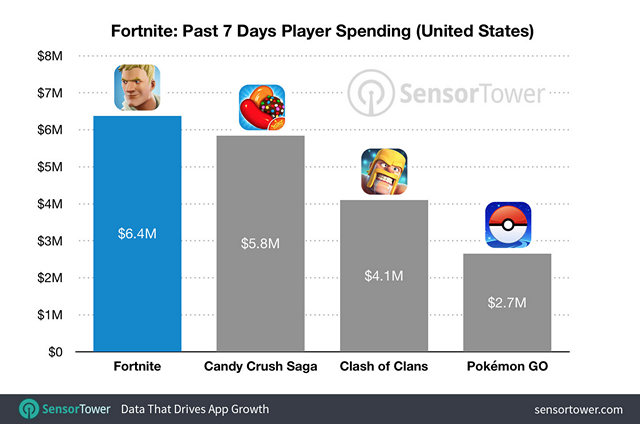 According to Randy Nelson, the head of mobile insights at Sensor Tower, "The sharp increase in revenue is largely the result of new players entering the game's mobile ecosystem, but we'd already seen a steady increase in mobile spending leading up to the invite system's removal. That can be traced in part to Epic Games experimenting with promotions such as the starter pack".
What's really interesting here is the fact that Fortnite: Battle Royale is currently only available on iOS, and not on Android. Once it does launch on the world's biggest mobile platform, Nelson predicts that it will "at least double the player base", possibly generating even more revenues for Epic.
---