Although, FileZilla is one of the most famous FTP clients out there, it has recently come under a lot of fire from users due to the fact that it is hosted on SourceForge, which has a reputation for packaging bloatware along with the applications. That's not cool at all, and a lot of people are now looking for alternative software to use FTP with their websites, or their remote servers. If you are one of those people, well, look no further. In this article, I'm sharing the 7 best alternatives to FileZilla that you can use:
Note: All of the applications in this article are free of bloatware of any sort, and each one brings a few unique features that make them a great FileZilla alternative.
1. Cyberduck
Cyberduck is pretty much the FTP solution loved by almost every web developer. It offers an easy to use, clean interface. Using the app is pretty straightforward, and you shouldn't have any issues, even if this is your first time using an FTP client. The app is completely free, and users can make donations to the developers if they like it. Apart from FTP, Cyberduck can also be used with a wide variety of protocols, such as SFTP, WebDAV, S3, Google Cloud Storage and a lot more, which means that with Cyberduck, you are basically set for all your web development needs.
Among the host of features offered by the application, some of the more notable ones are the ability to open any file over FTP in any preferred third-party editor, so no matter if you use Text Wrangler, or Sublime Text, or if simply using TextEdit on the Mac feels good enough to you, Cyberduck offers you the ability to select your editor of choice to edit your files, even remotely. Cyberduck also supports bookmarking, and it makes it incredibly easy to organize the created bookmarks, as well.
One of the really neat features offered by the app is the ability to view any file in Quick Look (by pressing the space bar), just like one would view a locally saved file on their system. The difference being that Cyberduck allows users to use this feature with remote files, and that too without downloading the file to the user's system. It also works with a multitude of character encodings, and can easily display files in Japanese, Umlaute, and Chinese as well. Cyberduck also supports concurrent transfer of files, along with caching to provide the best possible performance; every time. Overall, the app is definitely a must try, and it's no surprise why most web developers prefer using Cyberduck.
Availability: Windows and Mac as a GUI client, Linux distros as a CLI utility
Install: Cyberduck (Free)
2. Transmit
Transmit is the gold standard in Mac FTP clients, and is recommended by almost every seasoned Mac user to anyone looking for a feature rich FTP client. The app definitely works great, and the UI is well arranged, although it does look dated by the standards set by today's apps that use transparency and other visual effects. However, from a completely developer point of view (and let's face it, casual users won't really use an FTP client like Transmit), the app is awesome. Apart from FTP, Transmit also supports protocols like SFTP, WebDAV and S3.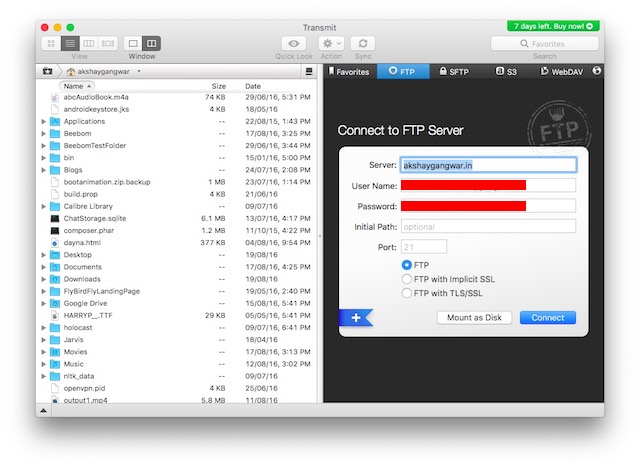 Some of the most notable features that the app offers are the ability to add local, or even remote, folders as favourite to the app. This allows users to get one click access to all of their preferred folders and increases productivity, while getting rid of the time it would take to get to the folder by following the complete path. The app also allows users to directly jump to the parent directory for any folders that they may be in. Transmit also offers users the ability to add labels to files, exactly how users can do it in Finder, making it far easier to categorize and locate files in the app.
Availability: macOS
Install: Transmit ($34, 7 day free trial)
3. WinSCP
WinSCP is to Windows what Transmit is to the Mac. It is one of the most famous FTP clients for Windows and it's not difficult to see why. The app works great, and has a lot of cool features. Apart from FTP, the app supports protocols like SFTP, SCP and WebDAV. The application supports live editing as well, which means you can simply edit the files on the server. The app does this by making a temporary copy of the remote file on your local system, and when you save that temporary file, it automatically uploads it to the server, saving you the hassle of having to drag and drop the file into the remote server.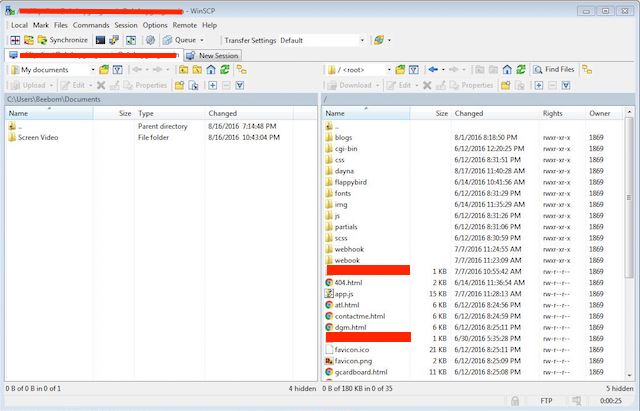 Unlike Cyberduck and Transmit, which support third-party editors for live-editing, WinSCP comes with a text editor built right in, and users can use it to edit files live on the server. WinSCP also has support for setting a master password to protect the site information that is stored in the application, so that no one without the master password can access any of the information that has been saved in WinSCP. It also supports a portable mode, which can come in handy if users want to use the application off of a removable external storage media.
Availability: Windows
Install: WinSCP (Free)
4.CuteFTP Pro
CuteFTP Pro is another great FTP client, but it is pretty expensive, especially considering that its user interface is not as good as its Mac competitor, Transmit. If you are on Windows, however, then CuteFTP Pro might be something worth looking at. Apart from FTP, it supports protocols like SFTP, WebDAV and S3. Also, you can add servers to CuteFTP Pro to save them in the app, and save yourself from typing in the details every time you want to log in to one of them.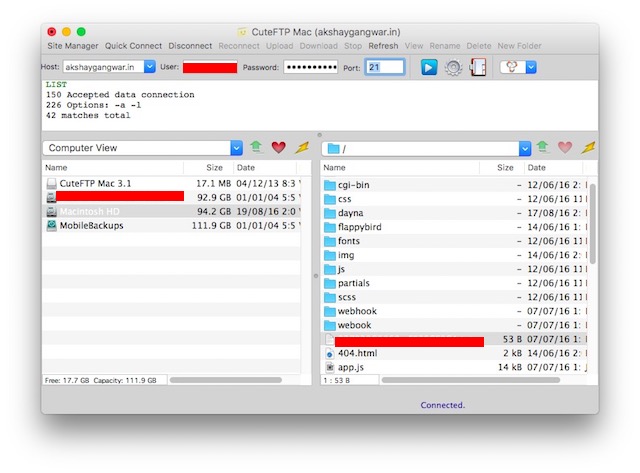 CuteFTP does offer some really great features, notable among which are the scripting feature that it supports. Users can create scripts from within CuteFTP, or use a scripting language to create scripts to automate tasks, saving valuable time and reducing the amount of manual work that has to be done on a server. These scripts can be created for a variety of tasks, like automatic backups of the server files, as well as monitoring the local filesystem for any changes.
The application also supports a one-time password authentication protocol, and incorporates a password manager right inside it. It can also be used with multiple remote sites at the same time, over a secure connection.
Availability: Windows, macOS
Install: CuteFTP Pro ($39.99, 30 day free trial)
5. FireFTP
FireFTP is not really an app, it's an add-on for Firefox, but it still works pretty well. If you are looking for an FTP client that is free and works inside your browser, look no further, FireFTP will fit your needs perfectly. It also supports SFTP, if you need a secure connection to your website. Plus, the add-on offers a simple UI that gets the job done. You can upload and download files between your local machine and the remote server by clicking on the upload and download buttons, or you can simply drag and drop files between your local machine and the remote server.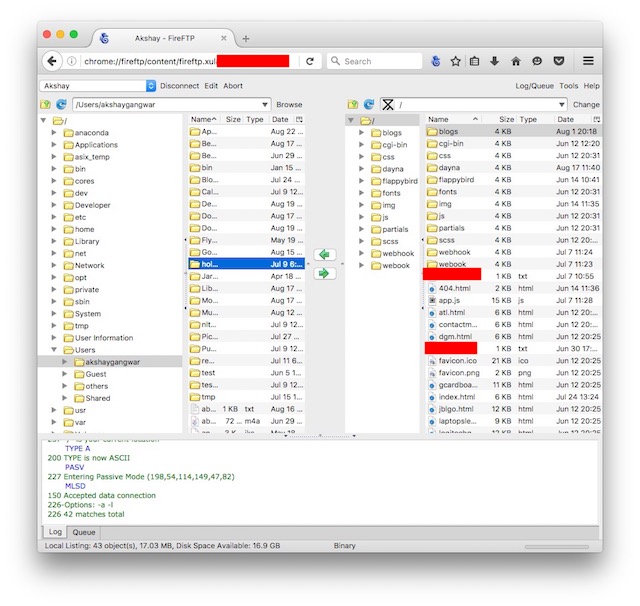 It's really simple to get started with FireFTP, and if you use Firefox anyway, then FireFTP might just be what you're looking for. FireFTP supports the UTF-8 encoding set, and their website claims that it supports almost every other encoding as well. The add-on also supports remote editing of files, which means that users can directly edit files on a remote server without the need to download them, edit them, and then upload them back again; FireFTP handles all the synchronization between the file being edited and the copy of the file on the server.
Availability: Firefox
Install: FireFTP (Free)
6. CrossFTP Pro
CrossFTP Pro, as the name implies, is completely cross platform, and is available on Mac, Windows, and Linux distros. The interface is a bit, well, stuffed. However, the app has a great feature set, and supports protocols like SFTP, FTPS, WebDAV, S3 among a lot of others. CrossFTP Pro also supports live editing of files, so you can simply edit the files that you want, and CrossFTP automatically uploads the saved changes to the FTP server that you are connected to. The client also supports tabbed mode, to connect to multiple servers at the same time. It allows users to extract, compress, and even browse archives, along with offering support for character encodings such as Unicode, CJK etc. Moreover, the app supports batch transfer of files, along with preview, and also offers support for favourites and history information right inside the app.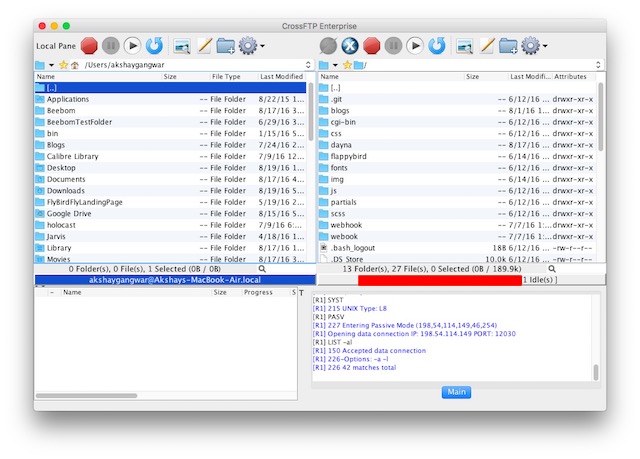 Availability: Mac, Windows and Linux distros
Install: CrossFTP Pro ($24.99, Free trial)
7. Bitkinex
Bitkinex is an FTP client for Windows that along with FTP, supports WebDAV, SFTP and Telnet. It is completely free, but unfortunately, official support is only offered up to Windows 7. However, it is worth a try. The concept might seem a little different if you have only been using clients like FileZilla, but it is pretty easy to understand. Bitkinex uses datasources that you can connect to, and transfer files between your computer and the remote server.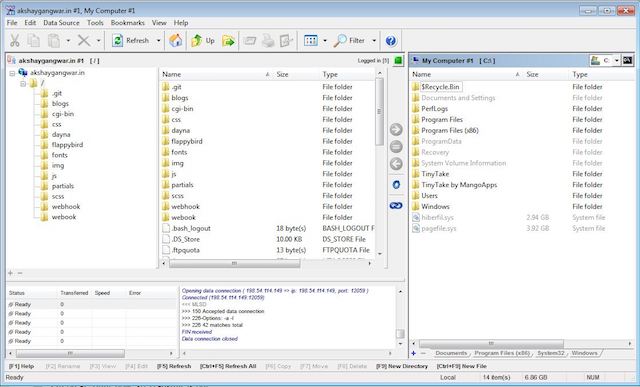 One of the best features that BitKinex offers users is the ability to control user requests, and not only file transfers, but users can actually resume and control every user request that is made through the app, such as moving files, deleting files, creating directories, etc. It also supports transferring files from one server to another regardless of the protocol they are running. Along with all that, BitKinex also supports parallel request processing, multi-part transfers, scheduled requests and a lot more.
Availability: Windows
Install: Bitkinex (Free)
SEE ALSO: 10 Best FTP Clients
Manage Your Remote Servers easily with these FileZilla Alternatives
FTP allows you to manage the files on your remote server with ease, and is a very fast and easy way of doing so. If you want to use FileZilla, feel free, it definitely is a good application, however, if you are concerned about bloatware, and if you buy into the claims made against the security in FileZilla, then you should definitely try out one of the aforementioned FTP clients.
Feel free to share your thoughts on the clients that we covered, and if you know of any other really good FTP clients that we missed out on, do let us know by dropping us a line in the comments section down below.
---
Load More