As you have landed here, we hope you are an entrepreneur or an enthusiast, who wants to become an entrepreneur to become your own boss. Nowadays, things have changed, and bringing your startup into a path of success is not that tough, especially if you have an innovative idea with you. Yet, it does not mean that they are enough for startup to bring its maximum. On the other hand, all startups that want to make their path smooth need some tools for a variety of purposes, such as enabling internal communication, interacting with customers, marketing (particularly, in social media, because we are now living in a world of social media), sales, etc. If you do not know about tools you should use, this article will sure help you, in a way or another.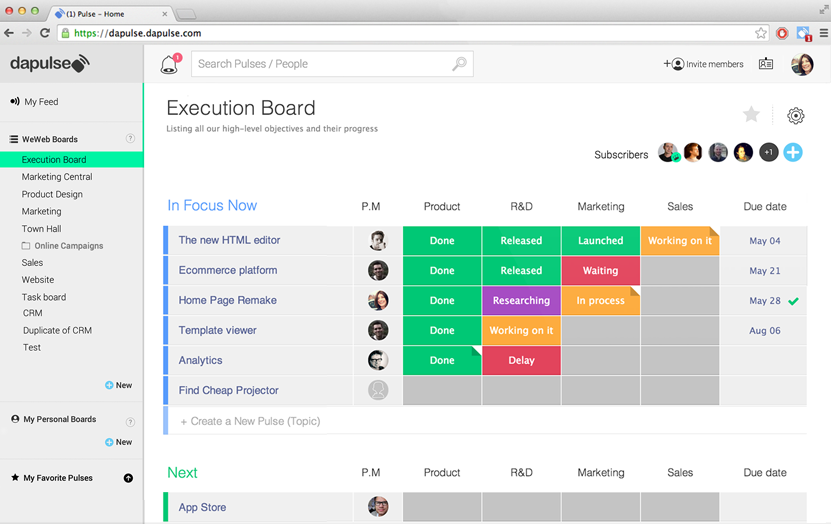 Both of us know that a business is all about communication! In a way or another, you communicate with your user or customer during each step of molding your product or service. Among those, internal communication that has to be carried out in your development team is something of greater importance, despite the fact that defining an effective form of such communication is tough. Nevertheless, daPulse, used by a number of popular services such as Fiverr & Wix.com, is meant to simplify internal business communication through its powerful yet intuitive platform.
Using this platform, a company can manage different aspects of internal communication in its team such as setting & assigning different objectives and tracking development of those tasks. Also, the collaboration section of daPulse will help you to bring different sections of your business, such as customer support, coding, designing etc, into one place.
When it comes to daPulse, it is all about boards and pulses, and we must add that this user interface is something great! Also, apart from product execution, daPulse offers a number of sections like marketing central, customer success, project delivery, sprint board, goals, etc. Best part of daPulse is that it offers one month free trial which gives you enough time to understand the tool in a better way. After a month's trial, daPulse's basic plan costs $16 per month.

Despite the fact that you might be running a really small startup, accompanied by small amount of monthly revenue, keeping your numbers right is an important factor, as far as you consider your startup as a business. Yet, unless you get out from that small label, it won't sound practical to hire a professional account for accounting purposes, though account is must! If you are in such confusion, Accounting App from Wave Apps is the perfect solution for you.
Wave offers different products to entrepreneurs, freelancers and consultants to run their business smoothly. Among these, Wave's app for account is really useful for those who are looking for an accounted-proven yet simple way to keep all numbers in an easily accessible manner. There are a number of features that will attract users to Wave, like its ability to interlink bank accounts, PayPal, Excel sheets, etc in order to automate transactions and thus avoid manual entry. Using this information, you can also create professional reports like sales tax reports that can be used for official and legal purposes later.
As a part of this, Wave also offers a feature called Wave Pro Network, where business owners can find professional accountants to keep track of their accounts and vice versa. Besides many impressive features in the service, such as automated data backup, free support, integration with cloud etc, best part of Wave Accounting is its free availability — not just a free trial, but 100% FREE.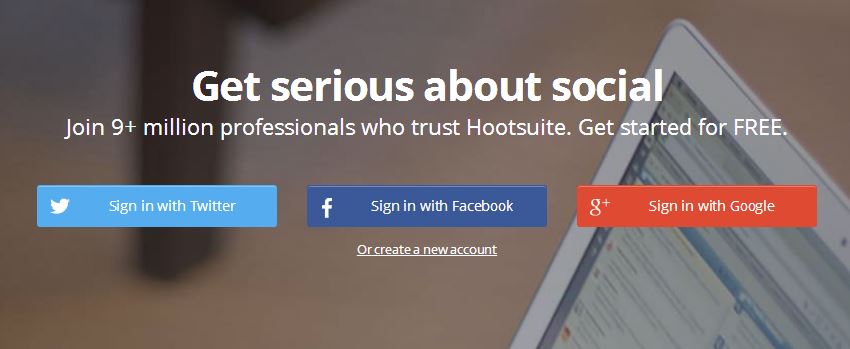 A few days earlier, we had published a post on top social media platforms for business, in which we covered some of popular social networks such as Facebook, Twitter and LinkedIn etc that should never be excluded from to-do list. In addition, we had also told you, how you can utilize those platforms. However, as you do, we do know that managing multiple social media profiles is not an easy task, unless you have a centralized platform. If you are looking for a one-stop solution to manage all your social media profiles, Hootsuite is an answer for you, as it lets you centralize all your marketing endeavours. You can simply trust Hootsuite, because brands like WWF, Sony Music, and Seagate etc use it for handling their social media promotion section, and thus promoting their brand in World Wide Web. Some of impressive features of Hootsuite are:
Single Dashboard UI
Ability to Schedule Updates, with specific time and frequency
Social media analytics to track growth of brand
Know about brand mentions throughout social media
Hootsuite University helps users learn more about social media marketing
There are a few limitations when it comes to free version of Hootsuite, but the Pro and Enterprise versions are worth praising, particularly while considering awesome features offered by those plans. Altogether, Hootsuite proves to be necessary for every upcoming startup, and you can choose the plan according to your requirement.
Once you have set up your startup and started production of your product or service, next step is about selling it in a way such that your startup will have a sustainable path of development. To do this, you must have an efficient sales pipeline.  Pipedrive has come up with an amazing solution if you are looking for a nice way to view and analyze your sales pipeline, especially for small businesses.
Once you start using Pipedrive, everything regarding your sales section will be truly accessible due to amazing features offered by the service. While Timeline View feature of Pipedrive does help users to have an overview of sales section, as though from a sales manager, mobile applications of Pipedrive are helpful in keeping track of your sales on the go. Similarly, you can connect Pipedrive with web services. For instance, to keep your contacts right, you can connect your Pipedrive account with Google Contacts or Google Calendars.
If we take all these things together, indeed, Pipedrive is a must-have solution for every startup if it has a sales section to manage. Pipedrive charges $9 per user each month, and there is nothing hidden in it. Also, if you want to have a look on this service and then purchase, a free trial version of 30 days is waiting you.

Well, if you've done with internal communication, production, marketing and their significant sub-sections, next step that you have to focus on is customer support! And, what Desk.com has on its side is a perfect solution for each and every startup that is looking forward to provide efficient customer support. This tool, which is being used by number of popular companies like Soundcloud, offers variety of features. There are number of ways, using which one will be able to use desk.com for customer support. You can solve issues of customer by your own or set up a support centre, where customers will find answers to problems or doubts they will usually confront. Some of other features of the tool are as follows.
Universal Inbox is where you can find doubts, complaints and suggestions from your customers
Easier UI makes case management easier than ever
You can set speed priority based on social media influence of user and solve their issues sooner
Dedicated mobile applications let you manage customer complaints and other issues even if you are not with your PC
Powerful Insights section of Desk.com can analyze things better and thus improve
While taking all these things to account, if you have a product or service that will create some doubts among users, it is essential to have Desk.com as a way to interact with and support customers.
Apart from the tools mentioned above, here are two very useful browser plugins worth mentioning in the list.
Bonus #1 — Bananatag (Know whether the recipient has opened an email)
Do you know what happens after you have sent an email? Well, yeah, unless you misspell ID or there are some other issues, it will reach desired recipient. But, how do you know whether she/he has opened it? Suppose you have sent a mail to one of your customers, consisting of a solution to his/her problem; how do you know his problem has been solved? Bananatag, an innovative email tracking service, is your answer! Bananatag is available as an add-on for both Gmail and Outlook, which makes things quite easier. Rather than merely telling whether the recipient has opened an email, it will also tell you if he/she has clicked on the link that you have included in email body. It also offers various services, which you can find in official website of Bananatag.
Bonus #2 — Rapportive (Know LinkedIn account details of the user from whom you got an email)
Rapportive comes straight from LinkedIn, the professionals' social media platform, and this plugin aims the same community of professionals. Technically, Rapportive is a free add-on available for Firefox and Google Chrome and it will show details of the LinkedIn account that belongs to the user, from whom you have got a mail.  These details do include his/her work position, links to social media profiles, website address etc. As Rapportive draws information from LinkedIn, you should hardly doubt credibility of those links. Anyway, it's damn useful, we bet.
Recommended: 20 Motivational Business Quotes from Successful Entrepreneurs
Well, we are sure that your startup will need most of these tools in its long way to success! Yet, do you think some other tools deserve space in this list? We are eager to know.