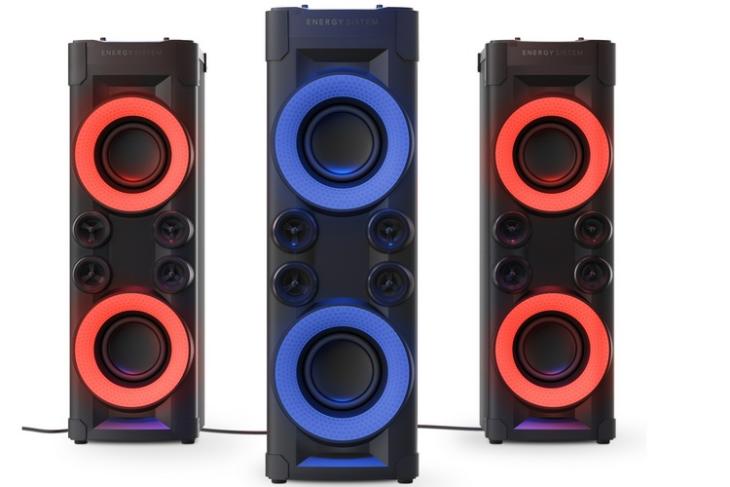 Alchemie Commerce Private Limited, the official India partner of Spanish audio technology company, Energy Sistem, has launched the Energy Audio Party 6 Speaker in India. The device is a 2.1 surround sound tower speaker with a built-in microphone, control panel with equalizer and an LED display.
According to the company, the device is meant to provide not only the quality and sound-power at parties, but also surround sounds and lights to bring the music to life. It is priced at an MRP of Rs. 24,999, but is being offered for purchase on the company's own website for Rs. 20,999.
In its press release, Alchemie says that the colored lights on the Energy Audio Party 6 "pulse with the rhythm of the music with 3 different modes to create a spectacular party atmosphere". The audio can be played with simple slides and the music volume can be controlled by moving the dials and twisting the wheel.
The speakers also allow users to connect external mikes, guitars, etc. to facilitate karaoke parties etc. and comes with a party-setting button called 'Energy Music Power 600' that will set 'Epic Bass' and sharp treble to cover the whole dance floor instantly.
The LED lights can be set in 3 different modes to change with the rhythm of the music, while the microphone setting for personal karaoke and allows connecting external music instruments to play along your songs.
In a written statement about the Energy Party 6 launch, Ms. Suzanne Hoyos, Country Manager, Energy Sistem said, "We are excited to launch our party speakers range in India after the success of our Home Audio products in the market. We have seen great acceptance in the Indian Audio market and we aim to keep populating our portfolio with innovative and quality audio products for our music lover community across India".
Buy the Energy Part 6 From Energy Sistem: (Rs. 20,999)