There are a lot of amazing gaming headsets out in the market, and across a variety of price points. However, choosing a solid gaming headset is no easy feat. In fact, you've probably been doing a lot of reading about the best affordable gaming headset out there. Well, one of the companies making some quite impressive gaming headsets is EKSA, and their new E910 wireless gaming headset ($89.99), looks like a great option for gamers; and even for regular headphone users. Here is our review of the EKSA E910 wireless gaming headset. 
What's in the Box 
First off, let's take a look at what's in the box.
EKSA E910 wireless gaming and music headset 
Headphone stand 
USB-C charging cable 
3.5mm AUX cable 
5.8GHz USB dongle 
Leather carry pouch 
User manual 
That's a lot of stuff, and I was pleasantly surprised by the fact that EKSA includes a headphone stand within the box as well. That makes for a nice addition to the desk, and helps keep things slightly more organized.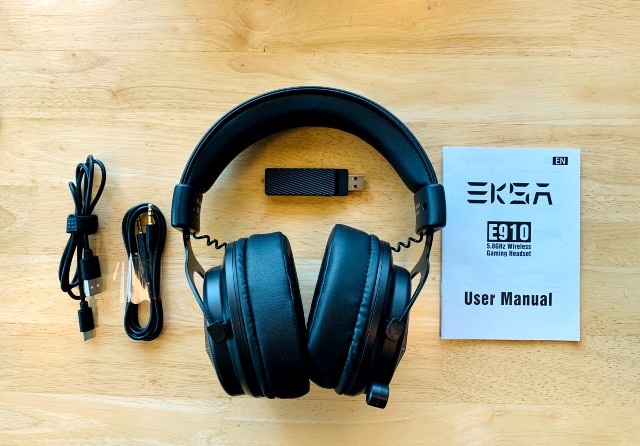 Specs
| | |
| --- | --- |
| Driver | 50mm |
| Frequency response | 20Hz-20kHz |
| Battery | 1200mAh |
| Battery life | 10 hours |
| Charging time | 4 hours |
| Communication frequency | 5.8GHz |
| Signal distance | 15m/49feet |
Design and Build 
EKSA has done a nice job designing these headphones. They are matte-black all over, and just look really good. The cushioning on the earcups as well as the headband is soft and thick, which makes the headphones quite comfortable even for long hours of usage. And let's be honest, most gamers do spend long hours playing their favorite games.
I really like the overall look of these headphones. The all-black body, along with the red lighting that comes up when you turn them on, and the splash of red inside the earcups, all come together really well and give the headphones a distinctly gamer feel, without overdoing the color.
The E910s also feel really sturdy and well built. It's a plastic build for the most part, but it doesn't feel flimsy, and is rather reassuring to use. That is great, especially if you tend to drop your headphones a lot; and for times when you face hackers in a CoD lobby and want to chuck your headphones at them (I wouldn't recommend that, though). 
Speaking of CoD lobbies, there's a unidirectional mic with noise cancellation built-in on these headphones. It can be pulled out of the left earcup when needed and you can push it back inside. The mic-arm isn't made out of plastic; instead, it's an easily bendable arm. That means it's really easy to set up the mic in the perfect spot without worrying about breaking it off. 
The only complaint I have with the design and build is with the controls on the left earcup. For one, I found it difficult to find the buttons while I was wearing the headphones. That's especially annoying with the volume wheel, which is a solid implementation for controlling the volume, but is difficult to find by feeling around.
While the buttons are tactile enough, they don't look very elegantly put together. There are alignment issues with the power button on the unit I have, and while that doesn't take away from my experience with the headphones themselves, it does make the headphones look slightly cheaply built, even though they are actually built really well. 
Sound Quality 
I have mixed opinions about the sound quality on these headphones. As you'd know, the EKSA E910 aren't monitor headphones, so if you're expecting a flat output, you're mistaken. However, I do think EKSA could have done a slightly better job tuning the audio here; the E910s are very heavily bass-leaning. It's almost overpowering.
My mixed opinions, however, arise not from the strong bass output — that is actually something I like with music — but instead with the fuzzy mid-range on these headphones. Since EKSA positioned these headphones as aimed at gaming and listening to music, I did listen to a lot of music on these. Everything from bass-heavy tracks to classic rock, and metal.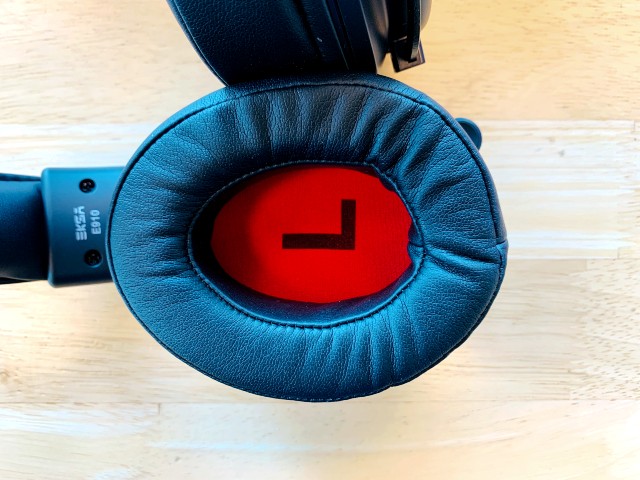 Throughout that, the headphones emphasise the bass a lot, and that's great for EDM music, but not so much in genres like classic rock and metal, where you really want the mids and the highs to come out better. What's worse, in some types of music, usually the kind with a complicated arrangement of instruments, the headphones can make the highs too shrill and annoying, and you can hear the sound breaking at high volumes. 
Gaming Experience
For gaming, the sound quality seems adequate. I'm not a professional gamer by any stretch of the imagination, and my CS:GO stats will put no one to shame but myself, but I did enjoy playing de_dust2 with these headphones on.
For an even better experience in games, the E910s support software-enabled 7.1 surround audio as well. Honestly, this is a feature I would love using when I play BGMI on my iPhone, but sadly, the software to enable this feature is apparently only available on Windows. So, I couldn't put it to the test as extensively as I would've liked. That said, it does work, and if you are really good at using sound-cues to gather information on your enemies' locations, and to pre-fire corners on your favorite games, the E910's surround sound can make it a lot easier for you. 
What's more, you can even customize the surround sound from within the EKSA app, to set it up as per your preference. However, I found that the default settings work perfectly fine for me. Still, it's nice to have the option to personalize the surround sound.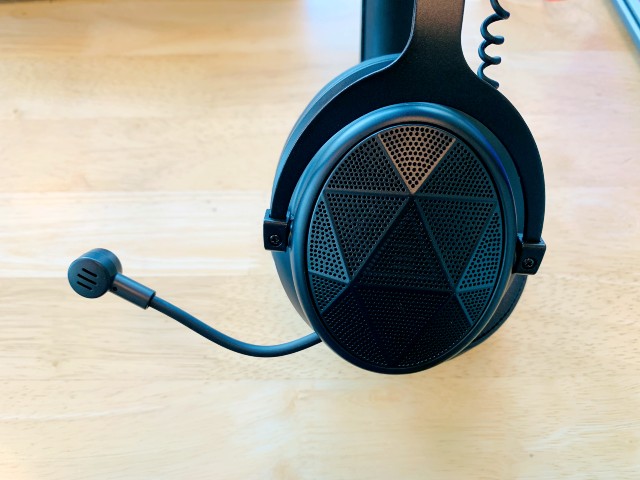 As for the latency, EKSA's claim of a non-tangible latency feels really accurate. Technically, the headphones manage to keep latency under 15ms, as per the company's claims. While I can't test that out myself, I can tell you that latency didn't seem to be an issue in the games I played. The headphones perform admirably throughout. 
Battery Life 
When it comes to wireless devices, battery life is usually a primary concern as well. Sure, you want great sound quality from your headphones, but if the battery life is abysmal, it's pretty much a useless device, right?
Well, the EKSA E910 wireless gaming headset is solid on that front. The company claims a battery life of 10 hours on a charge, and while my usage and charging habits makes it almost impossible to discharge these headphones, your mileage may vary. 10 hours feels like a good number to me, but it's not the best out there.  
The HyperX Cloud Stinger Core ($69) offers 17 hours on a charge, and the Corsair Void RGB Elite ($83.99) offer 16 hours of usage.
For charging, the headphones have a Type-C port on the left earcup, and you can use the included charging cable to recharge the headphones in around 4 hours.  
Connectivity 
As I stated earlier, the headphones use 5.8GHz network to connect with your PC, Mac, or whichever device you're connecting with, and that's a major feature that most headphones in this price range simply don't offer.
The HyperX Cloud Stinger I mentioned above uses 2.4GHz networks, and so does the Corsair Void RGB Elite. That's fine, but 2.4GHz is more likely to have latency issues and other connection problems; that's simply not the case with the 5.8GHz network these headphones use.
Connecting them is really simple, too. Simply plug in the receiver to your PC's USB port, and turn on the headphones. They connect lightning fast, and you don't need to anything manually which is great. It's a true plug-and-play experience, and I quite appreciate that.
The receiver dongle also comes with an AUX port, which is one of the more ingenious ways I've seen a company use to make its headphones compatible with devices that would otherwise not work.
Basically, you can plug in the dongle to any powered USB port, and use the AUX cable to plug into the dongle and to any device's AUX out port, and that's it. Your headphones will now stream audio from that device. This is quite impressive, and it's surprising that most other companies don't offer this same feature. 
Pros and Cons
Pros:
5.8GHz connectivity 
Configurable virtual 7.1 surround sound 
Almost imperceptible latency (~15ms) 
Affordable 
Sturdy build 
Cons:
Battery life isn't the best in class 
Sound quality leaves a lot to be desired when listening to music 
Virtual surround sound only available on Windows 
EKSA E910 Wireless Gaming and Music Headphones: A Solid Pair of Wireless Headphones That Won't Break the Bank
It's not very easy to find wireless gaming headphones that check almost every box on a gamer's checklist. However, the EKSA E910 seem to come very close in that regard. They offer an understated, yet clearly gaming-oriented design, 5.8GHz connectivity for low latency, and 7.1 digital surround sound. Sure, the battery life isn't the best-in-class, but it's still decent, and for a lot of users, it will prove more than enough.
Overall, if you're looking for a pair of wireless headphones for gaming and listening to music, the EKSA E910 is a solid choice to make. It's affordable, and feature-rich, and won't leave you disappointed.
Buy the EKSA E910 Wireless Headphones ($89.99)
Pros and Cons
The EKSA E910 are a pair of wireless gaming headphones that offer 5.8GHz connectivity for a lag-free gaming experience, along with some of the softest cushions I have experienced, and virtual surround sound. They are, however, held back by their sound balance, which can be annoying when listening to music, and the battery life which isn't the best in class. Still, if you're looking for a solid pair of budget wireless gaming headphones, the EKSA E910 is definitely a product you should consider.
---
Load More