If you've ever submitted an incorrect assignment or business document because of multiple files sharing the same name, you must loathe the problem of duplicate files. Apart from goof-ups in situations like these, duplicate files take up unnecessary space on our computers and bloat the hard drive. And then, spotting and removing twin files manually is a task we like to sweep under the carpet to find ourselves struggling with the vast ocean of data and that only frustrates us further. Well, Easy Duplicate Finder, as the name suggests is an easy-to-use application which can help us straighten out a cluttered storage in a matter of seconds with its convenient and straightforward interface.
Key Features
Easy Duplicate Finder is designed to keep your Windows or Mac computer organized and these are the ways the software helps us free up space taken up by repeated files:
Easy Duplicate Finder is pleasantly versatile and allows users to scan for recurrent files by selecting different folders or even directory according to their choice. When searching for foul files in a directory, you can also exclude a specific folder. One can effortlessly select folders by clicking on the dedicated options or simply by using drag-and-drop method. Alternatively, one can also copy and paste the directory of the concerned folder in the dedicated bar to start wiping out unnecessary files. The program has scan modes to weed out not just redundant files but also repeating contacts, music files, emails, and even files stored on the cloud.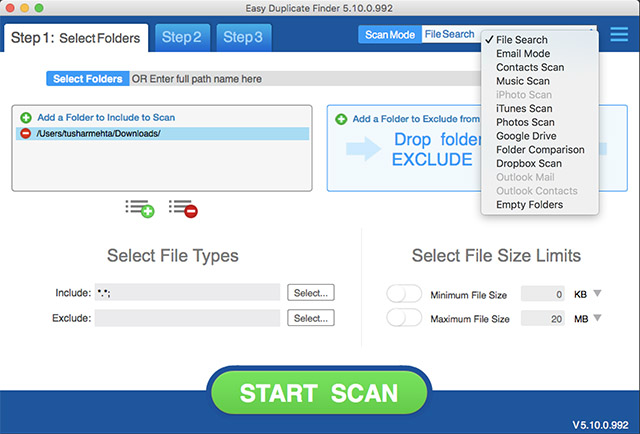 With Easy Duplicate Finder, you can target documents of a specific file type. In case you're not sure which files to include, but instead know which ones not to, there is also an option to exclude files from the scan. EDF does not limit its search to a single folder and can compare files stored in different locations and skim out duplicate ones. Another handy feature that makes busting duplicate files easier is the option to specify the minimum and the maximum file sizes under consideration. You can also save your preferences so that it's easier to scan the same folders when you need to in a few days or months.
In case you save up a lot of music files on your hard drive or iTunes library, you know dealing with different tracks with similar details can be a pain in the ear. It is neither engaging nor entertaining. This could be a tougher deal if you're an artist or a music producer and deal with a variety of audio clips, loop tracks, or altering renditions and mastered tracks. Life can be a whole lot simpler if instead of devoting time to listen through tracks, you let EDF scrape out audio files with similar attributes while you actually enjoy music.
The music scan feature supports commonly used file types including – but not limited to – MP3, M4A, AAC, WAV, FLAC, MIDI, RM etc. While searching for duplication in music files, the software also assesses ID3 tags of tracks, comparing attributes like title, artist, genre, year of release, bitrate, and even the duration of the track.
Travelogue, selfies and fashion shoot for Instagram, album artwork, memes – photos are the most used means of capturing moments or conveying messages and have been since prehistoric times. It is difficult to shut out the stream of photos and evidently, it is entirely possible that we end up downloading or backing up images on our computers multiple times – not to forget the disastrous drag-and-drop duplication mechanism.
Well, if you're a Mac user and use the Photos app to manage your photos, Easy Duplicate Finder will find and delete duplicate images from there in just a couple of clicks. For those of you who are on older Macs, EDF has a mode called iPhoto Scan to help you manage duplicates in your iPhoto library.
Most of our communications take place from the tip of our fingers and so naturally, our digital address books are brimming with contacts. It's often possible that while syncing contacts from another device or with a cloud backup, they get duplicated with only partial information. A lesser likely event is that these contacts get saved with incorrect details as a result of the server or device-side criss-cross, but it is not impossible. So, to save yourself from drowning the duck soup, you can use the dedicated feature in EDF.
The application scrutinizes contacts on the basis of name, email, and you can even get choose to search sub-folders so that no nook is left untouched.
Finding the exact conversation to follow up can be sometimes challenging, especially if your work depends greatly on emails and you deal with hundreds or maybe even thousands of communications per day. To help you declutter the mailbox, Easy Duplicate Finder has a dedicated option which allows you to select folders in the native email client on your computer as per your choice.
There are various parameters which you can choose while removing duplicate emails such as sender and receiver name, size of the email body, contents of the body, attachments, and the date of communication. You can also fine-tune the search by comparing text in capital and lowercase letters.
The search feature also serves well while searching for repetitive emails in third-party services like MS Outlook. There is a dedicated option to search Microsoft's email client and you also get the ability to analyze Outlook Contacts and chuck out duplicated ones.
As our habits tend to lean more towards mobility and we consume more bytes of information on-the-go, cloud storage seems to be the appropriate choice for storing all our data. But we spend little time trying to organize our drives on the cloud. This can be a problem because free cloud services offer only limited storage. Moreover, it is wise to strategically consume space on cloud services which are paid for. Fret not, because you have Easy Duplicate Finder which can be your companion in clearing out unwanted repetitive files from cloud storage services such as Google Drive and Dropbox.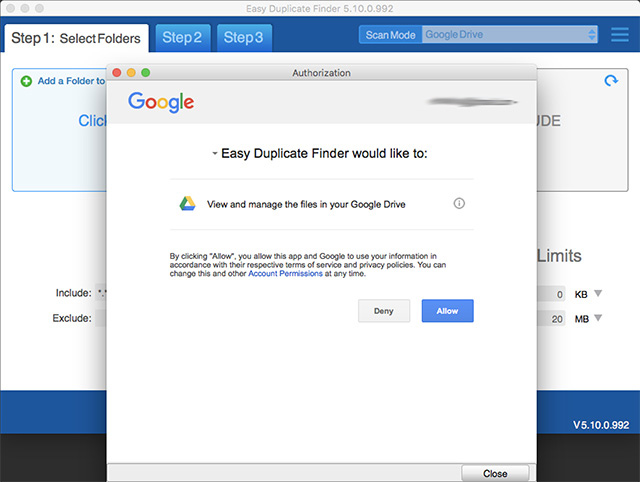 The application allows you to take a deep glance into different folders and sub-folders stacked in your cloud storage. Like a loyal friend, it can sniff out not just files, but also applications and temporary files and doesn't hesitate from looking into the trash folders making sure that you take the benefit of every penny spent on cloud.
Do you have folders where your original files are and folders that may contain
duplicates? With ordinary duplicate finders, you'll never know which file is the
original and which is the duplicate without actually checking the file path. But EDF
makes things a lot easier with its Folder Comparison mode. This mode is great for
checking backups against the source and even merging folders because Easy
Duplicate Finder will treat all files in the source folder as originals and all files in
target folders as duplicates. So you'll never delete your original photo or doc by
mistake.
To easily walk you through the entire process, EDF has a special Wizard feature which guides you through the cleanup process. In the first step, it asks you to select the type of files. In the following step, it suggests possible locations and also prompts you to select specify any other folder which is to be included. In the next step, all you gotta do is press the "Get Started" button and the scan is automatically completed in a few seconds.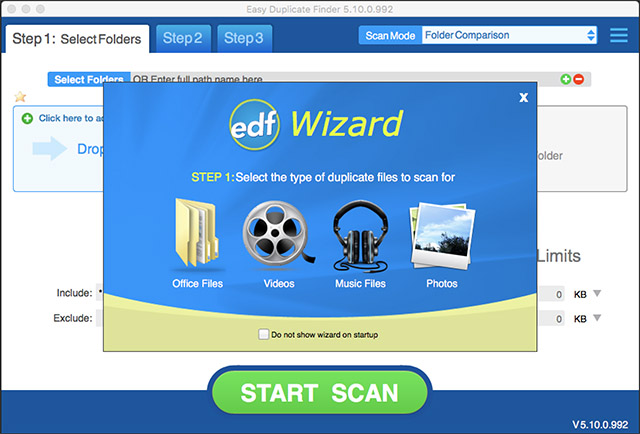 In case you select an incorrect method or option, you have the choice to go back to the previous step or direct the Wizard to the starting page. If I had my way, I would rather call the wizard a genie, but it doesn't matter as long as it serves the intended purpose, which the Wizard of Easy Duplicate Finder excels at.
User Interface
The User Interface is very interactive and easy to get around. Clear text, big buttons, and information balloons make the task as easy as a child's play. Once you select the type of scan in Step 1, specify exclusions, and define file size limits (if required), you can hit the "START SCAN" button to initiate the procedure.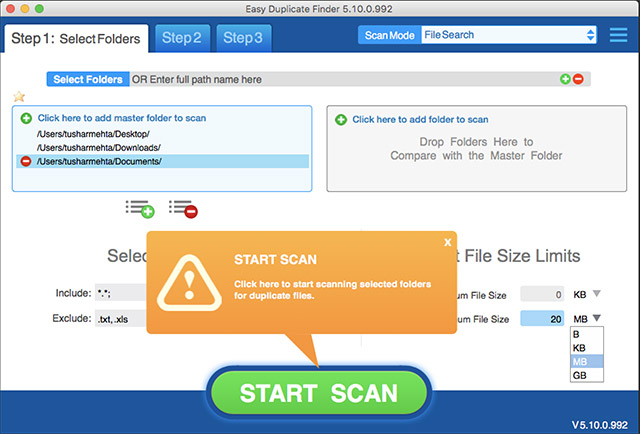 Based on the transfer speeds of your hard drive, the results shortly crop up in Step 2. This screen shows a concise summary of the scan, displaying the total number of files scanned, the ones while are found to be replicas along with the total storage occupied by repeating files. Here you can choose to perform various batch actions on the duplicates such as removing them altogether, saving search result for removing them later, and even an assistant which helps you decide which files to retain. You can choose among the original, oldest, and newest versions of the files in the batch, and perform actions like removing them, renaming them, or moving them to a new location.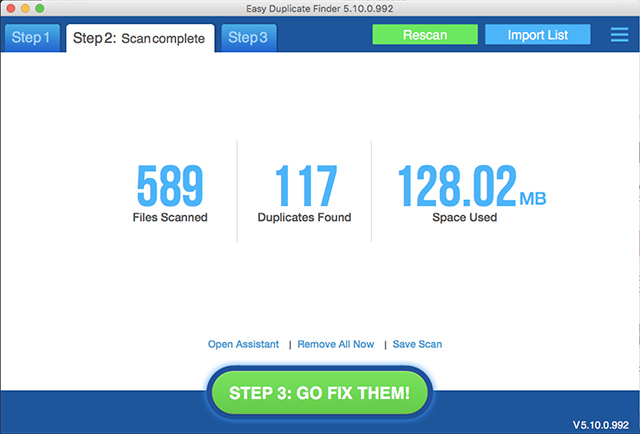 If you want to review files before modifying or deleting them, you can head over to Step 3 which gives a detailed list of the stockpile. You can select specific files and perform a variety of actions like renaming, moving, or deleting, or replacing them with a link to the new destination. In this mode, you can also segregate data based on the type of files.  There are two views to choose from – the group view and the classic view. Use the one that works best for you.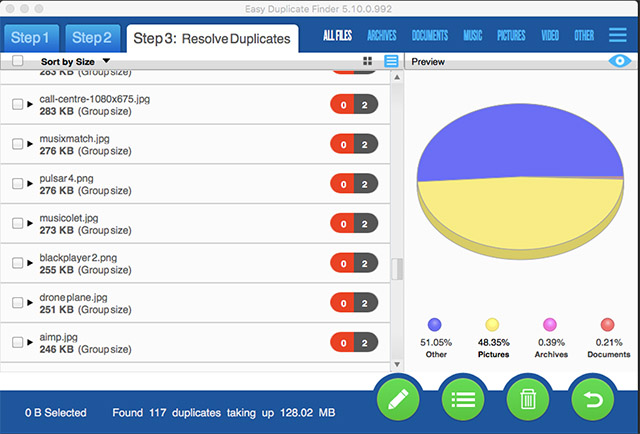 Compatibility and Pricing:
As mentioned above, Easy Duplicate Finder is available for both – Windows and Mac PCs. The support for Windows is enormous and you get compatible clients for Windows XP, Vista, Windows 7, 8, 8.1, and Windows 10. The app is available on 32-bit and 64-bit architectures and requires mere 128MB of RAM to operate and occupies only 5MB of space.
On Mac OS, the support extends as far as OS X Snow Leopard which dates back to 2009. But, due to Apple's strict compatibility ground rule, EDF is only compatible with 64-bit Intel processors. You will require at least 1GB of RAM and 64MB of storage on the hard drive.
The license for full version of EDF is available for periods of one and two years and the pricing are as follows:
One year, one computer – $39.95

One year, three computers – $49.95

One year, five computers – $59.95

One year, ten computer – $69.95
In case you buy the software for two years, you can also avail a discount of up to
75%.
The license activates the software for lifetime and the subscription period is valid
for updates. Basically, you can continue using an old version of EDF with your
license for as long as you want but updates will become disabled.
Ready To Mow Down Duplicate Files?
Redundancy is no doubt annoying and in this digital age, it can seriously harm our business. We often don't even realize our mess-up until its pointed out by a stakeholder or higher authority and then its implications are just too embarrassing or inconvenient. So why wait for the disaster when you can prevent it?
By using Easy Duplicate Finder, you can rid away with the anxiety of waning hard drive or cloud storage and a stressed CPU – all of that without having to invest a lot of time. The application is also an excellent choice to sustain the health of an old PC as well as keep a new one in a pristine state for several years.
Check out a free trial of Easy Duplicate Finder here.