Online safety is one sphere that becomes harder to navigate as time passes. With the advent of AI and advanced phishing techniques, it's become even harder to differentiate friends from foes. However, there are a few amazing tools out there that use AI as a means to protect netizens from scammers and spammers. Criminal IP, one such offering by AI Spera, is a full-scale cybersecurity tool made specifically for that purpose. Since Criminal IP has a world full of features, which we discuss below, we decided to install the handy Chrome extension and test it out. Safe to say, it was a secure and seamless experience. Continue reading to discover the best features of the Criminal IP we love the most.
Criminal IP Chrome Security Extension Features Overview
No-Frills Setup Experience
One of the first things that stood out to me about Criminal IP is its no-nonsense setup experience. Even though most cybersecurity tools online drown users with multiple steps, this handy tool is different. All one needs to begin using Criminal IP is to create an account, and you're all done.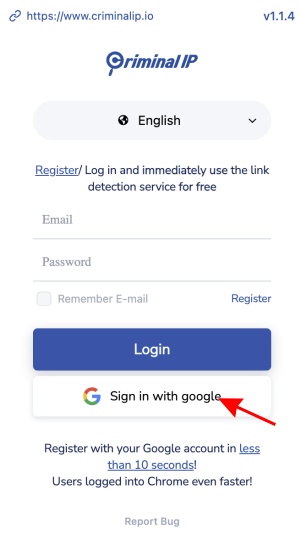 It also doesn't hurt that the tool is 100% free. If you feel like having even more features, you can upgrade to the paid plan for a nominal fee. Once I was done with my account registration which, let's be honest, takes south of 10 seconds because of the Google login, I was all set. Then, I began to use it and see all it offers.
URL Scanning Reports Phishing Instantly
The worst thing about falling victim to online phishing is that you seldom know until it's too late. However, with Criminal IP, that is something that we can finally put an end to. One of the best things about this cybersecurity tool is that it gets to work as soon as you type the web address and press Enter. No matter which website one visits, all one needs to do is land on the main page and tap the browser extension.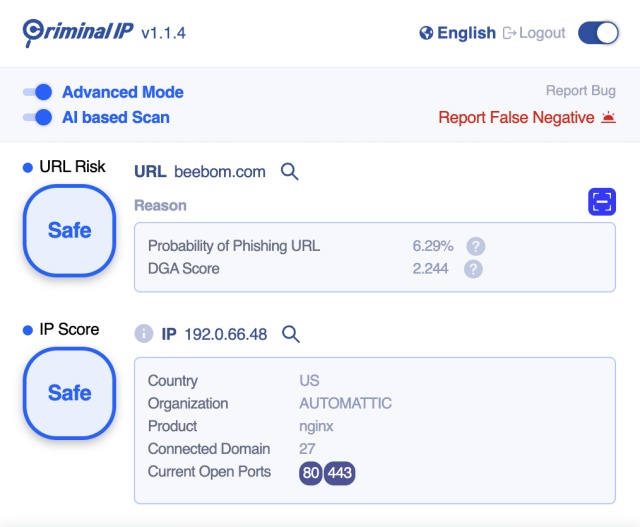 Criminal IP instantly begins its quick URL scan and shows a website risk analysis. A dedicated metric called "Probability of Phishing URL" assigns a score of 0-100%. This tool tells you how likely it is that the website you're visiting is a phishing scam. Criminal IP also categorizes the websites into five labels "Safe, Low, Moderate, Dangerous & Critical."
During our test, we visited various websites ranging from something as simple as YouTube to other less than reputable ones. As you can tell yourself, Criminal IP quickly detected them all without any problems and carefully gauged its metric depending on the URL I was at. This is an exciting and welcome addition.
Website Pre-Check Removes Risk Entirely
While Criminal IP works flawlessly whenever you land on a website, it's understandable that users might not want to visit a website at all, especially in their mail inbox (more on this below). Criminal IP has a handy pre-check feature for all those cases.
Put simply, the feature allows users to merely right-click any link and check its authenticity without visiting it at all. This works across all manner of websites and on every major search engine like Google Search, Bing, and even Duck Duck Go.
Email Attachment Scanning Gives Full Peace of Mind
However, the main area where users need to block scams and get advanced phishing protection is e-mail. I was pleasantly surprised to find out that Criminal IP works flawlessly in links that have been sent as e-mail attachments. This gives this phishing detection extension an insane amount of power and stops malware like ransomware dead in its tracks.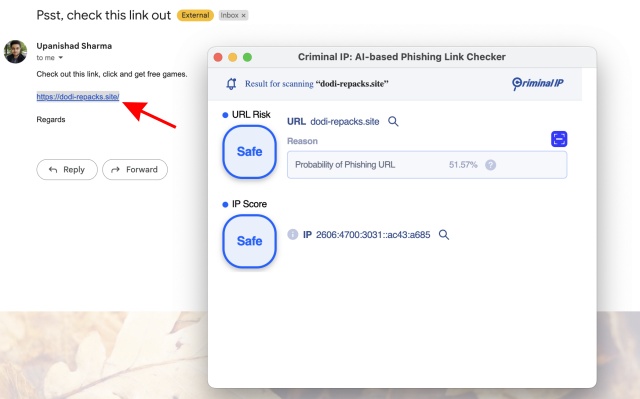 The Criminal IP pre-check is a handy and vital feature that ensured I didn't even have to leave Google at all. Through it, I was able to identify all manner of websites and their threat risks easily. Give it a shot if you decide to download this Chrome security extension.
Advanced Mode Brings the Power of AI
Even though URL scanning is a built-in feature, Criminal IP gets even better with the power of artificial intelligence. The online security tool's AI features hide behind its advanced scanning options. While they are not enabled by default, you can quickly turn them on using a handy toggle. Once that's done, prepare to enjoy even higher security efficacy.

The advanced mode opens up AI-based scanning, where Criminal IP's AI uses its sophisticated algorithms to analyze all websites in painstaking detail. The best part is that users don't need to perform any extra steps besides that one-time toggle. Simply tap the extension or pre-check as you would, and you will see another option right above your URL scan. The tool gives you another metric called the Domain Generation Algorithms(DGA) score, which indicates the probability of whether a website is a phishing website.
In-Depth Website Scanning
As mentioned above, Criminal IP leverages AI well to bring the power of extensive website monitoring. However, you can even see these in-depth reports by simply clicking on the magnifying glass icon in the extension pop-up. It leads the user away from the Chrome extension and onto the main Criminal IP website for an in-depth report.
The final report is extremely extensive and houses all kinds of statistics for any website you choose. This includes the already existing summary we saw but with even greater metrics.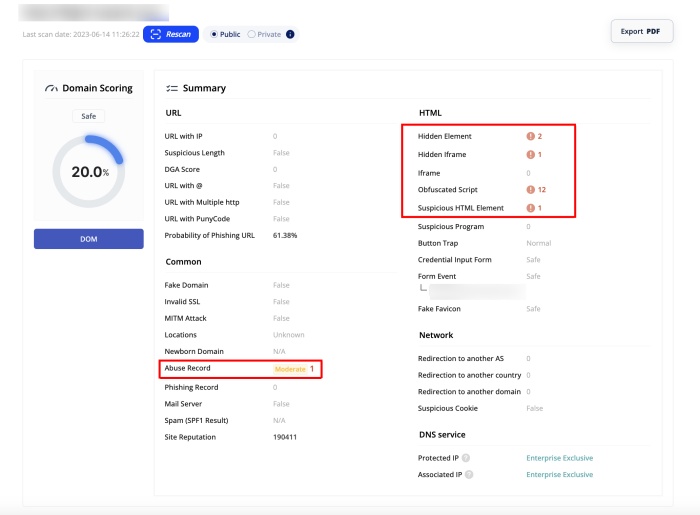 Criminal IP takes great care to dive into the nitty gritty such as the HTML script, domain history, and even network services.
In this instance – Criminal IP identified obfuscated scripts, suspicious and hidden HTML elements, and even previous abuse records for the website.
This helped me steer clear of websites that might very well, at best, have scammed me or, at worst, installed ransomware on my PC. I was surprised that Criminal IP offers options like enhancing users' online security for free.
Protection Against Laziness with Scam Block
After trying out Criminal IP for an extended time, I was under the impression that you always have to click the extension icon to activate it. Naturally, my laziness got the better of me after a while, and I stopped being proactive. In that same lazy stupor, I started browsing some random websites. And this led me to a website promising a tool that hadn't been released yet.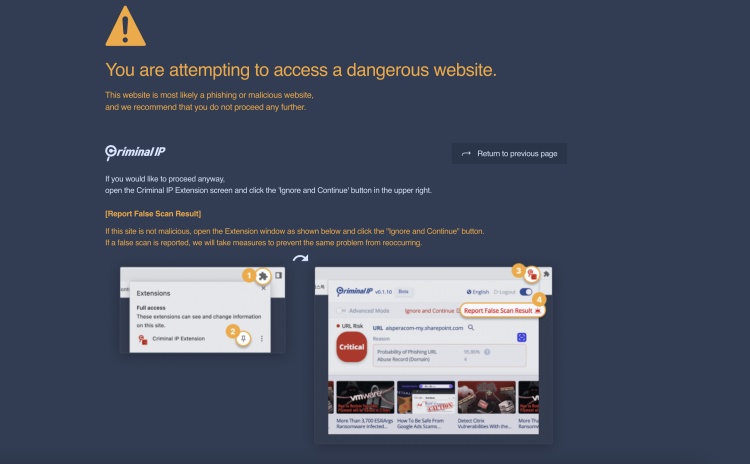 However, as soon as I clicked the URL, I was met by Criminal IP's Scam Block shield, informing me that a website I had opened was most likely a scam. This was a pleasant surprise. According to Criminal IP, the company uses its Domain Search technology to achieve this high level of accuracy.
As you can see, the cybersecurity tool still offered me the option to explore it at my risk. However, I thought better of it and decided to go with Criminal IP. So if you're anything like me and tend to get lazy, Criminal IP will be even more useful.
Pricing and Availability
As mentioned above, the Criminal IP Chrome extension provides all the above features for free. So, you don't need to pay a single penny to enjoy Criminal IP's AI-powered phishing detection service. While paid plans are available that unlock additional features, such as other security filters, the free version is more than enough.
To get extended protection from phishing and scam protection, simply download the Criminal IP Chrome extension and secure your online experience for years.