Bitmoji – the app that lets users create a cartoon version of themselves, is all the rage with kids, and young adults. Especially since Snapchat acquired Bitstrips, the maker of Bitmoji and integrated it right into the app, so users could use their avatars as stickers in Snapchat. While your parents might not understand it, sending cartoon versions of yourself can actually be quite a lot of fun. However, Bitmoji isn't the only app to do this, and if you'd like to have some more options as far as the kind of cartoon you can create, here are 7 cool apps like Bitmoji you can use:
1. Bobble Keyboard
Perhaps the most similar app to Bitmoji, the popular Bobble Keyboard app works pretty much the same way as Bitmoji does. However, instead of just creating a character from the get go, you get to click a picture of yourself, and then the app automatically converts your picture into a cartoon. Once you've done that, the app quickly creates a number of different stickers that you can send to your friends. You can even use custom text with the stickers, which is something I personally find very nice. Once you've found the perfect sticker, you can send it on a variety of social media platforms, including WhatsApp, iMessage, and more.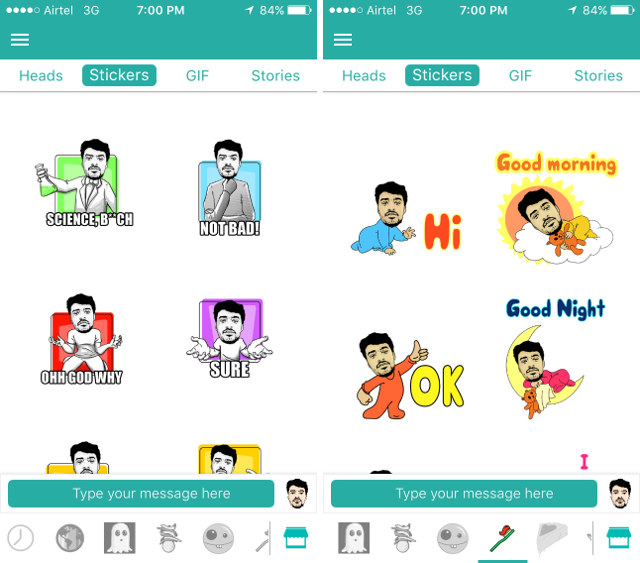 2. Giphy Stickers
Another app like Bitmoji that you can use to create your very own avatar, although not with the cartoon effects of Bobble, is Giphy Stickers. With Giphy Stickers, you can take a picture of yourself, a friend, your cat, or basically any object that you want to turn into a sticker, trace out the main point of interest (your face, for example), and Giphy will turn it into an animated sticker, based on animations that you select. The app is a lot of fun, and you can send the created GIFs on a number of different messaging apps, including Facebook Messenger, WhatsApp, and iMessage if you're on an iPhone.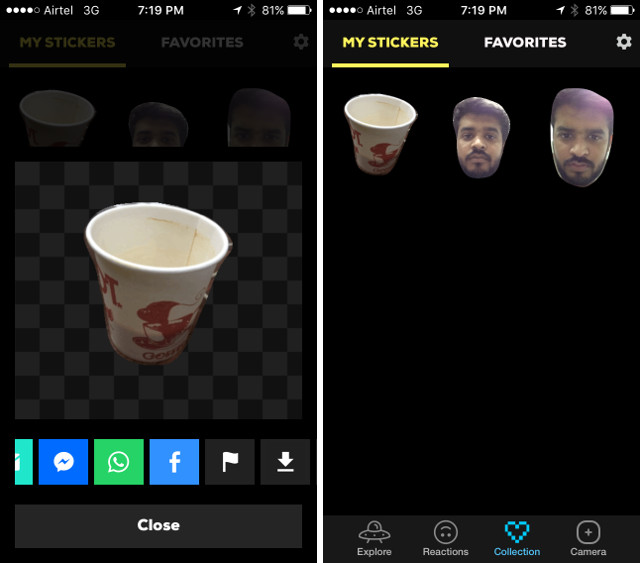 3. EmojiFace
EmojiFace is a great, albeit iOS only, app that can make some really cool (and some really weird) emojis out of your selfies. The app is available for free (in-app purchases for some sticker collections), and it works really well. Once you've created your an emoji from your face, you can send it to your friends over almost every major social media (or messaging) platform. The emoji-face is sent as an image, rather than a "true-emoji", but that isn't really surprising. When you launch the app, you can just click a picture of yourself. The app then proceeds to detecting your face, and gives you options to add emoji eyes, nose, lips, and more. Unlike Bitmoji, the app does not use cartoon avatars, instead it creates a variety of different stickers and emojis based on your picture.
Once you're happy with what you've made, the app creates a ton of emojis from the face you made, and you can share them in a variety of messaging apps. You'll have to enable the EmojiFace keyboard in Settings, first, though. The emoji-fied faces look nice, and there are quite a number of options to choose from.
Install: iOS (Free, with in-app purchases)
4. Imoji
Imoji is another great app you can use to create stickers from your selfies. With the app, you can simply click a picture of yourself, or an object that you want to convert into a sticker, trace out the part that you want to convert into a sticker, give your sticker a tag, and it is quickly added to your collection. You can then just tap on any sticker that you've created, and share it to a number of different apps, including messaging apps like Allo, WhatsApp, and social media apps like Facebook, and Twitter.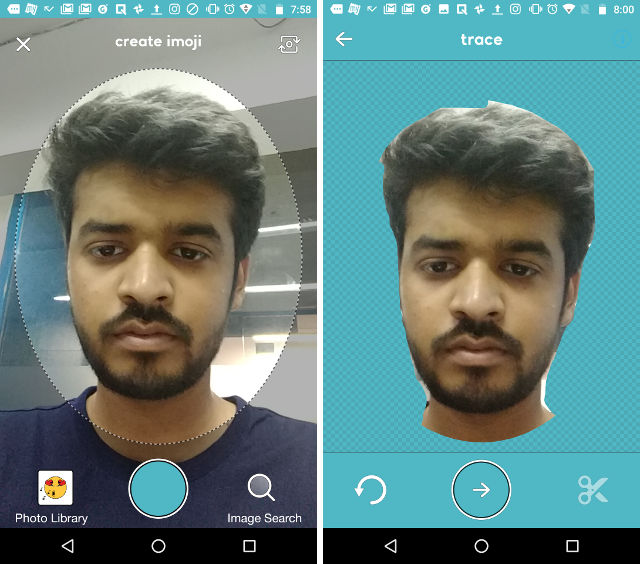 The app is perfect if all you want to do is create a sticker out of your face, or an object. It can let you do so easily, and quickly, and then allow you to share it wherever you want to.
Install: Android (Free)
5. FaceQ
FaceQ is an app that is a lot like Bitmoji, and will let you easily and quickly create characters that you can share on social media, or send on messaging apps. When the app launches, you can select whether you want to create a male, or a female avatar, and you can then quickly create an avatar by selecting things like the face (including hairstyle), the color of the hair, shape of the ears, eyes, and a lot more. You also get the option to select a variety of clothes, and props. Once you're done, you can save the avatar to your gallery, or share it to a variety of social media platforms, and messaging apps.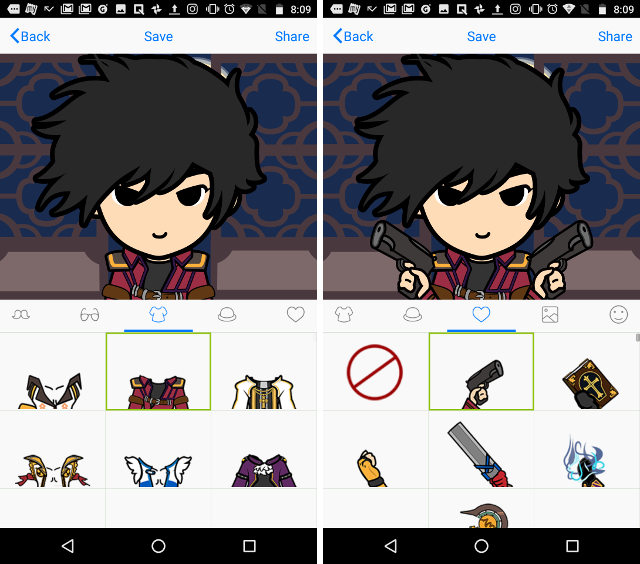 The app is extremely easy to use, and you can quickly create an awesome avatar for yourself. However, unlike Bitmoji, FaceQ does not generate stickers, and GIFs based on the avatar you've created. You can, however, add custom speech bubbles and text to make the avatar as customized as you want.
6. SuperMii
SuperMii is a lot like FaceQ, which automatically makes it quite similar to Bitmoji. With SuperMii, you can create cartoon versions of yourself, along with some really cool props. The app interface is dated, sure, but the functionality is all right there. You can simply select the gender of the avatar you want, and then proceed to selecting the shape of the face, the hair, expressions, and a lot more. The app creates cool looking cartoon avatars, just like Bitmoji does, but doesn't create custom stickers out of your avatar. You can only share your avatar on various social media platforms, and on messaging apps.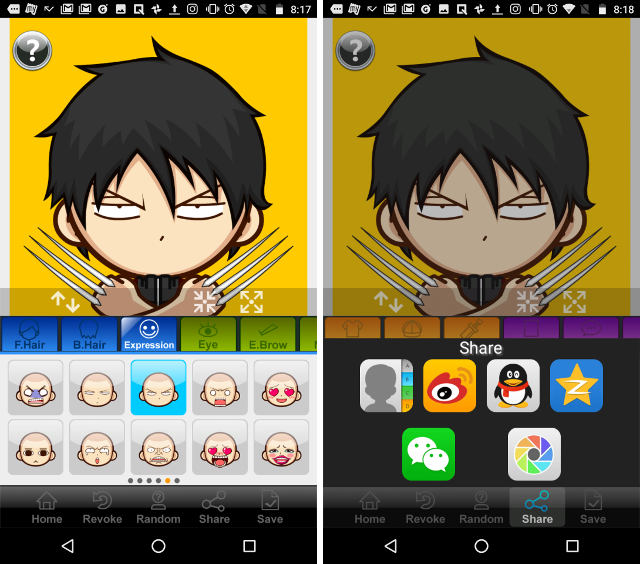 There aren't a lot of sharing options built into the app, so I'd recommend that you save the avatar to your gallery first, and share it from there.
Install: Android, iOS (Free, with in-app purchases)
7. YourMoji
YourMoji is another great app that you can use to create stickers out of your selfies, or from objects that you want to convert into stickers. You can simply use a picture from your gallery, or click a new one. The app uses a great way of tracing the object of interest, and cutting out the rest of the background. First, you select the "Keep" button and draw lines inside the object (the part you want to keep); then, you select the "Remove" button, and draw lines on the part you don't want to keep. The app draws a yellow line over the object that it will keep. You can add more lines to "Keep", and "Remove" parts of an image. I like how this method is super fast, and easy to do.
The app creates some really cool stickers, that you can then share on social media platforms, or on messaging apps.
SEE ALSO: What is Bitmoji and How To Use It on Snapchat
Use These Apps Like Bitmoji To Create Your Avatar
While Bitmoji is by far the most popular app to create avatars, these apps are equally good. They offer a lot of the features that Bitmoji does, and can easily let you create your own avatar. While not all of these apps create custom stickers, and GIFs automatically out of your cartoon avatar, they do offer very easy, and intuitive ways to create avatars, sometimes more easily than apps like Bitmoji do. So, what apps do you use to create avatars for online use, or for sharing them with friends? Have you ever used any of the apps on this list? Also, if you know of any other apps like Bitmoji that you think deserve to be on this list, do let us know about them in the comments section below.